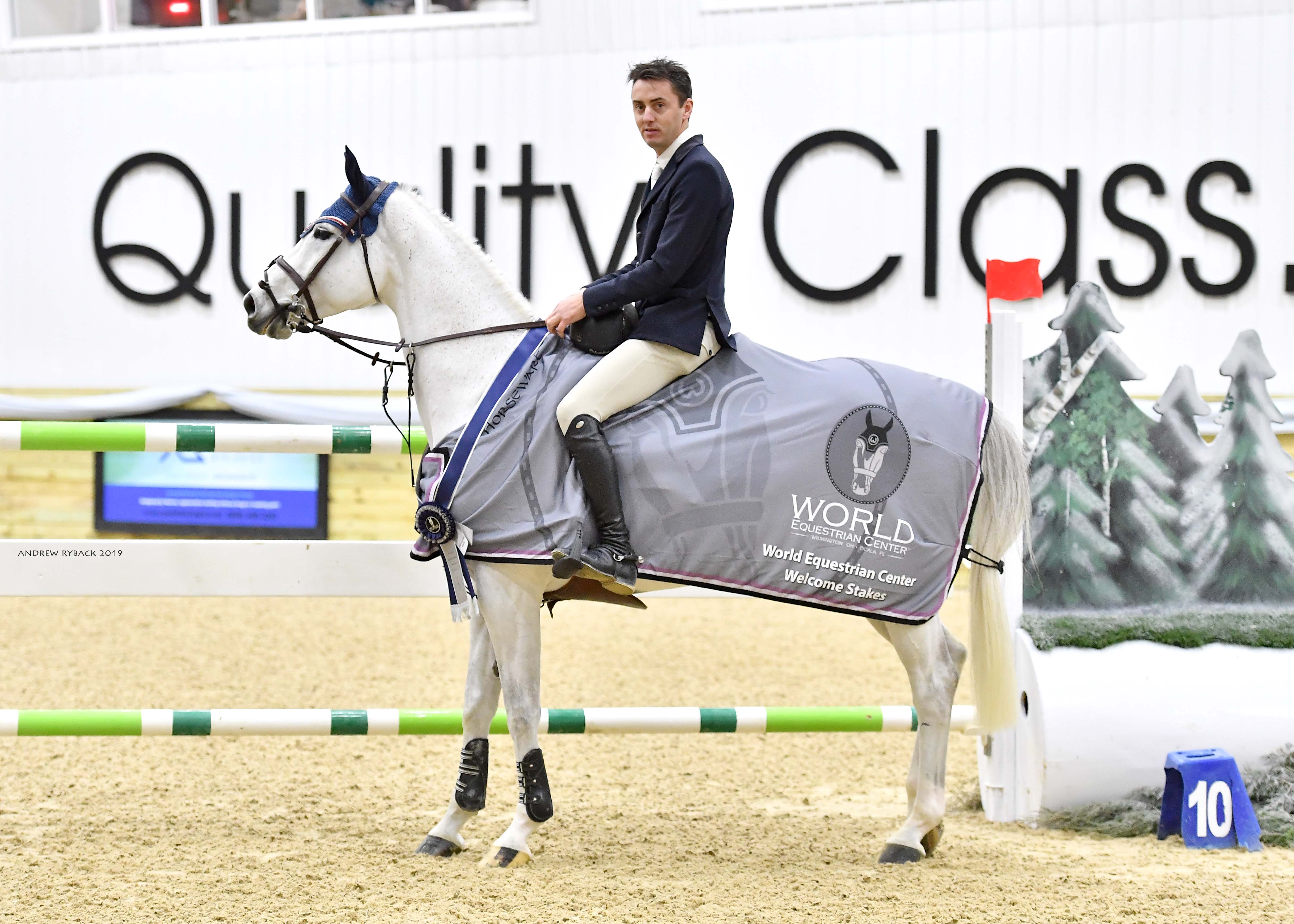 Twenty entries took to the Sanctuary Arena tonight as we welcomed in week three of 'Winter in the Midwest' at World Equestrian Center with the $5,000 Welcome Stake 1.35m sponsored by CWD Sellier. Horse and rider pairs contested a track designed by Bobby Murphy of Lexington, Kentucky that featured fourteen jumping efforts including two combinations and forward-riding lines. Six entries managed double clear rounds, but it was Ireland's Christian Coyle and Abigail Wald's Dolman (Colman x Wolite) that topped the class.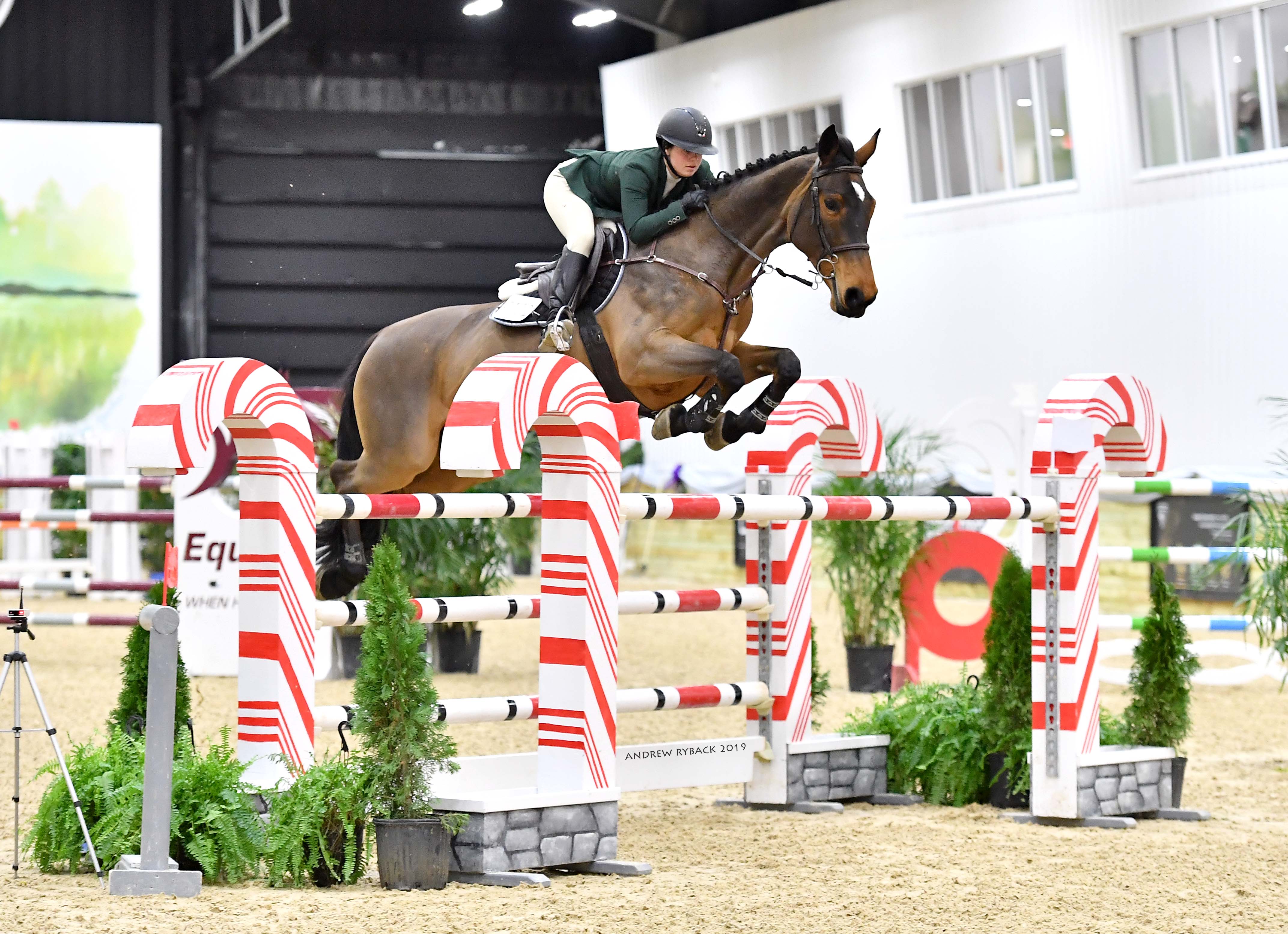 The pace setter in tonight's class was Nicole Loochtan and Carla de Kalvarie Z (Crown Z x Siebe De Kalverie). The pair were fresh off of a victory in last week's Welcome Stake, preparing them well for tonight's class. Loochtan and the fourteen year old Zangersheide mare were on form, jumping a clear first round in a quick time of 71.260 seconds, easily within the time allowed of 77 seconds. The pair continued straight to the jump off of the Table II 2b event, riding the inside turns to fences three and six and galloping through the timers, setting the time to beat at 32.597 seconds.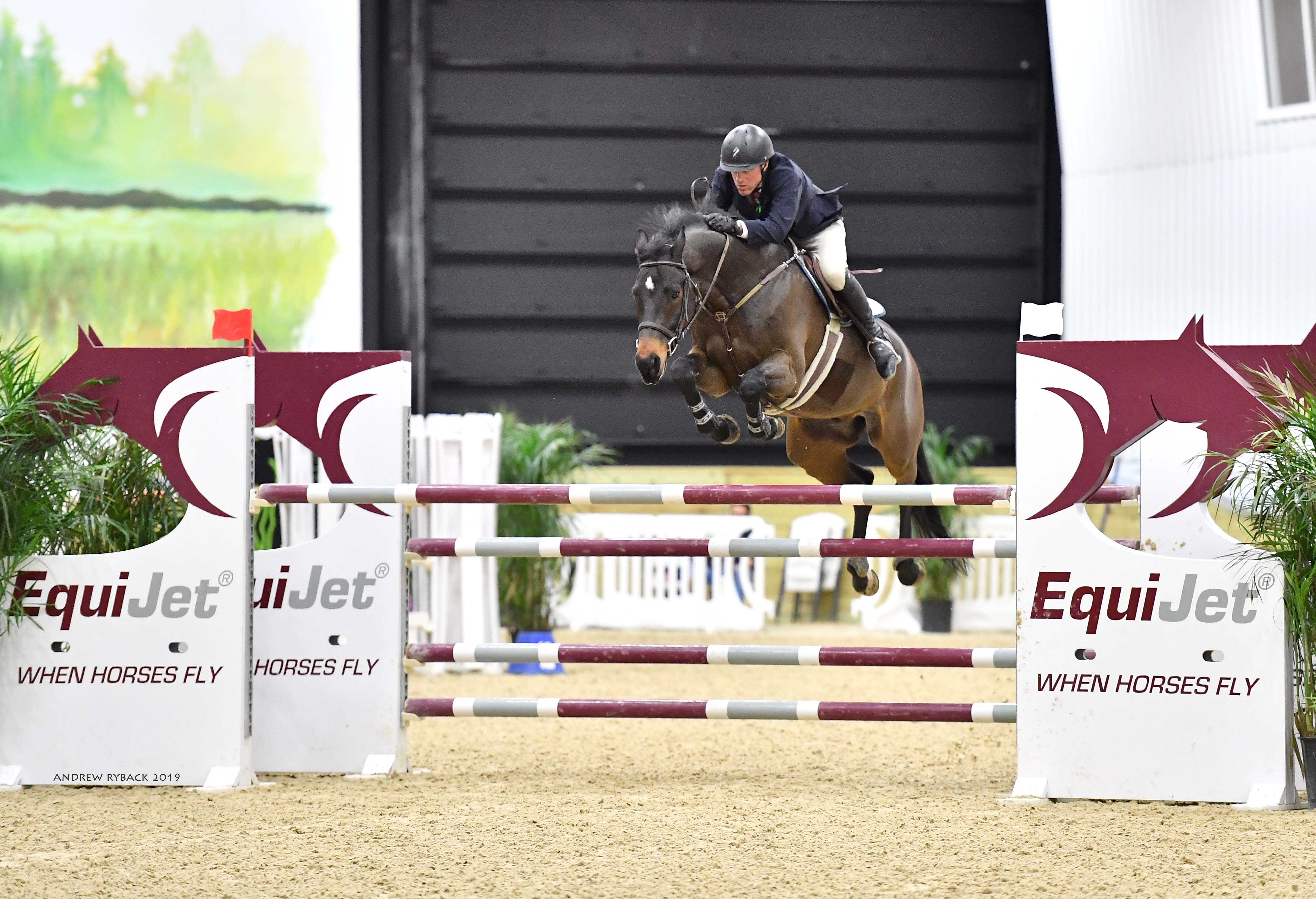 David Beisel and Maarten Huygen's Angelo (Conthargos x Grand Ronja) were next on course. The pair took a Welcome Stake win in late November at World Equestrian Center and were determined to reclaim a top placing this evening. Beisel and the eight year old Mecklenburg gelding were quick in the first round, jumping clear in a time of 74.603. The pair advanced to the jump off, picking up speed and hugging the inside track to fences three, six and eight. Beisel and the fiery gelding blazed through the timers with all rails up at 31.578 seconds, moving to the top spot.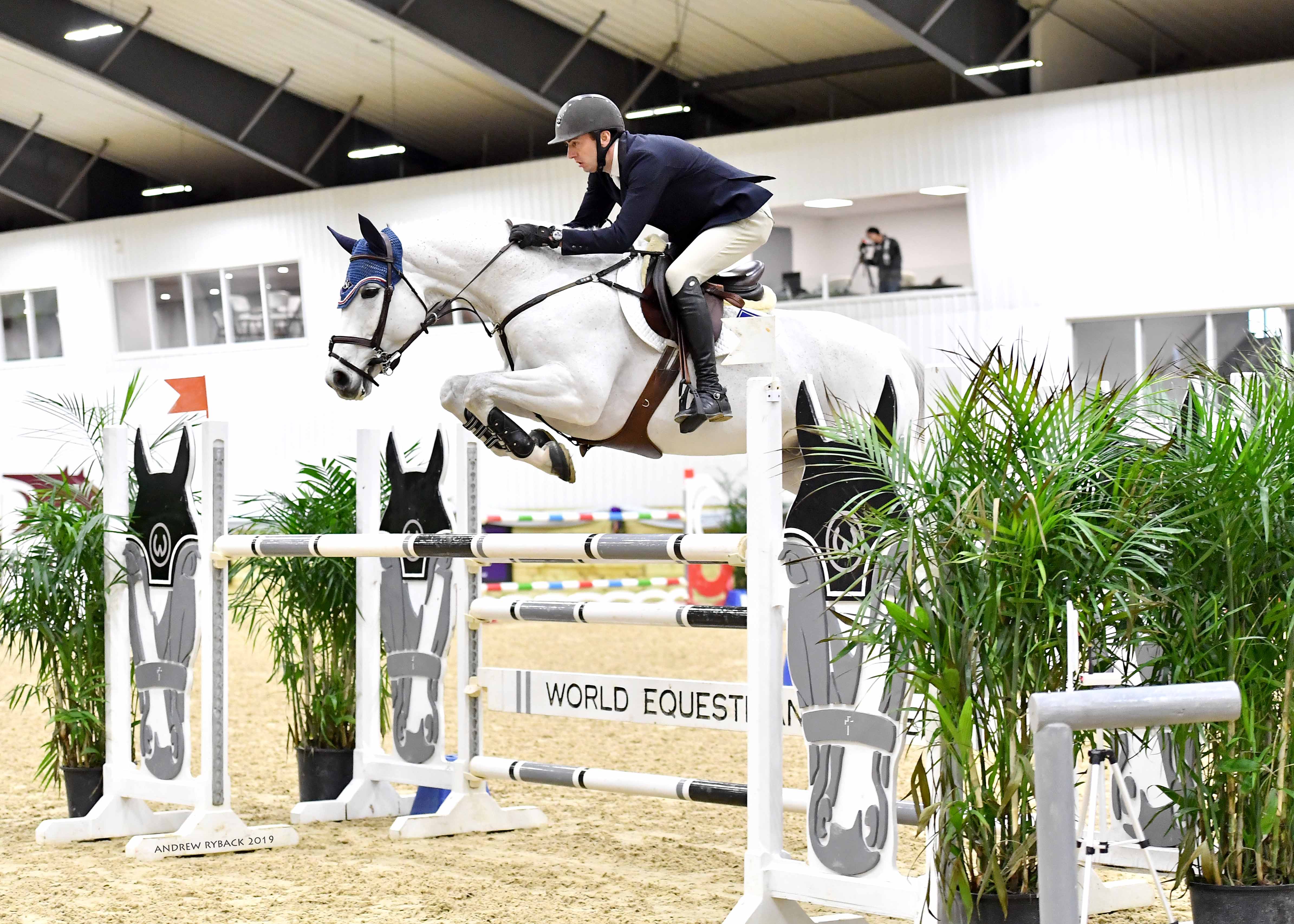 Though Beisel and Angelo's time seemed impossible to beat, Christian Coyle and Abigail Wald's Dolman (Colman x Wolite) were up for the challenge. The pair recently took the top spot in Old Salem Farm's Mini Prix, seeking back-to-back victories for tonight's class. Coyle and the eleven year old KWPN gelding were spot-on in the first round, jumping clear in 73.973 seconds and continuing straight to the jump off. The pair were completely simpatico, flawlessly navigating tight inside turns with confidence and flying through the timers at 30.822 seconds with all rails up, sliding into first place.
Coyle of Old Salem Farm in North Salem, New York stuck around after the awards presentation to chat with us ringside about his win in the class, "Dolman is an eleven year old gelding. He is owned by Abigail Wald and I probably took over the ride about a year ago. I showed him in the Longines Masters of New York and he was 3rd in the two star. We leased him after that and he came back a few months ago, then I started playing around with him again. He also won the Mini Prix at Old Salem two weeks ago."
Coyle was effusive about his mount, "He is a beautiful horse. He is simple, genuine and a beautiful jumper. He is not a big horse – he is only 16.1 hands but he has a ton of stride. He is so brave and neat in the turns. He is like a pony to be honest. He is one of my favorites, he is really sweet and kind. Anyone can ride him including kids in the barn. He literally can do any job. He can take a kid around 0.90m then go and jump the Grad Prix. He is very versatile, really a lovely guy."
Coyle also added, "I'm from Ireland. I came here about 8 years ago. I am a trainer now with Old Salem Farm in New York. We have nice horses and nice clients, so we are pretty busy. We head to Wellington, Florida on the 27th. This is my first time coming to World Equestrian Center, but I will definitely be coming back. It is a beautiful place."
$5,000 Welcome Stake 1.35m Results
Dolman, Christian Coyle – 0 | 0 | 30.822

Angelo, David Q. Beisel – 0 | 0 | 31.578

Carla De

Kalvariez

, Nicole

Loochtan

– 0 | 0 | 32.597

United M, Robert Mendoza – 0 | 0 | 34.484

Famoso

D'Ive

Z,

Nicole

Loochtan

– 0 | 0 | 3

5.016

Continuity, Kama Godek

– 0 | 0 | 3

5.064

Essince

W, David Q. Beisel

– 0 |

4

| 3

3.667

Shaia

de

Macheco

, Sam Pegg – 0 | 4 | 34.754

Artiflex

R, Raquel Mazur – 0 | 4 | 35.317

Chunk, Michael Kocher – 3 | 79.287
Photos courtesy of Andrew Ryback Photography.