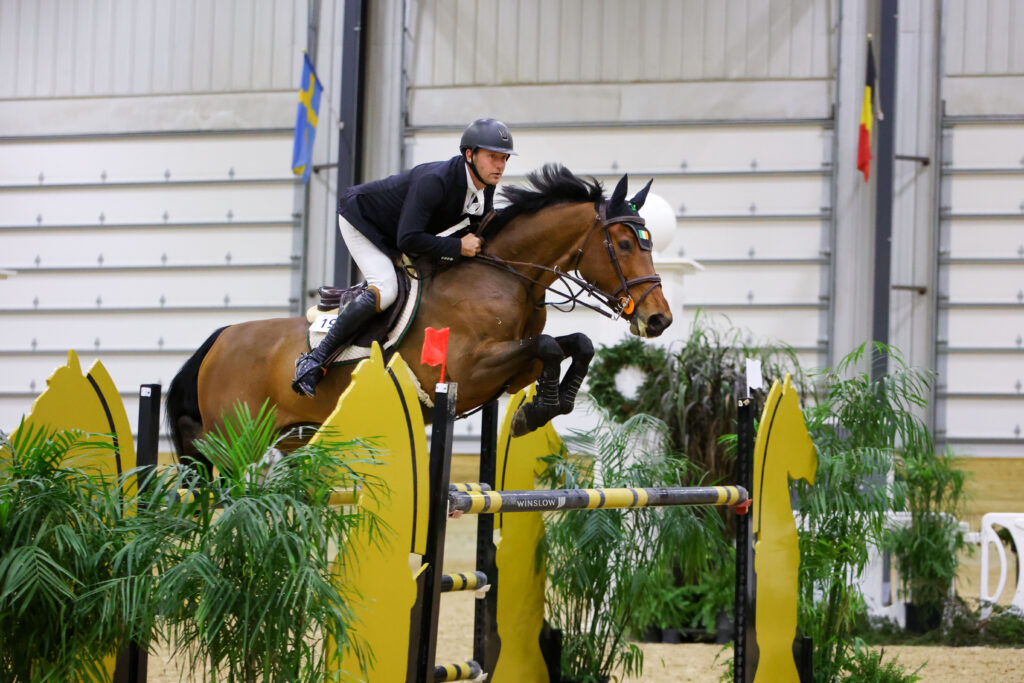 Tonight seventeen horse-and-rider combinations graced World Equestrian Center's Sanctuary arena for the final WEC Grand Prix class of 2021. Bobby Murphy of Lexington, Kentucky created the testing track that featured a time allowed of 80 seconds. Eight talented duos qualified for tonight's jump off, with seven jumping double clear rounds. The competition was fierce and the field was fast, but none could best Kevin McCarthy and his own Catch a Star HSS (Sheraton x Tolinda).
McCarthy of K&K Sport Horses in Lexington, Kentucky and his extremely talented 11-year-old Swedish Warmblood mare have now secured two consecutive $30,000 WEC Grand Prix wins during this month's Winter Classic show series. During tonight's event, the pair wrapped up the firtst round in just 74.711 seconds. They returned for the jump-off, where they gave it their all and managed a clean and fast run to stop the clock in an beatable 34.141 seconds, well under the allowed jump-off time of 52 seconds.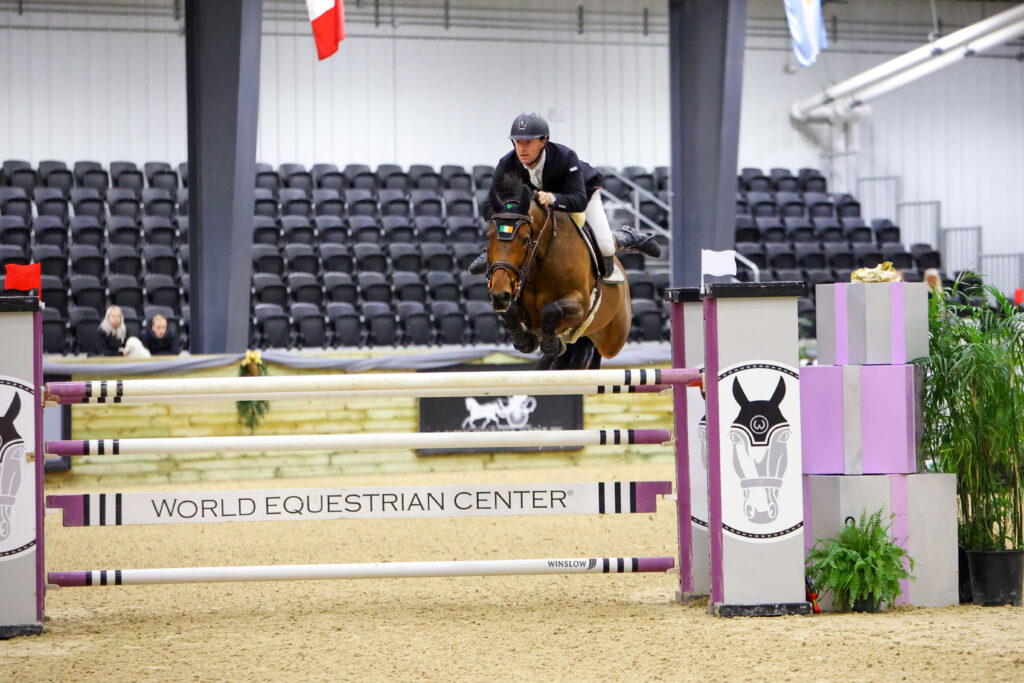 We caught up with Kevin after the class to chat about his win and plans after the show. "Tonight was a very special win for me. My family back home in Ireland was watching the live feed and it was great to catch a win for my dad and family. I knew going into the class that we had to give it out all because we were up against some other great riders and horses. We can't wait to be back in January. In the meantime I plan to keep my horse fit and happy."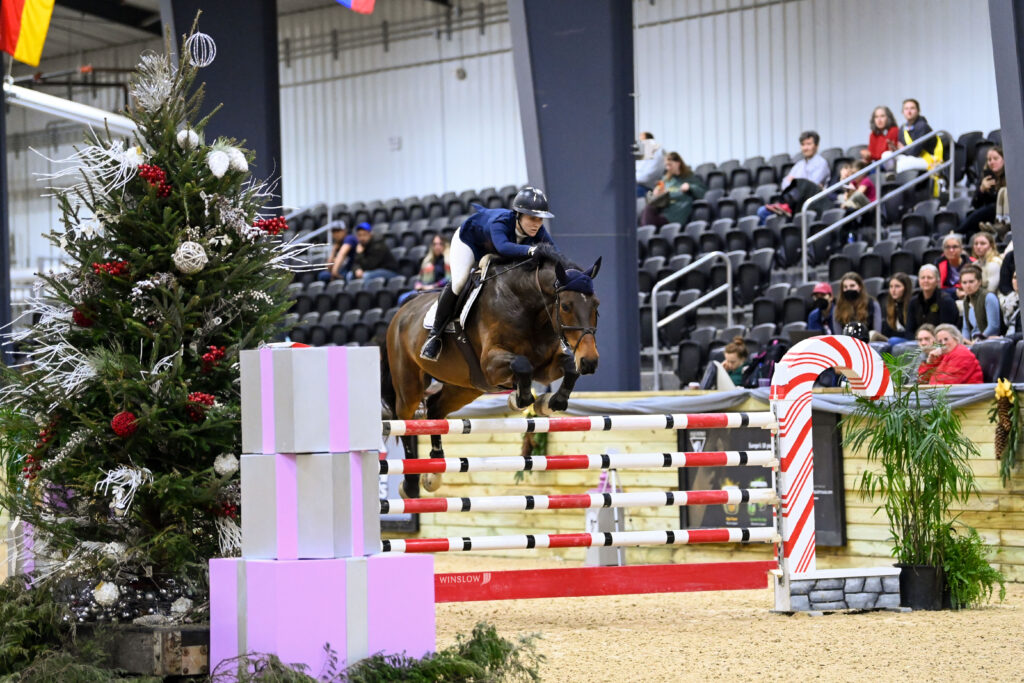 Thursday's Welcome Stake winner Genevieve Munson of Rogers, Arkansas, and her own Contendro Star (Contendro I x Gloria) captured second place in tonight's main event. Seventeen-year-old Munson and the big bay Hanoverian gelding completed round one in a clean 75.026 seconds, which secured them a spot in the jump-off. They returned once again to the Sanctuary arena and blazed the jump-off track, leaving all rails up and stopping the clock at 35.286 seconds for a second place finish.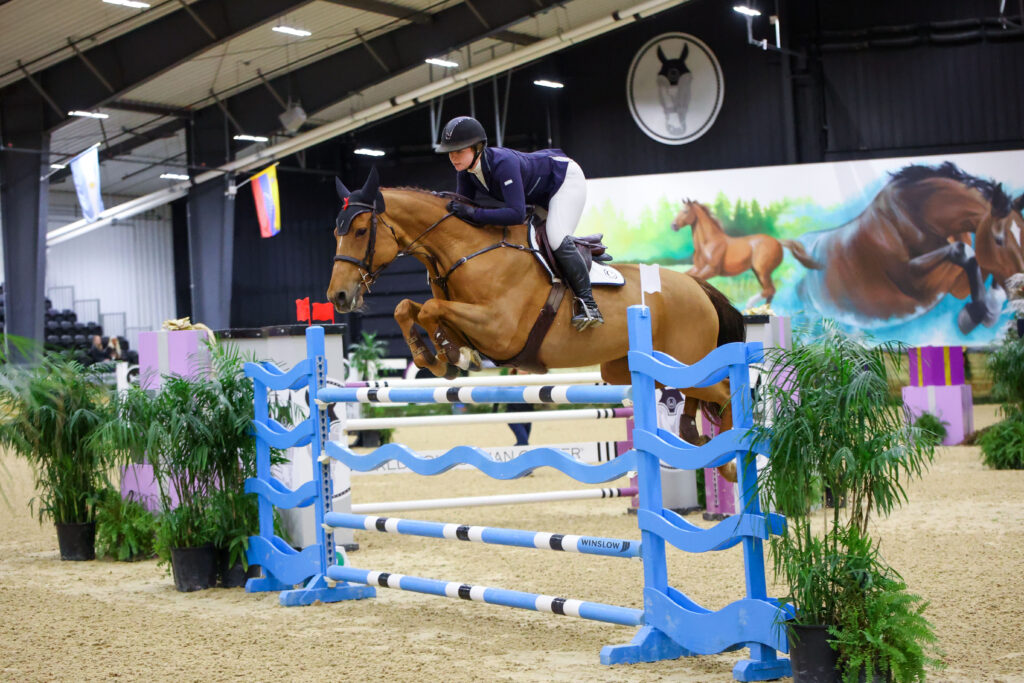 Rounding out the top three was Charlotte Clark of Kendalwood Farm in Sunbury, Ohio, and her own Kinsella (Capitalist x Jerpoint Mist). Clark and the 11-year-old Chestnut Irish sport horse mare were the fastest finishers in round one, crossing the timers in just 74.214 seconds. They returned to round two where they gave it their all and stopped the clock in 36.017 seconds for a third place finish.
$30,000 WEC Grand Prix Results:
Catch a Star HSS, Kevin McCarthy – 0 | 0 | 34.141
Contendro Star, Genevieve Munson – 0 | 0 | 35.286
Kinsella, Charlotte Clark – 0 | 0 | 36.017
Unesco Do Rouet, Christian B. Currey – 0 | 0 | 36.298
Zonderling, Genevieve Munson – 0 | 0 | 36.710
Vegas H, David Q. Beisel – 0 | 0 | 37.385
Cumbaya W, Darby Pease – 0 | 0 | 40.227
Charlene, Genevieve Munson – 0 | 4 | 38.334
PDR Pinion, Diana Conlon – 1 | 80.917
Jackson VDL, Megan Bash – 4 | 73.103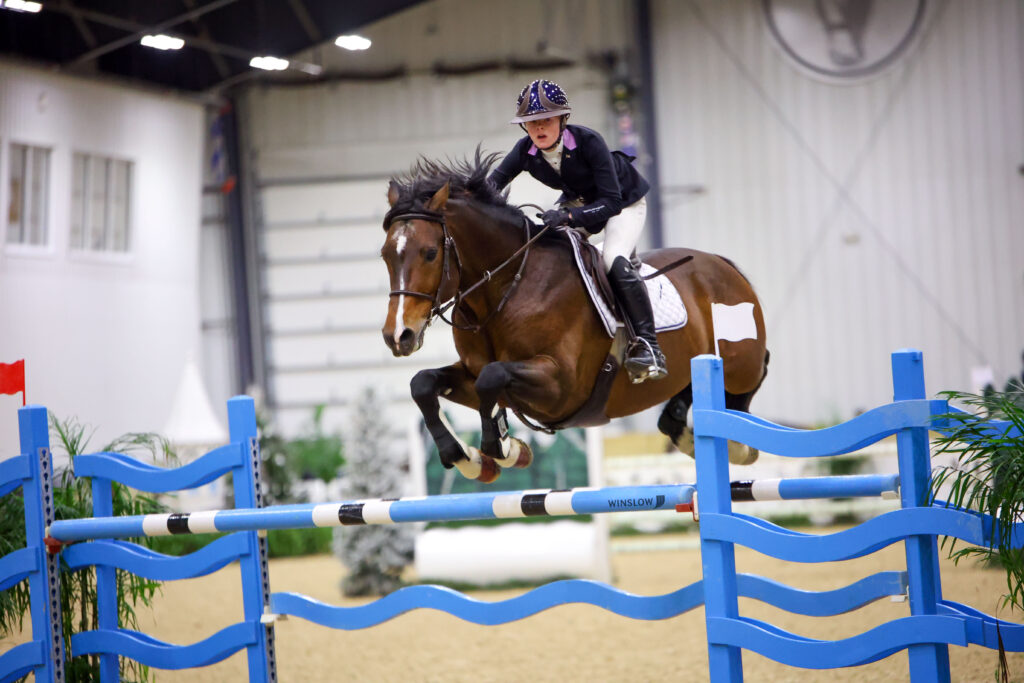 Mid afternoon today a field of twenty competitive entries took to the WEC Wilmington Sanctuary arena to challenge the $10,000 Futures Prix course. Eight entries produced a clean first round and five jumped double clear. However, none could best Izzy Beisel and David Besiel's Ammeretto (Numero Uno x Ranna), who set a pace early on in the class that proved unbeatable.
Izzy Beisel of David Beisel Stables, Goshen, Ohio, and the 15-year-old Dutch Warmblood stallion have been strong competitors in the futures prix classes over the past several weeks, earning 2nd place last week aboard Ammeretto and 1st place piloting her other horse. She was determined once again to win this afternoon. The pair took to the course near the top of the order, jumping a clear first round in 74.445 seconds. They continued straight to the jump off, taking several inside turns to pass through the timers at 38.009 seconds with all rails up to ultimately win the class.
We chatted with Izzy after the class about today's win. "I've been riding Ammeretto for about three years now… but it seems like he has always been in our family. My dad trained him for many years and now I get to compete with him. He truly loves his job and I actually think he gets excited when we make risky turns in the jump off. He is so confident, which makes for a fun ride everytime we go out there."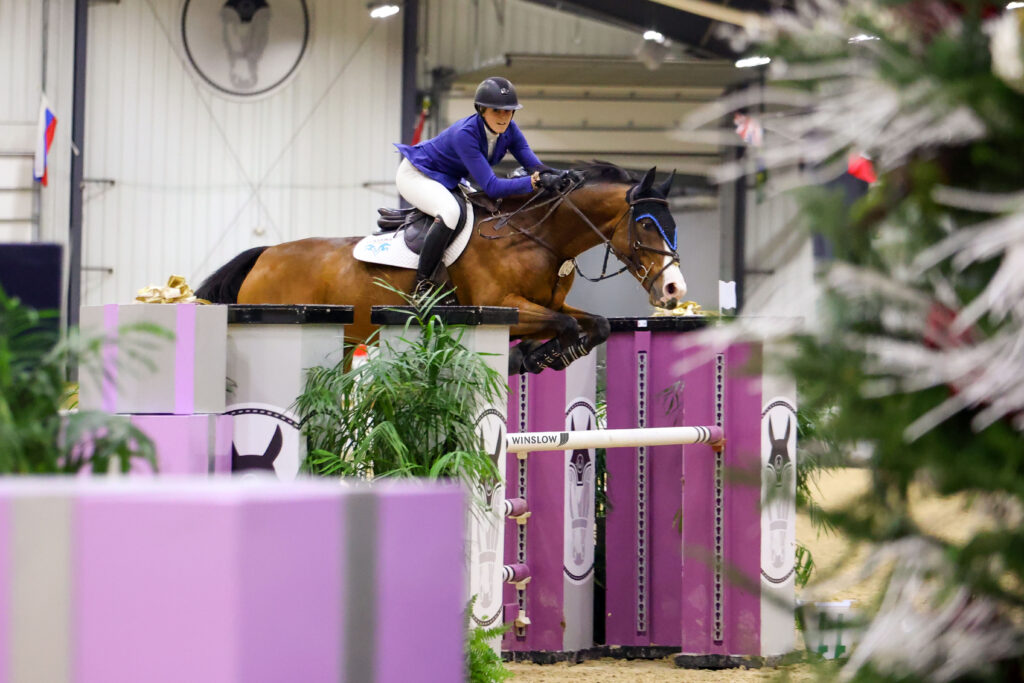 Soaring to second place was Darby Pease of Windcrest Farm and Jorge Berganza's BSS Isa. Pease and the eight-year-old Dutch Warmblood mare ynan delivered a beautiful first round, leaving all rails up in 74.048 seconds. They returned to the final round and kept a forward pace throughout the course to stop the clock at 38.254 seconds for 2nd place.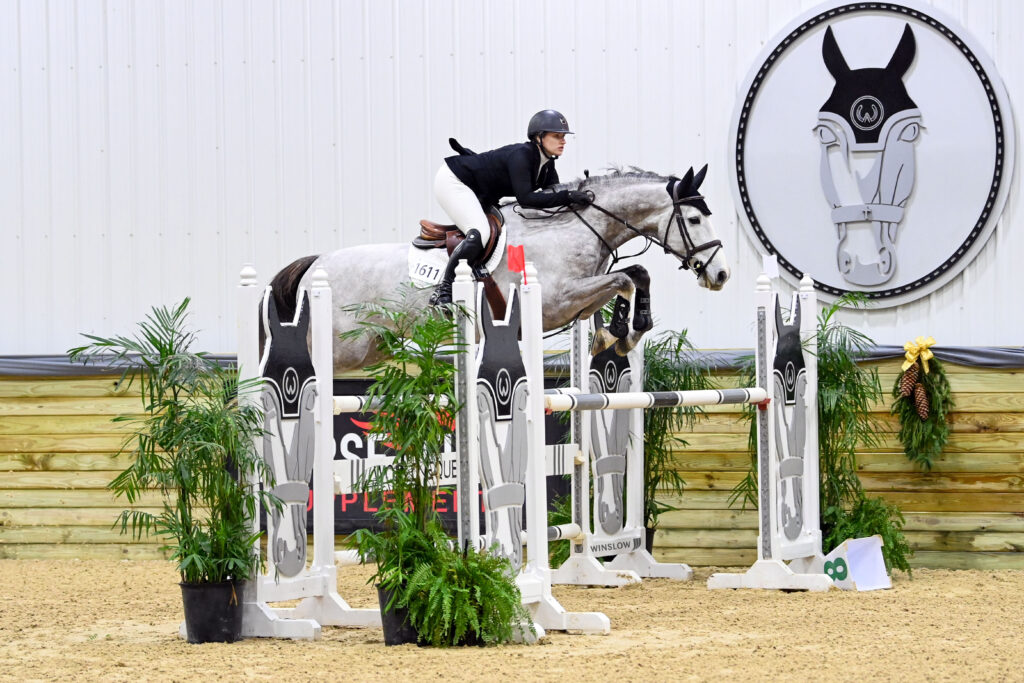 Rounding out the top three was Taylor Kosek and her own Grizzly HH De Tiji (Sea Coast Don't Touch Tiji Hero x Sahara J). Kosek and the speedy gray gelding managed a clear first round finish in 74.142 seconds. The team was immediately invited back for the jump off, where they crossed the clock in 40.529 seconds to win a yellow ribbon.
$10,000 WEC Futures Prix Results:
Ammeretto, Izzy Beisel – 0 | 0 | 38.009
BSS Isa, Darby Pease – 0 | 0 | 38.254
Grizzly HH De Tiji, Taylor Kosek – 0 | 0 | 40.529
Swanview Sarco deluxe, Kali Jerman – 0 | 0 | 40.893
Cadeautje, Izzy Beisel– 0 | 0 | 43.153
Costello, Kali Jerman – 0 | 4 | 36.952
Bradley, Sarah K. Sturges – 0 | 4 | 38.944
Frankenstein, Laura A. Hauser – 0 | 4 | 40.821
Auburn des Rosiers, Megan Storey – 4 | 73.028
Revel Just for Kicks, Michelle Vandal – 4 | 75.045