$25,000 World Equestrian Center Grand Prix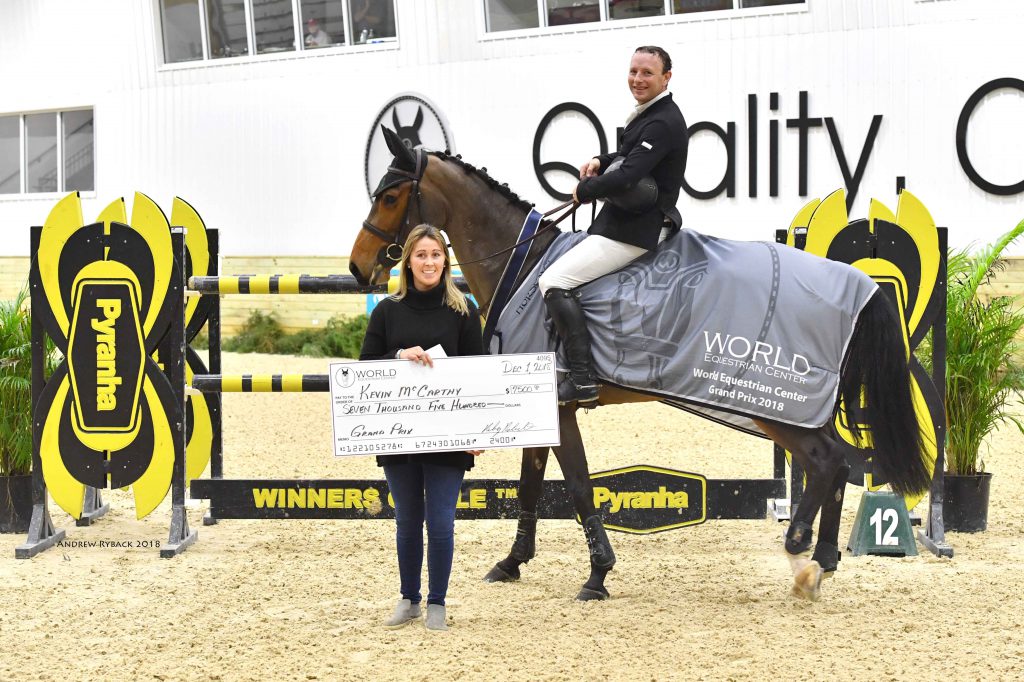 An eager crowd filled the grandstands in the Sanctuary Arena tonight to watch the $25,000 World Equestrian Center Grand Prix. Twenty four horse and rider combinations contested the 1.40m track, designed by Bobby Murphy of Lexington, Kentucky. At the close of the first round, seven pairs would go clear to advance to the jump off while Nicole E. Loochtan and Caiman des Sequoias finished with just two time faults on the clock and Sarah Meier and Chanel delivered the fastest four fault round at 67.761, well under the 81 second time allowed.
After an exciting jump off that had competitors racing to a single oxer finish across the diagonal and heading home, it was Kevin J. McCarthy (IRL) and Catch A Star HSS that stole the win, stopping the clock at an impressive 34.262 seconds, a full 10 seconds under the 45 second time allowed. We caught up after the class with McCarthy and Keely Ann O'Hara, recipient of the WEC Groom's Award. Both are former professionals who now ride as amateurs, keeping their horses at O'Hara's mother's farm, Evergreen Stables in Delphi Falls, New York. The couple recently celebrated a year anniversary of opening their McCarthy's Pub in Cazenovia, New York, and now split their time between the horses and the pub.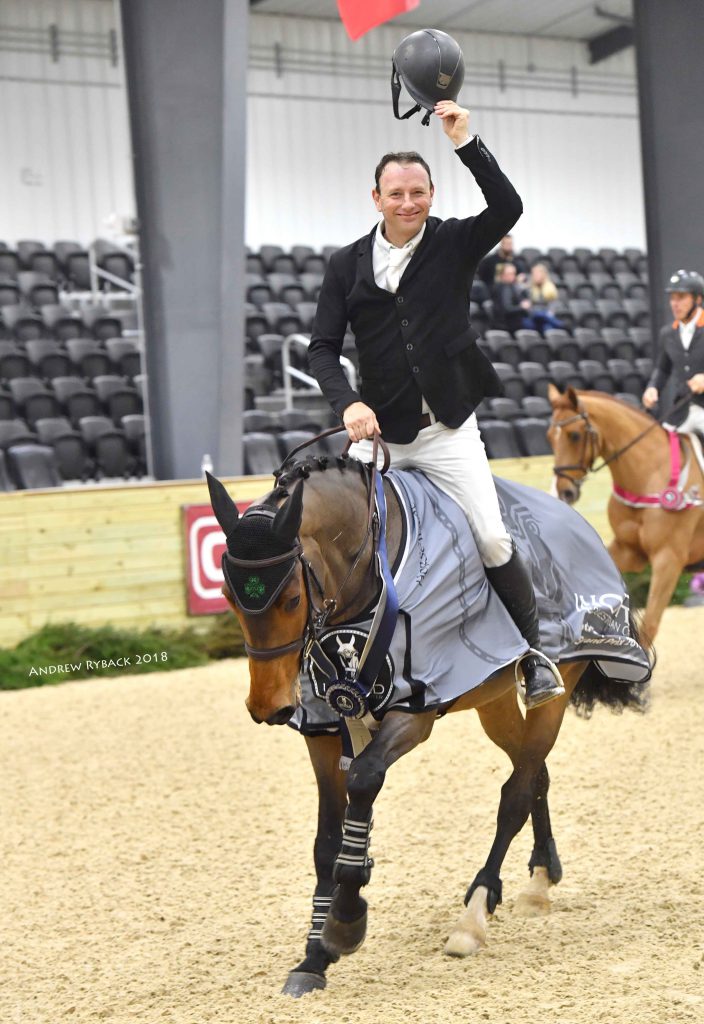 "This is my second Grand Prix win," McCarthy mused, "I was known by my friends as a one hit wonder – so I've called them all this evening to tell them that I've won my second now!" (In 2013 McCarthy won the $30,000 Ox Ridge Hunt Club Grand Prix aboard Vernal.)
But tonight belonged to McCarthy and Catch A Star HSS (Tolinda x Nimmerdor), a 2010 Swedish Warmblood mare. Although they are relatively new to each other, Casey (as she is known in the barn), has developed a great rapport with McCarthy since they purchased her last summer. "I'm still figuring her out," McCarthy said referring to the mare whom he describes as having a great work ethic. "I've never been around a horse that loves her job as much as Casey," O'Hara shared. "She literally loves working. She doesn't like being in her stall, she doesn't like being out or being with other horses. She thrives on working."
Earlier this week the pair secured a second place finish in the $5,000 Welcome Stake. They were third in the $10,000 Futures Prix at the World Equestrian Center Invitational in late October. Earlier this Fall they won the $7,500 Waterworks Classic at the Phoenix Horse Show and earned top results at HITS Saugerties as well.
McCarthy was self-effacing about his performance in the first round, giving all credit to Casey for helping them sail through the triple combination. "I was blessed tonight because I didn't give her a great ride but she tried so hard. She can be funny in the warm up, but as soon as she knows that it's show time, she always tries so hard."

"You've got fantastic riders here like Wilhelm (Genn) and David (Beisel) and they are so fast. It helped me that I was late in the draw, because I wouldn't have gone as fast as I did if they hadn't set the pace. But she tried so hard and I sent sail to the last," Kevin said.
Second place finisher Wilhelm Genn and his own Van Gogh delivered a clear round stopping the clock at 36.923 and drawing plenty of excitement from spectators. Crowd favorites David Q. Beisel and Call Me Hannes weren't far behind, taking third with a time of 37.024 seconds.
$25,000 World Equestrian Center Grand Prix Results
Kevin J. McCarthy, Catch A Star HSS – 0 | 34.262
Wilhelm Genn, Van Gogh – 0 | 36.923
David Q. Beisel, Call Me Hannes – 0 | 37.024
Julia Curtis, Cornet2 – 0 | 37.464
Michael Grinyer, Elation – 4 | 35.901
Taylor Kain, Gipsy 1134 – 4 | 36.931
Carlton Café, Jill Gaffney – 12 |35.335
Nicole E. Loochtan, Caiman des Sequoias – 2 | 77.818
Sarah R. Meier, Chanel – 4 | 67.761
Willink, Kama Godek – 4 | 68.728
$7,500 Futures Prix 1.30 m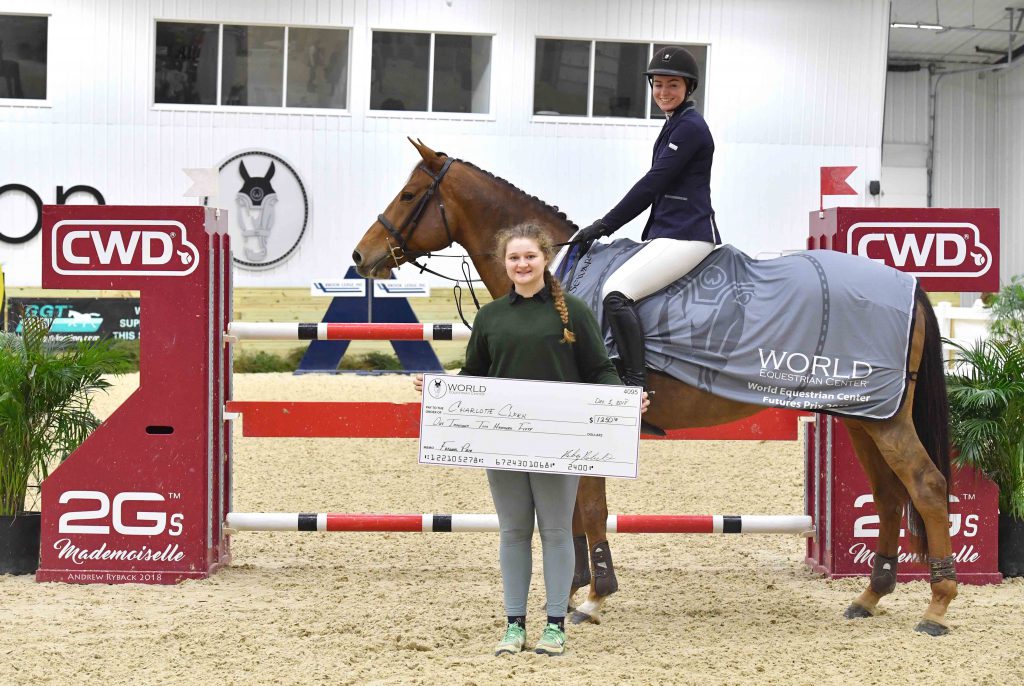 The $7,500 Futures Prix saw equally cutthroat competition, with 22 entries fighting for their share of the prize money. While 13 horse and rider pairs made it to the jump off, it was Charlotte E. Clark aboard Kinsella who took home the blue. Clark and the 8 year old Irish Sport Horse mare (Capitalist x Jerpoint Mist) rode two stellar rounds, crossing the timers in the jump off at 33.170 seconds. Hot on Clark and Kinsella's heels were second place finishers Jill M. Gaffney and Jordan with a clear jump off time of 33.661 seconds, as well as third place finishers Lauren S. Hester and Lorstakov with a clear jump off time of 35.363 seconds.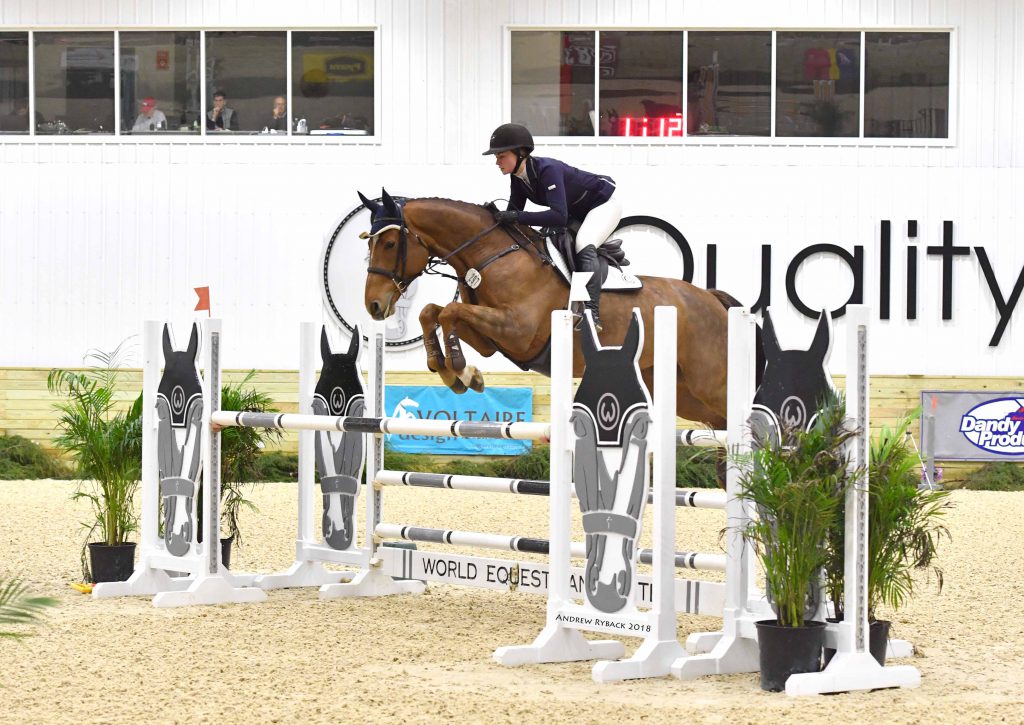 Charlotte E. Clark was excited about her and Kinsella's win in the $7,500 Futures Prix 1.30 m tonight. "I thought [Kinsella] was fresh and jumping really well. She's really quick across the ground so her time is generally super fast," Clark explained about her ride. When asked about Kinsella, Clark stated, "She's been a really good horse. I've had her since she was 5. It's been cool to bring her along and move up the levels with her." Adding to the excitement, Clark also took fourth in the Futures Prix aboard her own Cornetta KF.
$7,500 Futures Prix 1.30 m Results
Charlotte E. Clark, Kinsella – 0 | 33.170
Jill M. Gaffney, Jordan – 0 | 33.661
Lauren S. Hester, Lorstakov – 0 | 35.363
Charlotte E. Clark, Cornetta KF – 0 | 38.271
David Q. Beisel, Five Star – 4 | 32.265
Lauren S. Hester, Warinde B – 4 | 32.867
David O'Brien, Lazuli II SCF – 4 | 34.072
Colin K. Savsria, Helios – 4 | 35.694
Kama Godek, Durango Z – 4 | 37.014
Allison M. Mcbreen, Rumorosa – 4 | 38.758