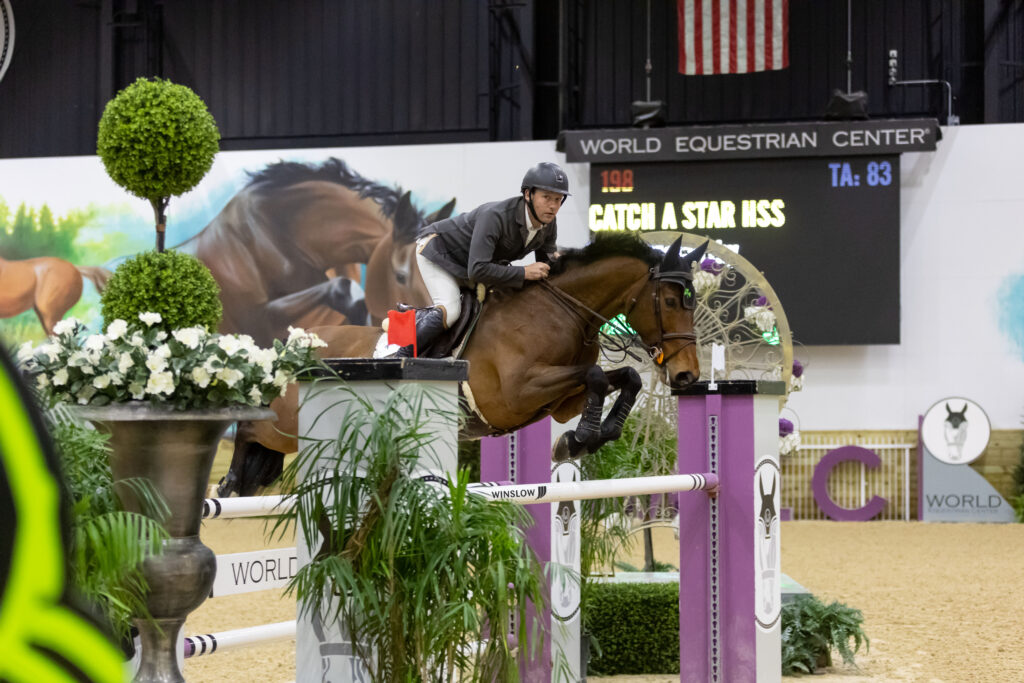 Ireland's McCarthy and Catch a Star HSS take home Their Fifth Wilmington Winter Classic $30,000 Grand Prix Win
Wilmington, OHIO – Kevin McCarthy of K&K Sporthorses in Lexington, Kentucky, piloted his own Catch a Star HSS (Sheraton x Tolinda) to the win in tonight's $30,000 World Equestrian Center Grand Prix. Tonight marked the fifth grand prix victory of the 2022 Winter Classic series for the notoriously fast pair who are tough to beat when they are on their game. Courses for tonight's feature classes were designed by Bobby Murphy's of Lexington, KY.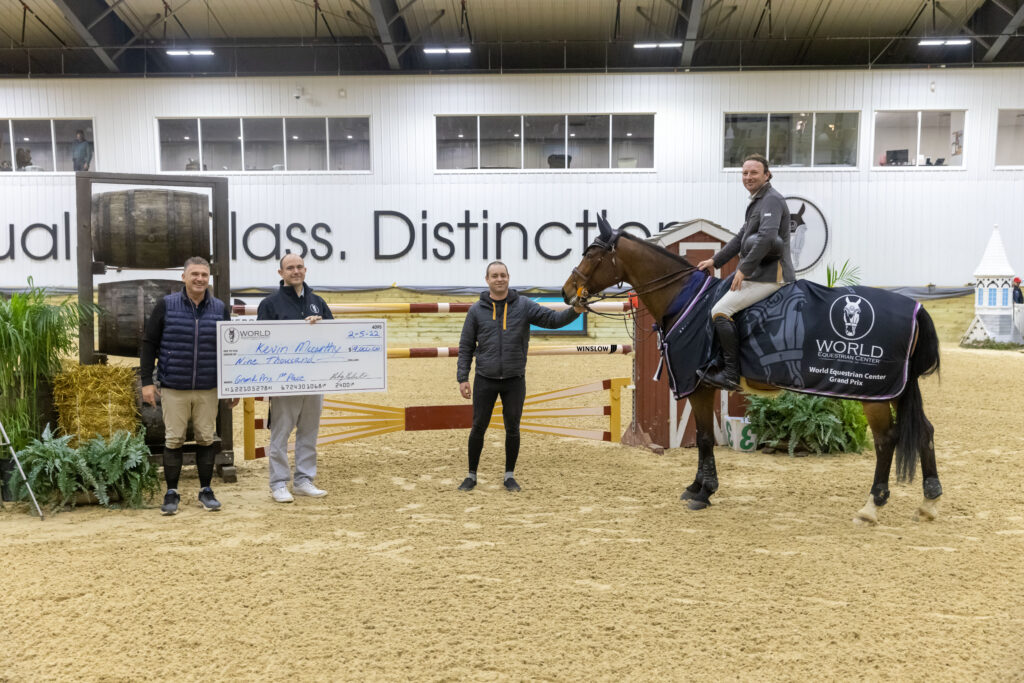 Kevin expertly piloted the scopey Swedish Warmblood mare through the course, delivering a clean first round in just 77.042 seconds. Returning to contest the jump-off track, the pair galloped through the course in a foot-perfect effort to cross the timers in just 41.192 seconds for the win.
Kevin had kinds words to share after his winning round. "I'm delighted to be back in the winners circle and thankful for the WEC Ohio facilities and amazing staff."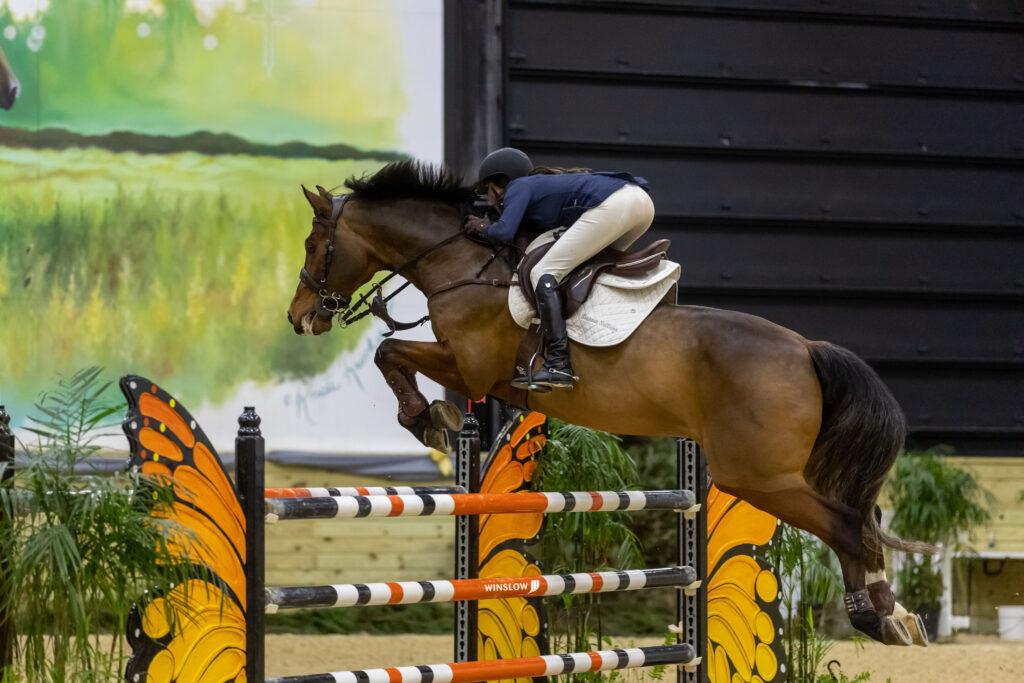 An unlucky rail kept Welcome Stake winner Shannon Sullivan and her own Downtown's Main Event (Love Sopreme) out of first place contention. Sullivan of Downtown Equestrian Center in Frankfort, Illinois, and the 15-year-old Polish Warmblood gelding went clear in round one, stopping the clock in 75.609 seconds. The pair was eager to notch another victory, but incurred a four-fault penalty in the jump-off, ultimately bumping their 40.530 second jump-off round to a second-place finish.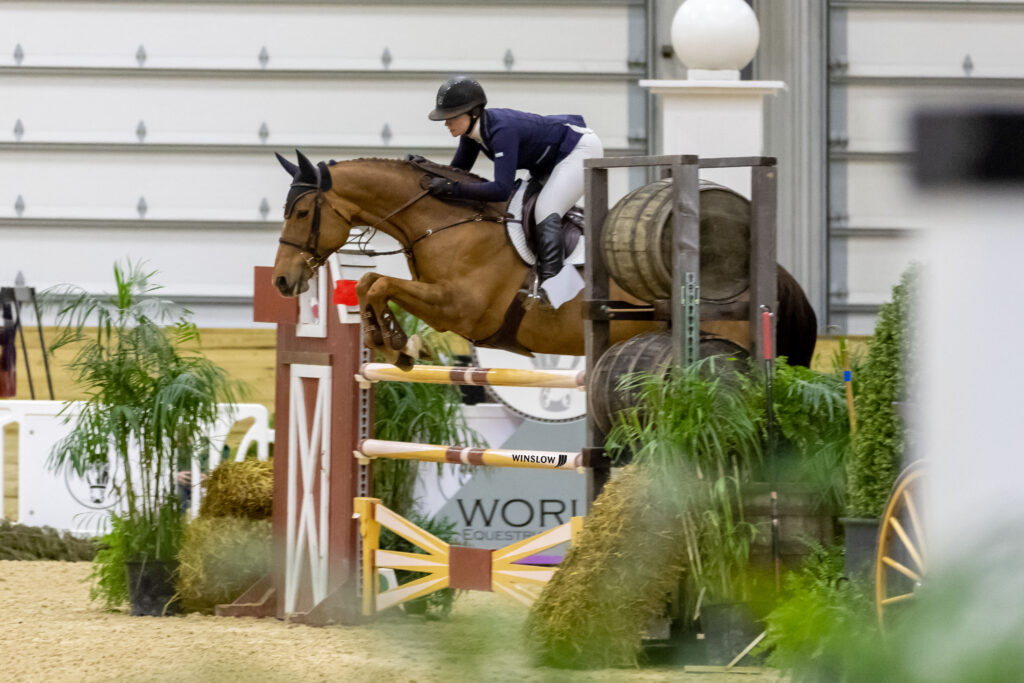 Rounding out the top three was Charlotte Clark of Kendallwood Farm in Sunbury, Ohio, and her own Kinsella (Capitalist x Jerpoint Mist). Clark and the twelve-year-old Irish Sport Horse mare had a clean first round in 72.385 seconds and a four-fault 42.416 second run in the jump-off, to take home the yellow ribbon and third-place honors.
$30,000 WEC Wilmington Grand Prix Results:
Catch a Star HSS, Kevin McCarthy: 0 | 0 | 41.192
Downtown's Main Event, Amanda Sullivan: 0 | 4 | 40.530
Kinsella, Charlotte Clark: 0 | 4 | 42.416
Cumbaya W, Darby Pease: 0 | 8 | 40.490
Essince W, David Q. Beisel: 4 | 76.792
Fawkes, Lindsay Lyden: 4 | 76.973
Main Line Girl, Douglas King: 4 | 77.863
Fortysix & 2, Lyriss Jaeger: 4 | 80.540
Hendrik, David Q. Beisel: 4 | 80.997
Vegas H, David Q. Beisel: 8 | 77.535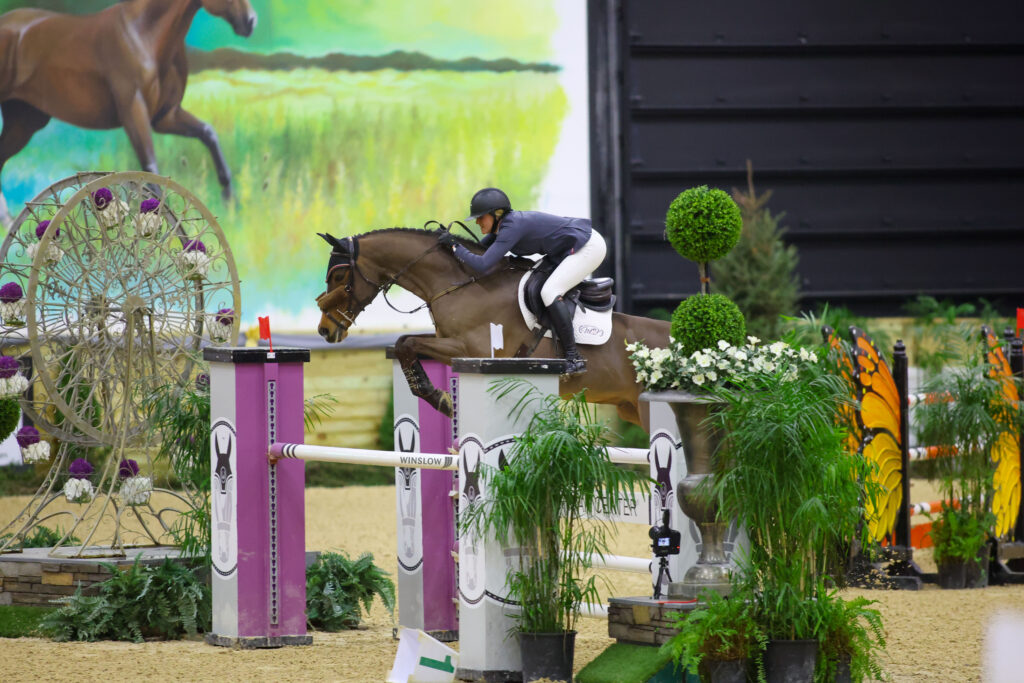 Darby Pease and Carel Van Donderen Top $10,000 WEC Futures Prix 1.30m
Young professional Darby Pease of Windcrest Farm in Lexington, Kentucky, and Three-Eight Properties Carel Van Donderen (Acolino 4 x Terania DIe Hoeghte) captured today's $10,000 WEC Futures Prix 1.30m win. Pease and the fifteen-year-old Dutch Warmblood gelding stopped the clock in 74.827 seconds in the first round. They caught their breath before galloping through the short course, leaving all rails up and clocking in at 38.361 seconds for the win.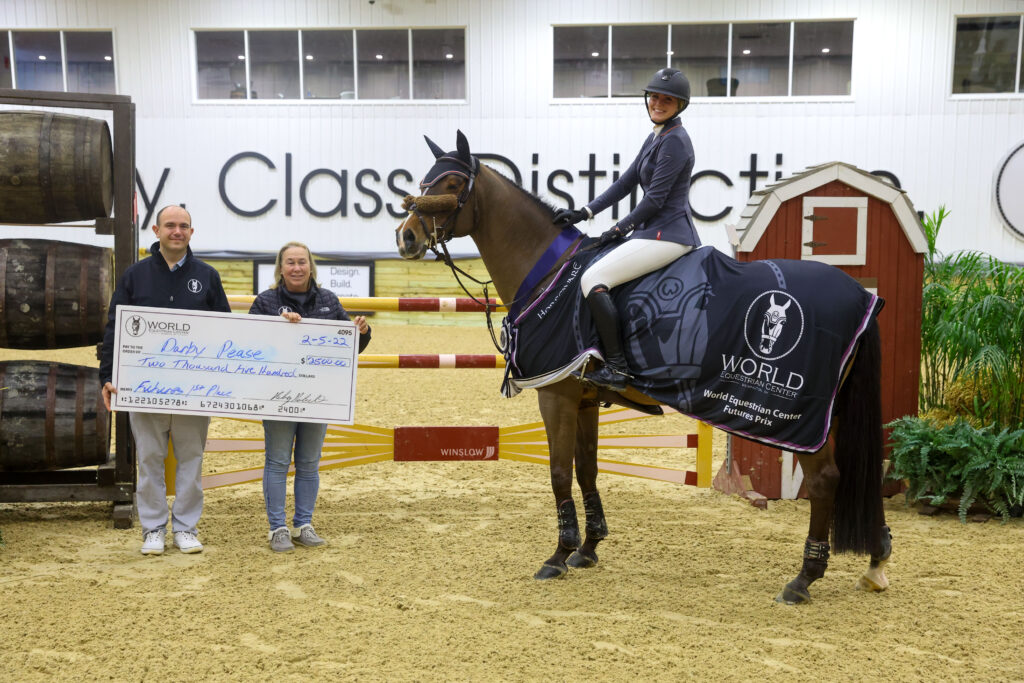 Pease complimented Carel Van Donderen's style, "He is naturally so quick across the ground and he knows when it is jump-off time! 'Carle' is what we call him in the barn and we only got him a few weeks ago. I am working on getting to know him and figuring him out before we market him for lease. He's been around the block, has jumped everywhere, and in a lot of big classes. This probably wasn't too much for him, he is an old pro!"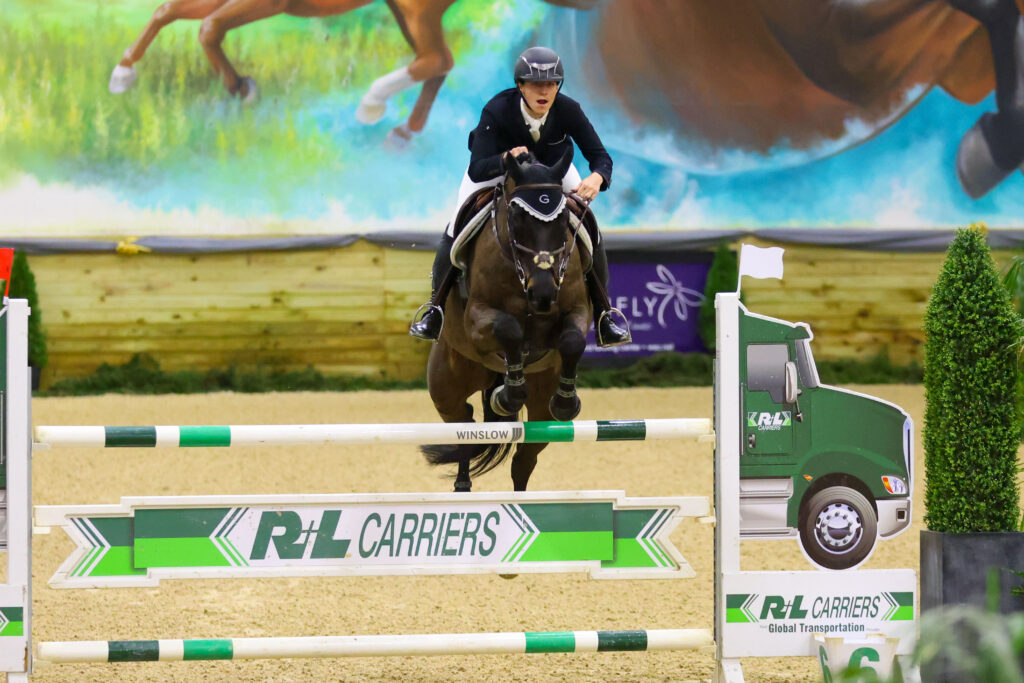 Jumping into the second-place spot was Owen Gajoch and his own Montendro 5 (Messenger x Furstin B). Gajoch and the nine-year-old Oldenburg gelding topped the standards for a 78.830-second first-round finish. They immediately returned to the jump-off, leaving all rails up and crossing the timers in 40.145 seconds.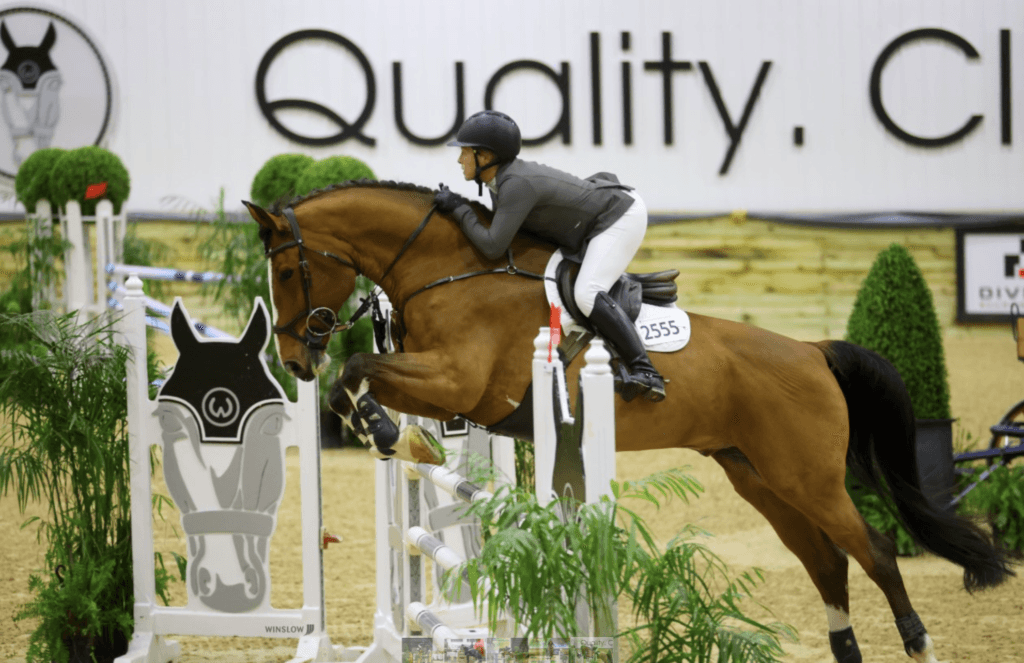 Rounding out the top three were Whitney Taylor and her own Oliver, who completed the long course in 82.515 seconds, followed by a 42.389 seconds finish over the jump-off track to secure a third place finish.
$10,000 WEC Wilmington Futures Prix Results
Carel Van Donderen, Darby Pease: 0 | 0 | 38.361
Montendro 5, Owen Gajoch: 0 | 0 | 40.145
Oliver, Whitney Taylor: 0 | 0 | 42.389
Another Never, Lanie Thomas: 0 | 0 | 44.576
Clinton, Emma Lena M. Green 0 | 0 | 49.069
Infinito HMS, Chloe Desjarlais: 4 | 78.398
Norwin Z, Erika Heintschel-Githens: 4 | 79.562
Honey Girl, Kevin McCarthy: 12 | 82.419
In Private, Lindsay Lyden: 15 | 93.113
OZ Royale, Lanie Thomas: 27 | ​​97.164