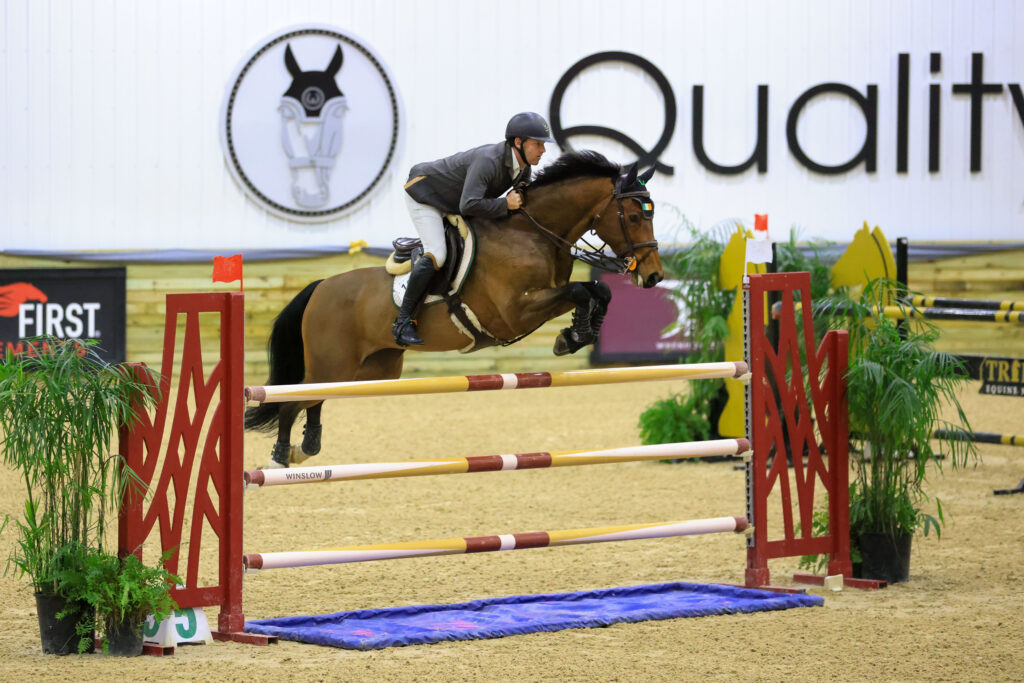 Wilmington, OHIO – A quiet Saturday in Southern, Ohio set the backdrop for today's feature classes in the Sanctuary arena. A crowd gathered to watch twenty-two athletic jumpers give it their all during this afternoon's $10,000 Futures Prix and $30,000 Grand Prix classes.
The $30,000 Grand Prix course, designed by Anderson Lima (BRA) featured fifteen jumping efforts that included bending lines, a triple combination and a liverpool that challenged riders. Though the competition was fierce, none could best Kevin McCarthy and his own Catch a Star HSS (Sheraton x Tolinda).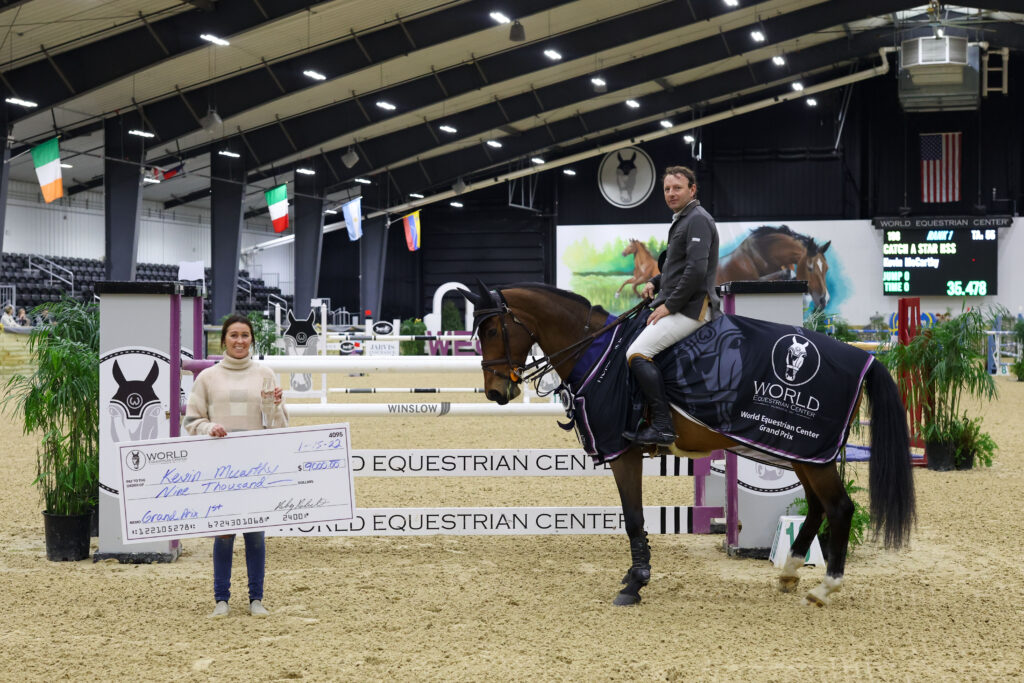 This marked the fourth consecutive win for the team who operate out of KK Sporthorses, LLC in Lexington, Kentucky. McCarthy and the bay Swedish Warmblood mare have proven untouchable in the competition arena week after week. Today was no different for the pair. They raced against the clock in the first round to finish in a time of 80.076 seconds. A fault-free round earned them a spot in the jump-off. On the short course, McCarthy and 'Casey' crossed the finish line in 35.478 seconds, well under the allowed time of 55 seconds to earn first place honors which included a stunning WEC-branded cooler, a dazzling crystal trophy and a giant blue neck ribbon.
Kevin caught up with us after his win to chat about the course. "The course was nice and the jump-off was a lot of fun. It was challenging in all of the right ways. My horse performed well but we had to stay on top of our a-game because there were many good riders trailing us."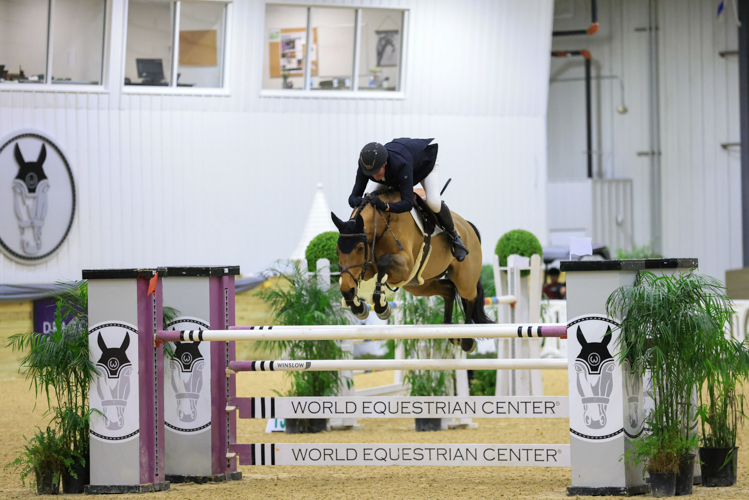 This week's Welcome Stake winner's Paul Halpern and Vanessa Lee's Esra (Bratt Z x Ulibra) claimed second place in today's $30,000 Grand Prix, missing the blue ribbon by just fractions of a second. The duo from Canada looked polished and smooth navigating the fast course, appearing to effortlessly take inside turns and approach fences with ease. Halpern finished the first round in 78.489 seconds clear and fast. Upon returning to the arena for the jump-off, they gave it their all, clearing all of the jumps to stop the timers in 35.649 seconds for a red ribbon finish.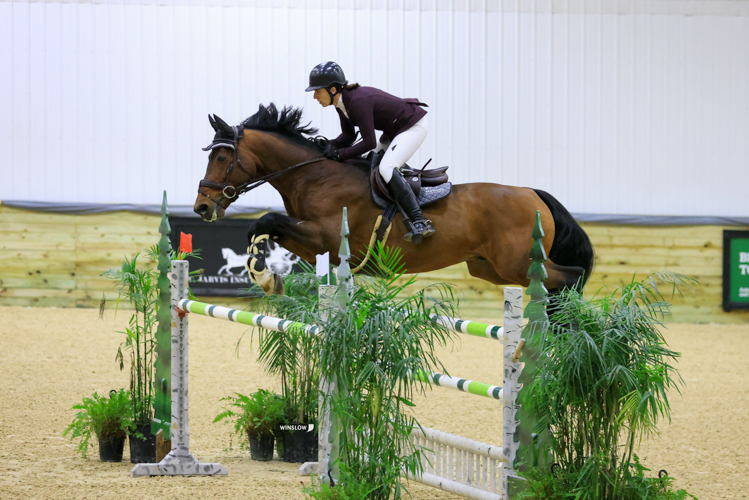 Winning last week's Futures Prix and finishing third in today's Grand Prix was Switzerland's Katia Manuel-Adams and her own ERP Van www.Olland.biz (Amadeus x T'olga). Manuel-Adams and the12-year-old Dutch Warmblood stallion navigated a clear first round in 79.641 seconds and advanced to the jump-off. The pair maintained their speed on the short course, leaving all rails up in a time of 37.476 seconds to earn third place honors.
$30,000 WEC Grand Prix Results:
Catch a Star HSS – 0 | 0 | 35.478
Esra, Paul Halpern – 0 | 0 | 35.649
ERP Van www.Olland.biz, Katia Manuel-Adams – 0 | 0 | 37.476
Clarence NT, Mikayla Sancho – 0 | 0 | 38.831
Cumbaya W, Darby Pease – 0 | 4 | 39.322
Tinka's Soldier, Chloe Parker – 0 | 8 | 36.067
First Finch, Logan Taylor – 4 | 77.954
Essince W, David Q. Beisel – 4 | 79.747
Vegas H, David Q. Beisel – 4 | 81.230
Matinee BSH, Shawn Buter – 8 | 83.430
Izzy Beisel & Ammeretto Victorious in the $10,000 WEC Futures Prix 1.30m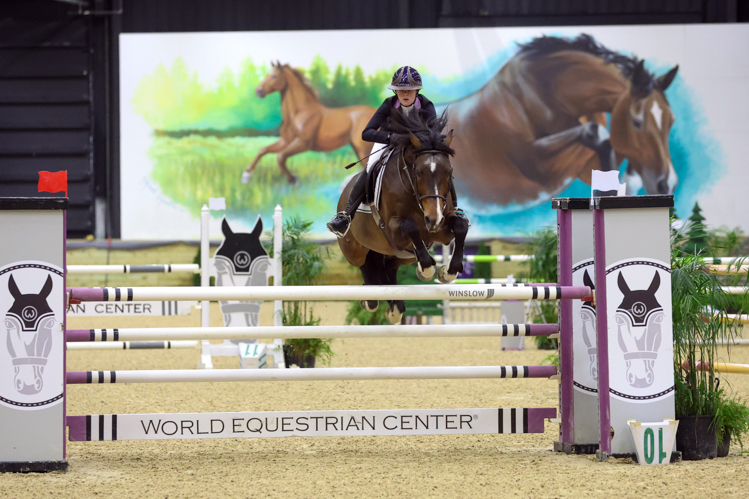 Izzy Beisel proved unbeatable this afternoon, taking the win in the $10,000 WEC Futures Prix 1.30m on David Beisel's Ammeretto (Numero Uno x Ranna). The duo was first on Anderson Lima's (BRA) course and set a tough time to beat from the get-go. The class featured a similar course to that of the Grand Prix, with multiple combinations and bending lines. Six of the ten entries managed clear first rounds and five jumped double clear, making for tough competition in the 1.30m class.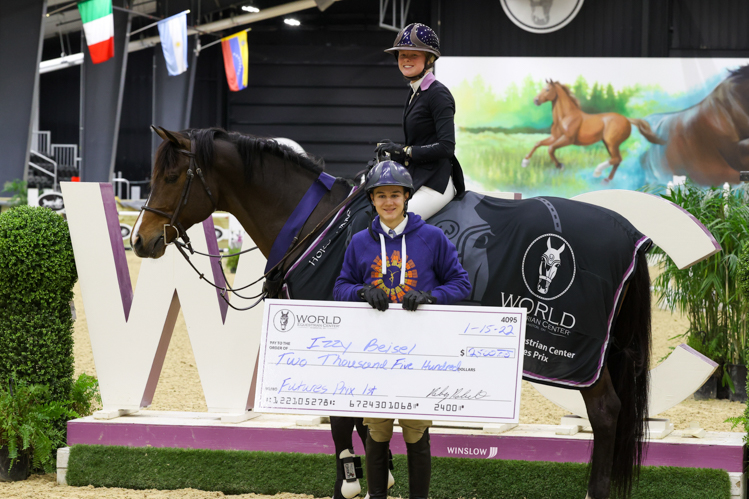 Fifteen-year-old Beisel and the 16-year-old Dutch Warmblood have captured several big wins at WEC, most recently in December where they won the $10,000 Futures Prix. They are smooth, fast, and consistent, which is hard to beat. On today's track, they were on form, jumping a clear first round in a time of 73.615 seconds, well under the time allowed of 84 seconds. The pair advanced straight to the jump-off, taking tidy inside turns to fences and stopping the clock at 33.317 seconds, a time that would ultimately prove untouchable by the rest of the entries, including her dad.
We chatted with Izzy after the class to talk about her strategy. "I've been trying something new this week and I really like how it is going. I've been holding my reins in more of a 'driving' position, rather than a regular position. It doesn't seem like much, but I am noticing a big difference. It really is helping my horse take me to the jumps."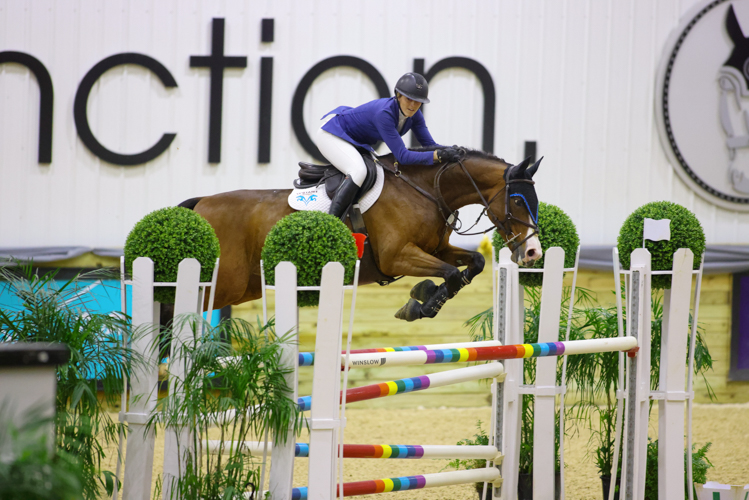 Darby Pease of Windcrest Farm, and Jorge Berganza's BSS Isa claimed the second-place spot in today's $10,000 Futures Prix. Darby and the nine-year-old Dutch Warmblood mare kept a careful but forward pace in the first round and sped through the timers in 73.989 seconds. The pair took to the jump-off course and delivered a fault-free round in 36.691 seconds, for the red ribbon.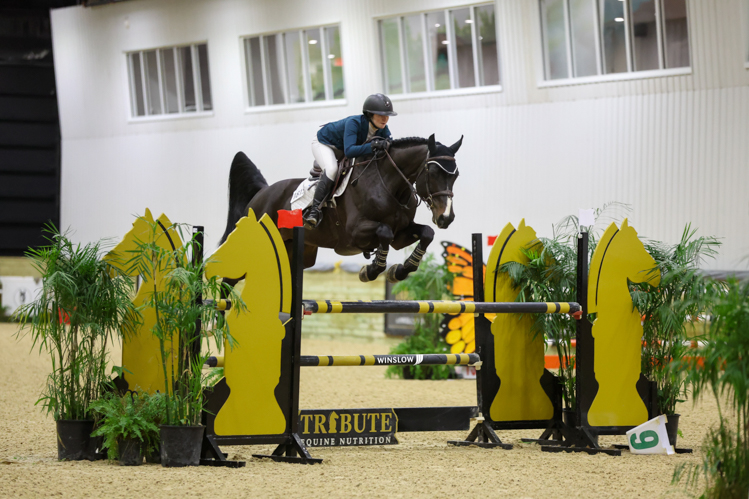 Rounding out the top three were Mikayla Sancho of Canada and her own Congrato (Contednro I x Bravo). The black stallion raced through the course, earning fault-free times of 80.541 seconds in round one, followed by 37.400 seconds in the jump-off to secure third place honors.
$10,000 WEC Futures Prix 1.30m Results:
Ammeretto, Izzy Beisel – 0 | 0 | 33.317
BSS Isa, Darby Pease – 0 | 0 | 36.691
Congrato, Mikayla Sancho – 0 | 0 | 37.400
Hendrik, David Beisel – 0 | 0 | 38.317
Honey Girl, Kevin McCarthy – 0 | 0 | 38.816
Ecuador W, Logan Taylor –– 0 | 4 | 33.588
Diesel, Paul Halpern – 4 | 76.817
Quantum Of Solace, Katia Manuel-Adams – 4 | 79.938
Check Point 18, Sarah Meier – 12 | 75.925