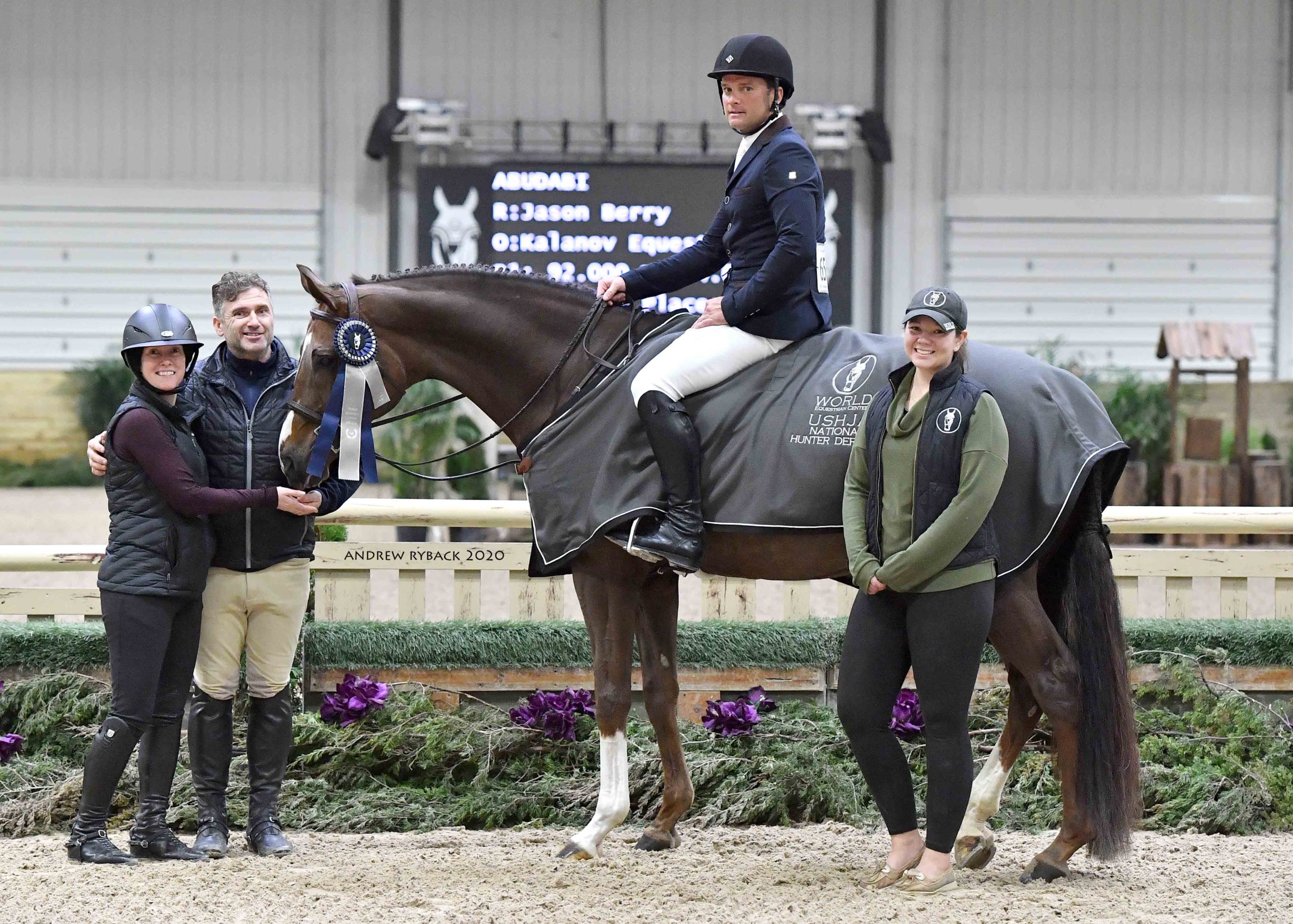 A record forty entries filled the R+L Arena this afternoon for the $5,000 USHJA National Hunter Derby. The course for the class was designed by Keith Bollotte of North Carolina and featured a two stride line, four high option fences and adjustable bending lines. Scores soared into the nineties, but it was Jason Berry catch riding for Kosta Kalanov and Traci Ribeiro aboard Kalanov Equestrian's Abudabi who captured the win with a pair of scores in the nineties.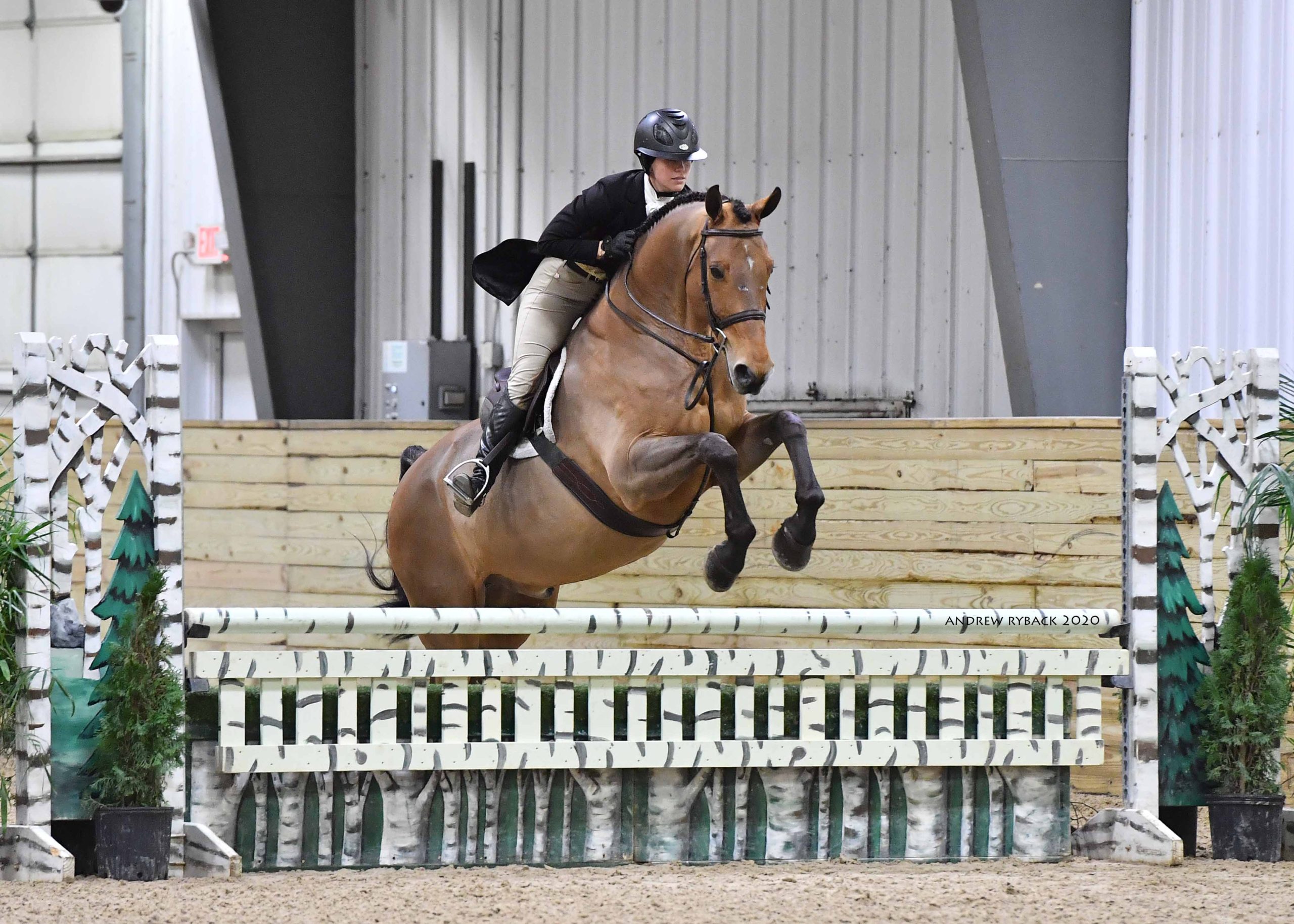 The standard in the class was set early on by Isabel Harbour and IHM Equine, LLC's Fitz (Numero Uno x Kootje). The pair regularly show to top placings in the Amateur Owner Hunters, preparing them well for the 3′ track with 3'5″ options this afternoon. Harbour and the twelve year old Dutch Warmblood gelding took all four high options in the first round, earning a score of 88 and raising the bar for the remaining entries.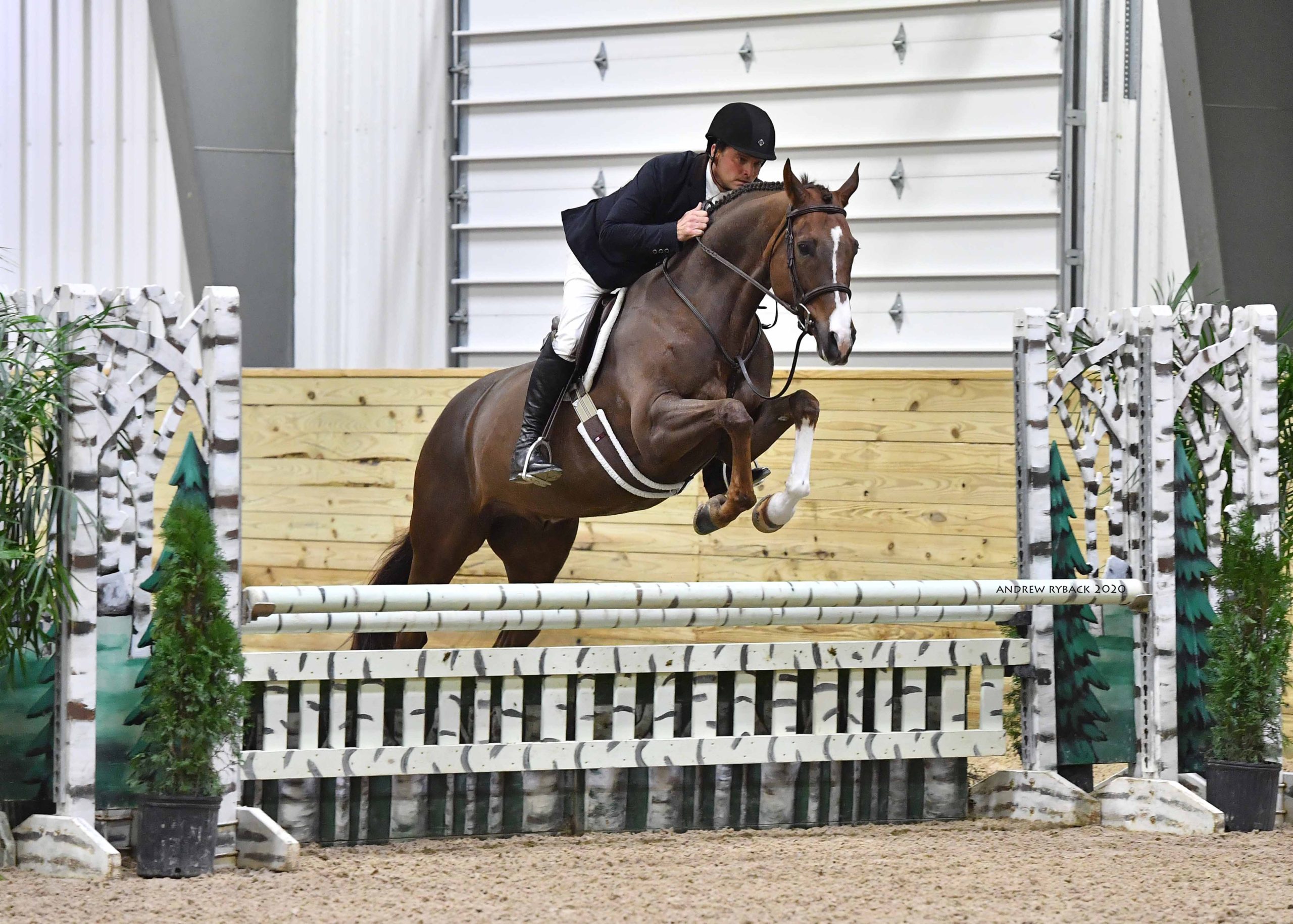 Jason Berry and Kalanov Equestrian's Abudabi took to the course about midway through the order. Abudabi has a wealth of experience in National Hunter Derbies at World Equestrian Center, taking top placings with Traci Ribeiro as well as Ohio-based trainer David Beisel. This afternoon, Berry and the flashy liver chestnut gelding wowed the judges with a foot-perfect first round, taking all four high options and earning a score of 92.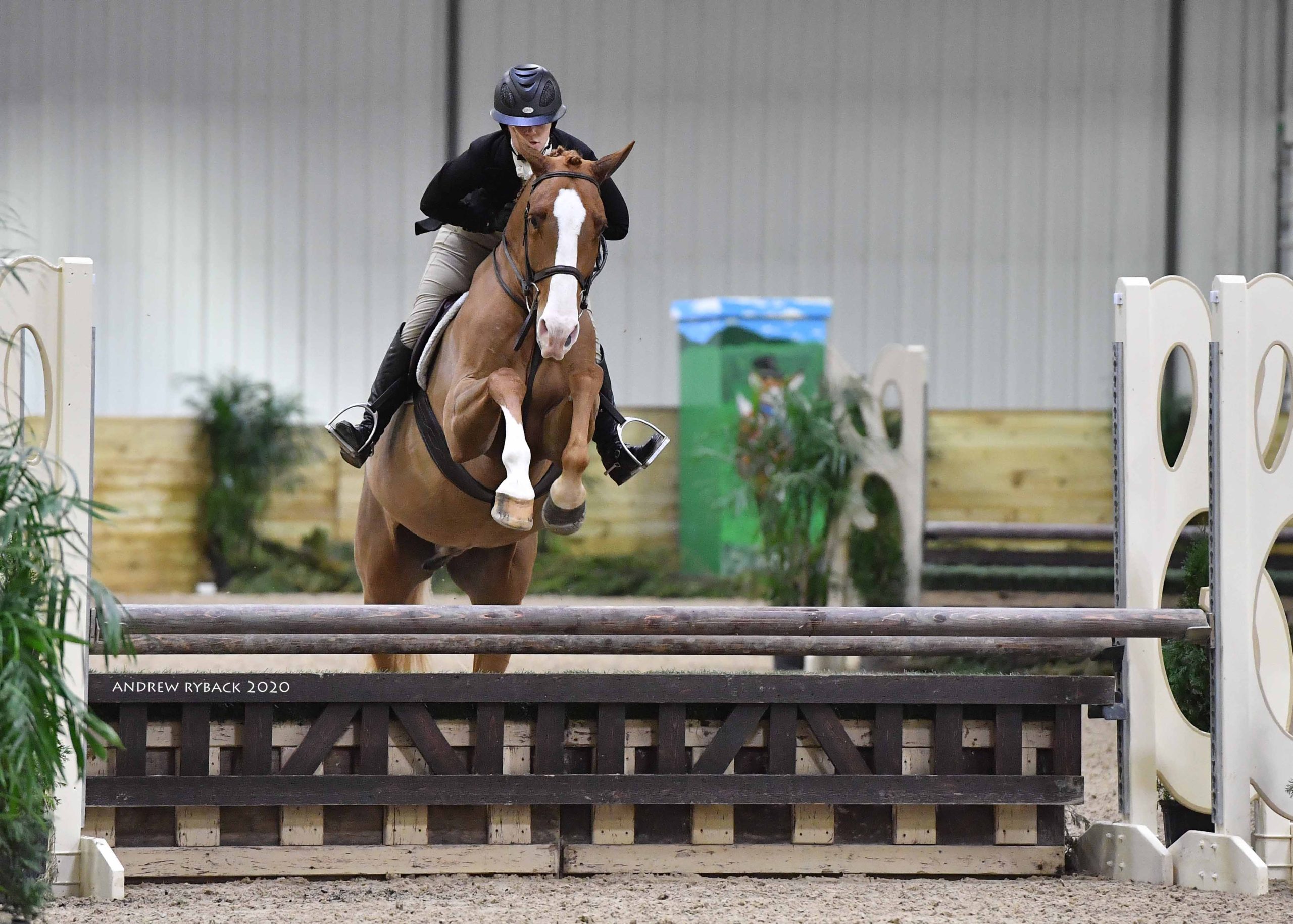 Isabel Harbour also had a noteworthy round aboard Showcase Limited's Brulee. The pair took top placings in last week's USHJA 3′ Hunters at World Equestrian Center and were ready to take on this afternoon's class. Harbour and the handsome chestnut gelding also took all four high options, earning a first round score of 86.
The ring was refreshed and the top twelve entries returned for the handy round. Harbour and Brulee returned neara the middle of the order, taking a skilled inside turn to fence three and all four high options. The pair earned a score of 85 for their efforts, bringing their overall total to 171, the new leading score for the class. Shortly after, Harbour returned aboard Fitz. Harbour mirrored her previous track, taking a tidy inside turn to fence three and all four high options and earning a score of 90 for an overall total of 178, besting her first round score. Last to return was was Berry and Abudabi. The pair chose a wider inside turn to fence three and all four high options laying down a second flawless round and earning an impressive score of 92, bringing their overall total to 184 to win the class.
Jason Berry of Jason Berry Stables in Staunton, Virginia took a moment to chat with us ringside after the awards presentation, "It is about as easy as it gets riding this one. Abudabi is a catch ride for me. He is one of Kosta and Traci's horses. There is not much to do. He is point and shoot. In the handy round there were a couple of turns I didn't try because we didn't need to, so we played it safe and had a really nice round. Nothing too crazy."
We also caught up with Kosta Kalanov of Kalanov Equestrian in Barrington, Illinois to hear his take on the ride, "I got hurt around Christmas time. With the support of my friends Jason Berry and Charlotte Clark, I have had help with my horses. I really like them, they make me and my team very happy. Tonight there was no special plan. The horses are here and they have to show! Jason rode since I am hurt, but even being hurt, everything is going good. I am very happy at World Equestrian Center, we were here all of last Winter. Like I said there is no special plan, just have a great time with good horses and good friends."
Abudabi's owner Traci Ribeiro also commented on the win, "It's great to see what my horse can do, even when I can't do it myself. Jason has been so wonderful working with our horses, we really appreciate it. I love to see Boo shine.
Traci previously explained Abudabi's name to us and we love the story, "Abudabi (Boo) was in Bulgaria, where Kosta is from. Kosta called me and said, "I found a horse, his name's Abudabi," pronouncing it A-boo-da-bi. I said, "Are you sure that's his name?" He was insistent that his name was said that way. We ended up bringing him home. It's funny, the announcers always call him (the normal pronunciation of) Abudabi, and finally I met them and corrected them. They thought I was joking!"
$5,000 USHJA National Hunter Derby Results
Abudabi, Jason Berry – 92 | 92 | 184

Fitz, Isabel M.

Harbour

– 88 |

90 | 178

Brulee

, Isabel M.

Harbour

– 86 | 85 | 171

At Last, Jason Berry – 81 | 88 | 169

Timeless, Holly Helbig – 80 |79

.5 | 167.5

Dallas, Bridget D. Hickton – 81.75 | 84 | 165.75

Oti

, Isabella Fabrizi – 83 | 82 | 165

Batchelor

Party,

Aerin

Hopkins – 85 | 79 | 164

Daughtry, Leanne Daley – 83.5 | 77 | 160.5

Rio

Ruisseau

, Ellen M. Jennings – 82 | 72 | 154
Photos courtesy of Andrew Ryback Photography.