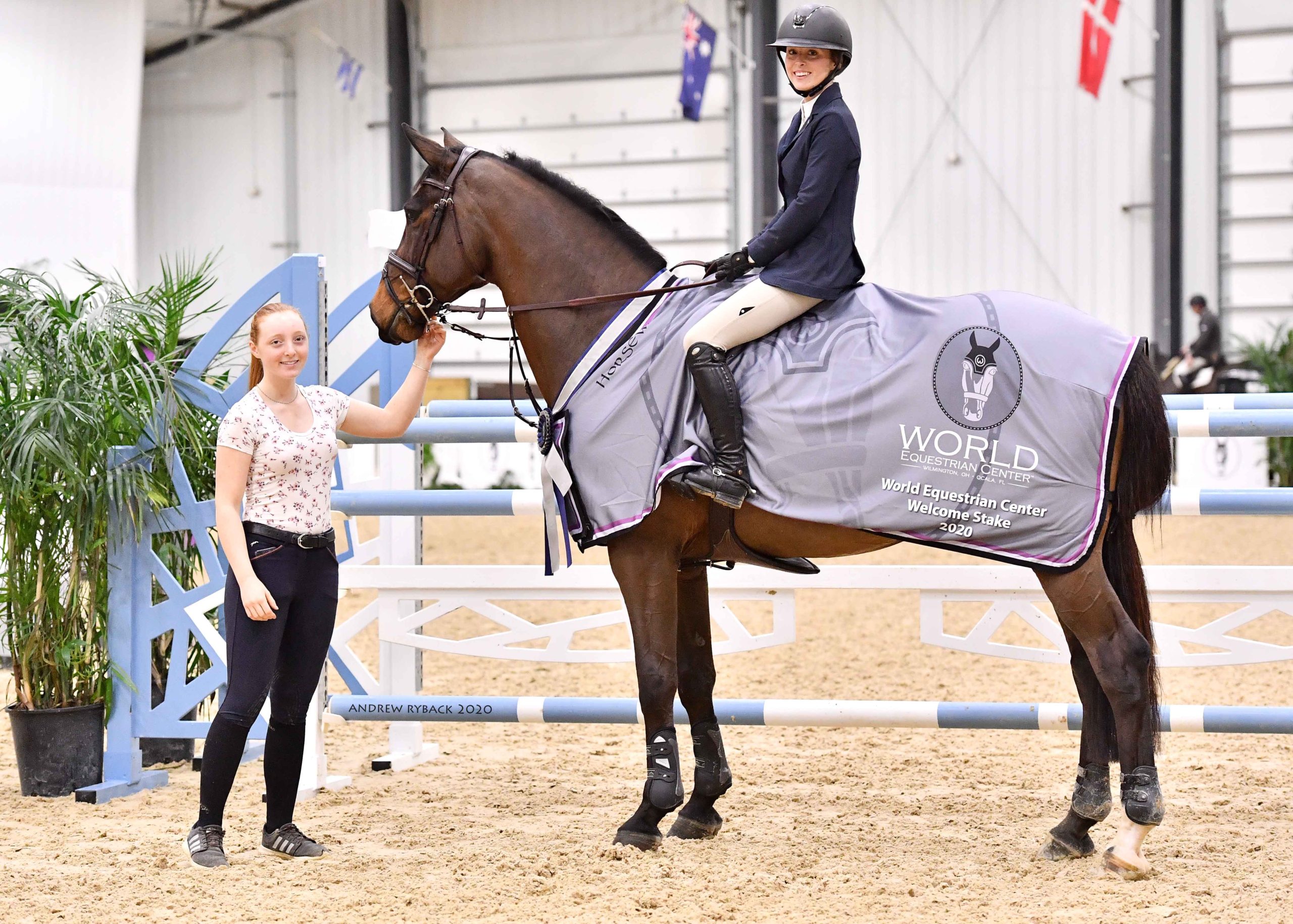 Week eight of 'Winter in the Midwest 2020' at World Equestrian Center kicked off this afternoon with sixteen skilled jumpers vying for the win in the $5,000 Welcome Stake 1.35m sponsored by CWD Sellier. The course for the class was designed by Bobby Murphy of Lexington, Kentucky and featured fourteen jumping efforts including two one-stride combinations, adjustable bending lines and plenty of opportunities for inside turns on the short course. The top three placings were separated by under a second, but it was twenty one year old Sandra Zimmerli and Zimmerli Show Jumping, LLC's Geronimo 132 (Cloney x Salome) that nabbed the win.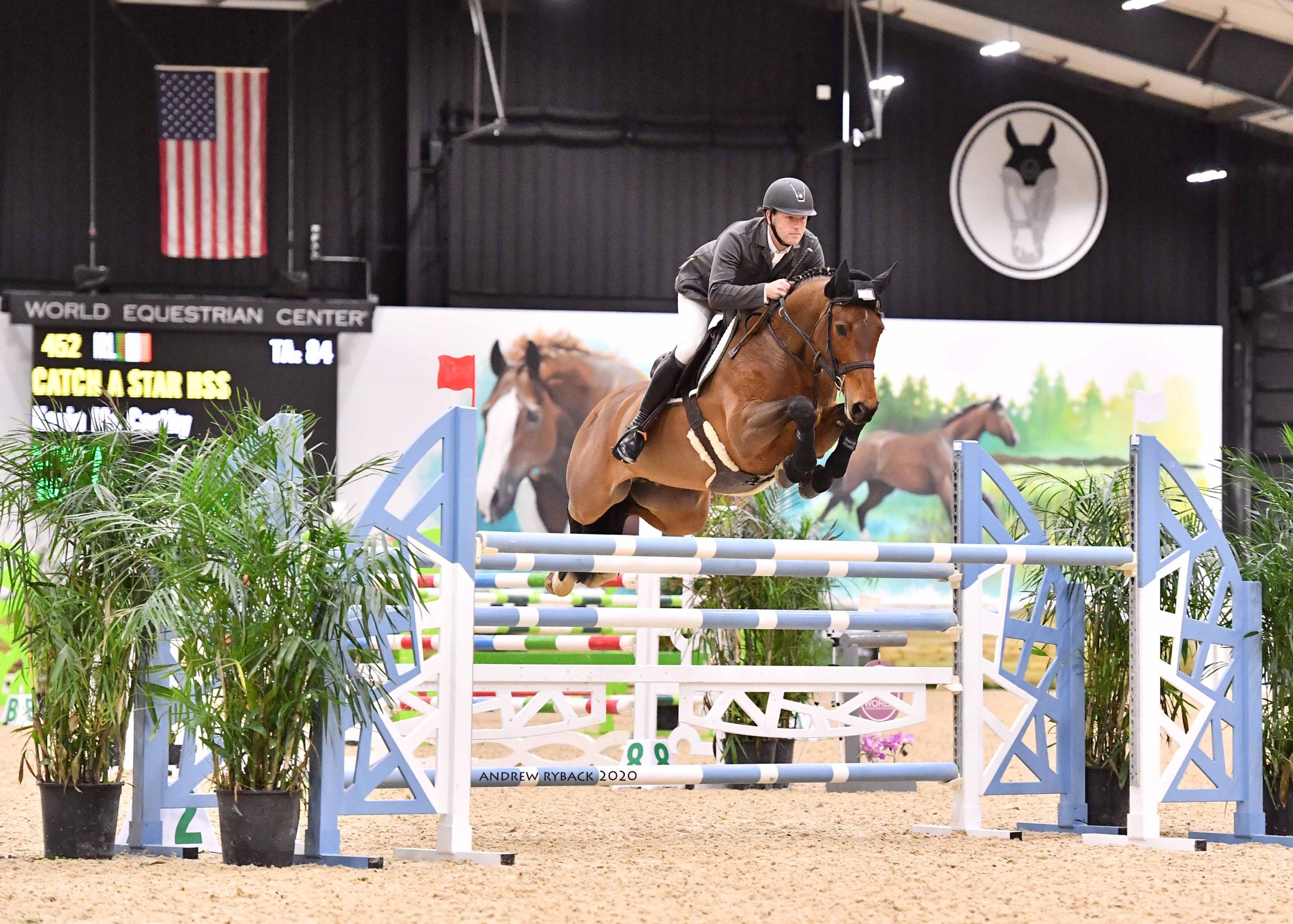 First to jump double clear was Kevin McCarthy and his own Catch A Starr HSS (Sheraton x Tolinda). The pair have had a fantastic start to 2020, earning a first place finish two weeks ago and a second place finish last week in the $25,000 World Equestrian Center Grand Prix. The pair were on form this afternoon, jumping a clear first round in 72.017 seconds, well under the time allowed of 84 seconds. McCarthy and the nine year old Swedish Warmblood mare continued straight to the jump off of the Table II 2b event, gaining speed and taking tidy inside turns to fences three, six AB, eight and eleven and flying through the timers at 37.964 seconds, setting a tough pace to beat.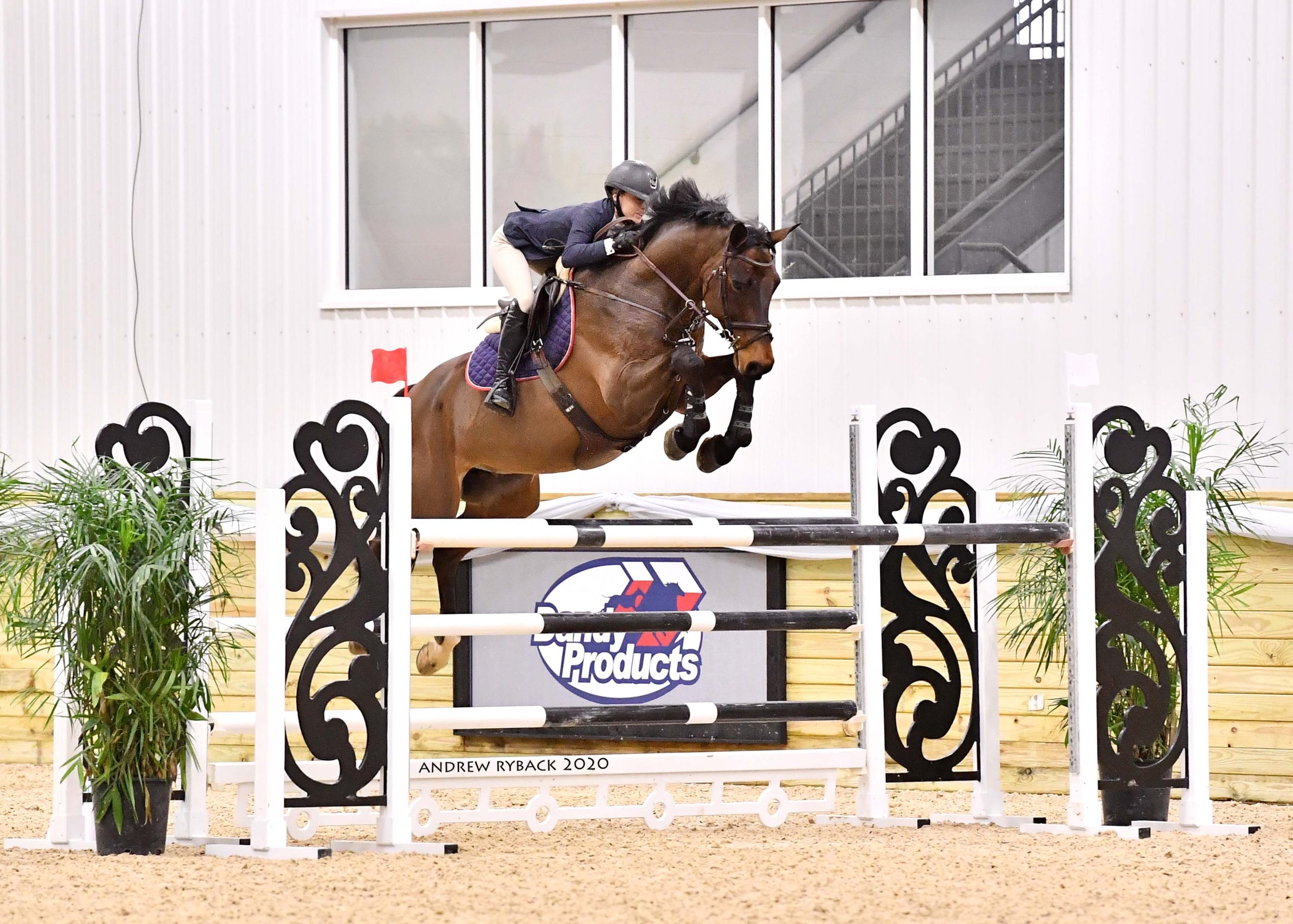 None were able to best McCarthy and Catch A Star HSS's quick time until about midway through the order when Sandra Zimmerli and Zimmerli Show Jumping, LLC's Geronimo 132 (Cloney x Salome) entered the ring. The pair have a fantastic history in the jumper ring, having taken top placings in Regional and National Standard Grands Prix, but had yet to win a feature class in 2020. This afternoon, Zimmerli and the ten year old Hanoverian gelding navigated a clear first round in 73.188 seconds and advanced straight to the jump off. The pair mimicked McCarthy's track, managing an even tighter inside turn to fence eleven, shaving off valuable seconds. The pair galloped through the timers at 37.042 seconds, moving into first place.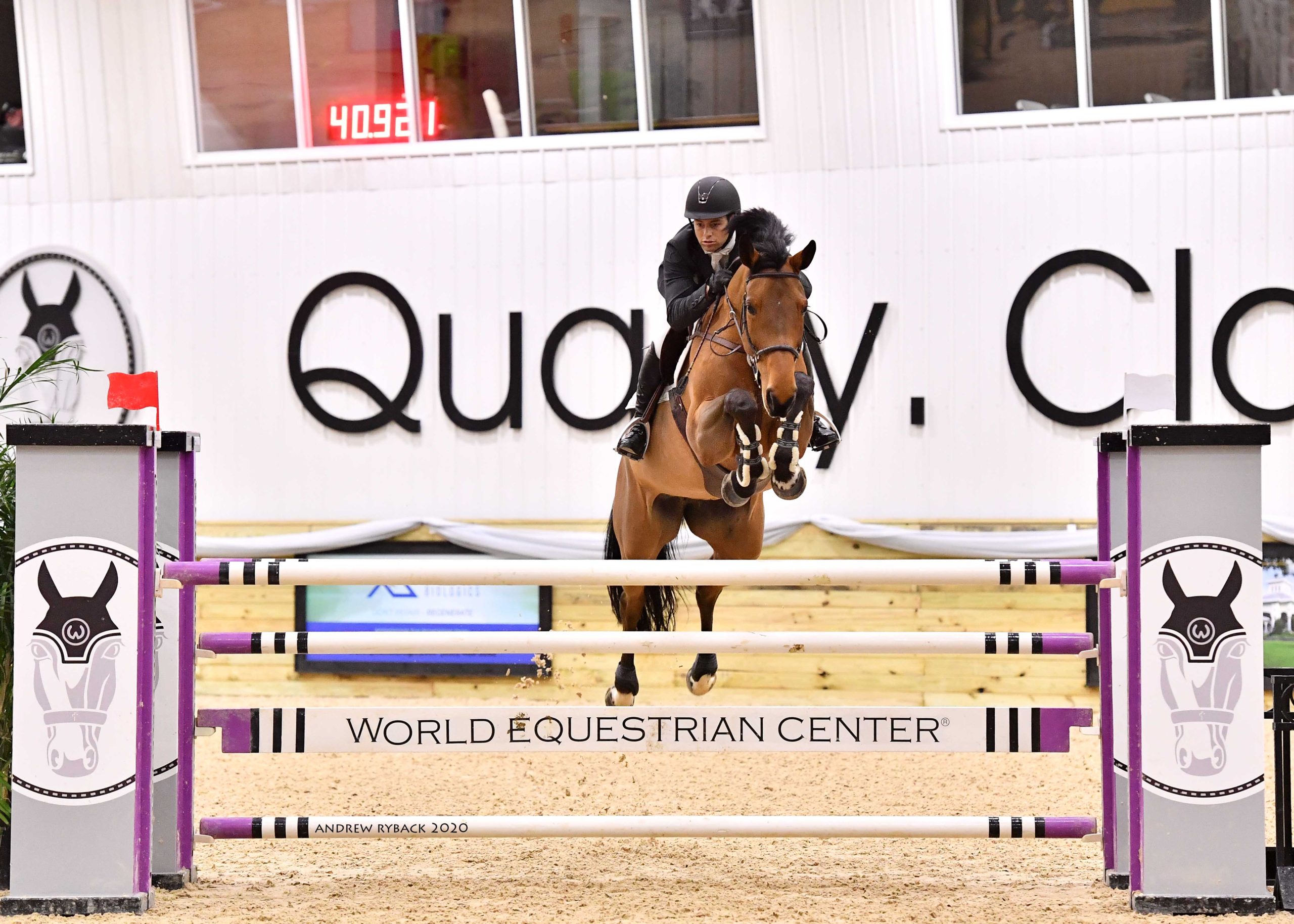 David Arcand and his own Malle Babbe van't Kieveld (Emerld van't Ruytershof x Campiola van den Hoendrik) made their mark on the class near the bottom of the order. The pair took third place in last week's Welcome Stake and returned to the ring this afternoon ready to fight for a top spot. Arcand and the eight year old Belgian Warmblood mare took a slightly more quiet approach to the first round, jumping clear in a time of 74.576 seconds. The pair continued straight to the jump off, also taking the inside track and mirroring Zimmerli's clever track to fence eleven. Arcand and Malle Babbe van't Kieveld stopped the clock at 37.669 seconds, moving into second place, leaving Zimmerli and Geronimo 132 in first place.
Zimmerli of Zimmerli Show Jumping just outside of Washington, D.C. stuck around after the awards presentation to chat with us ringside about her win, "I was on my ten year old Hanoverian, Geronimo 132. I've been playing around with him a little bit. I got him when he was eight. We've been doing some of the Regional and National level Grands Prix. He had some time off after the summer, just a little vacation, so we kind of got back into it in December. We got rolling here in January. I haven't done many Welcome Stakes with him because he's the type that gets a little more revved if you do too much with him and gallop too much, but he's getting to the age where I trust him more now."
When asked about her plan on course, Zimmerli replied, "My plan was just to have two smooth rounds. Once we jumped the first round I felt that he could go a little bit more. It was a good jump off for him. He turns really well to the left. I was able to jump the first jump straight and keep coming in eight strides to the second one, then I kind of caught everything out of stride and kept galloping out of the corners. I was able to trust that he would stay off of the rails, which we've been working really hard at. We left a stride out in both of the related distances and it was quick enough today!"
When asked about Geronimo 132's personality, Zimmerli laughed, "He's hysterical. He's the biggest ham, he's the funniest horse I've ever owned. He's like a big dog. He has a really good personality, he's not just nice to ride but he's nice in the stable. He's brave, bold and fast. He's a good type. It's really funny because my client bribes him with apple pies for double clear rounds. She's showing with us here this week and, conveniently, he's jumping double clear."
Zimmerli also added, "I'm twenty one years old, I'll be twenty two in April. I run Zimmerli Show Jumping based right outside of Washington, D.C. I went pro this time last year so I've been just starting my business and I really feel like I've been rolling this year. It's been great. I'd like to thank my team for helping me!"
$5,000 Welcome Stake 1.35m Results
Geronimo 132, Sandra Zimmerli – 0 | 0 | 37.042
Malle Babbe van't Kieveld, David Arcand – 0 | 0 | 37.669
Catch A Star HSS, Kevin McCarthy – 0 | 0 | 37.964
Blue's Yer Daddy, Kelley Robinson – 0 | 0 | 38.557
Easton, Kevin McCarthy – 0 | 4 | 37.744
Lise, Kelley Robinson – 0 | 4 | 37.877
Shaia de Macheco, Sam Pegg – 0 | 4 | 38.706
Cronos L, Sam Pegg – 0 | 4 | 43.889
Honfleur, Michael Kocher – 4 | 71.052
Leena M, Paige Cade – 4 | 73.948
Photos courtesy of Andrew Ryback Photography.