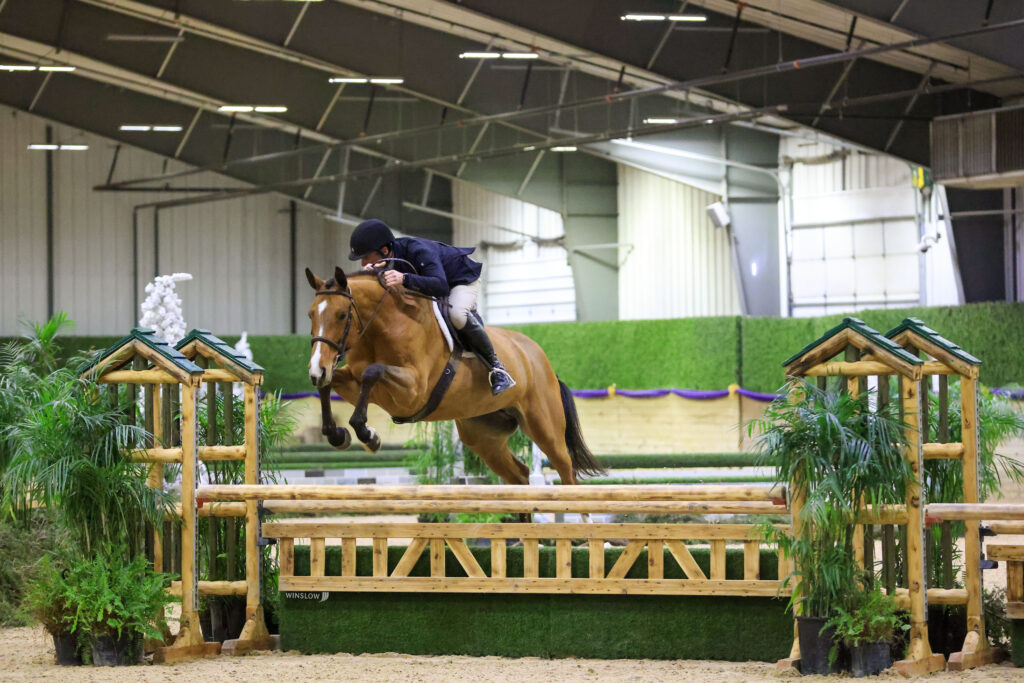 Wilmington, OH – For Hunter Derby Friday course designer Scott Adler transformed the R+L Arena into a wintertime hunt field featuring a winding track that contained beautifully decorated natural obstacles. The course made use of the large indoor space, encouraging a forward pace that allowed riders to demonstrate their horse's athletic abilities.
Jason Berry's expertly piloted Willow Wind Llc's Avila (Casiro I x Jornesse) to the win in the $5,000 WEC 3′ – Open Hunter Derby. The elegant pair earned consistent scores in both rounds, with marks of 87 and 85 in the Handy to total 172 for the win.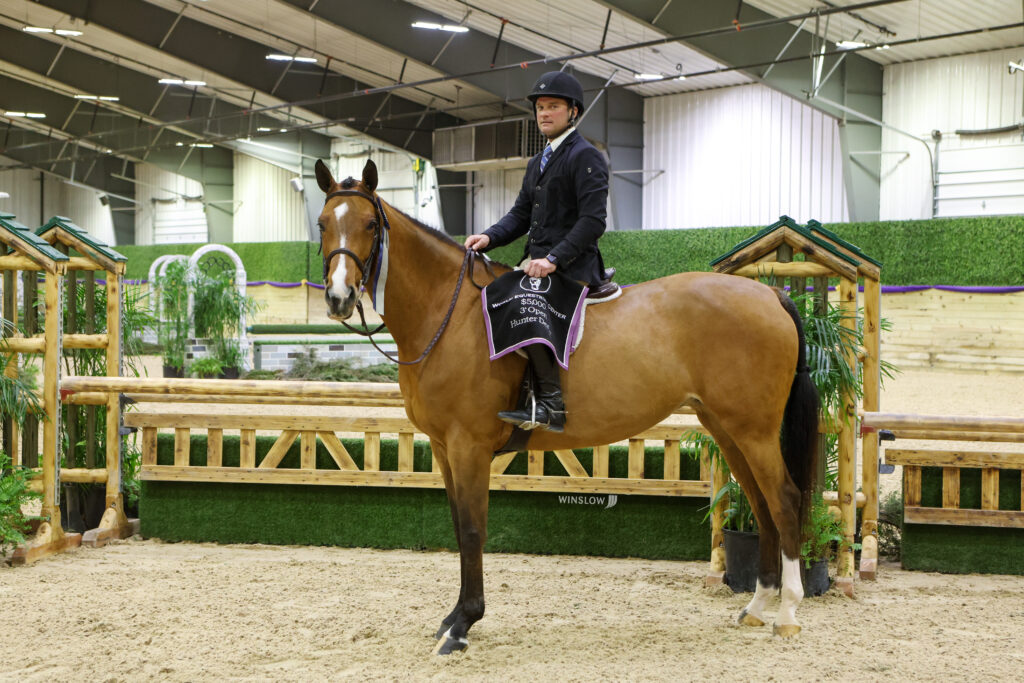 Berry of Jason Berry Stables in Verona, Virginia, explained that he works hard to remain poised, confident and as 'hunter-like' as possible during his derby rounds. He mentioned that doing so allows him to stand out and remain true to traditional hunt field riding. "When presented with a tougher course, I try to be smooth and show my horse like a hunter. If you can accomplish that, then you're able to up your game. A lot of times people will get too derby-like and rough things up. In doing so, you lose your smoothness."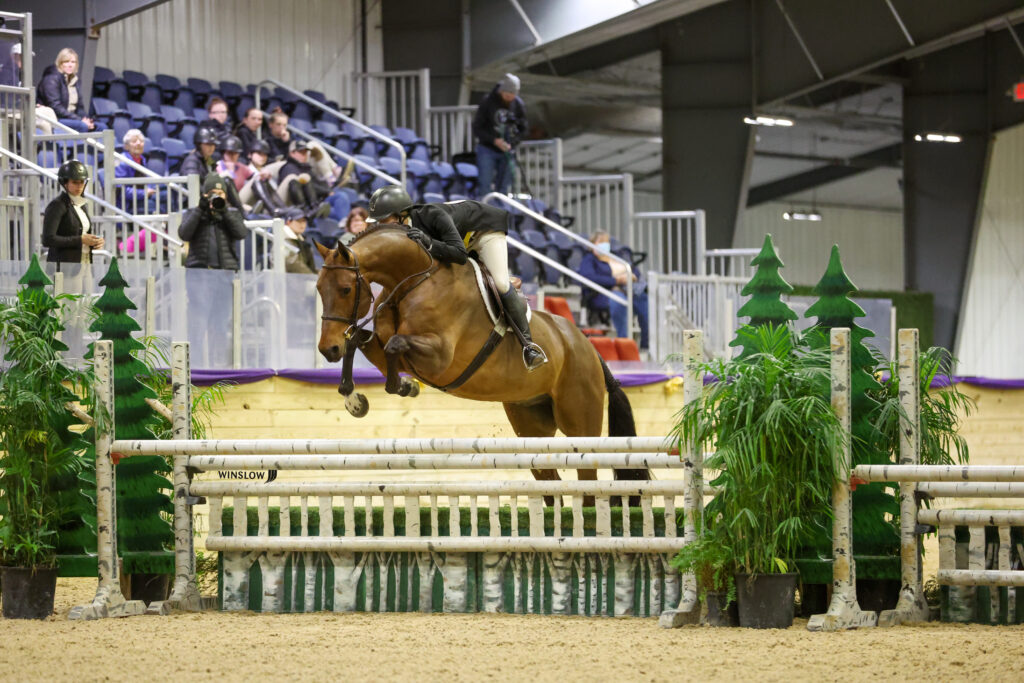 With a recent third-place Derby finish aboard Sara Barnes's Breathless (Toulon x Utareusa ), Melissa Donnelly of Just a Folly Farm in Oxford, Michigan, climbed the leaderboard once again to secure a second-place ribbon this afternoon. The team delivered rounds similar to Berry's, remaining steady and rhythmic through both tracks, earning scores of 81 and 88, and totaling 169 for second-place honors.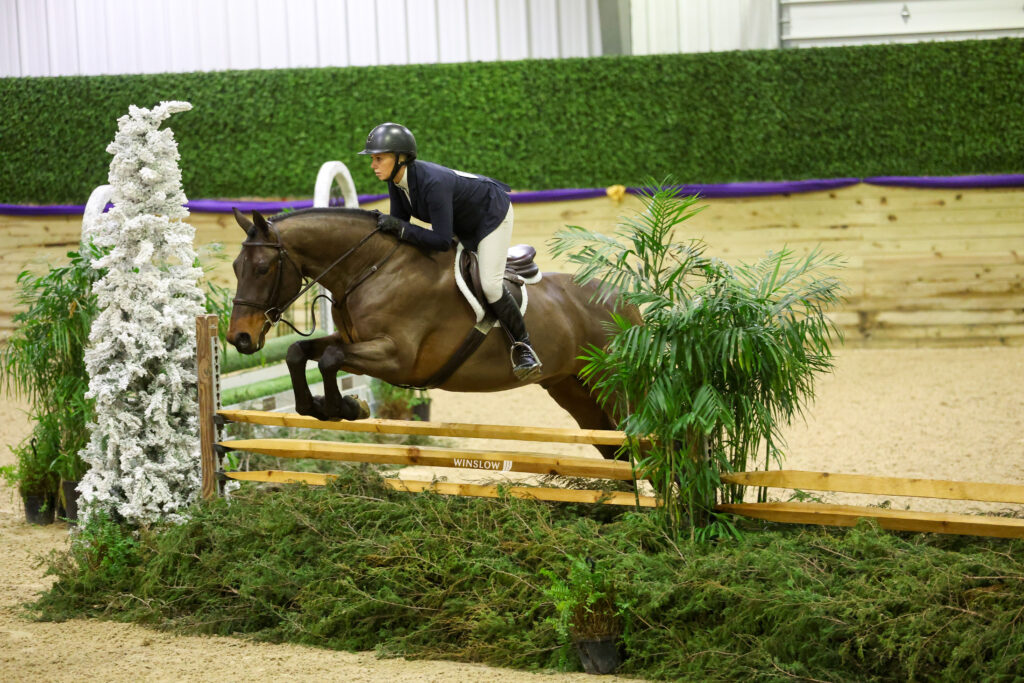 Another stylish entry were third-place finishers Jessica Borton and Kim Tarnapoll's Legolas. Borton of Hunters Court Farm in Johnstown, Ohio, piloted Legolas, a fifteen-year-old Warmblood gelding, up, over and around the course, taking all of the heigh options to accumulate scores of 82 and 76, totaling 158 for the yellow ribbon.
$5,000 WEC Hunter Derby 3' Open Results:
Avila, Jason Berry – 87 | 85 | 172
Breathless, Melissa Donnelly – 81 | 88 | 169
Legolas, Jessica Borton – 82 | 76 | 158
Valiant Victor, Taylor Johnson – 77 | 79 | 156
FF Nora, Megan Bash – 80.5 | 67 | 147.5
Sport Mode, Doug King – 80 | 66 | 146
Happy Boy, Richard Rinehart – 68 | 75 | 143
Appointed, Jessica Borton – 78 | 58 | 136
Corlando 49, Melissa Donnelly – 84 | 49 | 133
Gambit, Emily Reynolds – 47 | 81 | 128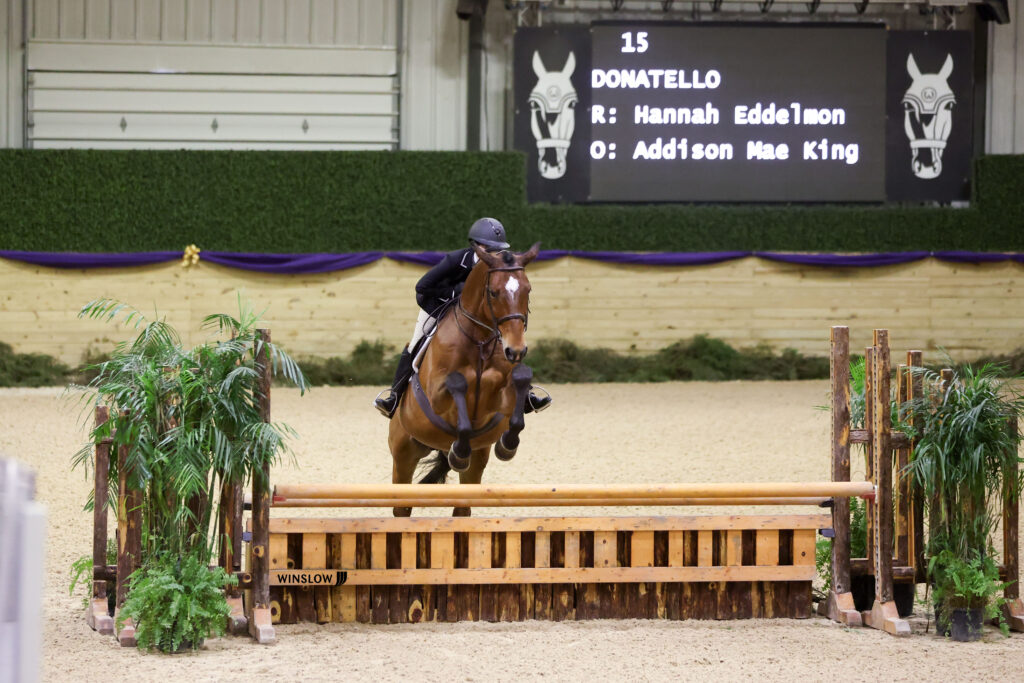 Hannah Eddlemon and Donatello Capture $5,000 WEC Non-Pro Derby Win
Hannah Eddlemon of Wilmington, Ohio and Addison Mae King's Donatello played it safe in today's $5,000 WEC 3′ – Non-Pro Derby, remaining consistently on pace through both rounds and showing off Donatello's athletic jump and maneuverability. We caught up with Hannah after her big win to chat about her strategy on the course. "I always want to make it into the handy round… My plan for the first round is to just stay as consistent as possible. Once I get to the handy, since I know this horse so well, I play off of his strengths. Turtle (as he is known in the barn) is game for almost anything, so I made sure our turns were really good to stand out to the judge."
Hannah's steady efforts earned scores of 77 and 85, topping the leaderboard with 162 total points for first place honors.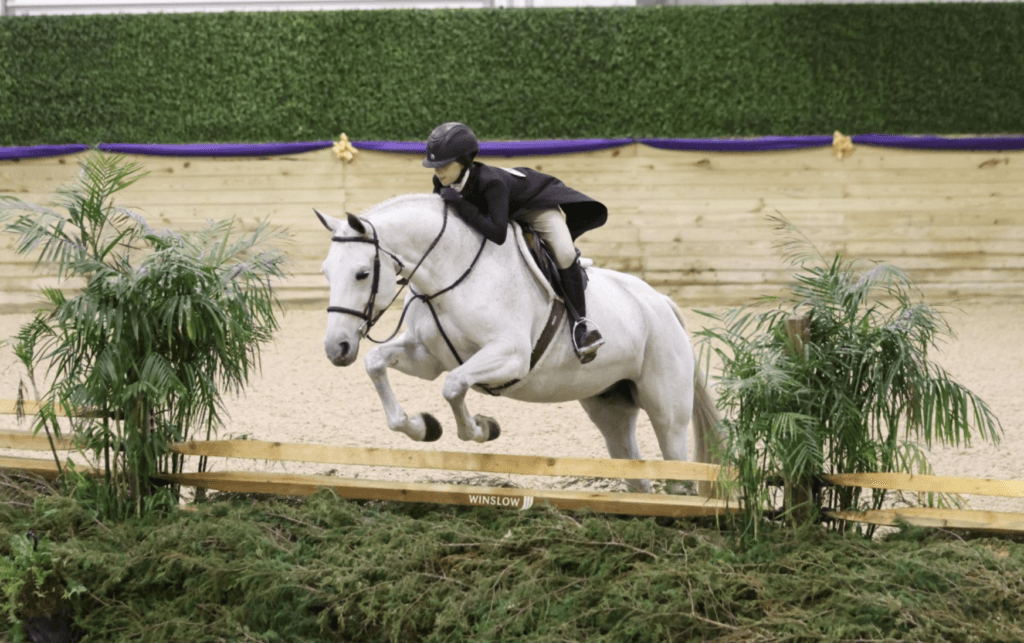 Junior rider Elizabeth Rinehart is following in her family's footsteps, and paving a way for herself at the top of the judge's scorecards. Rinehart of Westfield, Indiana and her own Lavana, an eighteen-year-old Warmblood mare, delivered two noteworthy rounds nailing all lead changes and executing tight turns to score 158.5 total points; with 75.5 in round one and 83 in the handy to finish in second place.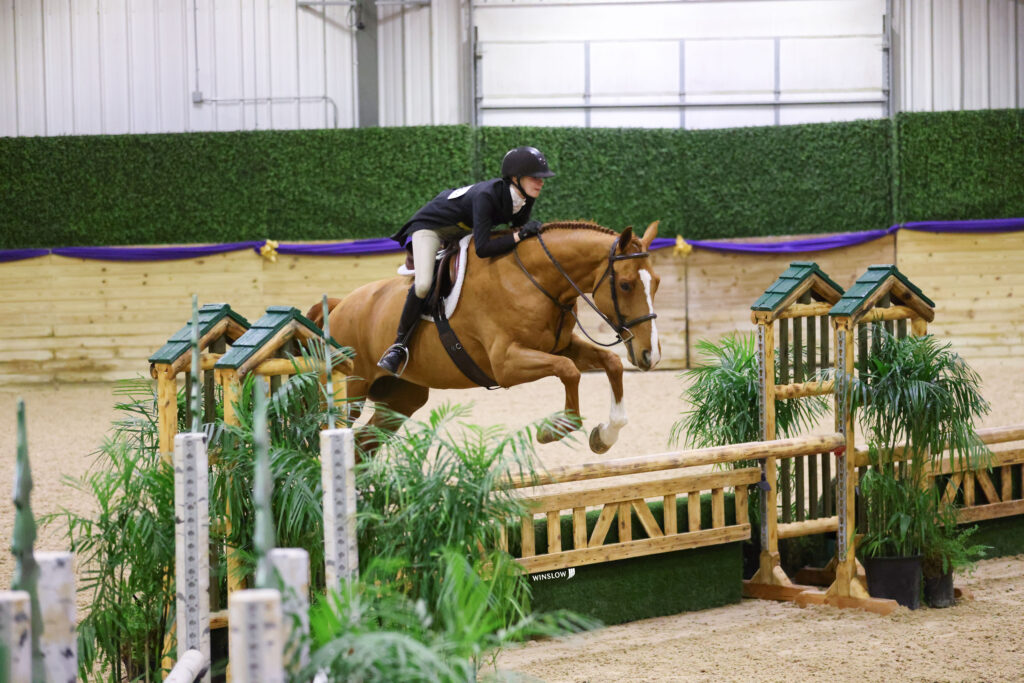 Emma Christensen and her own Flynnigan (Hornet Rose x Stutbach 1 Fauna) progressed through both courses with ease and opted for several high options. Christensen and the chestnut gelding finished third, earning scores of 77.5 and 79 totaling 156.5 points.
$5,000 WEC Hunter Derby 3' Non-Pro Results:
Donatello, Hannah Eddlemon – 77 | 85 | 162
Lavana, Elizabeth Rinehart – 75. | 83 | 158.5
Flynnigan, Emma Christensen – 75.5 | 79 | 156.5
Atoka, Katie Durrer – 78 | 78 | 154
Primus Rex, Brian C. Shook – 64 | 87 | 151
Et-jolie, Emma Repenning – 67, x , x
SOL Naciente, Brooklyn Engle – 61 | 80 | 141
Cavalli, Luke Rinehart – 47 | 86 | 133
Herr drosselmeyer, Anneliese Kolaska – 79 | 47 | 126
Stevens, Madyson Schuh – 60 | 64 | 124