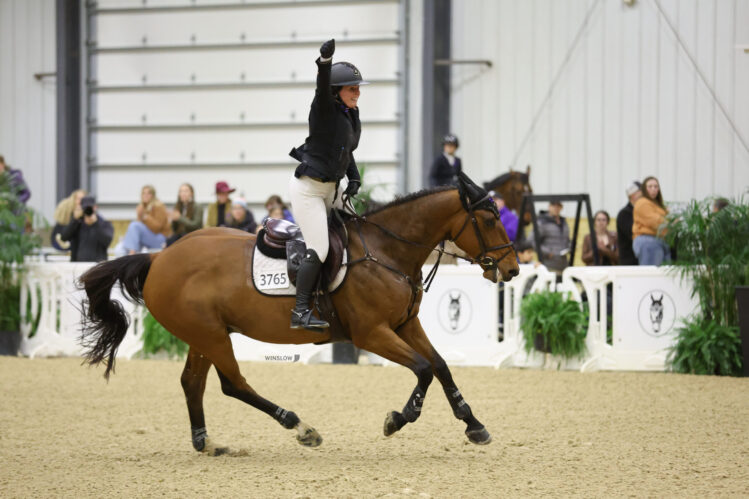 Wilmington, Ohio – The final Grand Prix competition of the 2022 WEC Winter Classic series took place tonight in honor and support of recently injured showjumper David Beisel. A record-breaking 404 entries were nominated to ride in the $50,000 Ride for David Grand Prix. While only twenty-four riders were actually set to compete, equestrians from all walks of life entered virtually to support the cause. It was a joyous evening as Beisel's former student Kady Abrahamson and her brilliant Banco Du Moulin rode away with the win and more than $341,700 was raised for the family.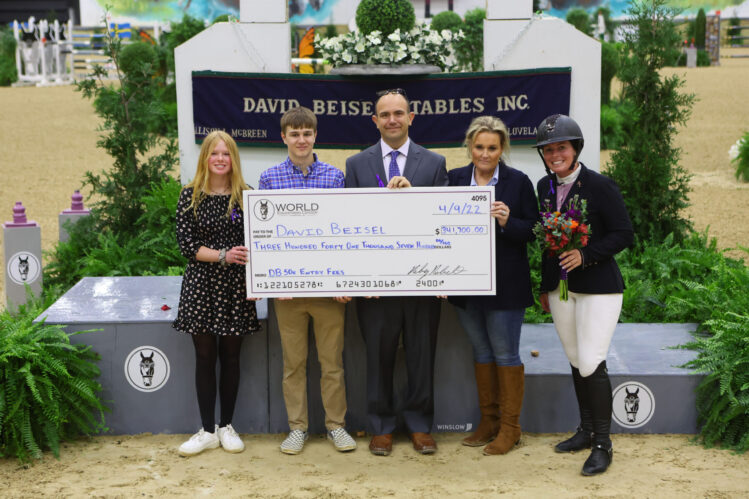 The response from the equestrian community to the $50,000 Ride for David Grand Prix was extraordinary this week as entries poured in from all over the world. The order of go read like a who's who as Olympians, well-known stallions, several hunters, beloved ponies, a pet pig and even the horse that David won his first Grand Prix on were listed. Entries were also posted in tribute to retired mounts and in memoriam to great athletes, equine and human alike. More on the noteworthy list of entries can be found here: Rothchild, An Infant, A Small Pony And Touching Tributes: Behind The "Ride For David" Entry List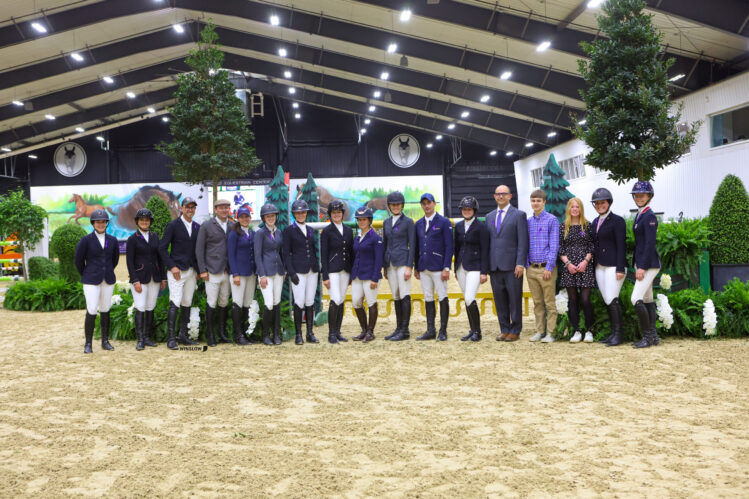 Purple ribbons adorned the lapels, ear bonnets and saddle pads of the 24 competitors in tonight's class. Course designer Bobby Murphy's intricate track featured a triple bar, several large combinations and a pond on the far end of the arena.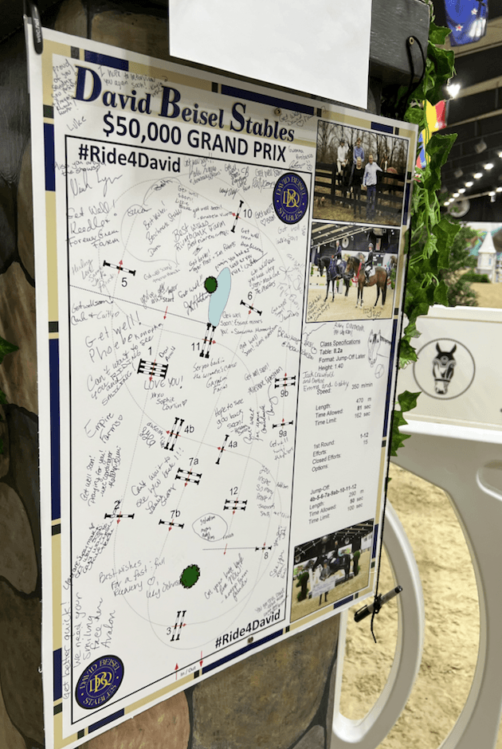 The Sanctuary grandstands were jam-packed and anticipation was high as fans cheered for each rider crossing the finish line. The course proved challenging as just five of the twenty-four talented horse and rider combinations advanced to the second round. In the end, three pairs went double clear, but none could best the determined Kady Abrahamson and her Banco Du Moulin.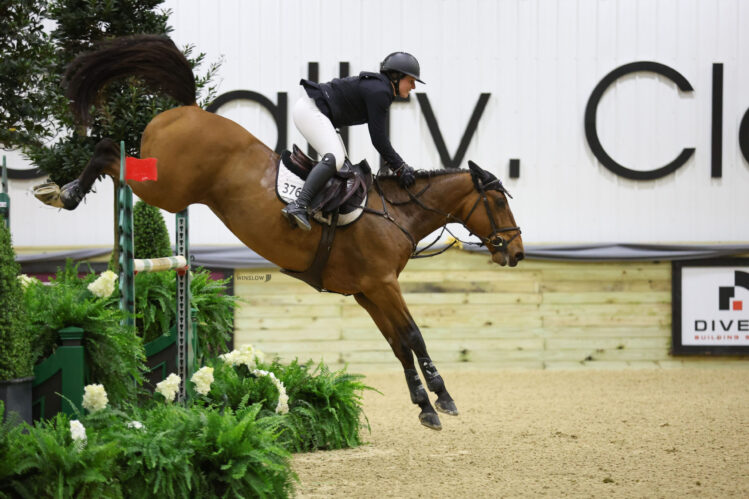 Abrahamson led tonight's victory lap aboard her own Banco Du Moulin (Popstar Lozonais x Gerboise Du Moulin), a 10-year-old Selle Francais gelding. Abrahamson of Georgetown, Kentucky is a familiar face at both World Equestrian Center locations and has a longstanding friendship with tonight's honoree which made her win particularly meaningful.
"I began riding with David at five years old and continued until I was well into my teens. I owe everything to him – he made me into the horsewoman that I am. David is like a father figure to me and is the best of competition when we ride against one another. When I heard what happened to him I was walking a course at WEC Ocala and I immediately started crying. I wondered why something so terrible would happen to a person that is so genuine and amazing… When I learned of the class benefiting him, I started to give my horses a break in Ocala so we could prepare for tonight. I wouldn't have missed this for the world!" replied Kady, when asked about her connection to David Beisel Stables.
The tenacious Abrahamson was on fire tonight, piloting Banco Du Moulin through the challenging course, going clear and stopping the clock in 76.304 seconds to qualify for the jump-off.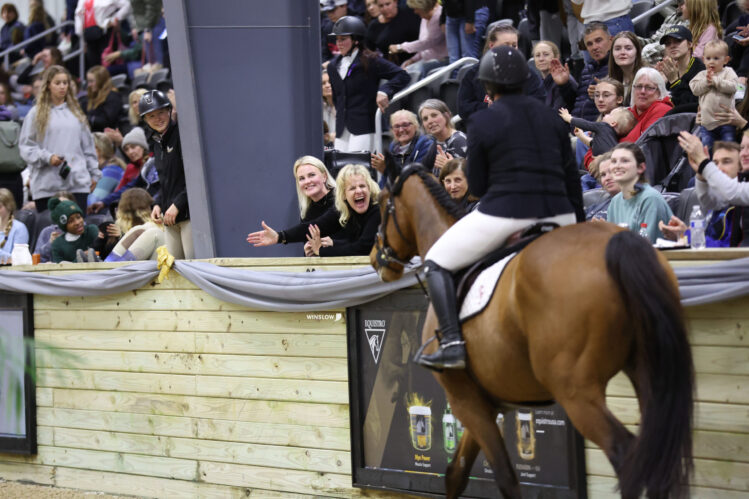 The pair were last to go on the short course, and the crowd held their breath as they crossed the final effort with a three-second lead and 45.270-second time to capture the inspiring 'Ride for David' victory.
"I came here hungry for a grand prix win – all of this is for David! We're donating a majority of the prize money back to him and his family and we are so happy that he is doing well in recovery," Abrahamson added.
Among the other podium qualifiers were Sarah Meier and Nightshade SCF in second place and Rachael Howard and Gotham finishing with third place honors; all of whom were showered in a victory champagne spray by Abrahamson.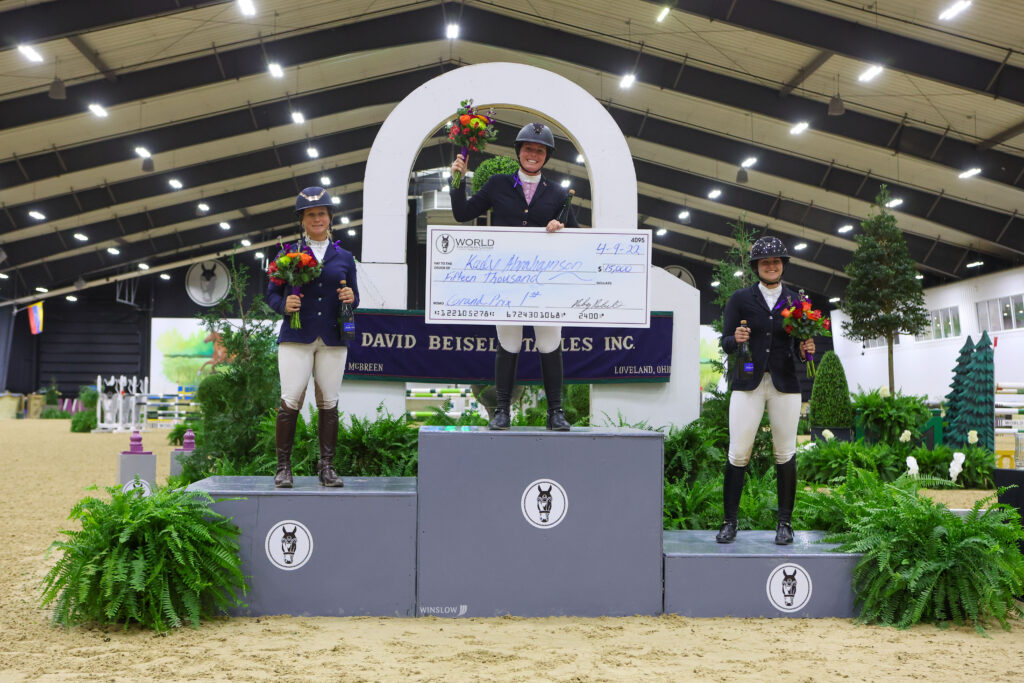 World Equestrian Center cannot thank the supporters of the "Ride for David' campaign enough! It is truly humbling to witness the equestrian community join together to support an amazing horseman, friend, husband and father. We thank you all and we invite you to join us in continuing to support and encourage David on his road to recovery. #Ride4David
$50,000 Ride for David Grand Prix Results:
Banco Du Moulin, Kady Abrahamson: 0 | 0 | 45.270
Nightshade SCF, Sarah Meier: 0 | 0 | 48.467
Gotham, Rachael Howard: 0 | 0 | 49.112
Karen, Skylar Wireman: 0 | 4 | 39.165
Maraca LS La Silla, Kady Abrahamson: 0 | 4 | 42.917
Vancouver, Kady Abrahamson: 4 | 73.100
Light Show, Lani Hutchison: 4 | 74.573
Boudika Ideal Home, Kady Abrahamson: 4 | 75.417
Cherry Blue 2, Liz Hutchinson: 4 | 75.631
Gluckskeks, Sam Pegg: 4 | 76.836