Feature classes for the first WEC Winter in the Midwest show of 2022 kicked off today with a talented international field who challenged the $10,000 WEC Welcome Stake 1.35. Sixteen horse-and-rider combinations contested the winding track designed by Anderson Lima, which featured several bending lines and tight rollbacks.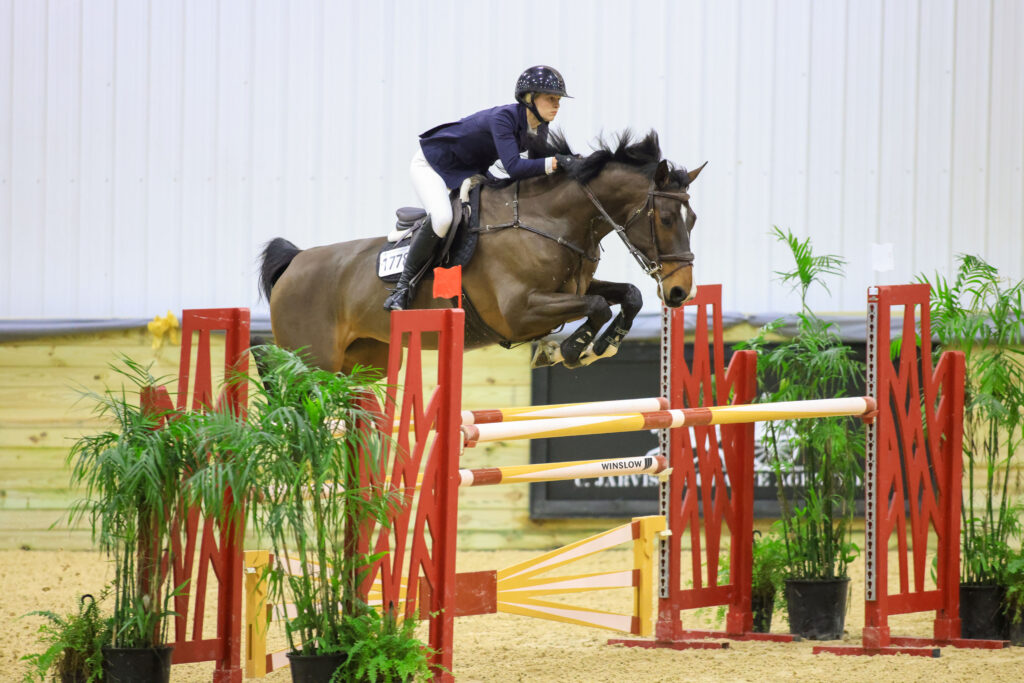 Ten entries advanced to the jump off with eight jumping double clear, but it was Katherine Anne Brewer and her own Delta Lady Z (Dutch Capitol x Amor D'Ora) that took home the blue ribbon, notching their first $10,000 Welcome Stake win of the year.
Katherine Anne Brewer of WinMohr Show Stables, Whitehouse Station, New Jersey, and the nine-year-old Zangersheide mare put on quite a show tonight, delivering two fantastic rounds. Their first round was completed clean in just 69.047, seven seconds under the allowed time. They caught their breath and galloped through the short course, maintaining a smooth and speedy pace to cross the timers in 37.030 seconds ultimately taking top honors.
We caught up with Brewer ringside after the class to chat about her horse. "I've had this mare since she was six and I brought her along in the six, seven and eight-year-old classes. She did her first 1.40m eight months ago and since then she has been doing the smaller Grand Prix's as well as the larger Grand Prix's. She is currently riding at 1.45m – 1.50m and she is just so fun! She is a very sweet and loyal horse, with a little bit of sass, which I just love."
Lisa Goldman-Smolen of Red Coat Farm in Hawthorn Woods, Illinois, and her own Bengtsson VDL (Bubalu x Indoctro) was first on tonight's course and were the first team to make it to the jump off. Goldman-Smolen and the eleven-year-old Dutch Warmblood gelding set the pace for the class, finishing their first round in 65.520 seconds. The pair immediately returned to the jump off where they soared through the efforts and raced through the timers fault-free in 37.095 seconds. This dynamic pair held the first place spot for most of the class but ultimately finished in second place, just 0.065 seconds behind Brewer.
WEC Wilmington superstars, Kevin McCarthy of K&K Sport Horses in Lexington, Kentucky, and his own Catch a Star HSS (Sheraton x Tolinda) rounded out tonight's top three. Ireland's McCarthy and the 11-year-old Swedish Warmblood secured several Grand Prix wins during December's Winter Classic shows. Tonight they came prepared and finished the first round in 72.198 seconds. To complete the final go-round, they stopped the clock in 37.987 seconds to take third place honors and a yellow ribbon.
$10,000 WEC Welcome Stake 1.35 Results:
Delta Lady Z, Katherine Anne Brewer – 0 | 0 | 37.030
Bengtsson VDL, Lisa Goldman-Smolen – 0 | 0 | 37.095
Catch A Star Hss, Kevin McCarthy – 0 | 0 | 37.987
Hit Me Van't Zorgvliet, Kyle Perkovich – 0 | 0 | 38.373
Ivaro N, Lisa Goldman-Smolen – 0 | 0 | 39.060
Nike, Lisa Goldman-Smolen – 0 | 0 | 40.333
Cumbaya W, Darby Pease – 0 | 0 | 40.513
Tinka's Soldier, Chloe Parker – 0 | 0 | 41.339
Cantinero, Miguel Ventura – 0 | 4 | 40.916
Kinsella, Charlotte Clark – 0 | 4 | 41.535