The ladies owned the night tonight, taking top honors in both the $25,000 WEC Grand Prix and the $7,500 Futures Prix. The $25,000 WEC Grand Prix, presented by Horse First Supplements, saw 20 horse and rider pairs vying for their share of the win, while the $7,500 Futures Prix saw 23 pairs. Both of tonight's classes contested courses designed by Bobby Murphy of Lexington, Kentucky.
$25,000 WEC Grand Prix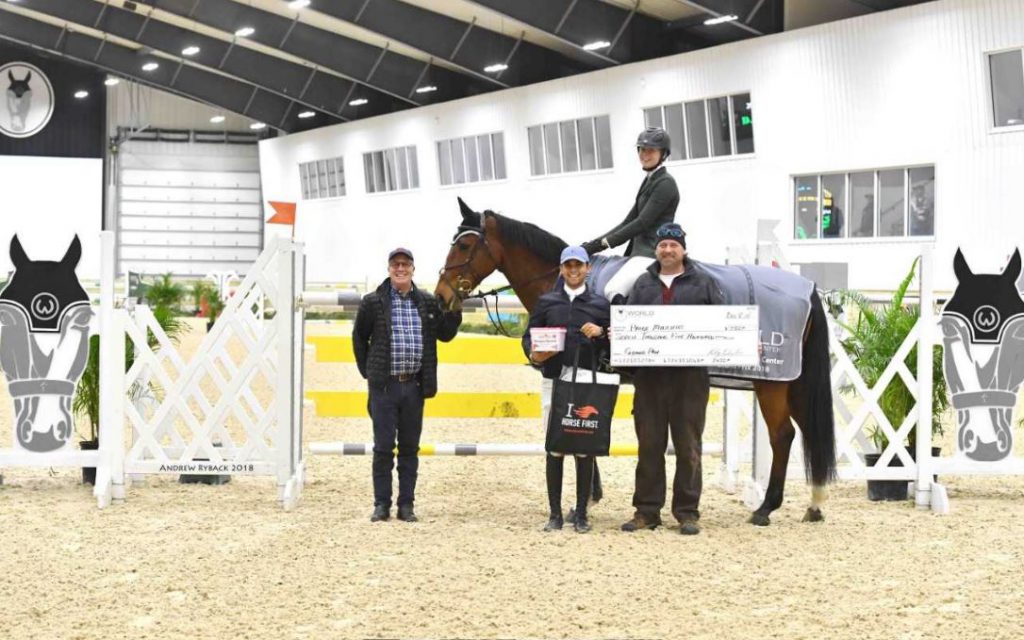 The 1.40m track included 15 jumping efforts in all, starting on a wide triple bar headed toward the ingate, then up a vertical on the diagonal, bending to an oxer-to-vertical one stride. Entries then rode back down the diagonal toward the ingate to jump a vertical-oxer-vertical line. Back up the rail, entries rode a vertical-oxer-vertical combination to a vertical, took a quick left turn to an oxer on the short side of the arena, rolled back to jump a vertical in the middle of the arena, then finished with a gallop to another wide oxer to stop the clock. Out of 20 horse and rider combinations, only three pairs would qualify for the short course.
The first entry to jump a clear round in the Grand Prix was Paige F. Matthies and Dirkie Z, owned by Barbara Smith. Fresh off of her win on Dirkie Z in Thursday's $5,000 Welcome Stake, Matthies rode the course with an air of cool confidence in a time of 72.866 seconds, 6 seconds under the time allowed of 79 seconds. Next to jump clear was Taylor Kain and Gipsy 1134, owned by Eirecon Equine Sales. The pair jumped a speedy round, crossing the timers at 70.720 seconds. Wrapping up the clear first rounds was Julia Curtis and her own Cornet's Gold 2. The pair was well schooled for the class this evening after taking second in the Welcome Stake on Thursday night. A bit slower than the other two clear rounds, but plenty under the time allowed, Cornet's Gold 2 and Julia Curtis stopped the clock at 73.453 seconds.
After a quick course adjustment, the three ladies with clear first rounds headed straight into the jump off. First in the ring was Dirkie Z and Paige Matthies. The pair rode with determination, skillfully executing an inside turn after the one stride that no other riders attempted. Dirkie Z and Matthies jumped a clear round and crossed the timers at a speedy 36.478 seconds. Next in was Gipsy 1134 and Taylor Kain. While the pair did not attempt Matthies's inside turn, they quickly covered ground and jumped a clear round in a time of 37.586 seconds. Last to go in the jump off was Cornet's Gold 2 and Julia Curtis. The pair was a tenth of a second quicker than Gipsy 1134 and Kain, stopping the clock at 37.453 seconds, but had an unfortunate rail, landing them in third place.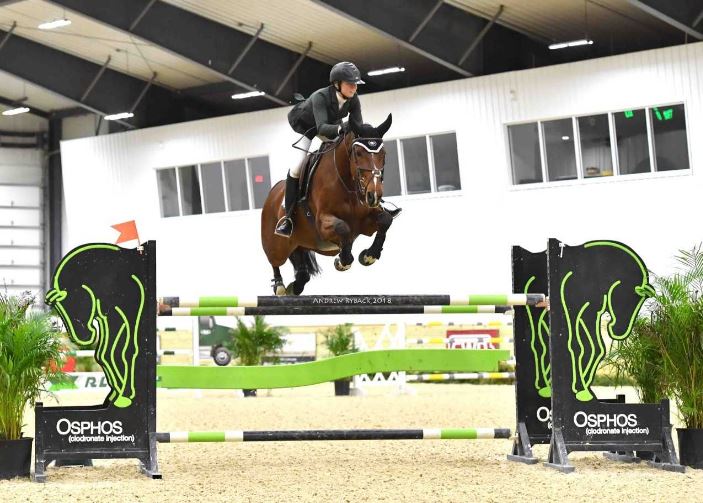 We caught up with each of the top 3 finishers to chat about their rides in the tonight's class. First, we spoke with Paige Matthies, who was thrilled with her second win of week. "After I went in the Welcome, I was very happy with him. Today we went fourth, so I didn't get to watch a lot go before me. I really just wanted to put out a good, clear round. And he did that! He was amazing. Going first in the jump off, I knew that I had to put in a fast, clean round if I wanted it to hold. When I was walking the inside turn, I saw it and thought that it would eliminate a lot of strides. I knew I could land on him after I got the seven stride done and turn, and that he would do that for me. Then the distance to the oxer worked out perfectly, so I was very happy with that," Matthies explained about her rounds. Matthies is from Maple City, Michigan and trains at Northern Pine Farm with Melissa Hirt. Her mount, Dirkie Z, a 13 year old bay Zangersheide gelding (Dutch Capitol x Brioche V/H Gehucht Z), is owned by her grandmother, Barbara Smith. In addition to the lionshare of the prize money, Matthies was awarded a Horseware cooler and a prize pack from Horse First Supplements, and her groom, Carson Krecow, received the Groom's Award for Dirkie Z's fantastic turnout.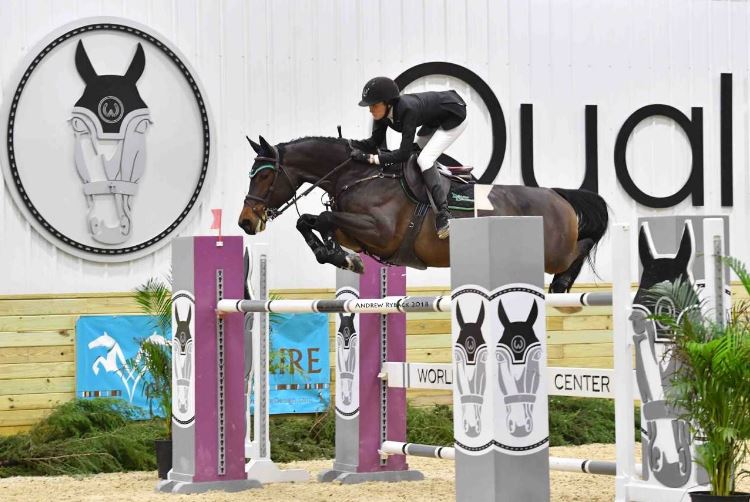 Next we caught up with second place finisher Taylor Kain. "We've had her just under a year," said Kain, refferning to Gipsy 1134, a 7-year old Oldenburg Mare (Corlensky G x Landina) owned by the Eirecon Equine Sales, Conor McCaughley and Eamon Byrne. "We just started jumping her in the Grand Prix this summer. She was clear last week and double clear this week. Gipsy will fight for me until the end. I feel like I could jump anything with her," explained Kain. "She's little, but she's just mighty and she flies. I couldn't have asked for more out of her tonight, she has so much heart." Kain went on to explain her thoughts on tonight's course, "The track was great tonight. Bobby's courses are my favorite – they ask a lot of questions, but they are not over facing the horses. They are technical and big enough, but you can still find a track that suits your horse."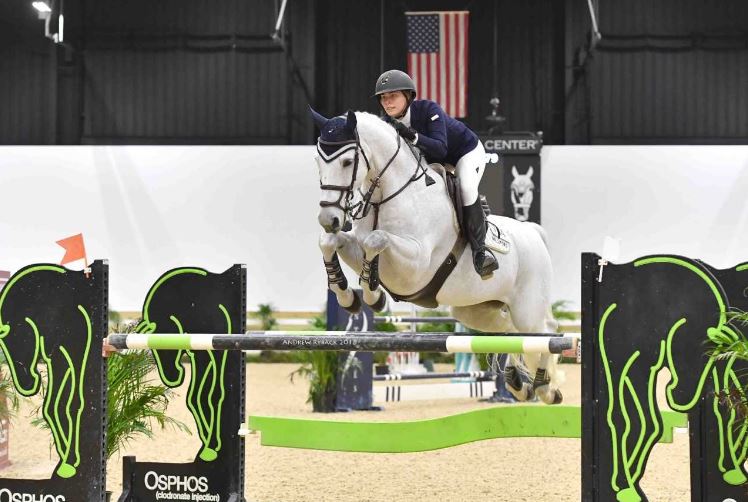 Finally, we chatted with thrid place finisher Julia Curtis of Atlanta, Georgia, who rides with Harrison Ford at HillFord Farm in Atlanta. Curtis's adoration for Cornet's Gold 2, a 13 year old Westphalian gelding (Cornet Obolensky x Dinah L). "He pretty much is a USET horse that can jump 1.50 m," Curtis explained. "He is so smooth, which really gives me confidence. Going around the courses, you set it up like you're at Maclay Finals. We got him earlier this year in April, he's still a new ride for me, but I call him my real-life unicorn. Since April, we've been to Great Lakes Equestrian Festival in Traverse City, Michigan and we placed in the High Amateur Classics. We also went to the National Horse Show in Lexington, Kentucky, and placed top ten in the High Amateurs there." As far as Curtis's goals for Cornet's Gold 2, she says, "This is my last year to make Young Riders, so he's my hopeful Young Riders horse." Curtis and Cornet's Gold 2 will to head back to WEC in January, then down to Ocala for the rest of the Winter.
$25,000 WEC Grand Prix Results
1. Dirkie Z, Paige F. Matthies – 0 | 0 | 36.478
2. Gipsy, Taylor Kain – 0 | 0 | 37.586
3. Cornet's Gold 2 – 0 | 4 | 37.453
4. Caphur, Taylor Kain – 4 | 70.522
5. Balveneur Z, Linda Radigan – 4 | 71.174
6. United M, Robert Mendoza – 4 | 71.211
7. Didgereedoo VDL, Neil Badcock – 4 |71.597
8. Alteese De Virton, Karen McFarland – 4 | 72.000
9. Silver Spring, Megan Bash – 4 | 74.464
10. Shuttergold, Taylor Kain – 4 | 76.187
$7,500 Futures Prix 1.30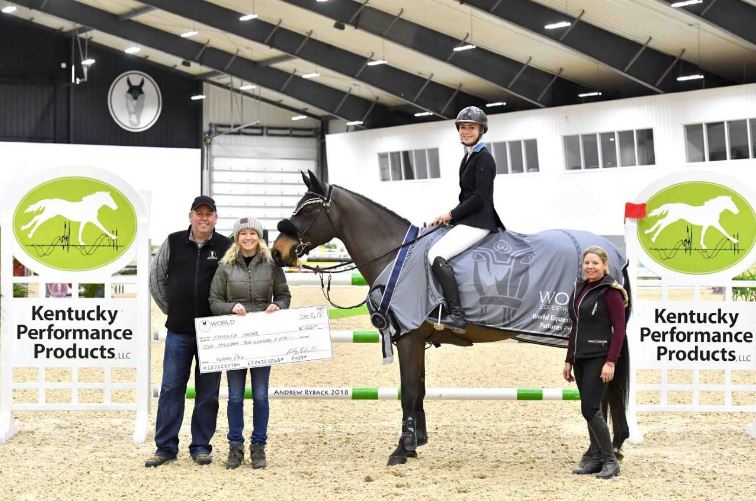 Tonight's $7,500 Futures Prix saw 23 entries take to the track with 14 efforts set at 1.30 m. Riders began over the World Equestrian Center line on the rail away from the ingate, then headed to an oxer on the far end of the ring. Entries rode back across the ring over a single vertical with a right hand turn to a single oxer headed toward the ingate, then across the diagonal over a forward vertical-oxer-vertical line. Next was a one stride headed home bending to a vertical that provided riders several track options. Finally the entries jumped an oxer on the short side of the ring headed away from the ingate with a bending line to a one stride to finish the course.

First in the ring for the Table II event was Mackenzie B. Snider aboard her own Skara Glen's Basel. The pair jumped a speedy, clean first round almost ten seconds under the time allowed of 76 seconds, stopping the clock at 66.382 seconds. They continued straight into their jump off, incorporating the speed from their first round and setting the pace for the jump off in a time of 32.208 seconds. Next in the ring, and second to jump a clear first round, was David Q. Beisel and Angelo, owned by Maarten Hugyens. The pair took a slower approach to the first round than Snider and Skara Glen's Basel, but jumped easily, to deliver a clear round in a time of 71.104 seconds. Continuing straight into the jump off, the pair picked up the pace and jumped a second clear round, crossing the timers at 33.238 seconds, just behind Snider and Skara Glen's Basel. Another quick pair was Amelia Jenson aboard her own Quick Tempo. The pair jumped a clear first round in a time of 70.723 seconds, then continued straight into the jump off. The round was clean and their time was quick in 36.304 seconds, which seated them comfortably in third place.
We caught up with Mackenzie B. Snider after her $7,500 Futures Prix win to chat about her rounds and her lovely 16 year old Dutch Warmblood gelding (Quick Star x Jeannette Trefle) mount. "We work together really well. He understands every little move I make and I understand that sometimes, when he wants to go sideways, that he just wants to go at the jump. I always feel very confident riding him and he's an amazing horse," Snider says about Skara Glen's Basel. Snider traveled to show at the World Equestrian Center from Maple City, Michigan where she is trained by Melissa Hirt at Northern Pines Farm. "I've been riding with her since I was 4 years old," Snider says, referring fondly to her trainer. Snider's leases Skara Glen's Basel from Ken Smith of Mershad Stables and has been riding him almost a year. "I got him at the Winter Equestrian Festival last year. Since then we've had a couple of wins in the High Juniors at Great Lakes Equestrian Festival. We have also placed pretty well in a couple of the Welcomes and lower Grand Prixs at Balmoral. It's been a bit of jumping from High Juniors to Grand Prixs," Snider explains. Her goals with Skara Glen's Basel are to qualify for the High Junior Championships this coming year and to keep flowing through the High Juniors, and maybe a couple low Grand Prixs here and there. After that, Snider is excited to head to college at The Savannah College of Art and Design in the Fall of 2019, where she has already been accepted onto their IHSA riding team.
$7,500 Futures Prix Results
1. Skara Glen Basel, Mackenzie B. Snider – 0 | 0 | 32.208
2. Angelo, David Q. Beisel – 0 | 0 | 33.238
3. Quick Tempo, Amelia Jenson – 0| 0 | 36.304
4. Liegnitz, Lauren S. Hester – 0 | 1 | 43.486
5. Five Star, David Q. Beisel – 0 | 4 | 33.686
6. Loughnatousa Damaan – Prima Bonaventura 0 | 4 | 38.578
7. Geronimo Van Berkenbro…- Amanda Pennington 0 | 4 | 38.578
8. First Finch, Logan Taylor – 8 | 31.768
9. Dayla 6, Megan Bash – 0 | 8 | 36.278
10. Barilla, Kirstie Lynn Dobbs – 0 | 8 | 40.398
Photos courtesy of Andrew Ryback Photography.