It was a terrific evening of Jumper action at the World Equestrian Center with Nicki Wilcox returning to the winner's circle for the second time this week aboard her own Danique Du Lys (Harley VDL) in the $25,000 WEC Grand Prix and Celia Bresch taking both first and third place in the $7,500 Futures Prix 1.30 m sponsored by Voltaire Design.
Both classes featured courses designed by Michael Moran and saw two combinations, one line, several bending lines and plenty of opportunities for inside turns in the jump off.
$25,000 WEC Grand Prix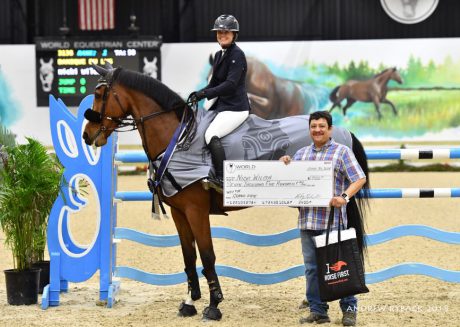 Tonight's $25,000 WEC Grand Prix included veteran Grand Prix riders David Beisel, Kevin McCarthy and Richard Cheska, but it was Nicki Wilcox aboard her own Danique Du Lys (Harley VDL) that ultimately took the win. Along with their lion-share of the prize money, the pair received items from WEC sponsors including a prize pack from Horse First and a $100 gift certificate from Dandy Products.
Wilcox and Danique Du Lys are on a winning streak this week, taking first place on Thursday in the $5,000 Welcome Stake 1.35 m. The pair were one of the last to go in the class with three entries already jumping a clear first round. However, they did not let that deter them from giving the course their all as they strode into the ring and picked up a confident gallop. Wilcox and Danique Du Lys attacked the course, crossing the timers with all rails up at 81.777 seconds, about eight seconds under the time allowed of 90 seconds.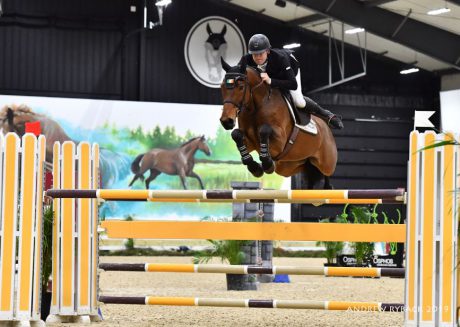 Six entries returned for the jump off, with Kevin McCarthy and his own Catch A Star HSS (Sheraton x Tolinda) being the pace setters for the class. The pair brought their usual speed and stylish jump to both the first round and the jump off, proving themselves a top contender for the blue ribbon. The pair delivered a terrific double clear, blazing through the short course and never touching a rail in 42.594 seconds, challenging the remaining entries to beat their time.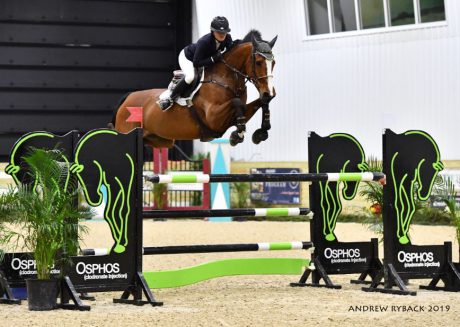 Wilcox and Danique Du Lys were next in the ring to contest the jump off course. The pair kept their same power and speed from the first round, but added in skilled rollback turns to shave crucial seconds off of their time. They made up a great amount of time as they rolled back to the last fence, taking a turn no other entries attempted. Their efforts paid off and the pair crossed the timers at 41.376 seconds, setting themselves atop the leader board.
We caught up with Wilcox after the $25,000 WEC Grand Prix to hear about the win from her perspective. "I felt better today than I felt in the Welcome Stake," explained Wilcox, "I felt better about how I was getting her to the base of the jumps and that kind of thing. Overall, I was really happy with my first round ride. I feel like I can do that on bigger tracks. Then, in my jump off, she was riding just as well again. I just went for it to the last fence, but wow it was big! I wanted to close my eyes there a little bit for sure. But, if I believe, she believes, and she just put up the extra effort for me there."
When asked about her groom, who received the Groom's Award tonight for Danique Du Lys' stunning turnout, Wilcox replied, "My groom's name is Tony Ochoa. He probably loves that mare as much as I do. It's very cool to have somebody that is fighting for every jump with you that's also caring for your horses. It's really special in this industry."
We also asked Wilcox about her barn, "My business is Nicki Wilcox Show Jumping in Parker, Colorado. My family and I have bought a facility of our own. We moved in in July of 2016, so now we have a place that is truly our own that we're not borrowing from anyone else, which is really exciting. We're about fifteen minutes from the Colorado Horse Park."
Watch Nicki Wilcox and Danique Du Lys' winning round courtesy of ShowNet
$25,000 WEC Grand Prix Results
Danique Du Lys, Nicki Wilcox – 0 | 0 | 41.376
Catch A Star HSS, Kevin McCarthy – 0 | 0 | 42.594
Essince W, David Beisel – 0 | 0 | 43.478
Casme VDB Z, Richard Cheska – 0 | 0 | 45.700
For Sunday, David Beisel – 0 | 4 | 43.044
Alonso du Monselet, Richard Cheska – 0 | ret.
Light Show, Summer Hill – 2 | 91.916
$7,500 Futures Prix 1.30 m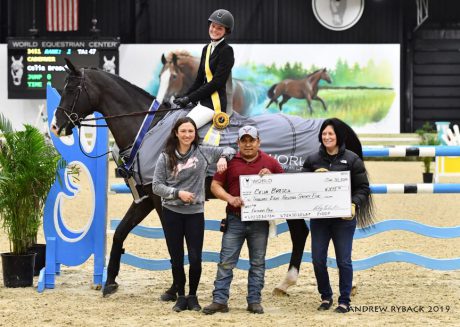 The $7,500 Futures Prix 1.30 m sponsored by Voltaire Design saw a fantastic win this evening by eighteen year old Celia Bresch aboard her own Cademuir (Sebastian III x Conoor De Charm). The talented Amateur also took third place in the class aboard The Bresch Family's Dior (Up To Date x Viva BW).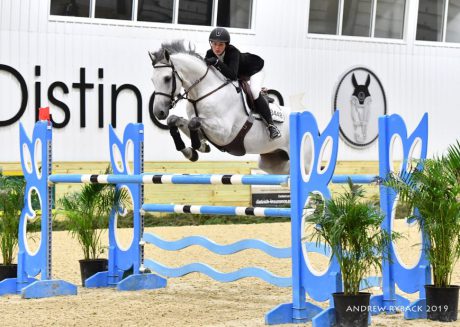 Bresch's first ride of the night was aboard Dior. The pair were quick across the ground and the grey KWPN gelding had plenty of scope to clear each fence. The pair crossed the timers at 85.343 seconds, saving energy for the short course. Bresch and Dior continued straight to the jump off of the Table II event, picking up their pace accordingly. The pair rode a great round, but pulled two unfortunate rails. Their time was still quick, completing the course in 45.094 seconds.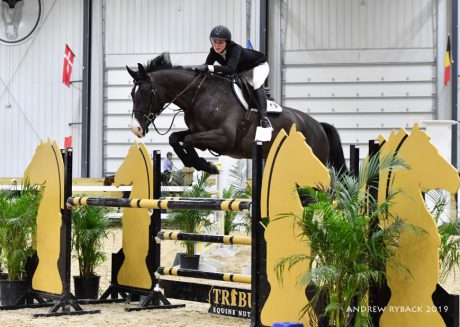 Last in the order, Bresch returned aboard Cademuir. The pair have regularly taken top placings in the Low Amateur Owner Jumpers and were prepared to move up the the 1.30 m class tonight. Bresch and Cademuir were incredibly quick, riding the fastest clear first round of the class in 79.829 seconds. The pair continued straight to the jump off, keeping their speed and executing impressive turns. They stopped the clock at 44.071 seconds with the only double clear of the class, which earned them the win.
Bresch of Barrington, Illinois stuck around for a bit after the Futures Prix to chat with us about her rides in the class. "We just got Dior, the first horse I rode, from Europe," said Bresch, "This is my first show on him. I didn't really know what to expect, but he was awesome. It's my third show on Cademuir. I usually show in the 1.20 m, so we came here in February and he was great. I'm still getting used to him, too. But, he's awesome. I'm really happy with both of them."
When asked about her horses' personalities, Bresch replied, "They're actually polar opposites. Cademuir is the sweetest thing. He'll cuddle with you all day. Dior is a little cranky. He was a stallion as of a few weeks ago, and I think he may be a little angry that he no longer is. He's been warming up to us, though. We've been treating him to a lot."
We also asked Bresch to share a little about herself with us, "I'm eighteen years old, so I'm an Amateur, but I'm still in high school. I'm going to the University of Georgia next year to ride on their team, so I'm excited about that. I currently ride at Perfecta Farm with Kim Gardiner and Mara Kranz in Barrington, Illinois."
Watch Celia Bresch and Cademuir's winning round courtesy of ShowNet
$7,500 Futures Prix 1.30 m Results
Cademuir, Celia Bresch – 0 | 0 | 44.071
Babar, Ryan Sassmannshausen – 0 | 8 | 38.227
Dior, Celia Bresch – 0 | 8 | 45.094
Show Off, Sydney Hewins – 4 | 75.573
Artiflex R, Raquel Scharyj – 4 | 77.482
Cassuro TSP, Kate Sippel – 4 | 82.252
Hannibal V, Nicki Wilcox – 4 | 82.864
Royal Descent, Natalie Schaffer – 8 | 80.275
Triskell Ar Park, Raquel Scharyj – 8 | 85.597
Haribo, Annie Miller – 13 | 86.258
Photos courtesy of Andrew Ryback Photography.