This week's Sunday Spotlight falls on Junior rider Natalie Bertoglio. Though Natalie's horses have shown at World Equestrian Center before, this week was her first show at WEC, and she couldn't have been more excited. Natalie made the jump into the big Hunter ring this week for the first time with great results, placing on both her Equitation horse Finn and her Hunter Milo. Natalie took some time this week to sit down and chat with us about her horses and her love for riding.
How did you get into riding?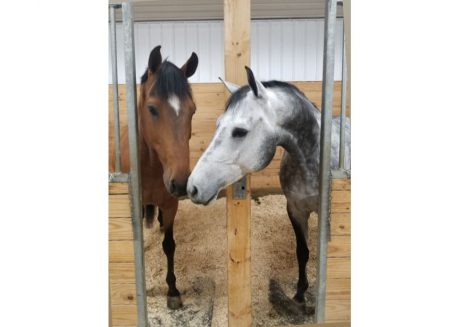 My Mom rode as a kid a little bit and in high school, then she stopped in college. She had me and my siblings, then she got back into riding when her friend stared riding at Perfecta, the farm I ride at now. She took it up again, then my younger sister Charlotte got into it, too. I didn't want to ride at first, but my Mom and Charlotte kept coming home and saying how much fun it was. I was about eight years old. I wasn't doing much at the time, I had tried a lot of sports but I hated all of them. I finally said that I would try it, and it was really fun. I loved it. We've all been riding since then.
Tell us about some of the horses you've had.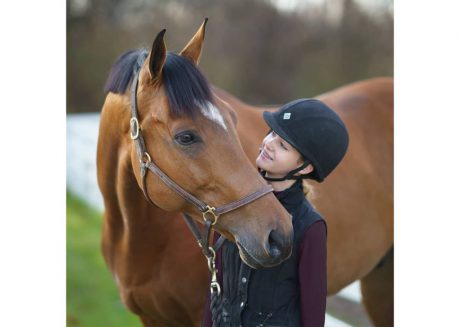 The first horse I had was Presley. Charlotte and I got her as a Christmas present. We had her for about a year. I did my first few shows on her. She was the horse that I did Short Stirrup on. Then I got a grey horse named Frontier. I did Limit on him, like the 2'3″ stuff. Then we went to New York to buy my baby horse Cracker Jack Z, or Milo Zeke. We couldn't decide between Milo or Zeke, so we call him Milo Zeke, Milo Z or just Milo. We actually weren't looking for a baby. We were looking for one that knew everything. We weren't even going to try him, but they had us try him last and I loved him and my Mom loved him. So we bought him. He was four at the time. He was pretty green. It's been really cool riding him and being able to work with him. I bought him in 2017. I didn't really show him the first year because he was so green. He did his first show last June. This past November, we bought an Equitation horse for me named Finn. He's wonderful. I love him so much. He's twelve years old, so he's definitely one that's been around. I did my first show on him in December. Finn and Milo are the two I have now.
Tell us about your horses' personalities.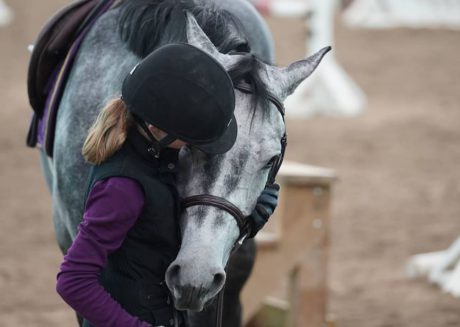 Milo is definitely a baby horse. He has a bunch of baby quirks, but he is pretty much like a giant puppy dog. He loves attention. He adores people and dogs. He loves any living creature. He definitely has a puppy dog personality. He's a little silly sometimes, but it keeps things interesting. Things on him are never boring. He's so much fun to ride because it's really cool when you achieve a goal you set on him. He's awesome. With Finn, he is a seventeen hand Dutch Warmblood. He's pretty big. He always wants to please you and do well. He's also like a puppy dog. He's a little more laid back and chill than Milo. I'm still getting to know him a little bit, but as of right now he's amazing. He always tries so hard and he's really honest. He's really fun.
What do you show in?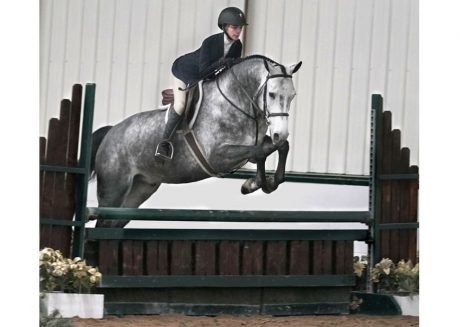 With Milo I do the Children's Hunters and Classics. The 3′ Hunter stuff. With Finn I do the 12-14 Equitation, because I'm showing as a twelve year old now. We also do the 3'3″ Medals, NHS, NCEA…that kind of stuff.
Are you working toward qualifying for anything this year?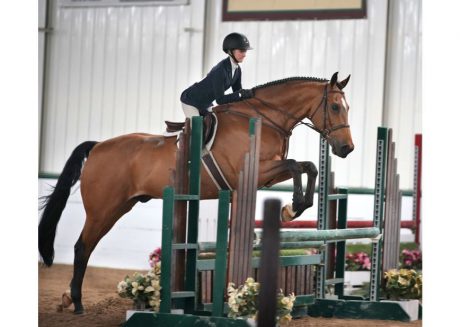 I would love to qualify for the Hunter Championships on Milo at the end of the year. With Finn, I'd love to go to the NHS Medal Finals at Harrisburg. Those are the two main things I'm going for. I also want the experience from the NCEA and stuff.
Tell us about a memorable show experience that you've had.
I have to say, a really memorable show experience for me was B Finals when I was showing on the B Circuit. It was in 2016, in between Milo and Frontier. I rode a little bay horse named Charlie that I had only ridden two times before the show. I did the Medal Finals and everything. I actually ended up winning Medal Finals at the 2'6″ height. It was fun and he was really good.
What are your future riding goals?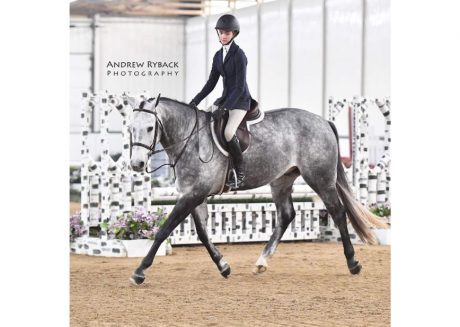 Next year, I would love to do Junior Hunters on Milo at the 3'3″ height. On Finn, I'd love to move up to 3'6″ and do Maclay Finals or Medal Finals. I'm not sure if I will yet, I may do the 3'3″ NHS Finals for one more year.
Long term, I think it would be really cool to ride in college. I'm not quite sure what I want to do yet, but I think that if I got the opportunity or got a riding scholarship I might take it, because that's really cool! I don't think I want to be a trainer, but I want to keep riding as I get older.
Photos courtesy of Natalie Bertoglio.