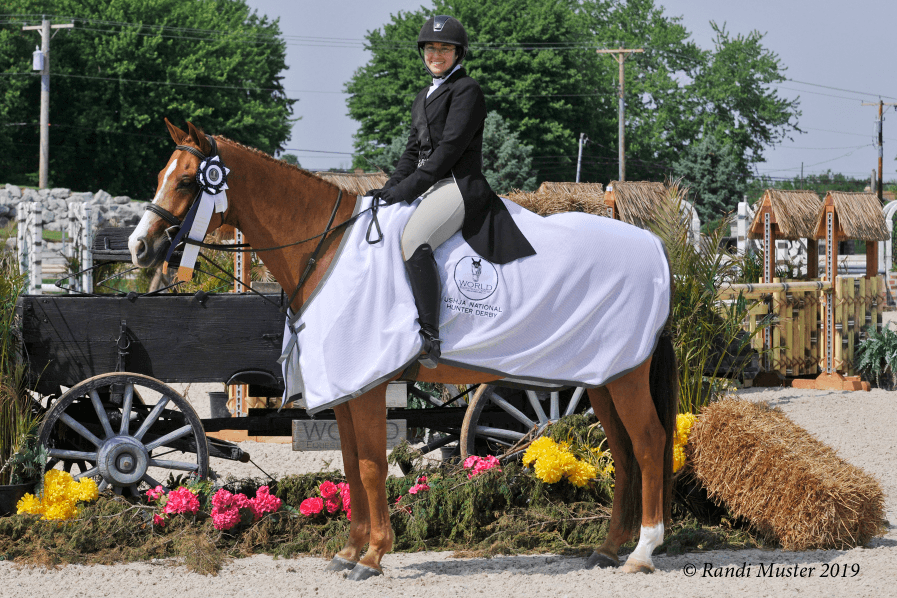 This afternoon's $2,500 USHJA National Hunter Derby saw twenty entries vying for the win over a natural course with ten obstacles emulating those a horse and rider may encounter in the hunt field. Several entries scored well into the eighties, making for tough Derby competition, but ultimately it was Linda Radigan and Alexa Kaas' Charismatic (Chap x Hauptstutbuch) that topped the class with two stunning rounds. Radigan also took fourth place with Luisa Kaas' Rehy Wonder Boy (Harlequin du Carel x Cavalier Royale), sixth place with Jamie Gunyula's Interstellar (Etoulon VDL x Unzell VDL) and tenth place with Remeta Sky LLC's RS Darwin (Zizi Top x Zadanita).
The course for this afternoon's $2,500 USHJA National Hunter Derby began over a vertical option at the top of the ring, then bent to a birch oxer option across the center of the ring. The course then led up the rail over a brick line, then down the diagonal over a natural combination. Next, the course bent up a Tuscan-inspired line on the rail, then rounded the top of the ring to finish over a log vertical headed down the diagonal that bent to a tiki-inspired oxer option.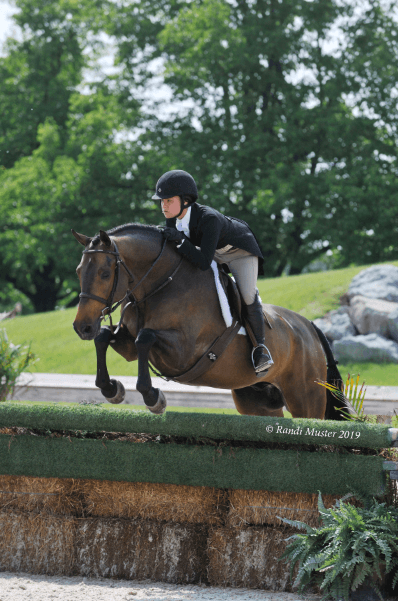 Near the top of the order was Erin Cummins aboard her own My BFF (Cicera's Icewater x Tallulah OHF), a twelve year old Holsteiner gelding. Only two entries had broken into the eighties thus far, both mounts of Linda Radigan's: Rehy Wonder Boy scoring an 81 and Interstellar scoring an 80. Cummins and My BFF regularly show in the Amateur Owner Hunters and took top placings in Wellington, Florida at the Winter Equestrian Festival in early 2019, so the pair are accustomed to tough competition. Cummins and the handsome bay gelding jumped a stylish first round, taking all four high options for an astounding score of 89, setting a new standard for the class.
About midway though the order, Belynda Bond and Gesture LLC's Norderney, a fourteen year old chestnut Hanoverian, took to the course. The pair had a fantastic Winter and Spring, taking top placings in Performance Hunter Classes in Venice, Florida at the Venice Equestrian Tour and in Gulfport, Mississippi at the Gulfport Spring Classic shows. Bond and Norderney were eye catching throughout the first course, opting not to take any high options and earning a score of 87.
Wrapping up the first rounds was Linda Radigan aboard Alexa Kaas' Charismatic (Chap x Hauptstutbuch), a nine year old Hanoverian. Radigan and Charismatic are no stranger to the winner's circle at World Equestrian Center, taking the win in the $2,500 USHJA National Hunter Derby last October. The pair also took top placings at HITS in Ocala, Florida over the Winter. This afternoon, the pair strode confidently into the ring, laying down a foot-perfect round and taking all four high options for a score of 88.
The course was refreshed as the top twelve entries prepared to return for the handy round. The handy round began over the out of the brick line headed up the rail, then rolled back to the vertical option at the top of the ring. From there, the course bent to a birch oxer option across the center of the ring, then continued past the ingate to the in of the brick line on the rail, now lowered to a trot fence, then rolled back to the tiki-inspired oxer option. The course continued up the in of the Tuscan-inspired outside line on the rail, then bent to the log fence, now reversed and converted to an oxer. To finish, the course led down the natural combination.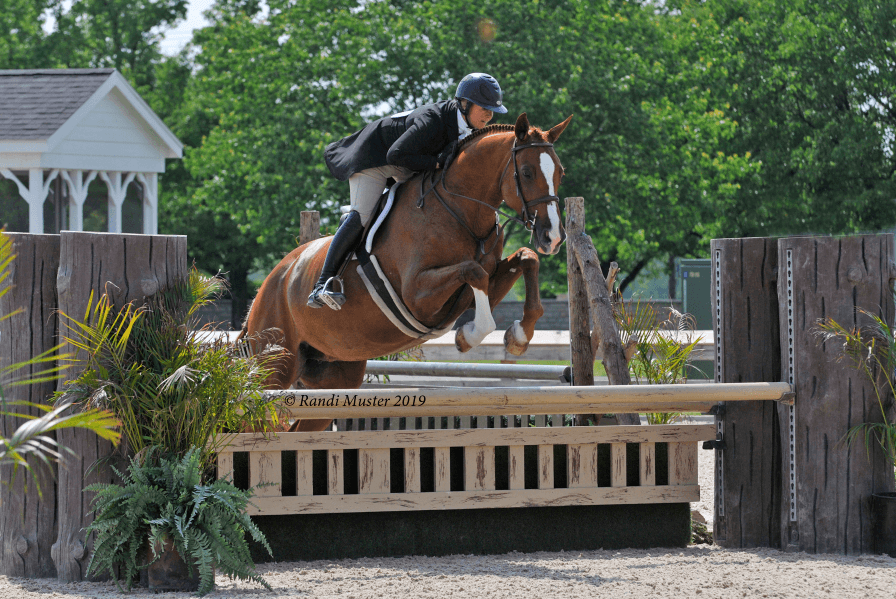 First of the top contenders to return was Belynda Bond aboard Norderney. The pair matched their first round, taking inside turns where possible and opting, again, for the low side of the option fences. Bond and the striking chestnut gelding scored an 88, bringing their two round total to 175, making them the new class leader.
Shortly after, Erin Cummins returned aboard My BFF. The pair rode a second stylish round, taking two high options for a score of 77. Combined with their first round score, this brought Cummins and My BFF's total score to 166, sliding them comfortably into second place.
Last to return was Linda Radigan aboard Charismatic. With their signature style, the pair laid down a lovely, rhythmical course. Radigan piloted the adorable chestnut over all four high options for a score of 89, bringing the pair's two round total to 177. Their score was enough to top the class, moving Bond and Norderney into second place and Cummins and My BFF into third place.
Linda Radigan stuck around for a bit after the Derby to chat with us about her rides. "I rode four today," said Radigan, "We took the opportunity to have a nice course that's going to prepare us for the rest of the Summer and see where we're at with some of our new ones. We didn't do much this Winter, so this was all of the horses' first time back, so it was nice to have them all step up. The ring is beautiful and the decorations are beautiful, so it adds to the whole Derby experience."
When asked about first place finisher Charismatic, Radigan commented, "Charismatic has sort of become my main man for this. We've been together for about a year and a half now. He's become my go-to Derby horse. Over the past year we've built quite a partnership, I love him. He's so game. The handy rounds are his favorite, he's really expressive. He's so sweet and he tries so hard. He's sweet in the barn, too, which makes it even better."
Radigan also raved about fourth place finisher Rehy Wonder Boy, "Rehy Wonder Boy is another of my go-to Derby horses. He's ten years old and he's been there, done that. He knows what he's doing. It's a good experience for me to know that he knows what he's doing, and I don't have to rethink anything."
Radigan was also extremely pleased with both sixth place finisher Interstellar and tenth place finisher RS Darwin, "Interstellar is six years old. He's been doing the Young Hunters, and we thought today was a good opportunity to try his very first Derby. I'm fairly certain that was his first handy round and probably his first ever trot jump, so I was really excited. I thought he handled it really well and I was really proud of him. Also, that was only RS Darwin's second Derby. It was a good experience for him."
$2,500 USHJA National Hunter Derby Results
Charismatic, Linda Radigan – 88 | 89 | 177
Norderney, Belynda Bond – 87 | 88 | 175
My BFF, Erin Cummins – 89 | 77 | 166
Rehy Wonder Boy, Linda Radigan – 81 | 80 | 161
Trek, Katherine Lenkart – 75 | 77 | 160
Interstellar, Linda Radigan – 80 | 79 | 159
Harrison, Julia Hasler – 75 | 77 | 152
Helios-s, Kirsten Crawford – 74 | 76 | 150
Riverdale, Lizzie Stickney – 72.5 | 76 | 148.5
RS Darwin, Linda Radigan – 77 | 70 | 147
Photos courtesy of Randi Muster Photography.