This afternoon saw thrilling equestrian sport as the Jumper ring hosted both the $25,000 WEC Grand Prix and the $7,499 Futures Prix 1.30 m. Nineteen entries filled the Grand Prix, but it was Wilhelm Genn that claimed the top two placings aboard his own Van Gogh (Valentino x Calina Z) and Eduardo Leon's Dirocco Blue (Zirocco Blue VDL x Kivoli), respectively. In the Futures Prix, twenty two entries negotiated the course but it was David Beisel and Harlow Investment Enterprises, LLC's For Sunday (For Pleasure x Patoile T.H.) that ultimately took home the blue.
$25,000 WEC Grand Prix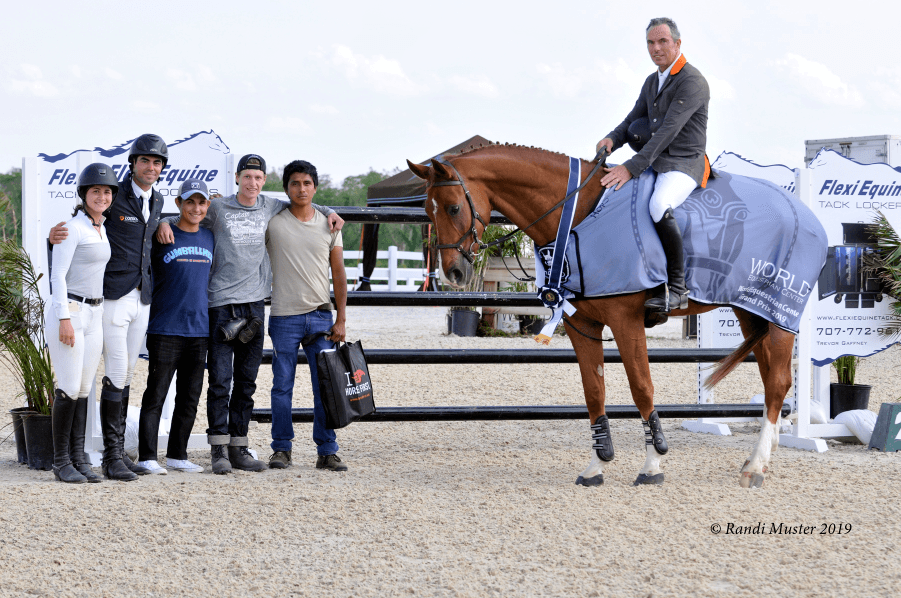 An enthusiastic crowd gathered by the outdoor Jumper ring this afternoon to watch nineteen entries vie for the win in the $25,000 WEC Grand Prix. Always a crowd favorite, Wilhelm Genn stole the top two placings aboard his own Van Gogh (Valentino x Calina Z) and Eduardo Leon's Dirocco Blue (Zirocco Blue VDL x Kivoli), piloting both horses expertly through a flowing track, designed by Bobby Murphy of Lexington, Kentucky. For their win, Genn and Van Gogh received the lion's share of the prize money, along with a prize pack from Horse First and a $100 Dandy Products gift certificate. Van Gogh's groom received the Groom's Award for his stunning turnout, which included $100 cash and a $50 WEC Gift Card.
Genn was one of the first to navigate the course aboard Van Gogh. The pair have a great rapport, taking top placings in countless Grands Prix up and down the East Coast and across the Midwest. This afternoon, Genn and the scopey eleven year old chestnut Oldenburg gelding brought their A game, jumping the first clear round of the class in 76.682 seconds and securing a spot in the jump off.
Near the middle of the order, Genn returned to the ring aboard Dirocco Blue. The pair frequent 1.35-1.45 m classes, even taking first place in the $5,000 Welcome Stake 1.35 m during Week 18 of the Winter Series of the Midwest at WEC just last month. Genn piloted the eleven year old Danish Warmblood gelding through the course, taking an almost identical track as with Van Gogh, and crossing the timers at 76.862 seconds with all rails up.
Thursday's $5,000 Welcome Stake 1.35 m winners Sean Jobin and Foxridge Farms' Darius (Warrant x Sanita) also delivered a notable first round. The pair had a fantastic Winter, taking several top placings at both HITS in Ocala, Florida and the Venice Equestrian Tour in Venice, Florida. This afternoon, Jobin and Darius proved to be strong competitors again, stopping the clock with a clear first round at 76.694 seconds and earning a spot in the jump off.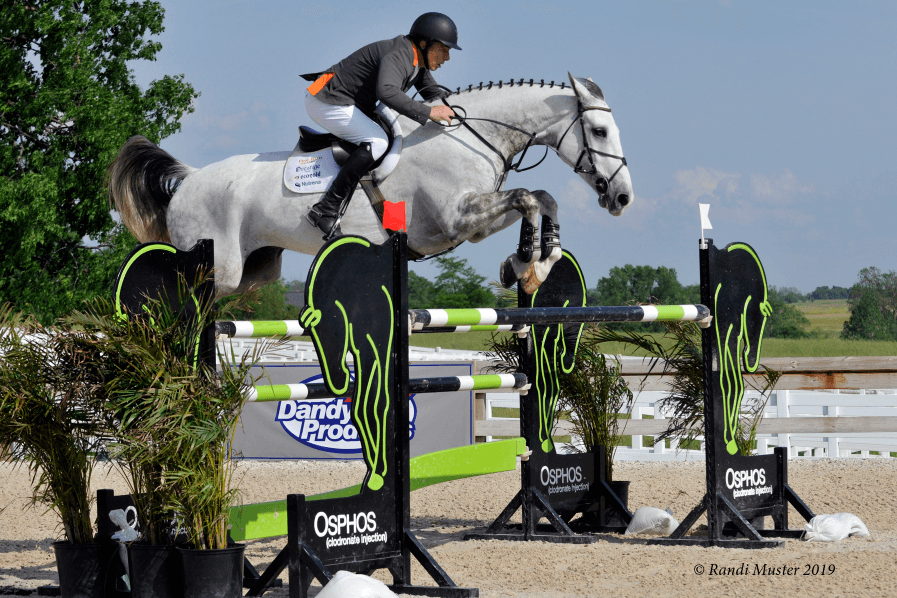 Genn was first to return for the jump off aboard Van Gogh. The pair kept a steady pace, taking inside turns where possible and crossed the timers with all rails up at 40.647 seconds, setting the pace for the remaining entries. Jobin and Darius were next in the order, opting for a more conservative pace to ensure a clear round. The pair accomplished just that, stopping the clock at 45.347 seconds. Last to jump off, Genn returned aboard Dirocco Blue. Knowing he had secured the win with Van Gogh, Genn focused on leaving the rails up to build Dirocco Blue's confidence. The pair rode the short course in 43.458 seconds, sliding neatly into second place behind Genn and Van Gogh and moving Jobin and Darius to third place.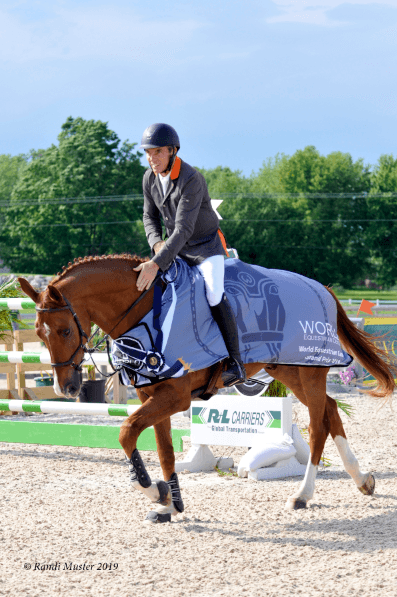 Genn stuck around after the Grand Prix to chat with us about his rides in the class. "First of all, I'm very happy with them," said Genn, "Van Gogh hadn't shown in six weeks, and he felt a little rusty on Thursday, so I did a little more exercises like gymnastics to quicken him up a little off of the ground in the warm up and he felt fantastic in the first round. This is not an easy ring for him because he's a big horse with a big slow stride, and there's a lot of turning, so it's hard to be fast with him. But he was so good, so I'm proud of him. It's his second class back in six weeks and he comes out like, 'Okay, that was easy.' He doesn't even break a sweat; it's amazing. So, I'm super happy with him."
Genn also commented on Dirocco Blue's performance in the class, "Dirocco Blue, same thing. He was amazing. In the jump off, I would have liked to try to catch Van Gogh, but it would not have been beneficial for the horse because he can be aggressive, so I need to calm him down. I figured, if I tried to go really fast, he may have a rail and then I set myself back in the progress overall. The first jump didn't come up for speed, anyway, so I just thought I would try to be efficient and maybe he would be second, and that's a wonderful outcome. The horse felt so good about himself. It's so much more mental than a lot of people think, for the horses, too. So, it's very important to have the horses happy and excited. For Dirocco Blue today, he walked back to the barn like the winner. He feels so good about himself. I expect him to come out this way next week, so I'm really excited."
He also added, "It's a beautiful horse show, as always. It's such a friendly place. You walk in and you're happy because everybody's happy, everybody's in a good mood…such a great family place. There's good competition, too. It was such a good class today; Bobby built a super course. It was not too easy, not too hard…it was just right. I thought it was really great. We love coming here."
$25,000 WEC Grand Prix Results
Van Gogh, Wilhelm Genn – 0 | 0 | 40.647
Dirocco Blue, Wilhelm Genn – 0 | 0 | 43.458
Darius, Sean Jobin – 0 | 0 | 45.347
Charline 28, Kady Abrahamson – 0 | 4 | 38.830
Charlie Brown, Taylor Avann – 0 | 4 | 47.612
Jordan, Jill Gaffney – 4 | 70.740
Gipsy 1134, Taylor Kain – 4 | 71.982
Shuttergold, Taylor Kain – 4 | 74.613
Mauna Lani, Lanie Thomas – 4 | 74.673
For Advance, Ryan Genn – 4 | 74.964
$7,499 Futures Prix 1.30 m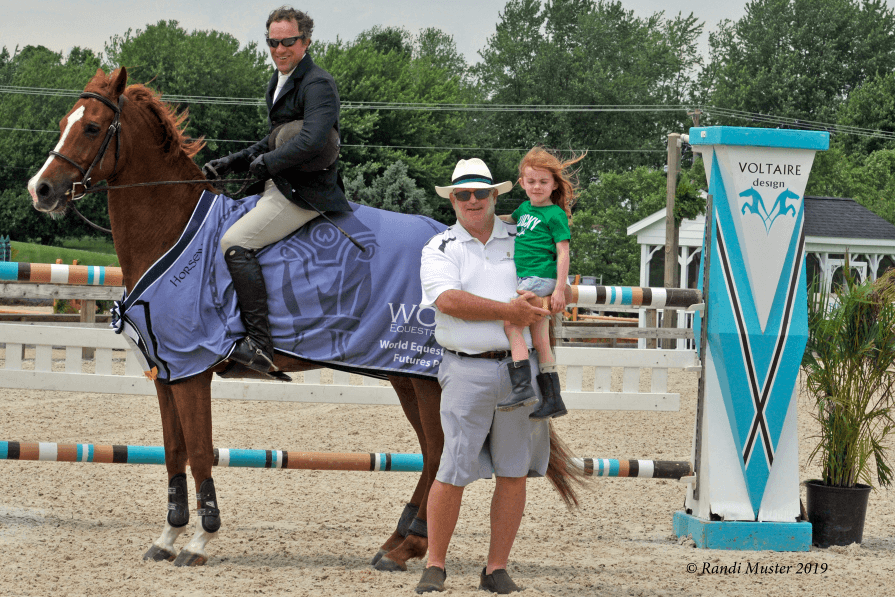 This afternoon also saw twenty two entries contest another of course designer Bobby Murphy's tracks for the win in the $7,499 Futures Prix 1.30 m sponsored by Voltaire Design. Though there was tough competition, including second place finishers Amateur Celia Bresch and her own Cademuir (Sebastian III x Conoor De Charm), it was ultimately David Beisel and Harlow Investment Enterprises, LLC's For Sunday (For Pleasure x Patoile T.H.) that took the win.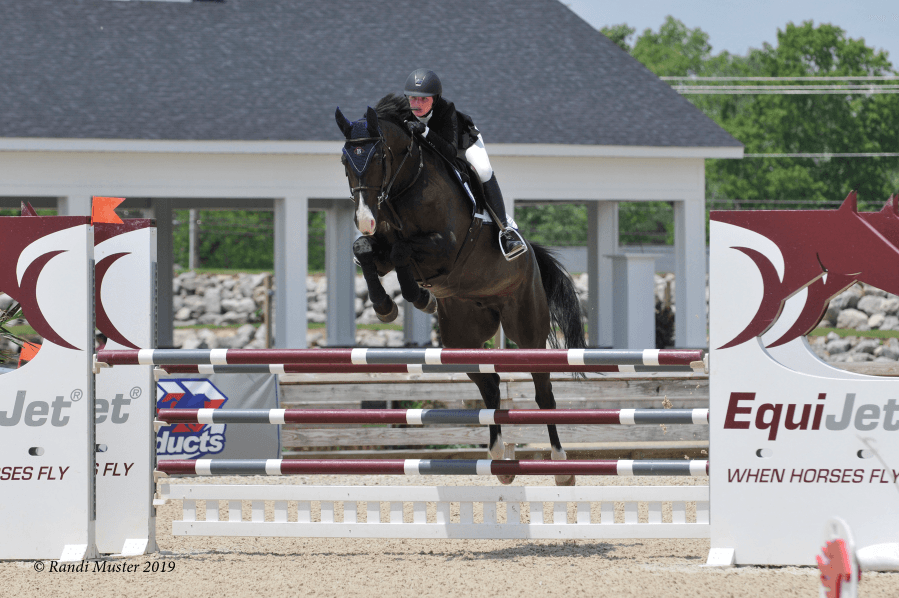 Bresch and Cademuir took to the course near the top of the order. Bresch and the ten year old Dutch Warmblood have regularly taken top placings in the Low Amateur Owner Jumpers and have recently moved up to the 1.30 m classes, but the pair looked like veterans this afternoon as they jumped a clear first round in a quick 70.251 seconds, about nine seconds under the time allowed. Bresch and Cademuir continued straight to the jump off of the Table II event, jumping a second clear round and setting a pace of 36.481 seconds for the remainder of the entries to try and catch.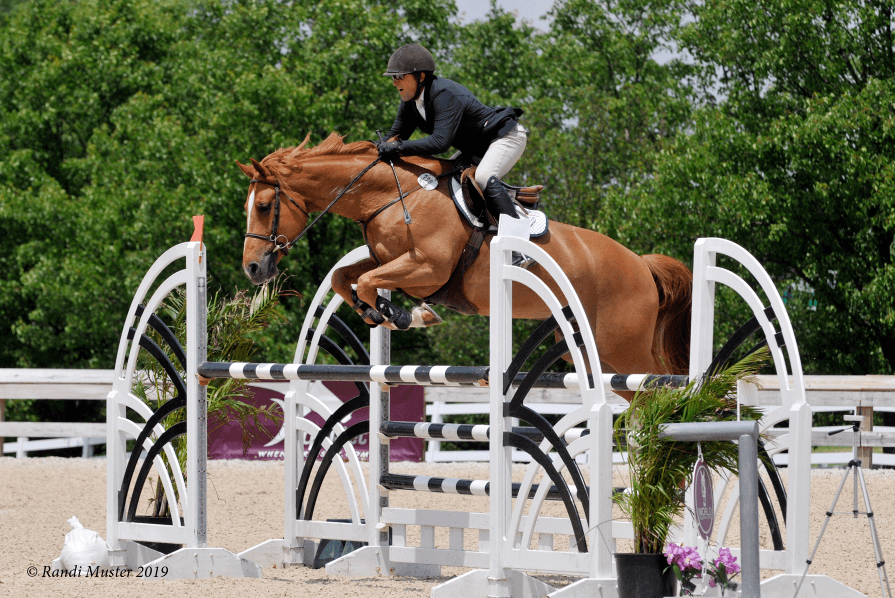 Near the bottom of the order, Beisel entered the ring aboard For Sunday. Beisel and the nine year old Dutch Warmblood mare are no strangers to the Futures Prix at World Equestrian Center, having taken a win in the class in February. The pair took their time in the first round, stopping the clock at 75.238 seconds and continuing straight to the jump off. Beisel and the chestnut mare picked up the pace on the short course, taking their signature tight turns and flying over each fence. The pair crossed the timers at 35.214 seconds, topping the class by over a second.
We caught up with Beisel after the awards presentation to chat about his ride. "For Sunday was really nice today. I've been in Kentucky for the last two weeks, so I haven't ridden most of the horses I have here this week," explained Beisel, "For Sunday was good, she won the 1.25 m on Thursday. She was jumping beautifully today. It was nice to have my other two mounts to warm up on in the class today and get a feel of the course."
When asked about the course, Beisel replied, "In the jump off, I tried to be fast early, then jump the Osphos oxer by the ingate clear, then jump the last combination clear. With the other horse, I did four strides up the line in the jump off, but I thought the five was better for For Sunday. She goes pretty fast, so I knew she would catch up. It was nice knowing that I had 34 seconds on the other horse and the leader was 36, and I knew For Sunday is typically fast, so I was hoping that would work."
Beisel also added, "It's awfully nice of the Harlows to let me ride such a nice horse," and, "I was also enjoying riding in my brand new CWD saddle today!"
$7,499 Futures Prix 1.30 m Results
For Sunday, David Beisel – 0 | 0 | 35.214
Cademuir, Celia Bresch – 0 | 0 | 36.481
Colora, Ryan Genn – 0 | 0 | 36.701
Gilded, Taylor Kain – 0 | 0 | 37.918
Dubai B, Samantha Mackenzie – 0 | 0 | 39.467
Etoile Van't Lambroeck, Alliy Moyer – 0 | 4 | 35.420
Galway Bay Pandora, Alliy Moyer – 0 | 4 | 36.110
Kalune, Devin Milan – 0 | 4 | 37.727
Snow White, Natalie Thornell – 0 | 8 | 34.007
Colato Sabata, David Beisel – 0 | 8 | 34.815
Our Spring / Summer Series features the opportunity for top jumper riders to earn more points toward two special awards, generously donated by WEC sponsors:
2019 Jumper Prizes
EquiJet Leading Young Professional Rider Award
The young professional rider under 30 years of age that accumulates the most points from 1/1/19 – 10/27/19 will receive a $5,000 voucher from EquiJet. To ensure that your points are being tracked, make sure that you are signed up for a WEC Membership! Signing up is simple, just register for WEC points online at www.wec.net, or sign up in the show office during your next horse show.
Flexi Equine Leading Jumper Rider Award
The rider that earns the most money in the Jumper ring will receive a WEC branded tack locker from Flexi Equine Tack Lockers. Junior, Amateur and Professional Jumper riders are all eligible.
Photos courtesy of Randi Muster Photography.