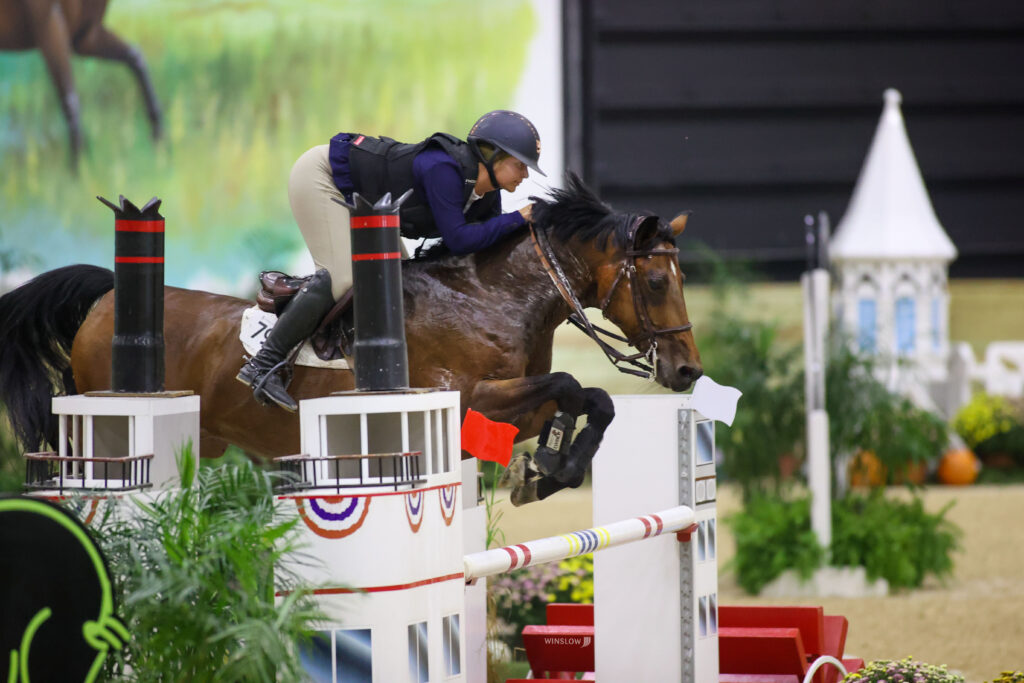 Warm fall temperature and sunny skies set the perfect backdrop for another week of exciting equestrian sport at World Equestrian Center – Wilmington. Feature classes for Week III of the World Equestrian Center – Wilmington Fall Classic Series kicked off this afternoon with 22 entries vying for the win in the $15,000 WEC Wilmington Welcome Prix. A highly competitive field of riders contested a course designed by Bobby Murphy, of Lexington, Kentucky. Just six entries jumped a clear first-round and four entries jumped double clear, but it was Lisa Goldman-Smolen and Bengtsson VDL (Bubalu x Indoctro), who were victorious with in the $15,000 WEC Wilmington Welcome Prix.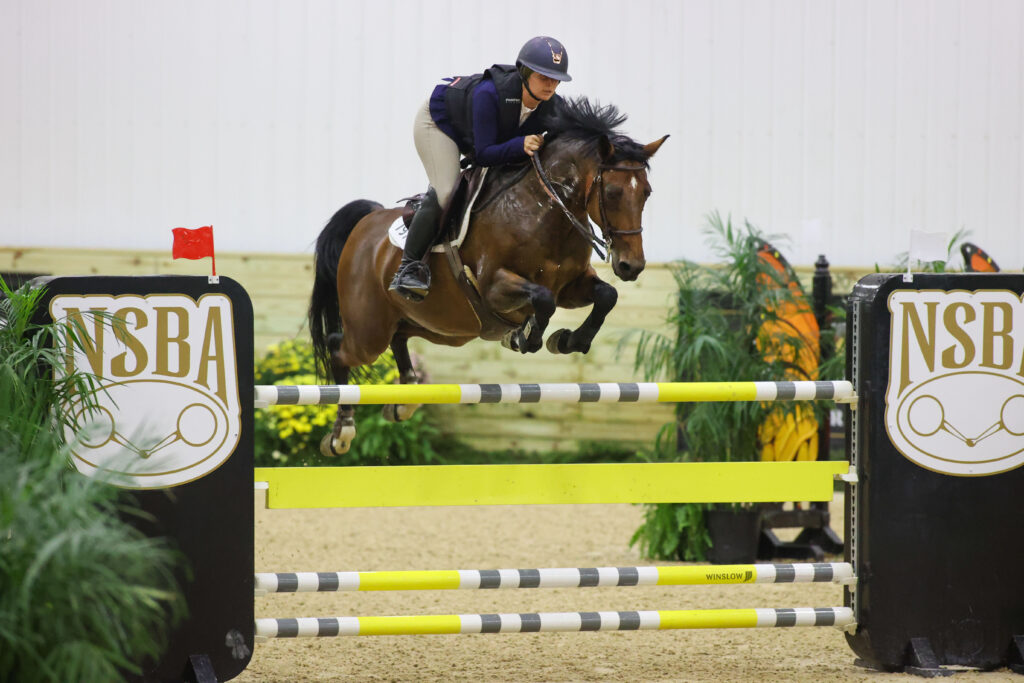 Lisa and the ten-year-old KWPN gelding were first on the track and first to make it to the jump off. They set the pace for the course by finishing their first round in 86.522 seconds, certainly under the allowed time of 90 seconds. They caught their breath and quickly returned to the jump-off where they soared through the short course and raced fault free through the timers at 38.539 seconds.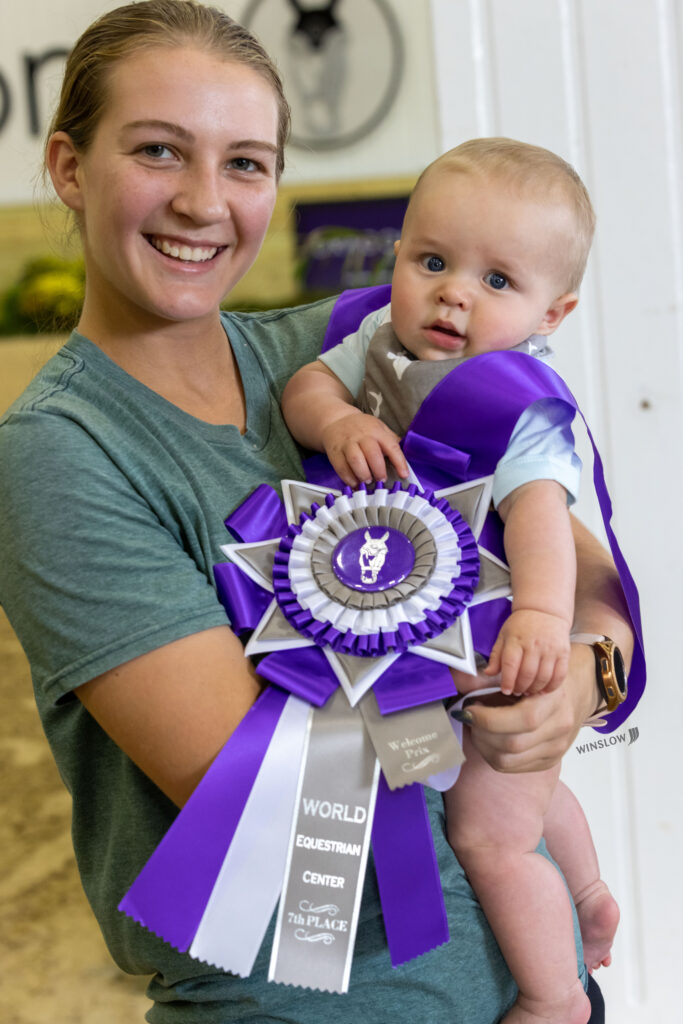 We caught up with Lisa Goldman-Smolen of Red Coat Farm in Hawthorn Woods, Illinois to chat about her victory in the $15,000 WEC Welcome Prix. "He is tiny… but he is fast. And he is fat! Bengi eats anything and everything. He is so sweet and is an absolute character. Definitely one of my favorite horses to ride. I've had tons of fun with him since we got him as a 7-year-old. This horse hasn't been able to compete as much as I wanted him to. I've lost almost two years of competing because in early 2020 I had back surgery, then I got pregnant and now I have a six-month old baby! I've been showing still, but it has been difficult to get back into the groove of things. Back surgery and a baby. Life happens! Aside from that, we have been showing at WEC for years and we love it here. My mom, Mary Goldman, is my trainer! She's the best. I also want to thank my sponsors: Finish Line, CWD, Samshield, Nutrena, Brookledge, Mike Boshold Chiropractor and Saddlers row!"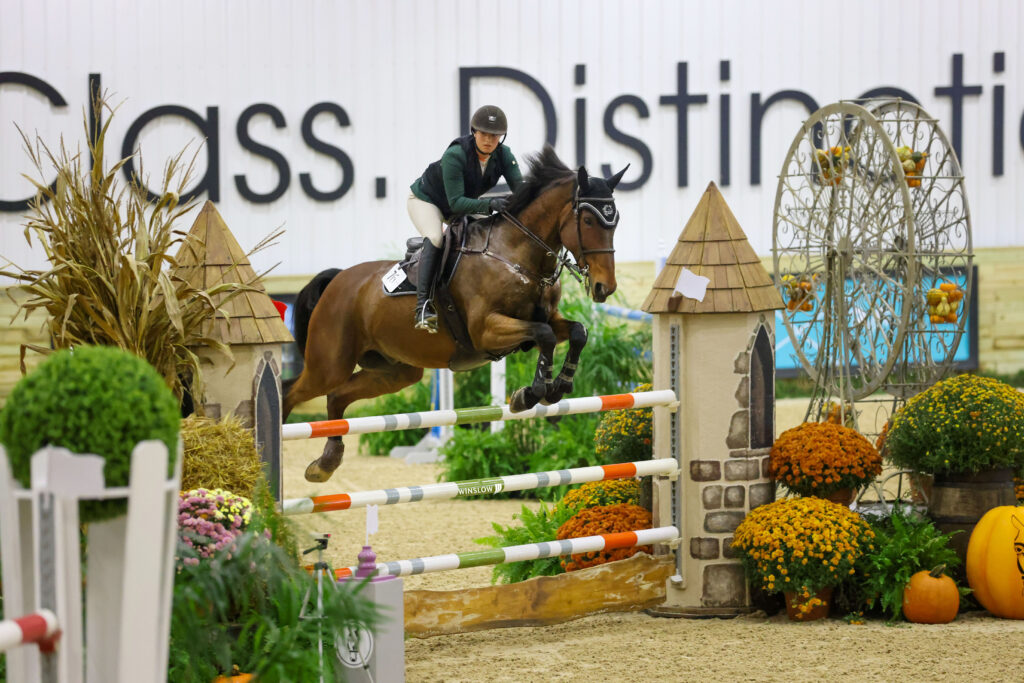 Nicole Loochtan and her own Caiman des Sequoias (Radco d' Houtveld x Sublime de la Cour) jumped double clear to take the second place spot. Loochtan of Stone Creek Stables, Georgetown, Kentucky and the thirteen-year-old SBS gelding finished their first round in a quick 85.129 seconds. The pair advanced to the jump-off where they raced to end the course in 39.234 seconds.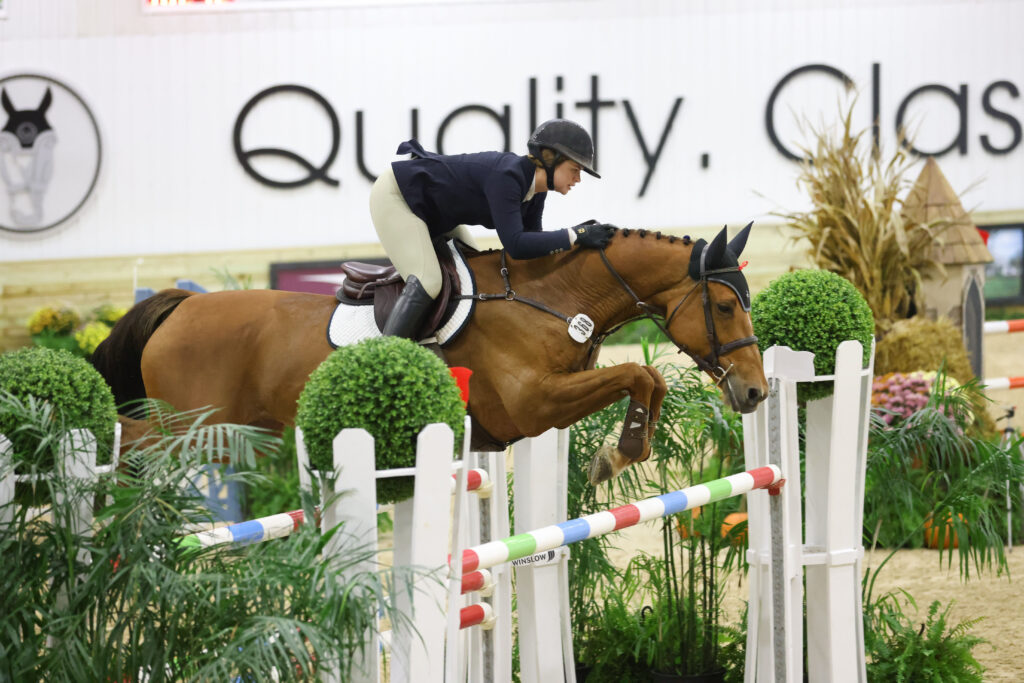 Rounding out the top three placings is Charlotte Clark of Kendalwood Farm in Sunbury, Ohio aboard her own Kinsella (Capitalist x Jerpoint Mist). The pair never touched a rail, delivering a clean first round in a time of 86.910 seconds. They continued into the jump off in the same fashion, jumping a second clear round in a quick 39.412 seconds.
$15,000 Welcome Prix 1.35m Results
Bengtsson VDL, Lisa Goldman-Smolen – 0 | 0 | 38.539
Caiman des Sequoias, Nicole Loochtan – 0 | 0 | 39.234
Kinsella, Charlotte Clark – 0 | 0 | 39.412
Gluckskeks, Sam Pegg – 0 | 0 | 42.998
High Touch, Morgan Ward – 0 | 4 | 39.917 
King Van Het Keyzerhof, Gustavo Prato – 0 | 4 | 42.072
Ivaro N Lisa Goldman-Smolen – 1 | 90.950
Luke Skywalker 70, Gustavo Prato – 2 | 91.201
Orage Z, F. Peter Jordan – 2 | 91.837
 FF Olive, Jill M. Gaffney – 4 | 86.378
Watch the winning round here:
Thank you to all exhibitors, trainers and spectators for a great day of equestrian sport at World Equestrian Center – Wilmington.
This Fall Classic show series features two more weeks of NSBA sanctioned hunter/jumper competition and nearly $1.2 million in prize money total. Reserve your stalls and submit your entries at www.horseshowing.com.
For more information regarding competing with the National Snaffle Bit Association please visit https://www.nsba.com/
Photos courtesy of Winslow Photography.