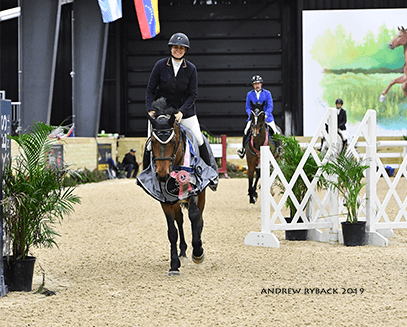 Lisa Goldman-Smolen dominated Saturday night competition in the Sanctuary, winning both the $25,000 WEC Grand Prix and the $7,500 Futures Prix 1.30 m sponsored by Voltaire. Goldman-Smolen had plenty of competition tonight, besting nearly twenty entries in each class; but she was unstoppable aboard Sovereign and Bengtsson VDL.
$25,000 WEC Grand Prix
Nineteen entries contested the course in tonight's $25,000 WEC Grand Prix, which featured two combinations, a triple bar and a liverpool. Near the top of the order of go was Doug Boyd, winner of last night's $2,400 USHJA National Hunter Derby aboard Calido's Son (Calido I x Pusteblume) and Thursday Night's $5,000 Welcome Stake 1.35 m aboard Berkley III (Pall Mall H x Resina). Boyd returned to the Sanctuary Arena aboard Sapphire Riding Academy's Berkley III ready to give the competition a run for their money for the third night in a row. The pair sped through their first round clear without the slightest hesitation, crossing the timers at 76.499 seconds, five and a half seconds under the time allowed of 82 seconds.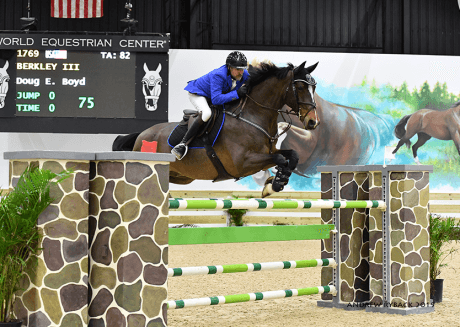 Shortly after, Lisa Goldman-Smolen took to the course aboard Barbara Disko's Sovereign (Frontal x Galledent), who was second in the $25,000 WEC Grand Prix just last week. The pair were equally as determined, jumping clear and nearly matching Boyd and Berkley III's first round time, stopping the clock at 76.474 seconds. It appeared that Goldman-Smolen and Boyd were preparing for their second head-to-head battle of the week. The two were fractions of a second apart in the jump off of the Welcome Stake on Thursday, where Boyd took the win aboard his mount tonight, Berkley III, and Goldman-Smolen took second aboard Bengtsson VDL.
Though nine entries made it to the jump off, Goldman-Smolen and Boyd were the stars of the event, and the clear crowd favorites. Of the two, Boyd was first to return aboard Berkley III, taking an impossibly tight turn, as he did on Thursday night, and challenging Goldman-Smolen to beat he and Berkley III's clear jump off time of 38.893 seconds. Goldman-Smolen and Sovereign were up to the challenge, riding into the arena with determination. The pair executed Boyd's quick turn perfectly, then blazed through the rest of the course as the crowd held their collective breath. Goldman-Smolen and Sovereign raced through the timers, stopping the clock at 37.678 seconds for the win in the $25,000 WEC Grand Prix. For her win, Goldman-Smolen received a prize pack from Horse First and a $100 Dandy Products gift certificate. Lisa's grooms, Marco and Sarah, received the Groom's Award for Sovereign's beautiful turnout, which included $100 cash and a $50 WEC gift card.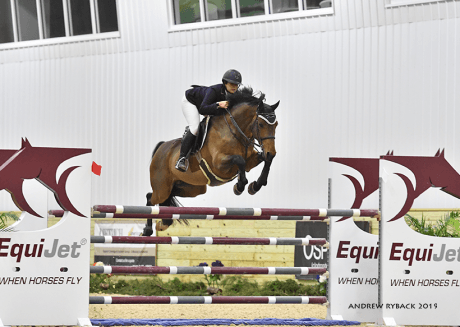 We caught up with Lisa Goldman-Smolen of Red Coat Farm in Hawthorn Woods, Illinois to chat about her incredible victory in the $25,000 WEC Grand Prix. "Sovereign was amazing. I got to do him second in the jump off, so I got to get a feel of the course on my younger greener one (As Di Sogrand [As Di Villagana x Grand Soso 2]) and see what strides I wanted and where the turns had to happen. Sovereign's a really fast turner, so I opted not to do the leave-out in the first line so I could spin back really fast and run down to the vertical, then get the inside turn to the triple bar. When I caught the liverpool really fast, I thought it was time to settle down and finish the round clear. Once I got those two fast turns I was pretty sure I had the time," said Goldman-Smolen, explaining her strategy.
Goldman-Smolen went on to talk about her history with Sovereign, "I've had him for a few years now. Barbara Disko owns him and she's been very supportive of me. He's really stepped up and been one of my best Grand Prix horses I've ever had. I did the Million with him, I was double clean in the $100,000 in Ocala, Florida last year, I did the $500,000 class at Balmoral and I was the fastest four-faulter and placed eighth, he won with me [at World Equestrian Center] in October in the $50,000 Grand Prix, and he won a bunch of things over the summer. So he's really coming into his own. I got him when he was a ten-year-old. He really hadn't done much besides the Stallion Trials before that. He is thirteen this year, but he has very low miles. So he's really loving his job and getting better and better every year."
$25,000 WEC Grand Prix Results
Sovereign, Lisa Goldman-Smolen – 0 | 0 | 37.678
Berkley III, Doug Boyd – 0 | 0 |38.893
Wadisson, Lauren E. DiTallo – 0 | 0 |39.720
Caphur, Taylor Kain – 0 | 0 |39.770
As Di Sogrand, Lisa Goldman-Smolen – 0 | 0 |40.080
Altesse De Virton, Karen McFarland – 0 | 4 |42.856
Alexa 410, Renee Connors – 0 | 4 |48.122
Light Show, Summer K. Hill – 0 | 8 |40.594
La Dolce Vita VDL, Richard L. Rinehart – 1 |82.331
Calano Z, Taylor A. Flury – 4 |75.529
$7,500 Futures Prix 1.30 m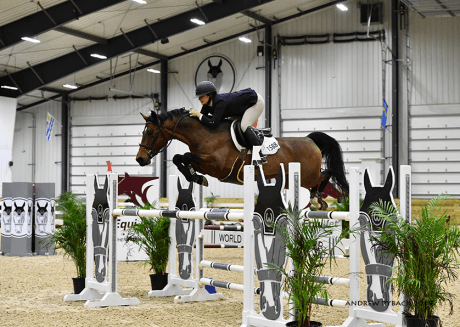 The $7,500 Futures Prix 1.30 m sponsored by Voltaire brought an equally exciting win for Lisa Goldman-Smolen, this time aboard her own Bengtsson VDL (Buballu VDL x Uzmakieka VDL). The pair were first to jump clear in the Table II event, holding their lead through the entire class. Bengtsson VDL has been on a fantastic streak, placing second in the Welcome Stake on Thursday and third in last week's Futures Prix. Tonight, Goldman-Smolen and Bengtsson VDL flew through their first round, which included two combinations and a triple bar, jumping clear and stopping the timers at 58.058 seconds, eight seconds under the time allowed of 66 seconds. The pair continued straight to the jump off, setting a blistering pace with a clear round in a time-to-beat of 38.967 seconds.
No entries even came close to touching Goldman-Smolen and Bengtsson VDL's jump off time in the $7,500 Futures Prix 1.30 m. A total of four of the twenty entries jumped a clear first round, including Amanda Forte and Cerulean Stables LLC's HHS Louis (Quidam Junior x HHS Flowing). The pair jumped a clear first round in a time of 64.859 seconds, then continued to the jump off to finish the short course in 45.490 seconds with one unfortunate rail. Alexis Bodo had a similar round aboard her own Konig, jumping the first round in 62.319 seconds and continuing to the jump off, stopping the clock at 45.780 seconds with one rail down.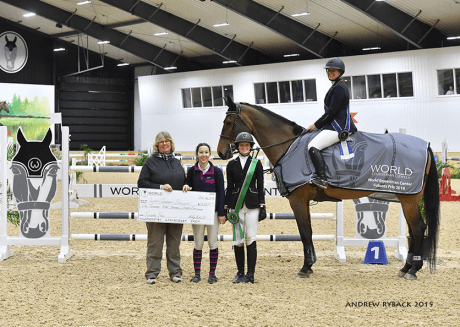 We were able to steal a moment of Lisa Goldman-Smolen's time before the $25,000 WEC Grand Prix. "We had four kids in this class and, for three of them, it was either their first weekend on their horse or their first time jumping this height. They all jumped great. Two of them got ribbons and the other two just had four faults. They all rode really really well so I'm really happy about it," Goldman-Smolen raved about her students.
Goldman-Smolen was happy to talk about Bengtsson VDL, "He's my little pet, I just love him so much. He reminds me of my old horse Morocco, so hopefully he's my next little speed ball. He's been right there [the last two weeks]. He was double clean in the Welcome and second this week, and he was third in the Futures Prix last week. To have him win his last class here for the winter was really exciting," Goldman-Smolen beamed. "He's been awesome. He's itty bitty, maybe fifteen hands, but he's never said no. He's really fast. I bought him with the hope that he might be my next speed horse, and I kind of bought him because he did remind me so much of my little Morocco. He's really sensitive and really fast, and really wants to be a pet. He has really blossomed and been really happy. He loves us. He kind of follows us around like a little dog; he's really cute. He's a character, one of the favorites in the barn." Goldman-Smolen added that the horses have all jumped great at World Equestrian Center, and that the footing has been great. She feels that all of the horses are fit and prepared to spend the rest of the season competing in Florida.
$7,500 Futures Prix 1.30 m Results
Bengtsson VDL, Lisa Goldman-Smolen – 0 | 0 |38.967
HHS Louis, Amanda L. Forte – 0 | 4 |45.490
Konig, Alexis P. Bodo – 0 | 4 |45.780
Mr DW, Aida M. Sanchez Long – 0 | 6 |47.529
Legacy B, Sarah Korenthal – 4 | 59.159
Contessa, Stefanie E. Shaw – 4 |59.444
Esparta, Plexis P. Bodo – 4 |59.946
Invictus, Shanna Beyer – 4 |60.897
Chasinta, Madelyn Cardelli – 4 |61.153
Nike, Adeline Rohrbach – 4 |61.621
Photos courtesy of Andrew Ryback Photography.