This week's Sunday Spotlight features best friends and long-time riding pals, Natalie Sanders and Reynolds Cole. Natalie and Reynolds have been riding together for about seven years, and traveled to Ohio this week from Tuscaloosa, Alabama with their barn, Westminster Farm, to show at World Equestrian Center. Though still in their Junior years, both Natalie and Reynolds have had fantastic riding careers, and both see a lifetime of riding horses ahead.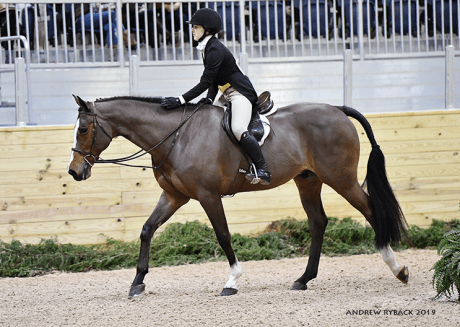 Natalie has been riding for the majority of her life. "My mom grew up showing Arabians so we've always kind of been in the show world. I loved horses, I would ride them all of the time, but I wasn't allowed to have my first lesson until I turned four," Natalie explained. "So I had my first lesson and I was like, 'This is boring, we're just going in circles. I want to do something fun!' Both of my cousins showed Hunters, so that's what got me into the Hunters. I started showing ponies when I was seven, and from there it took off. I loved it. My mom made a rule that I had to do a full year of local shows before I did the A shows, so I did a year of AHJA (Alabama Hunter Jumper Association) shows."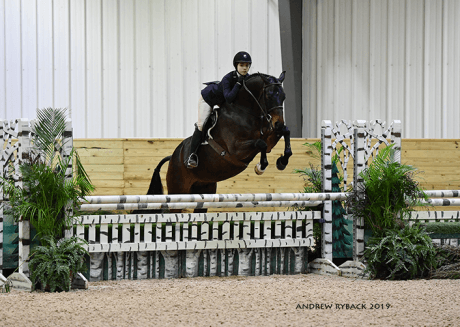 Reynolds had almost the opposite beginning to her riding career. "I didn't ride much when I was little. I just sat on a few horses. But when I moved to Tuscaloosa, one of my God-sisters rode a lot, and I really looked up to her and really wanted to do that. So I got a 10-lesson package when I was eight, and I hated it at first. I wanted to quit so bad, but my mom made me do all of the ten lessons and, by the tenth lesson, I loved it! I moved up really fast. That same year I went to Pony Finals."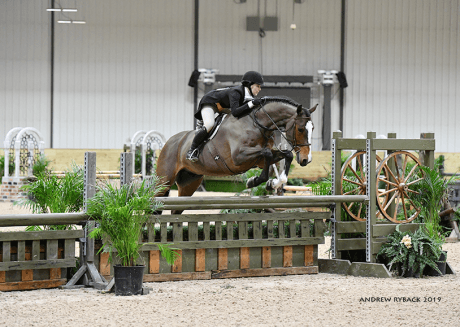 Both Natalie and Reynolds have had very successful junior riding careers, both placing multiple times at Pony Finals and having a great start in the Junior Hunters. "I've been very fortunate with good ponies," Natalie says, "We've always looked really hard to find ones that were good and safe. I started out in the Smalls. I had two Small ponies, Flyer Miles and Bandit. Flyer Miles was really special because I hadn't been showing him that much, but he was qualified for Devon when we got him. I got to take him to Devon twice and we had great rides. My Medium pony, Footsteps, was super. I took her to Pony Finals twice. The first year was great, we were eighth in the under saddle, which was fine with me, and we went and had a great over fences! We were third over fences and fifth overall, which was special. I had a Childrens Hunter horse that I leased for a year, then I took a year off of showing while we were looking for a horse. Then we found my current horse, True Colors. We've been together for almost a year now. He was my first Junior Hunter horse, so he kind of got me started. He's been super. We got to go to Junior Hunter Finals this summer. It was good; it was a lot of fun. It was a good experience. He's just been a super horse to take me around. I really like him."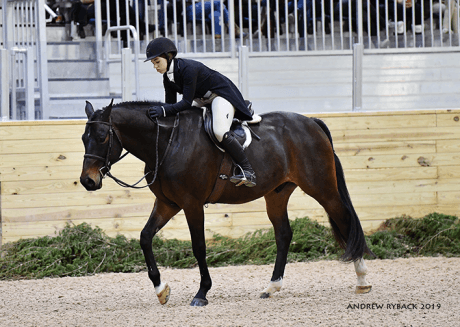 Reynolds has been equally as successful. "My first real small pony was Dante's Catching Fire. I went to Pony Finals on him and I was twelfth and sixteenth in the Small Greens," says Reynolds. "I had a Medium and he was good, he took me pretty far. I also had a Large and we were really successful. Then I got a Medium Green pony, Best of Luck, who was really special. We kind of found her in a field. I didn't even think about going to Pony Finals that year, but we ended up taking her and we were seventh, eighth, sixth, eleventh and Reserve Champion Owner/Rider. I got my first horse, who I still have, after that. Then I had my last Large Junior, Cristal. I was fourth at Junior Hunter Finals on her and sixth at Washington. I just got E Di Luca three days ago. The Derby on Friday was the third time I'd ridden him. He's been really good. He's going to be my Small Junior."
Both girls have set goals for the near future, as well as long-term. Natalie explains, "I've started doing the Equitation which has been really fun, so we're looking for a horse that can do that. I haven't decided if I want to ride in college yet, but even if I don't I'll always have horses and show, because it's in my family. My grandparents rode and my cousins and my mom, so I'll always have horses." Reynolds seconds Natalie's hopes to grow in the Equitation ring, "I'm going to start doing the Equitation more this year. I also want to go to Devon and Indoors and Junior Hunter Finals, and hopefully get good ribbons. For long-term, I want to go to Maclay Finals and get in the top 25. Then I want to ride in college then go professional after that."
Natalie and Reynolds both had great rides at World Equestrian Center this week. Natalie earned a second, third, sixth and seventh in the Junior Hunter 3'3″ and 3'6″ division, as well as a fifth in the ASPCA Maclay Medal and a seventh in the NCEA Medal. Reynolds took home a second, third, fourth and sixth aboard E Di Luca in the Junior Hunter 3'3″ and 3'6″ division. Both Natalie and Reynolds also had lovely rides in the $2,500 USHJA National Hunter Derby on Friday, scoring a 78 and a 74 respectively.
Photos courtesy of Andrew Ryback Photography.