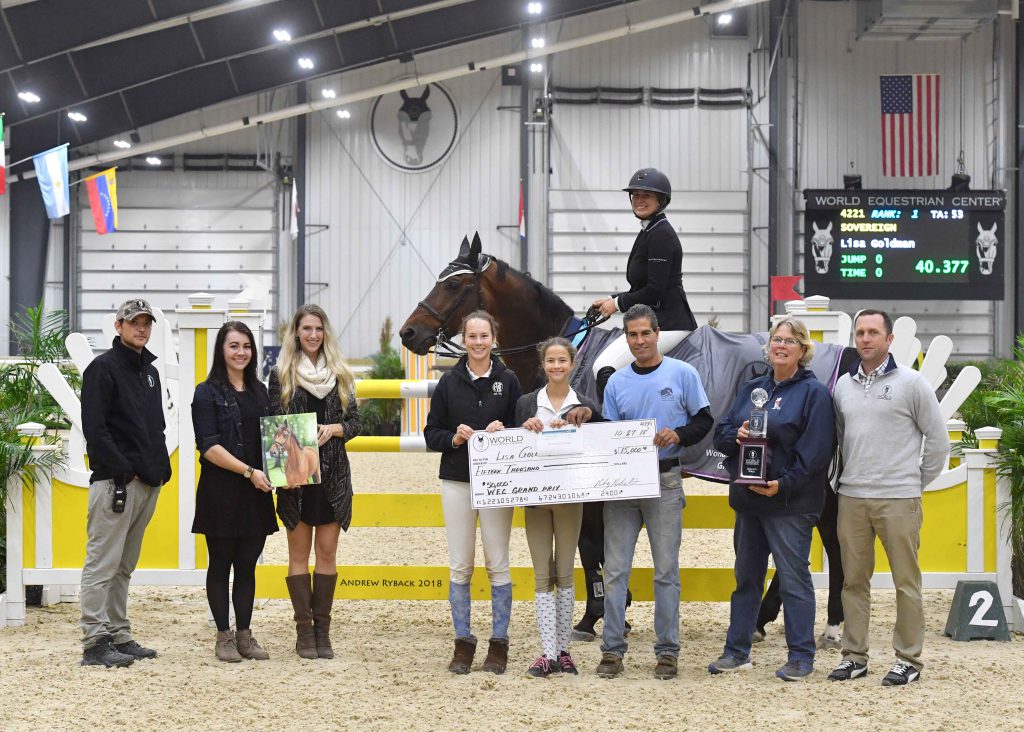 The Sanctuary was the site of tonight's World Equestrian Center $50,000 Grand Prix presented by Kristi's Canvas with thirty two horse and rider combinations contesting the 1.45m track.
Steve Stephens and Nick Granat shared course design responsibilities for the class and while they described the course as bigger than the Welcome but not quite as technical, they agreed that all the horses and riders handled it well.
"I was happy with the course," said Stephens. "It wasn't a busy course. It had numbers but they weren't so connected that the riders had to stay on the numbers. If they wanted to, they could do the extra, but they couldn't get casual because the time allowed was right there."
"This is my third time designing the Invitational here at World Equestrian Center and I wanted to do the jump off a little differently," Stephens shared. "I wanted to finish (at the far end of the ring) so that they could run at the last fence," Stephens continued, alluding to the exciting final fence of the jump off. "Overall I thought the class had a great ending. There were no bad pictures out there tonight."
The time allowed in the first round was originally 82 seconds, adjusted to 88 seconds after the first clear round, ridden by Lisa Goldman and her own Hindsight in 85.110 seconds. Accompanying Hindsight in the field of clear first-rounders was another mount of Lisa Goldman's, Barbara J. Disko's Sovereign, who jumped the first round in a time of 84.820 seconds. Six more continued to the jump off with times in the mid 80's including Sabrina Lefebvre and her own Cayenne, Beth Underhill and Sandy Lupton's Count Me In, Ali Wolff and Blacklick Bend Farm's Casall IV, Jill Henselwood and Juniper Farm's Eblesse, Willie Tynan and Shannon Hughes' Fancy Girl, and Alex Granato and Moyer Farm, LLC's Beorn. Two horse and rider combinations, Wilhelm Genn riding Van Gogh and Thomas Cerra riding McGregor, went clear but were caught out by the time allowed and received an unfortunate 1 time penalty apiece. Jill Gaffney and Carlton Café had the fastest four-fault round.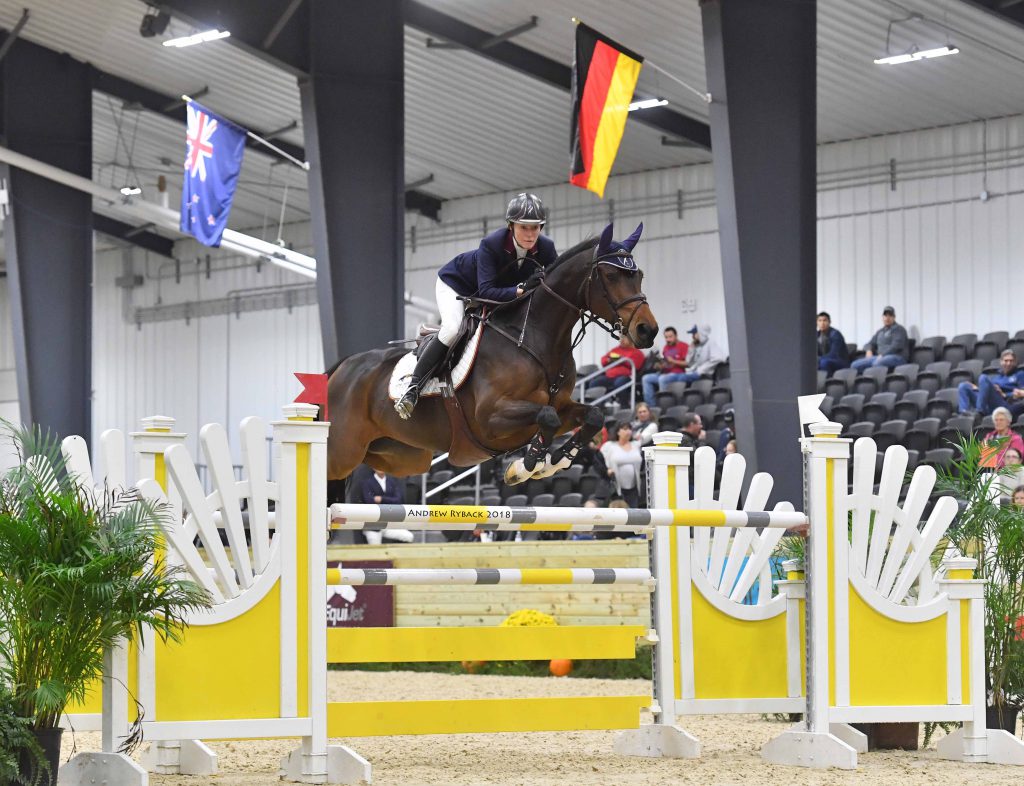 Lisa Goldman and Hindsight were first to come back for the jump off, setting the pace with a consistent clear round in 42.443 seconds. Beth Underhill and Count Me In were next, beating Goldman and Hindsight's time by almost a full second, jumping clear in 41.504 seconds. Willie Tynan and Fancy girl had an unfortunate rail with a time of 42.499 seconds, then Ali Wolff and Casall IV cleared the course in a time of 41.707 seconds. Alex Granato and Beorn followed with one rail in a time of 44.173 seconds. Next was Jill Henselwood and Eblesse, taking a slower steady pace and jumping clear in a time of 45.627 seconds. Sabrina Lefebvre and Cayenne then stole the lead with quick, precise riding, jumping clear in a time of 41.313 seconds. Last to go was Lisa Goldman aboard Sovereign. Knowing they had to beat Lefebvre and Cayenne's quick time for the win, the pair gave the course their all and crossed the timer with a clear go at 40.377 seconds, sending them straight into 1st place.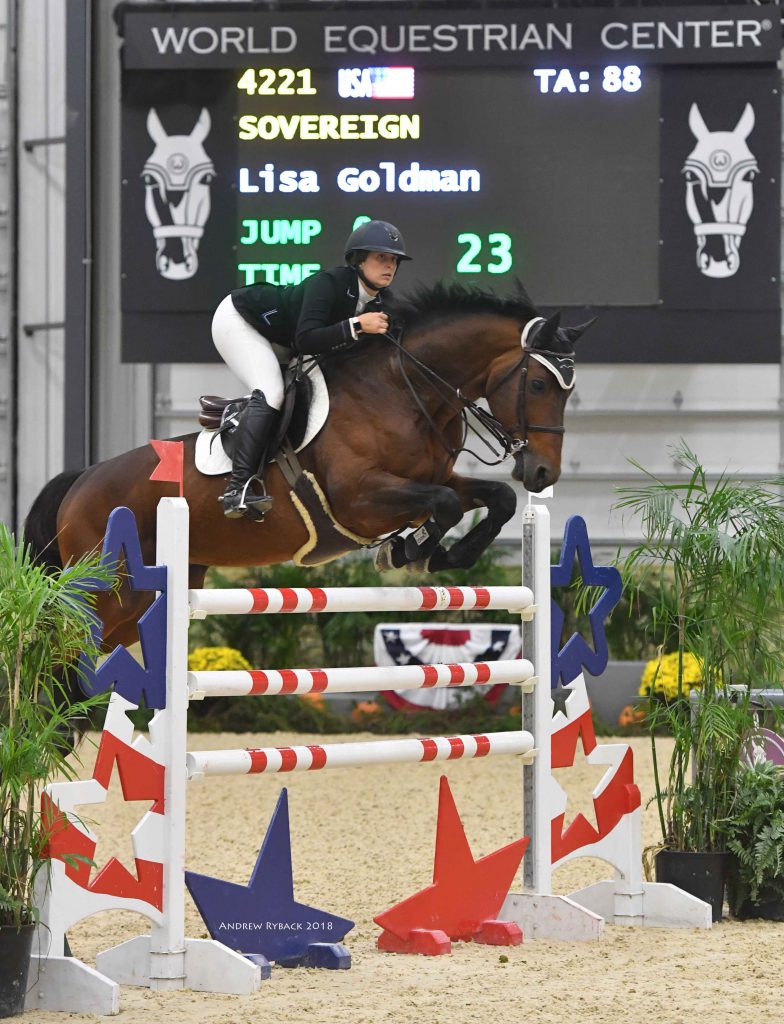 We caught up with Lisa Goldman after the class to chat about her rides. With a total of four in the class, two of which going clear, Lisa was very pleased with her rides tonight. "I had my two more experienced horses and I had my two really young 8-year-olds. Actually, my one eight-year-old [As Di Sogrand] got twelfth, so he was really good. He had a rail late in the course but he was one of the faster four-faulters. As for the course, I thought the course was big enough and hard enough; Steve and Nick set a really really good course. It was really challenging. It gave enough for the crowd to have a good jump off, but I don't think anyone got trapped or scared. You had to keep going the whole way. [Steve and Nick] gave you space between the jumps to go around the turn to the next one. They let you make up time in the corners and reset your canter if you had to and make the next line work. I thought they set everything up to make it possible to jump. I thought there were a lot of really good tests in there. It felt like all of the horses came out of there jumping better and learning something."
Lisa described her jump off to us: "I did my grey horse [Hindsight] first in the jump off, and he's got a gigantic stride so I was planning the leave-outs, and I actually ended up having to slow down because I got them done so early. I managed to have my little-strided horse [Sovereign] second, so I could go a little wider and keep going and do the same strides everywhere, but do it on a little wider and faster path." We asked Lisa about her first place finisher: "I've had Sovereign for a few years now. He hadn't done much before I got him; he had just done enough to get the stallion testing done. We got him and started bringing him up. Barbara Disko owns him and she's been one of my longest and best supporters. I have a yearling by him and two babies by him that are about to be weaned that were born in May. It's really exciting getting them up and going. He's lovely, he's really sweet, he likes to be pet and scratched, and he loves to pose for pictures." Lisa continued to describe Sovereign's career thus far: "He's been really successful starting last year. We won a bunch. We won our first Grand Prix at Balmoral. He's also won one or two in Ocala. He showed here last year and that was his first time showing indoors, and this is his third time here. It's been great. The footing is amazing, I love the new footing. I have zero complaints, the footing feels perfect. I feel like I could jump here multiple weeks in a row, jump the big classes, and not worry. Not too deep, not too hard, no slips in any of the turns. I didn't see a single horse slip or catch a toe…they did an amazing job redoing this footing."
Poised Junior Rider Sabrina Lefebvre Secures Second Place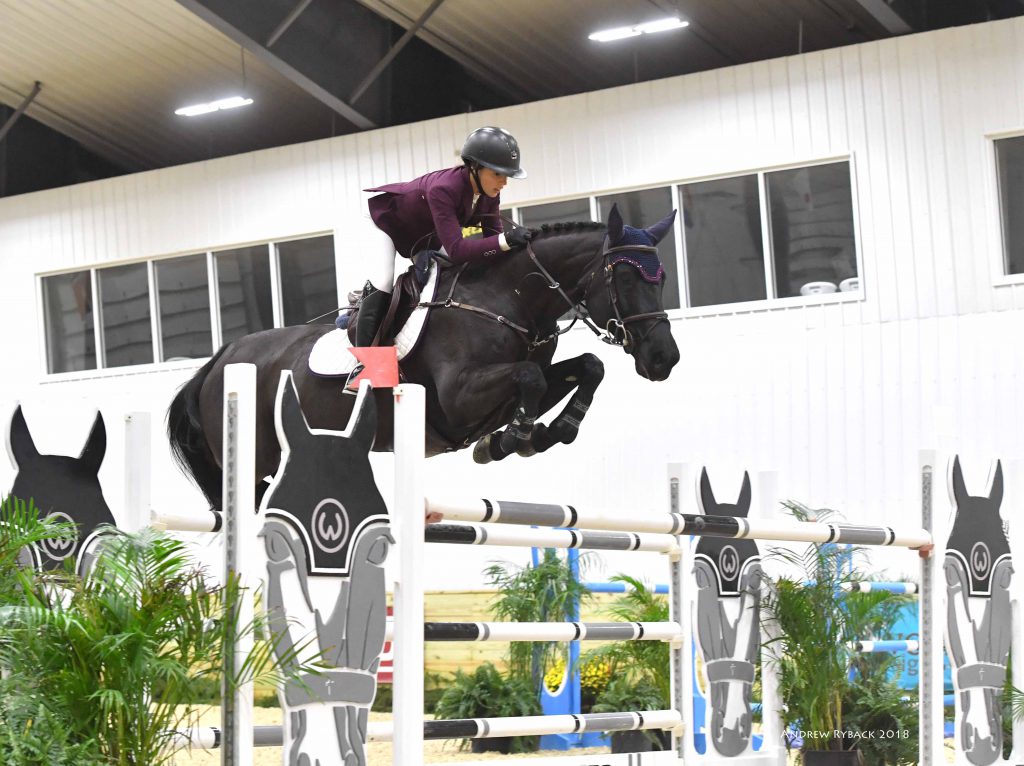 The self-described "underdog" of tonight's class was 19-year old Sabrina Lefebvre, of Quebec, Canada and Wellington, Florida. The youngest rider in the field, both Lefebvre and her horse Cayenne were jumping in their first Grand Prix tonight at World Equestrian Center.
Lefebvre was effusive about her 11-year old mare Cayenne, imported just one year ago. "She is a bit of a hot ride, she's really sensitive but she has the biggest heart – she is the best, she always has my back in the ring. This was Cayenne's biggest class ever she has done, so I was more thinking about giving her some experience in that class and then she jumped clear, so I had to go in the jump off and see how it goes – she was amazing!"
Currently a student based in Quebec, Lefebvre trains with Beth Underhill. "She's a very poised, bright young lady," said Underhill. "She's lovely to teach because she's very receptive, she listens and she's very thoughtful about her horses."
In August 2018, Lefebvre competed at The Adequan/FEI North American Youth Championships in North Salem, New York, where she earned a 3rd place individual finish in the Speed and was 4th overall with her team.
According to Lefebvre, she keeps Cayenne and her five additional horses at home. She does all of the training and flatting herself at home with the help of Paul Alpert. She meets Underhill to prepare for shows and at competitions.
RESULTS – World Equestrian Center $50,000 Grand Prix
Lisa Goldman, Sovereign – 0 | 40.377
Sabrina Lefebvre, Cayenne – 0 | 41.313
Beth Underhill, Count Me In – 0 | 41.504
Ali Wolf, Casall IV – 0 | 41.707
Lisa Goldman, Hindsight – 0 | 42.443
Jill Henselwood, Eblesse – 0 | 45.627
Willie Tynan, Fancy Girl – 4 | 42.499
Alex Granato, Beorn 4 | 44.173
Wilhelm Genn, Van Gogh – 1 | 88.251
Thomas Cerra, McGregor – 1 | 88.323
Jill Gaffney, Carlton Café – 4 | 80.693
Lisa Goldman, As Di Sogrand – 4 | 81.042