The focus was on top Hunter Derby competition today at the World Equestrian Center with nearly 100 Hunter Derby rounds to cap off our Invitational week in Wilmington, Ohio. Competition commenced after a beautiful rendition of the National Anthem by Opera singer Erika Walker and a delicious exhibitor breakfast of eggs, bacon, sausage, breakfast potatoes, fruit, and yogurt sponsored by Hallmarq Veterinary Imaging.
The Sanctuary arena was transformed overnight from a Grand Prix course to a stunning hunt course designed by Tucker Williams of Ocala, Florida. Open and inviting, the course was filled with natural obstacles including a fallen log, rolltops and several birch jumps decorated with an abundance of seasonal touches such as mums, pumpkins and fragrant brush.
$40,000 USHJA International Hunter Derby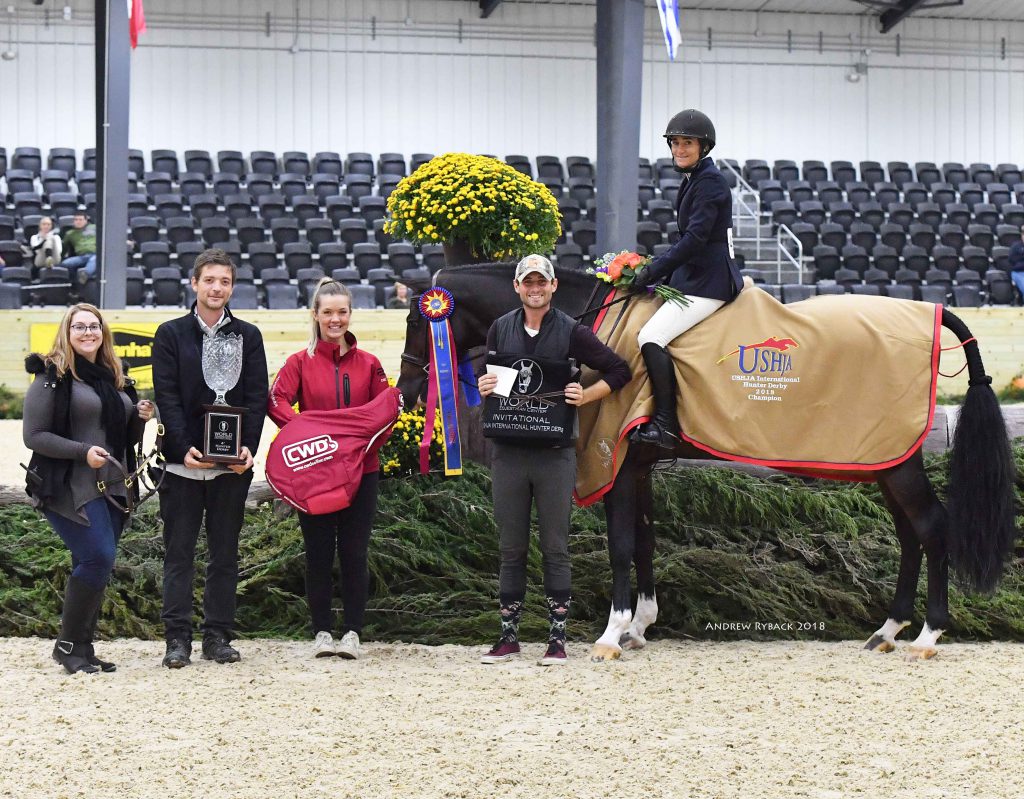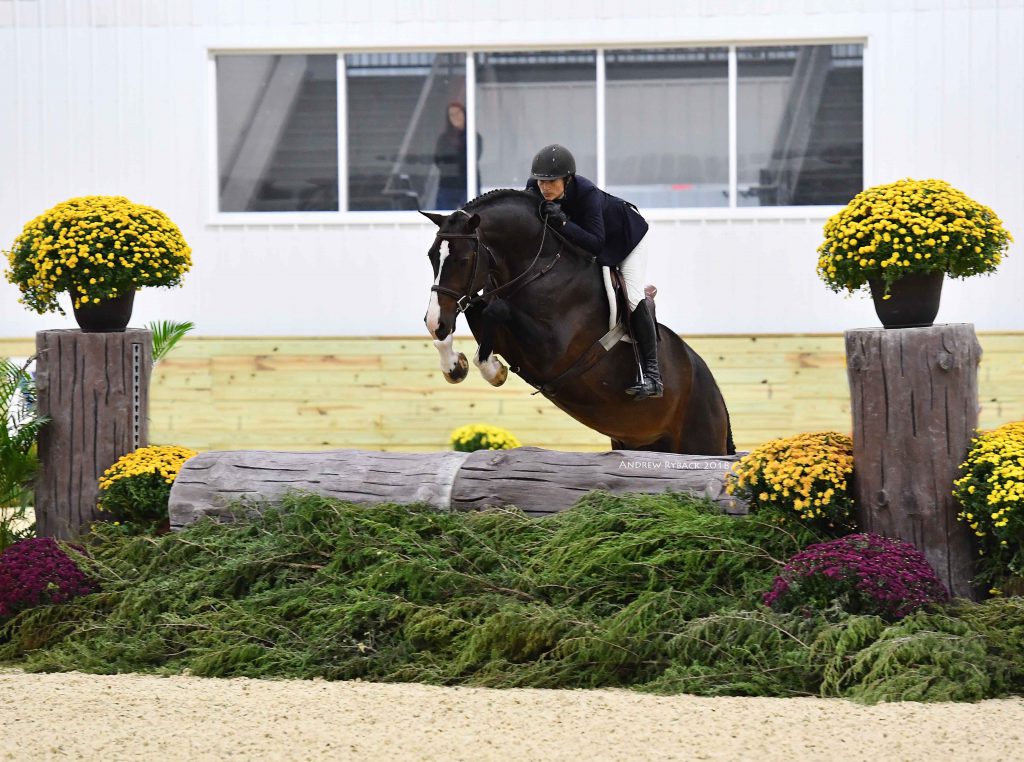 First in the ring was the $40,000 USHJA International Hunter Derby presented by CWD with 22 entries to show. The jumps were set at various heights, ranging from 3'6″-4′ with 4'3″ options. The judges for the USHJA International Hunter Derby were Sue Ashe, Spencer Chapin, Betsy Perry and Scott Williamson. Several riders had multiple mounts in the International Derby, including Havens Schatt, Jamie Taylor, and Kelley Farmer. Stellar scores donned the scoreboard with about half of the riders scoring in the 80s or above in the first round. The top 12 horse and rider pairs returned for a handy round that truly placed the class with the options for inside turns and the opportunity to display truly incredible brilliance. However, there was one that stood out among the crowd: SHP Barn, LLC's Spectacular, piloted by Havens Schatt. The pair's ability in the ring would have been plenty to push them to the top of the class, but, their rounds were… dare we say… spectacular! Throughout both trips, Spectacular and Schatt had the audience absolutely awestruck. With every jump there were gasps and murmured "wow"s, leaving no surprise at their high scores of 96 and 93 in the first round, and 97 and 95 in the handy. Schatt told us about Spectacular after her win, "This horse came to me in June and we've just been doing 3'6″ Performance. He hadn't shown during indoors so I brought him along [to WEC] to try him in the Derby and see how he was…so [the win] was a little bit unexpected. I know he really is a performer and can really do it." She also spoke to the course itself, "I thought the course was really nice today. There were no real problems for anybody, but at the same time it still made for a good class, and I think that's the sign of a really good course designer." Nick Martino, a rider of Schatt's and Spectacular's groom for the weekend, also received the Groom's Award from World Equestrian Center.
$40,000 USHJA International Hunter Derby
1. Spectacular, Havens Schatt – 189, 192, 381
2. Small Kingdom, Jamie Taylor – 174, 199, 373
3. Amaretto, David Q. Beisel – 182, 188, 370
4. Now We're Talkin', Jeff Gogul -177, 184, 361
5. Diatendro, Havens Schatt – 171, 181, 352
6. Editorial, Megan-Murry Tenuta – 164, 185, 349
7. Corlando 49, Melissa Donnelly – 166, 175, 341
8. Cayman, Renee F. Lenkhart – 164, 168, 332
9. Fashion, Kelley Farmer – 175, 70, 253
10. Mostly Sunny, Havens Schatt, -170, 80, 250
11. Contefino, Melissa Donnelly – 163.5, 73, 240.5
12. Cheeky, Megan Murray-Tenuta – 169, 65, 234
$15,000 Open USHJA National Hunter Derby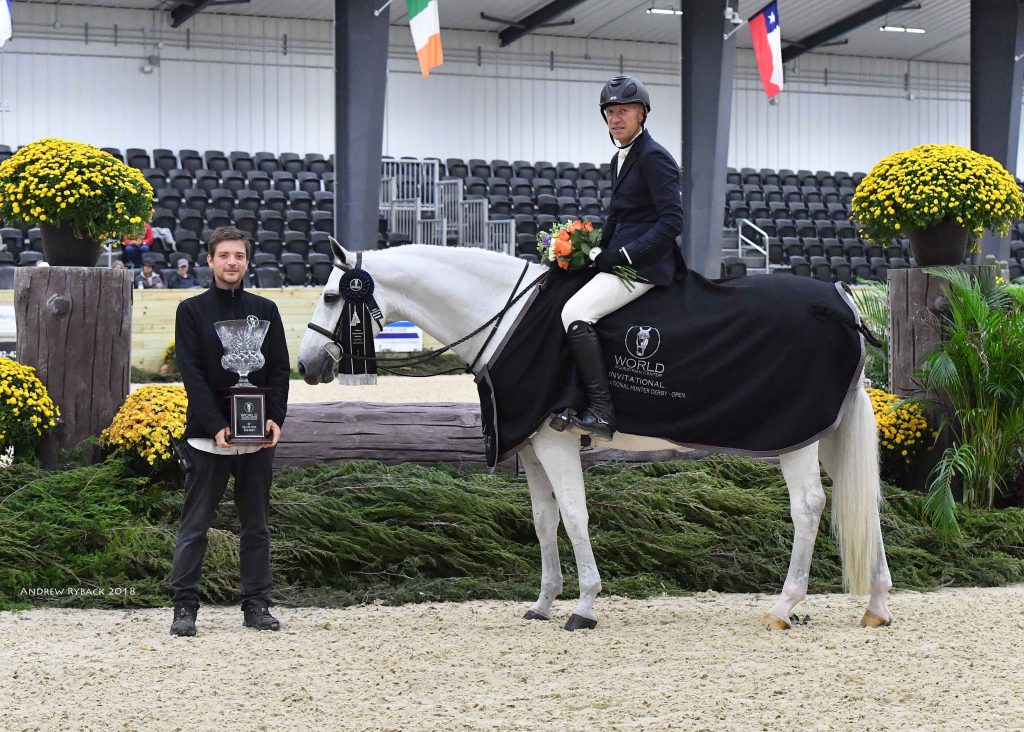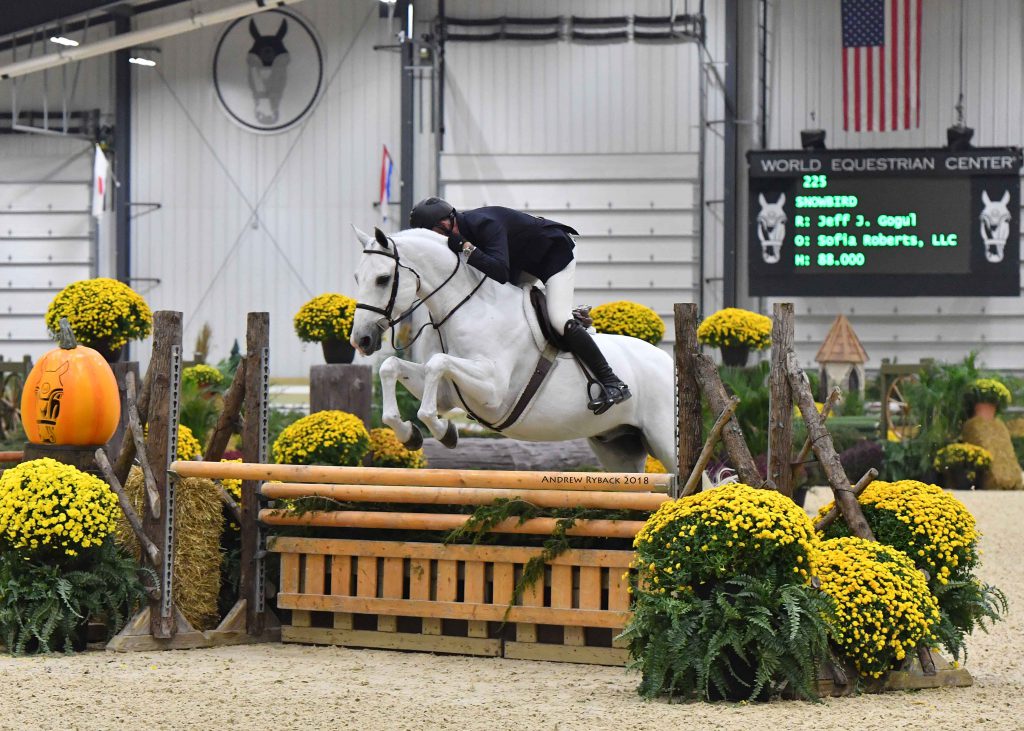 Next in the ring was the $15,000 Open USHJA National Hunter Derby with 23 entries, featuring 3′ fences and 3'5″ options, and judged by Betsy Perry and Scott Williamson. The Open class included professionals frequently in the winner's circle at WEC including Linda Radigan and David Beisel, each with multiple rides throughhout the day. The National Hunter Derby continued with the same theme of high-scoring first rounds with a cutoff of 77 to come back for the handy. Even with fierce competition, none bested Sofia Roberts, LLC's Snowbird and Jeff Gogul. Perennially in the winner's circle, Snowbird and Jeff Gogul did not disappoint today. Gogul seemed extremely happy with Snowbird's performance as he explained his rounds to us, "Snowbird is kind of my tried and true, and he's been so dependable for me. He's got such a great canter around the ring. This ring is amazing, it rides bigger than most outdoor rings, so it's nice to enjoy the gallop all the way around, and [Tucker Williams] made long flowing lines, which really suited him. He jumped really well in the handy and tried his heart out for me today."
$15,000 USHJA National Hunter Derby – Open
1. Snowbird, Jeff Gogul – 93, 89, 182
2. Small Joy, Jamie Taylor – 88, 90, 178
3. Small Anecdote, Jamie Taylor – 89, 88.5, 177.5
4. Small Statement, Jamie Taylor – 85, 87, 176
5. Norderney, Belynda S. Bond – 88, 87, 175
6. Rehy Wonder Boy, Linda G. Radigan – 86, 86, 172
7. Capital Z, Linda Radigan – 83, 81, 164
8. Darsino, Hannah E. Stevens – 84, 79, 163
9. Santana, Belynda S. Bond – 77, 82, 159
10. Central Park, Mary G. Eufemia – 77, 75, 152
11. Girl Crush, Jeff Gogul – 79, 49, 128
12. Playlist, Kris Killam – 79, 48, 127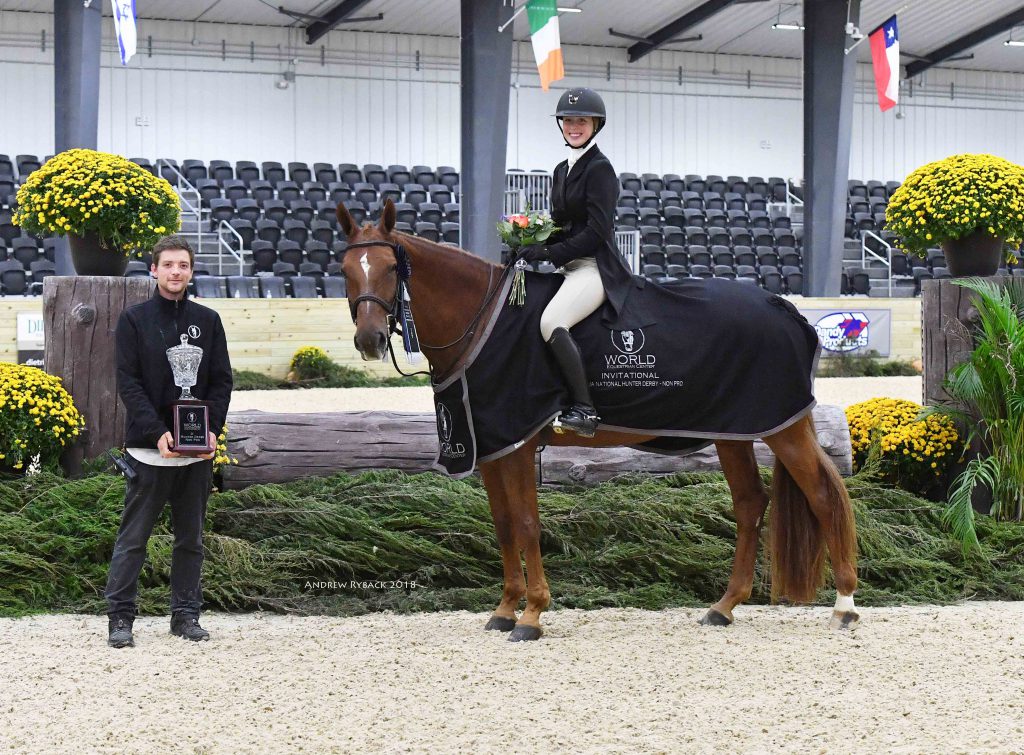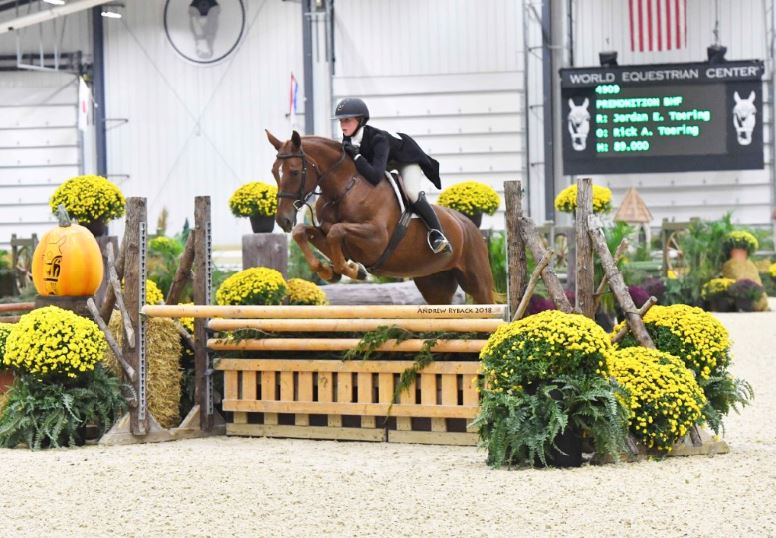 Wrapping up the day of Hunter Derby competition was the $15,000 USHJA National Hunter Derby (non pro) with 3′ high fences and 3'5″ options, again judged by Betsy Perry and Scott Williamson. The Juniors and Amateurs brought their A-game today, with the 17 entries laying down stellar rounds. It was Rick A Toering's Premonition BHF and Jordan E. Toering that led the victory gallop for the non-pros with two rhymthic, consistent rounds that each earned the pair a score of 91. Jordan was ecstatic with her ride today, "My horse was really good today, I'm really proud of her. She's been so good to me. She's just so awesome. We bred and raised her, and it's so rewarding to finally get to win like this. She is a chestnut mare, which has its ups and downs, but today was definitely a very good up. The course was beautiful, lots of time to think, very flowing, I loved it."
$15,000 USHJA National Hunter Derby – Non Pro
1. Permonition BHF, Jordan E. Toering – 91, 91, 182
2. Small Gesture, Sofia Roberts – 83.5, 92, 175.5
3. Oskar's Crown Jewel, Jessica I. Jude – 82, 89, 170
4. Chinchino, Alexandra Carroll – 81, 87, 168
5. Enticement, Aizlynn J. Radwanski – 87, 76, 163
6. Tornade Vebe, Christina M. Tenhundfeld – 72, 85, 157
7. Completto, Britanny Roberts – 69, 79, 148
8. Lex Toccino, Gabriella R. Lewis – 80, 65, 145
9. Salem, Paige J. Beisel – 89, 46, 135
10. Parrot Bay, Emily N. Ryan – 82, 44, 126
11. Capone, Gabriella R. Lewis –
12. My Way, Stacy L. Vertullo – 59, 52, 111