World Equestrian Center, Ocala
Ocala is the Horse Capital of the World. And World Equestrian Center is what puts it on the map. World Equestrian Center's world-class event grounds and exquisite World Equestrian Estates offer unparalleled access to Ocala's horse country.
The largest equestrian complex in the United States is nestled on 4,000 acres. Within those 4,000 acres, The World Equestrian Center currently inhabits 378 acres, with 300 more acres in reserve for more building. The World Equestrian Center is a world-class multi indoor and outdoor arena facility with state of the art amenities that can accommodate numerous different disciplines within the Equine Industry. Miami Beach designer Ric Owens has been hired by the World Equestrian Center and Roberts Design for Project Coordination of Interiors and Exteriors for all the buildings on this historic site. He comes to us with over 25 years of experience with commercial spaces, hotels and high-end custom homes.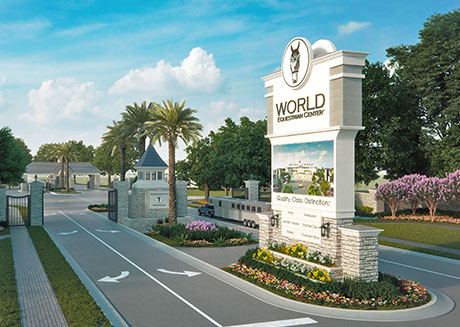 This state-of-the-art Ocala, Florida Equestrian Center is designed to offer the ultimate competition experience for both horse and rider. As a professionally operated, family-owned enterprise, the World Equestrian Center illustrates the passion and commitment to equestrian sports in the United States. World Equestrian Center is a true destination. The event grounds will feature a luxurious six-story, 5-star hotel, located at the heart of the equestrian resort. The brand-new hotel will feature 248 extra large suites, some equipped with balconies where guests can take in world-class equestrian events in luxury and comfort. The hotel will also feature retail space, where guests and visitors will find a high-end boutique experience just minutes from the competition rings and barns. With a selection of carefully curated vendors, you'll be able to browse everything from clothing to tack to jewelry to fine art. You'll be able to find anything you might need or want to make your stay at the World Equestrian Center memorable. On-site dining options will include several sit-down restaurants, including a fine dining restaurant with seating for 500 guests.

World Equestrian Center and World Equestrian Estates will feature approximately 1.5 million square feet of riding space. The grounds will be manicured with mature trees and hundreds of thousands of flowers. On-site greenhouses will keep the flowers blooming year round. Visitors and competitors alike will find a park-like atmosphere around the grand prix area and throughout the grounds. Paver sidewalks and a tree-lined entrance enhance the park-like feel at World Equestrian Center.
Make the most of your time at this Ocala, Florida equestrian center. Explore more about World Equestrian Center and World Equestrian Estates to
find what these enthralling grounds and equestrian
community can offer you.
Hotel with 18,000 Sq. Ft. of Retail Space Attached

3-Acre Grand Outdoor Stadium

On-Site Riding Trails Spanning Scenic Areas

Schooling Areas

Secured Gated Community
Restaurants, including Fine Dining Overlooking the Grand Stadium

Exclusive Membership Opportunities at Golden Ocala

Climate-Controlled Stalls, Barns and Arenas

On-Site Chapel