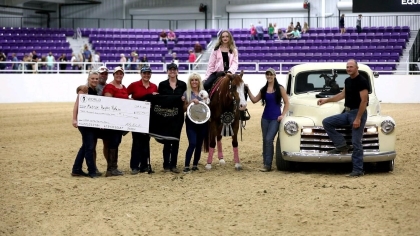 The 2021 Championship Show is in full swing and tonight featured a very fun class filled with slides, stops and spins. Nine amazing horse and rider combinations took to the new western arena this evening to contest the Freestyle Non Pro Reining class. Each competitor dressed up to match their song choice, there was a little mermaid, jail breaker, angel, and grease lightning. Each competitor put on an amazing show, but it was Madison Hayden Rafacz and Shannon Rafacz's Rio Good Shot that slid their way to the win.
Rafacz and Rio Good Shot were covered in pink and glitter from head to toe, ready to dazzle the crowd. The pair maneuvered their way through their own pattern, making the crowd clap and cheer throughout their performance. Rafacz and Rio Good Shot danced to multiple "Grease" songs such as I've Got Chills and Grease Lightning.
Rafacz didn't quite know what she was going to do for her Freestyle class for quite sometime, "I just picked my Freestyle about a week ago. There was a lot of things that were up in the air, so I wasn't sure what to do yet. Some things were planned during my Freestyle but I ended up going with what was at the top of my head because [Rio Good Shot] can lose focus sometimes. So, I went with what she was telling me she was able to do and it went really well."
Rafacz was very happy with her round tonight, "This was actually my first Freestyle ever, so it feels amazing that I won. [Rio Good Shot] was amazing tonight and really enjoyed being out there. I loved the crowd, they were cheering and motivating us the entire round."
To view the results from today's classes click here.
There is still one more night of Freestyle action left! Join us Saturday, October 9 at 7:30p.m. in Arena 5 for the Open Freestyle Reining class, where there will be even more tricks and spins. Don't worry about brining food or drinks because we have concessions stands! Admission is free and parking is free. Click here for more information about the event.