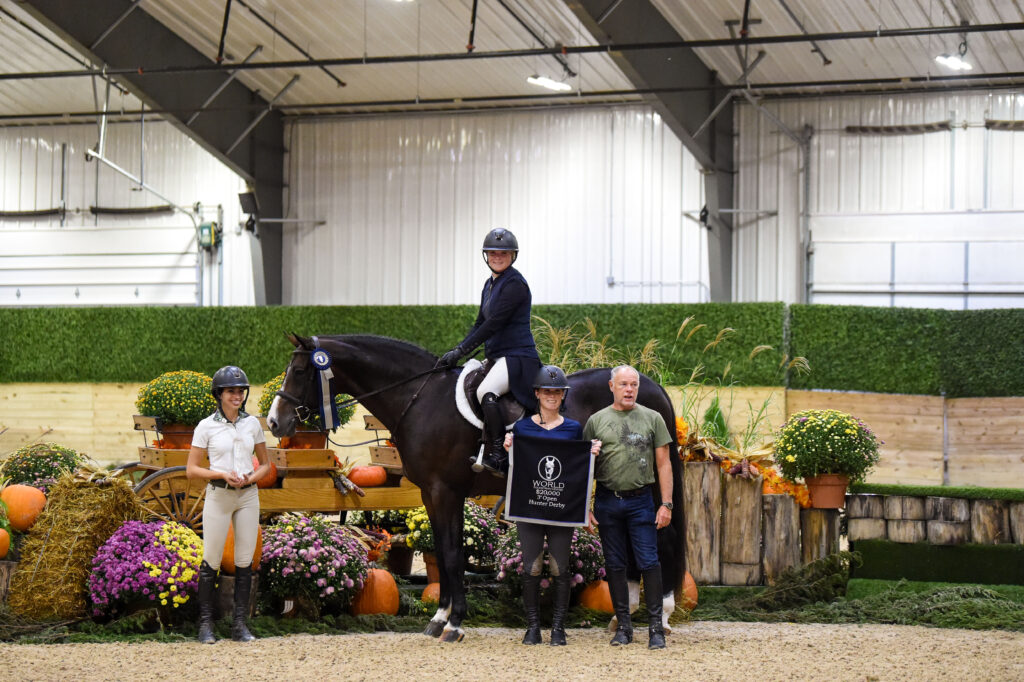 Today marked the second Derby Friday of the World Equestrian Center – Wilmington NSBA Fall Classic series with more than 40 elegant hunters vying for the win in the $20,000 WEC Wilmington 3' Open Hunter Derby and the $20,000 WEC Wilmington 3' Hunter Derby Non-Pro. Bobby Murphy of Lexington, Kentucky designed the tracks that featured stunning natural obstacles that allowed riders to show off their horse's style and athleticism.
$20,000 WEC Wilmington 3' Hunter Derby
This afternoon's $20,000 WEC Wilmington 3' Hunter Derby saw 22 entries vying for the win, but none could best last week's 3' Hunter Derby Open champion, Morgan Ward and Morlynn Farm's Playmaker (Cassini 1 x Gipsy Lady 11). Ward of Flemington, NJ and Ocala, FL and the eleven-year-old Holsteiner gelding showed off their skillset yet again this afternoon, impressing the crowd and judges alike. "This course was definitely more challenging than last week. Since the first jump started at the end, a lot of horses thought they were going to turn the opposite way. It threw some riders off, you had to really focus on getting them going the correct way. " said Ward.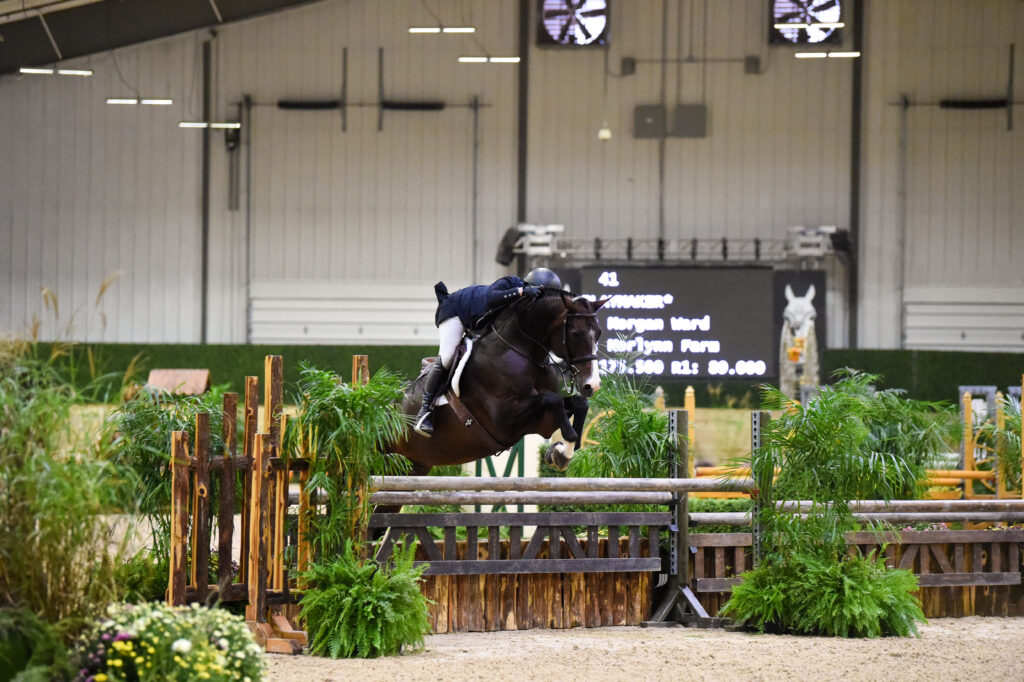 In the first round of today's $20,000 WEC Wilmington 3' Hunter Derby Ward and Playmaker scored an 89, taking all of the high options. Returning to the handy round, the pair earned an impressive 92, placing them solidly at the top of the leaderboard with a combined score of 181. "Being here last week helped us a lot because our horses are used to the jumps and are settled into the ring. Overall, it was a fantastic course." She added.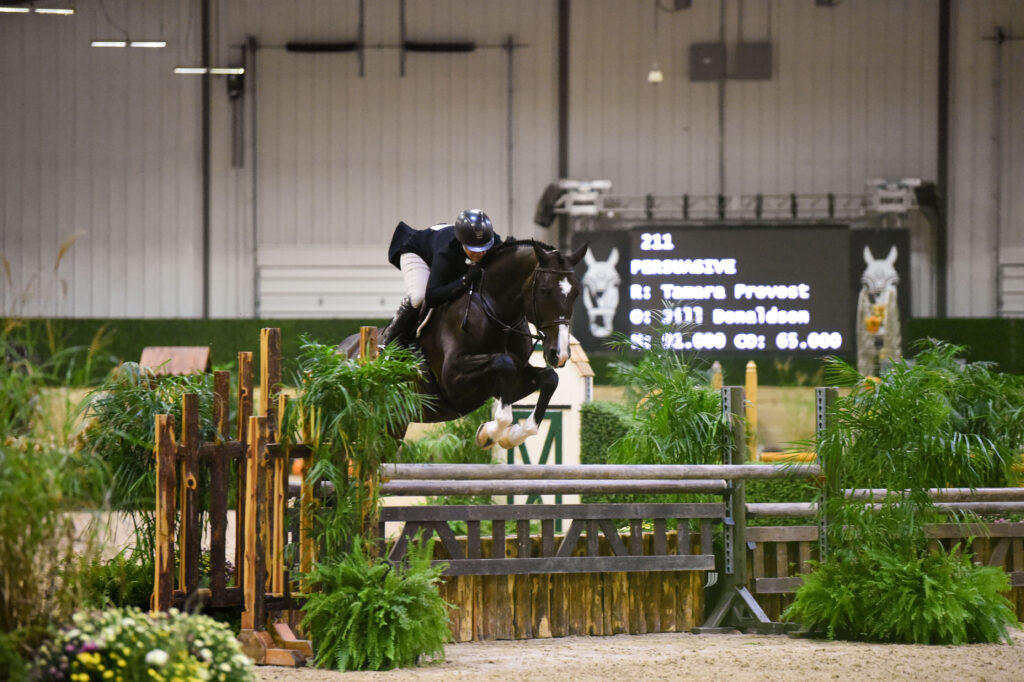 Sliding into the second place spot was Tammy Provost & Jill Donaldson's Persuasive. Provost of Meadow View Farm Indianapolis, IN, and the 8-year-old bay Dutch Warmblood delivered a harmonious first round taking four high options to earn a score of 85.5. This team returned for the handy round and beautifully negotiated the course which landed them a score of 90; giving them a combined total of 175.5.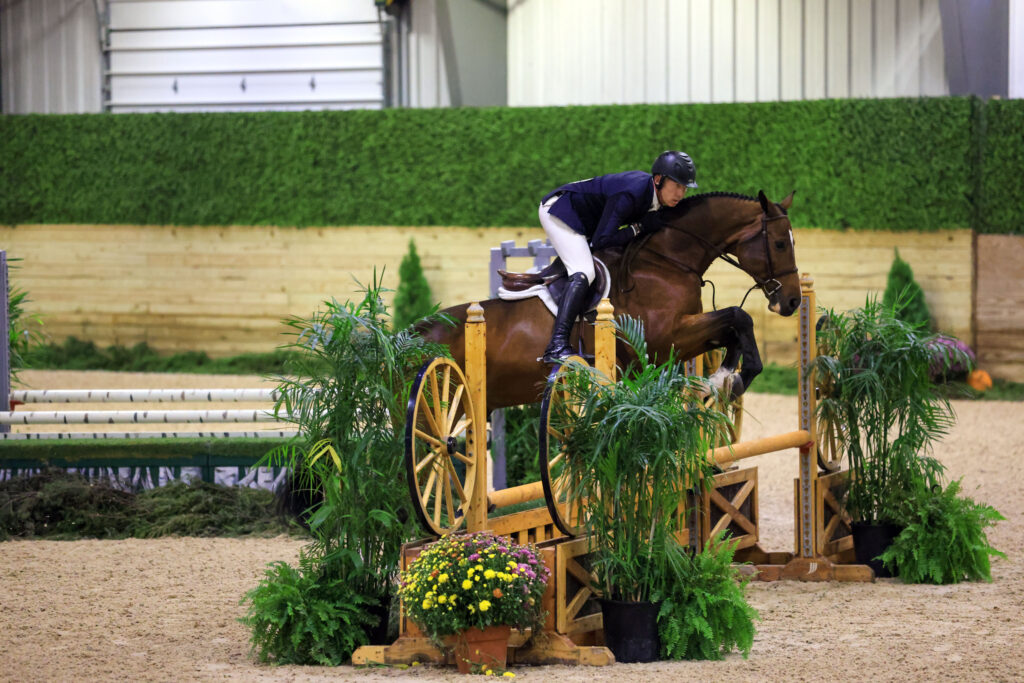 Jeff J. Gogul and No Doubt landed just a half point behind the second place finisher with an overall score of 175. No Doubt (Nerrado x Abba II) and Gogul of Flagship in Wilmington, OH delivered a stylish first round, earning them a score of 86. They made the cut-off and returned for the handy round, where they jumped to a score of 89, taking all four heigh options on their way.
$20,000 Hunter Derby 3' Open Results
Morgan Ward, Playmaker – 89 | 92 | 181
Persuasive, Tammy Provost – 85.5 | 90 | 175.5
No Doubt, Jeff Gogul – 86 | 89 | 175
Denmark, Morgan Ward – 84 | 88.5 | 172.5
Udefix, Colleen Holton – 84.5 | 86 | 170.5
Rightful, Tiffany Hammack – 82.5 | 87 | 169.5
Steller, David Q. Beisel – 83 | 84 | 167
Lonesome Dove, Hillary Johnson – 82 | 82 | 164
MTM Bentley, David Q. Beisel – 83.5 | 80 | 163.5
Corlando 49, Melissa P. Donnelly – 79 | 79 | 158
$20,000 WEC 3' Hunter Derby Non-Pro
Twenty horse and rider combinations took to the R+L arena for the $20,000 WEC 3' Hunter Derby Non-Pro class. These polished riders and their graceful mounts impressed the judges as many scores soared into the high eighties and low nineties.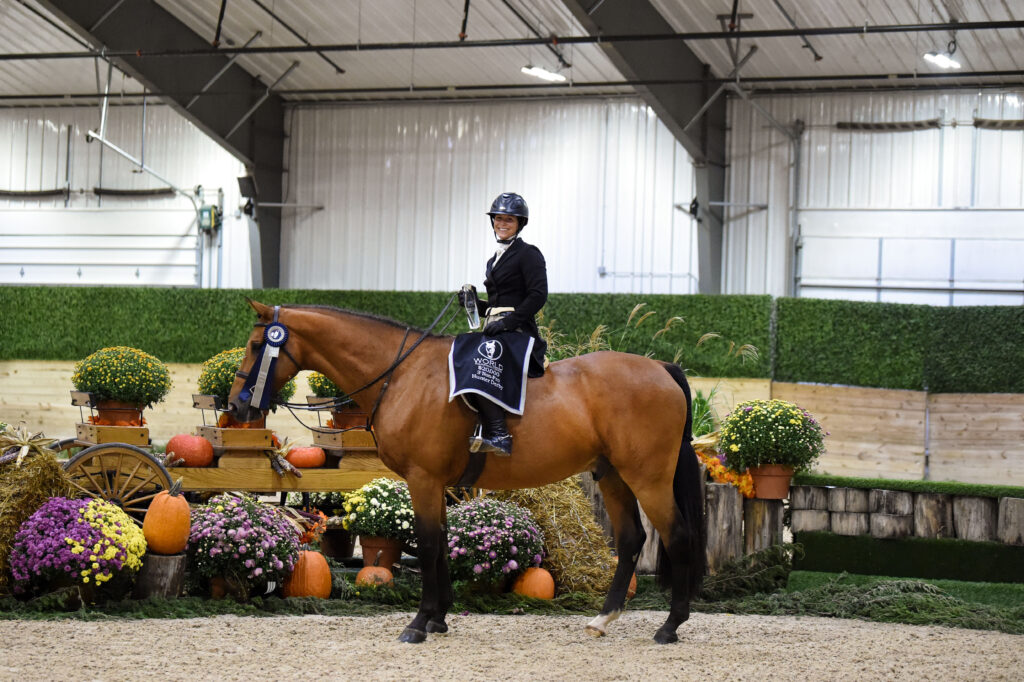 Isabel M. Harbour of Georgia and IHM Equine, LLC's Fitz (Numero Uno x Kootje) ultimately took the win with outstanding performances in both rounds. Harbour and the fourteen year old Dutch Warmblood gelding took all four high options in the first round, earning a score of 94, followed by a handy round score of 91. Their combined score totaled 185, capturing the win by four whole points. "Fitz has done so much for me in the four years that I've had him. We've competed in several big equitations, junior hunters, and international derby's. He's an all-around amazing horse… This week went much better than last week. The jumps are beautiful, but he was a little spooky around them last time. He is relaxed now and we had a great time go-around in week 2."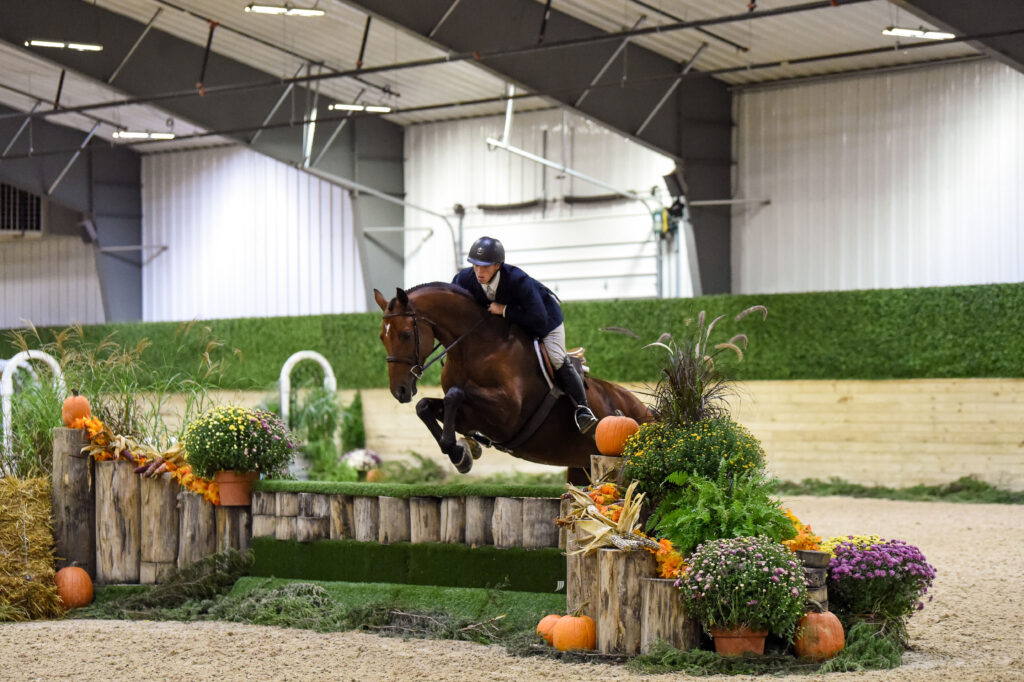 Christopher Coberley aboard Havens Schatt's Actender PS (Action Breaker x Conpila) stole the second place spot in today's $20,000 WEC 3' Hunter Derby Non-Pro. Coberley and the The 8-year-old Oldenburg gelding flowed effortlessly through all maneuvers and soared over each high option, earning a score of 89 in the first round and a 92 in the handy for an overall total of 181 to take second in the class.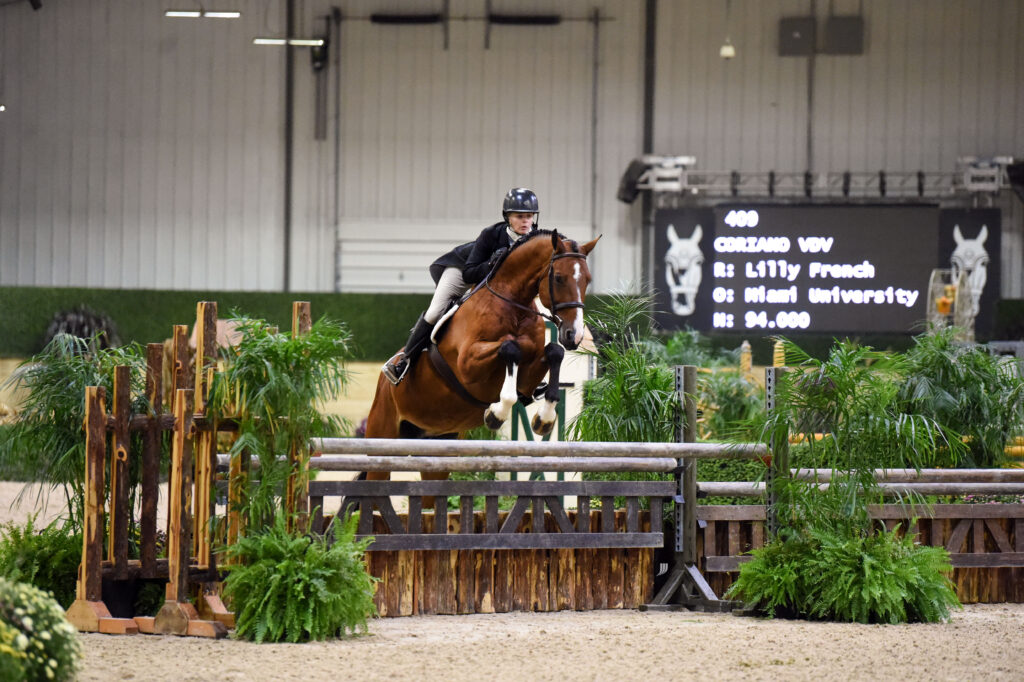 Rounding out the top three was Lilly French and Miami University's Coriano VDV (Colandro x Platieni VDV). The thirteen-year-old Belgian Warmblood and French frequent the 3′ hunters and chose to stick with their usual height this afternoon. The pair earned scores of 86 and 90 for a two-round score of 176, moving into third place.
$20,000 Hunter Derby 3' Non-Pro Results
Fitz, Isabel M. Harbour – 95 | 91 | 185
Actender PS, Christopher Coberley – 89 | 92 | 181
Coriano VDV , Lilly French – 86 | 90 | 176
Cassino, Josephine Rose – 85 | 89 | 174
Red Roc, Kiera C. Phlipot – 87 | 80 | 167
Chocolatier, Annie Yorgen – 80 | 86 | 166
Empress, Robin Felton – 84 | 81 | 165
Condor, Robin Felton – 80 | 74 | 154
Saint Tropez, Haley Stubbart – 75 | 73 | 148
Airstream, Sophia Marino – 74 | 66 | 140
Thank you to all exhibitors, trainers and spectators for a great day of equestrian sport at World Equestrian Center – Wilmington.
This Fall Classic show series features three more weeks of NSBA sanctioned hunter/jumper competition and nearly $1.2 million in prize money total. Reserve your stalls and submit your entries at www.horseshowing.com.
For more information regarding competing with the National Snaffle Bit Association please visit https://www.nsba.com/Photos courtesy of Winslow Photography.