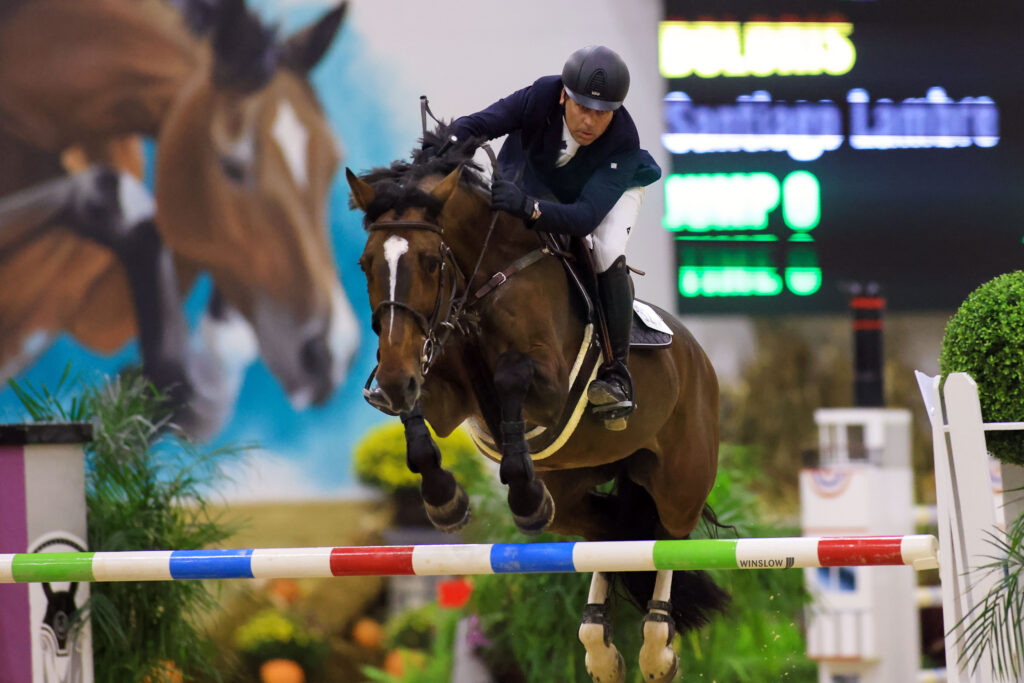 The Sanctuary Arena played host to a field of 38 international entries as WEC Fall Classic I feature jumper action continued today with the $50,000 WEC Grand Prix 1.45m and $10,00 Futures Prix 1.30m. Several double clear efforts proved time was the determining factor for the tracks designed by Bobby Murphy of Lexington, Kentucky. In the end, Santiago Lambre claimed the top spot in the $50,000 WEC Grand Prix aboard Doloris (Colinda D x Colorado D) while David Beisel and Vegas H (Valentino x Cobrah) took top honors in the $10,000 Futures Prix 1.30m.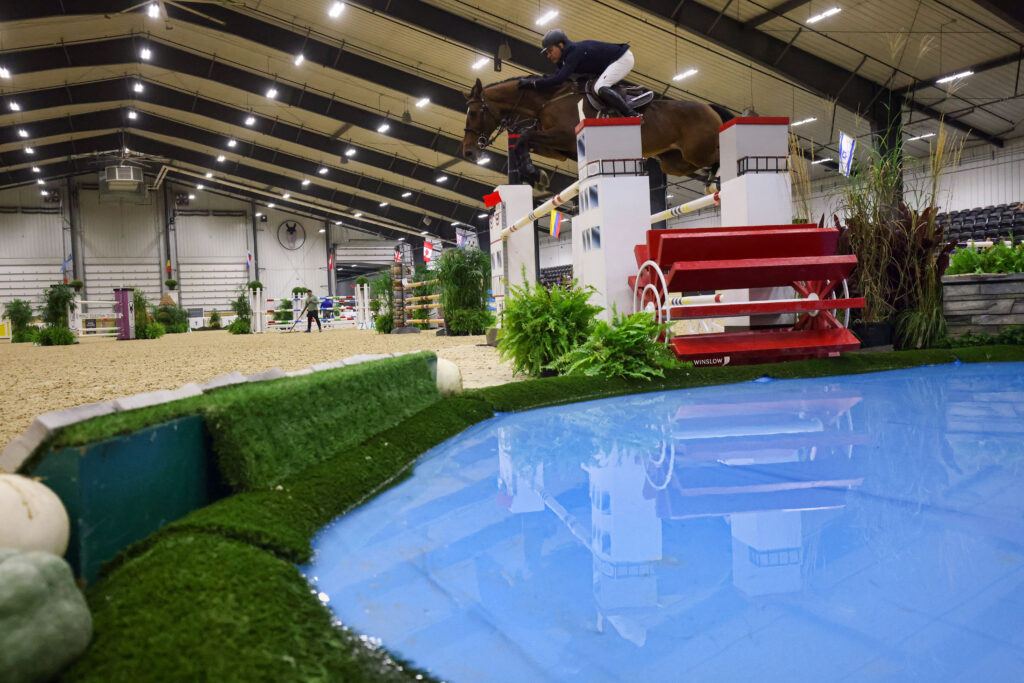 The $50,000 WEC Grand Prix saw eighteen horse-and-rider combinations vie for the win. After the first round six entries returned for the jump-off, and five jumped double clear. Ultimately it was Santiago Lambre and The Doloris, a thirteen-year-old KWPN mare, that prevailed for the win. During the jump-off the pair went clear in 34.894 seconds, which would prove to be unbeatable.
We caught up with Lambre back at the barns to chat with us about his victory, " I've had this horse for a very long time, since she was three. So I have gotten to know her very well. She's a great horse and a fast horse! She has won many classes at WEC Ocala and other places. As for the course, I really enjoyed riding it. This is my first time at this facility and I was impressed with the footing and the arena, too – it was all perfect just like down in Ocala."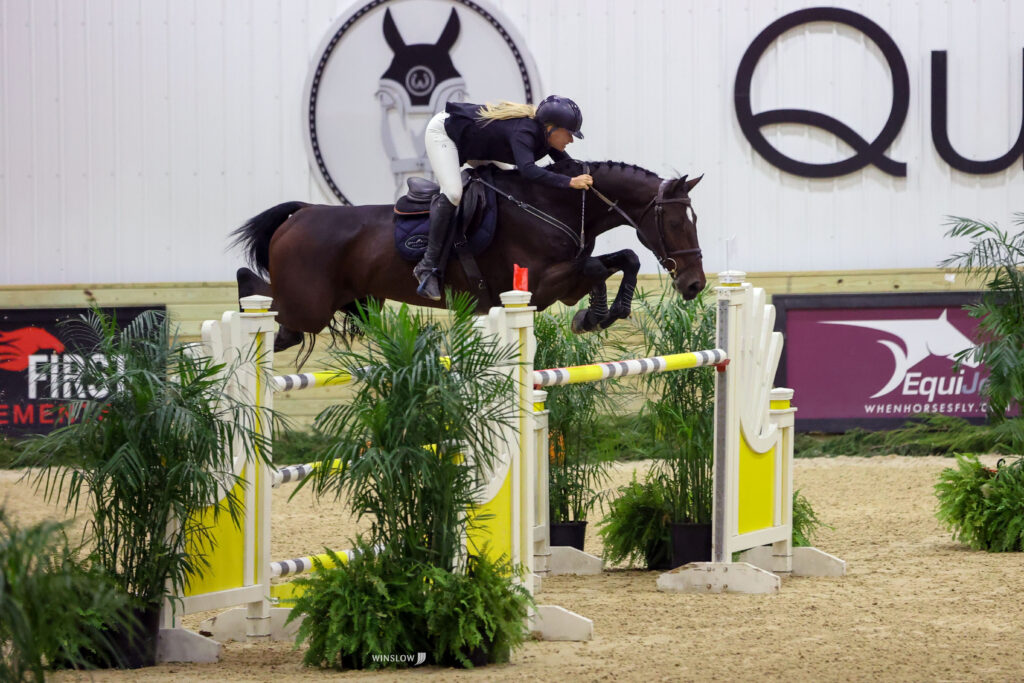 Claiming the second spot in today's premier event was Kristen B. Vanderveen of Bull Run Jumpers, Wellington, Florida, and Taco. While they jumped double clear, they were just two seconds behind Lambre, stopping the clock at 36.343 seconds in the jump-off. This duo was a crowd favorite and spectators roared as they crossed the timers. Vanderveen has seen much success this week, as she and Bull Run's Divine Fortune took blue in Thursday's $10,000 Welcome Prix.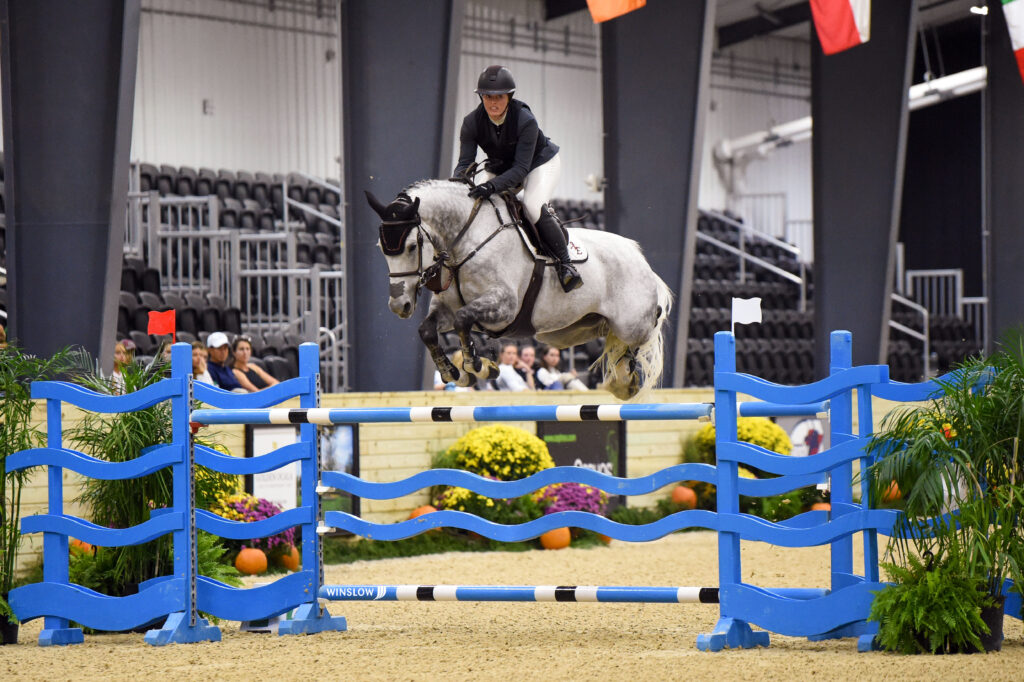 The first on tonight's course and the first to manage a clear round was Kady Abrahamson of Georgetown, Kentucky and her own Vancouver (Valentino x Cocco). Abrahamson and the twelve-year-old WESTF gelding were on point this afternoon, jumping a tidy first round in 79.652 seconds, and a quick jump off time of 36.787 seconds, securing the third place spot.
$50,000 Grand Prix 1.40m-1.45m Results
Doloris, Santiago Lambre – 0 | 0 | 34.894
Taco, Kristen B. Vanderveen – 0 | 0 | 36.343
Vancouver, Kady Abrahamson – 0 | 0 | 36.787
Coquelicot VH Heuvelland Z, Sean Jobin – 0 | 0 | 39.580
Van Gogh, Wilhelm Genn – 0 | 0 | 42.770
Caiman des Sequoias, Nichole Loochtan – 0 | 4 | 39.260
Essince W, David Q. Beisel – 4 | 67.806
Finch Farm Clifford, Kristen B. Vanderveen – 4 | 72.740
Any, Kady Abrahamson – 4 | 76.373
VDL Gerinus T, Ryan Michael Genn – 4 | 76.400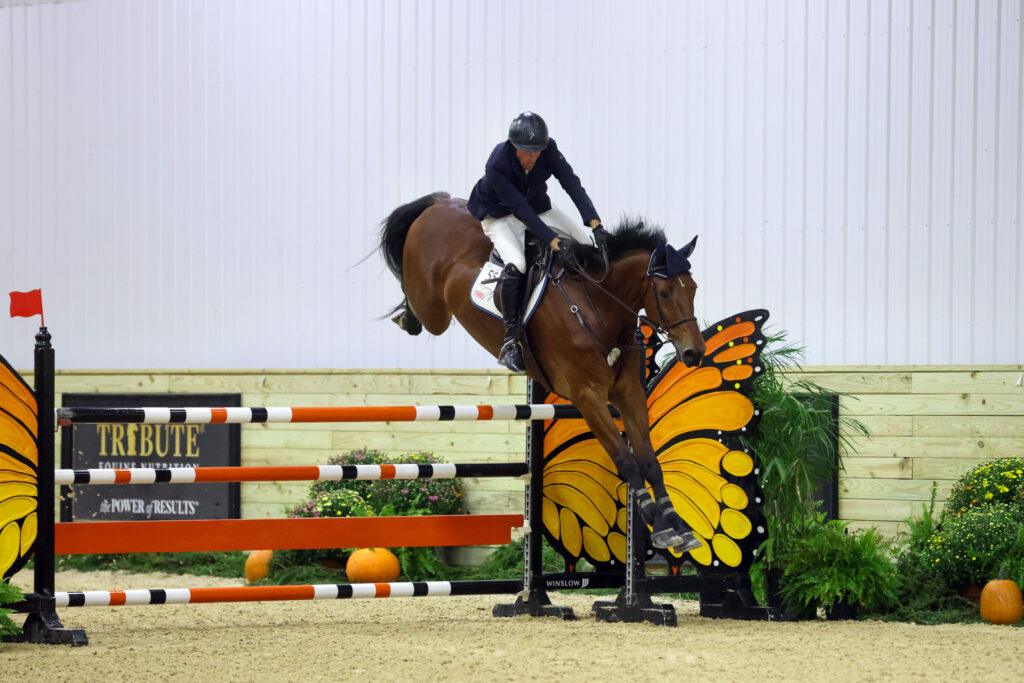 The $10,000 Futures Prix 1.30m welcomed a field of eighteen riders who battled for first place. Competition was fierce with 86 seconds allotted for riders to complete round one of this afternoon's course. Ten riders advanced io the jump-off, but it was David Beisel and Vegas H who came out on top.
Beisel of David Beisel Stables in Goshen, Ohio, piloted his own Vegas H (Valentino x Cobrah), an eight-year-old Warmblood, to his third WEC Futures Prix victory. This pair delivered a clean first round of 80.368 seconds, and returned for the jump-off with speed and precision in mind. Their jump-off time was a sharp 35.475 seconds, 0.3 seconds ahead of second place.
We caught up with Izzy Beisel, David's daughter, to chat about tonight's Futures Prix. "The course was really fun and there was nothing too complicated! It was funny because I rode the course first on Ammeretto, and when I was finished my dad said 'alright tell me the course!' He had not memorized it beforehand. Sometimes you have to learn it on the fly… We've had Vegas for two or three years, he is a good boy. It is so hard to find a horse like him that has such a heart to jump. He definitely has that."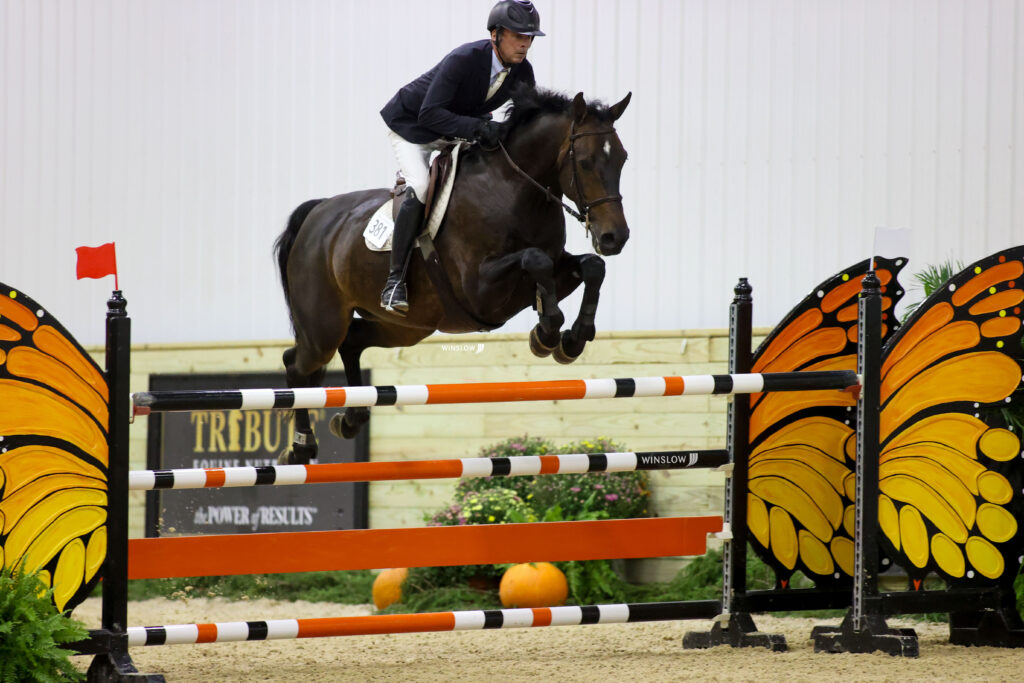 Richard Rinehart of Rinehart Farm in Westfield, Indiana, and La Dolce Vita VDL (Zapatero VDL x Tilly) stole the second place spot, jumping double clear and stopping the clocks at 35.717 seconds in the jum-off round. La Dolce Vita VDL is owned by Allison VIinatieri and has had much success at World Equestrian Center in the past.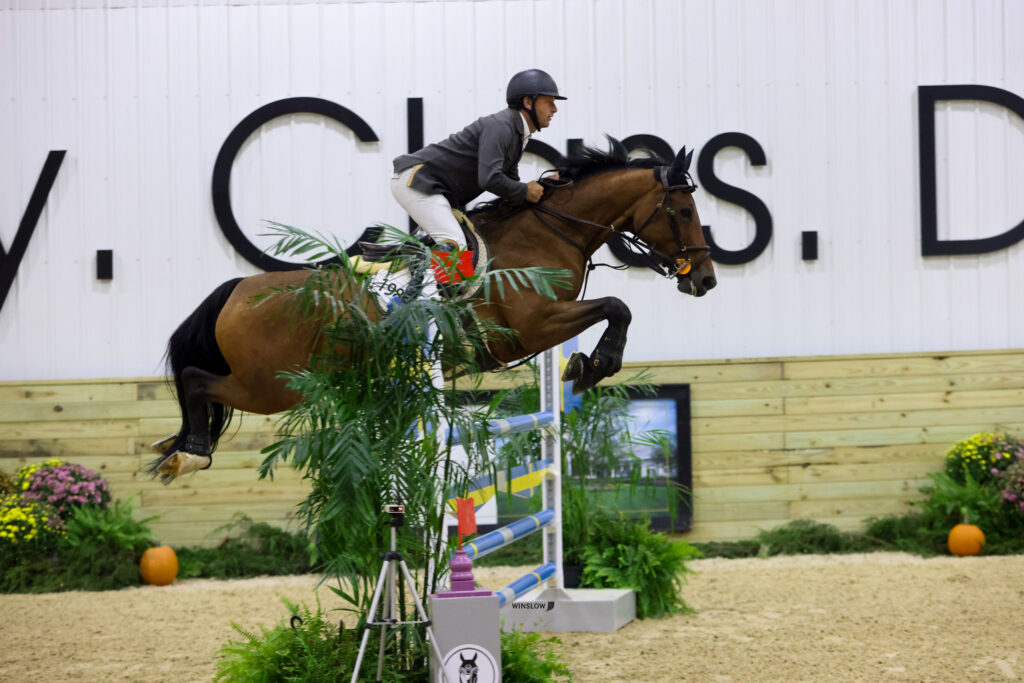 Rounding out the top three was Ireland's Kevin McCarthy and his own Catch A Star HSS (Sheraton x Tolinda). This pair attacked the course in ther usual style, jumping double clear and earning a jump-off time of just 36.04 seconds.
$10,000 Futures Prix 1.30m Results
Vegas H, David Beisel – 0 | 0 | 35.475
La Dolce Vita VDL, Richard L. Rinehart – 0 | 0 | 35.717
Catch A Star HSS, Kevin Mc Carthy – 0 | 0 | 36.040
Gyloma, Erika Thornell – 0 | 0 | 36.082
Colourful S, Morgan Ward – 0 | 0 | 36.082
Smokeshow 8, Morgan Ward – 0 | 0 | 37.123
Ammeretto, Izzy Beisel – 0 | 0 | 38.138
Milady Des Bruyeres, Tiffany Lee – 0 | 0 | 46.168
Captain America, Richard L. Rinehart – 0 | 4 | 48.395
Ecuador W, Logan Taylor – 4 | 75.753
Thank you to all exhibitors, trainers and spectators for a great day of equestrian sport at World Equestrian Center – Wilmington.
Our fall horse show series continues next week with the Fall Classic II. The WEC fall show series features four more weeks of NSBA sanctioned hunter/jumper competition and nearly $1.2 million in prize money total. Reserve your stalls and submit your entries at www.horseshowing.com.
For more information regarding competing with the National Snaffle Bit Association please visit https://www.nsba.com/Photos courtesy of Winslow Photography.