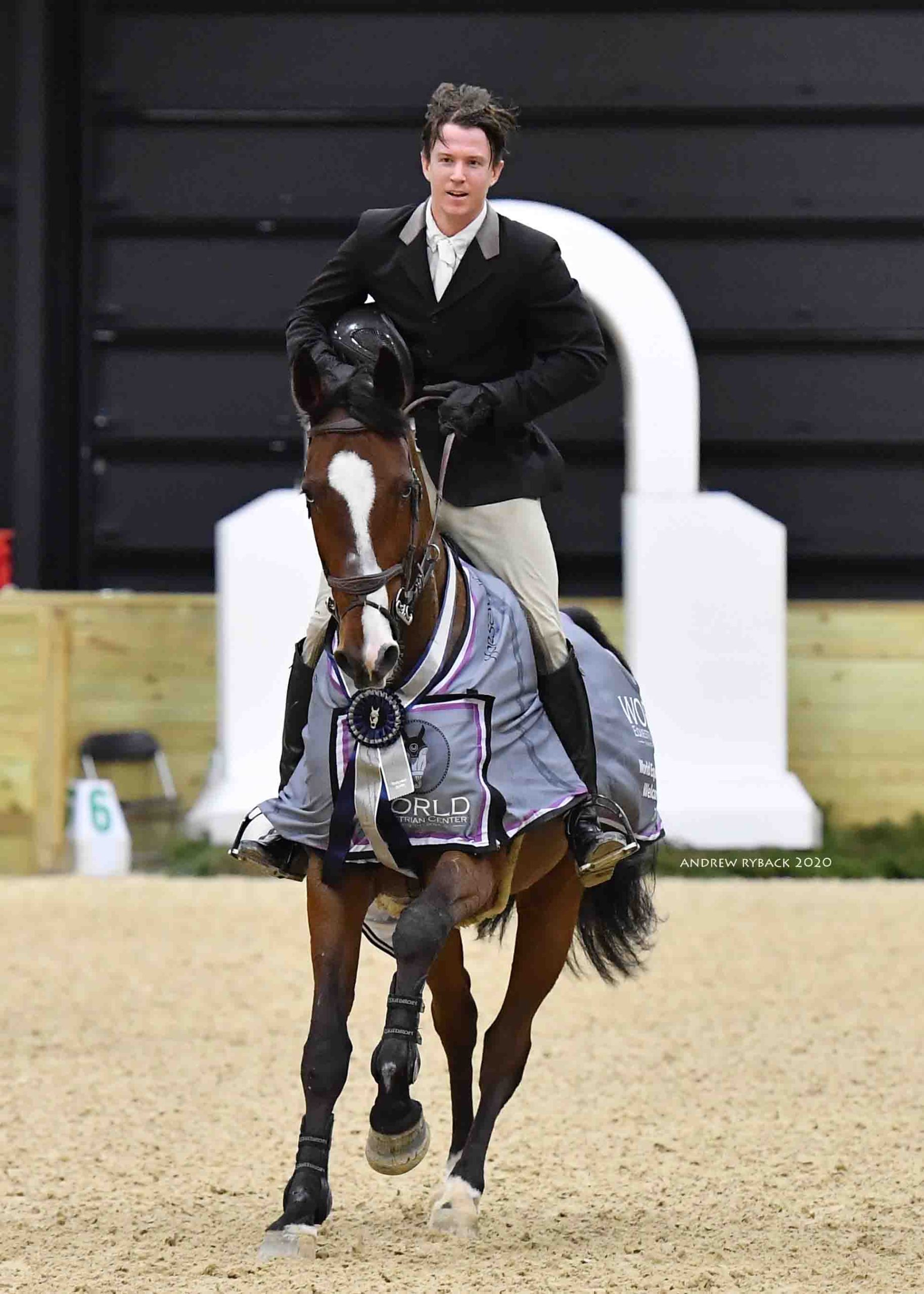 'Winter in the Midwest' Winter Classic 13 feature jumper action kicked off this afternoon as eight horse and rider combinations took to the Sanctuary Arena to contest the $5,000 Welcome Stake 1.35 sponsored by CWD Sellier. Tucker Williams of Ocala, Florida, designed the inviting course that featured 13 jumping efforts and tested adjustability with two long galloping vertical-to-oxer and oxer-to-vertical efforts; as well as one-stride and two-stride combinations and a single inside turn opportunity.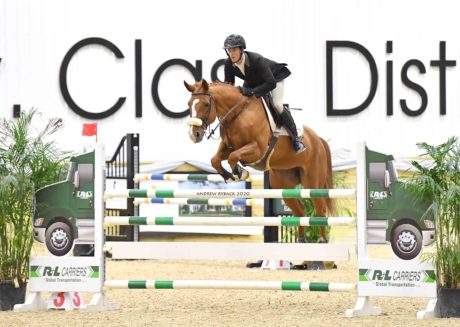 Four entries managed double clear rounds, but it was Michael Kocher aboard Andy Kocher's Honfleur that prevailed for the win. It was the pair's second $5,000 Welcome Stake 1.35m victory at World Equestrian Center this winter, having first claimed top honors in the class during the Winter Classic 9. It was a sweep for Kocher this afternoon as he also took second place aboard Captain Jack Sparrow H (Cassin x Unicutus).
Kocher and Honfleur, a 12-year-old Belgian Warmblood mare, were the first to tackle the course. They delivered a foot perfect round in 66.508, well under the time allowed of 78 seconds. The pair continued straight to the jump-off of the Table II event and picked up the pace to negotiate the short course in what would prove to be an unbeatable 34.427 seconds.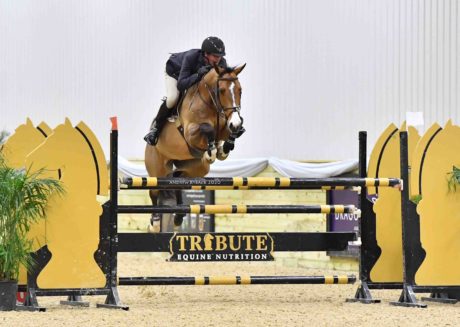 Paul Halpern and Diesel rounded out the top three finishers in this afternoon's $5,000 Welcome Stake 1.35. Second on course, the pair delivered a clear first round in a time of 70.725 to earn them a spot in the jump-off. Continuing to the short course with a time allowed of 48 seconds, they again went clean and clear stopping the clock at 35.519, sliding them into second place behind Kocher and Honfleur.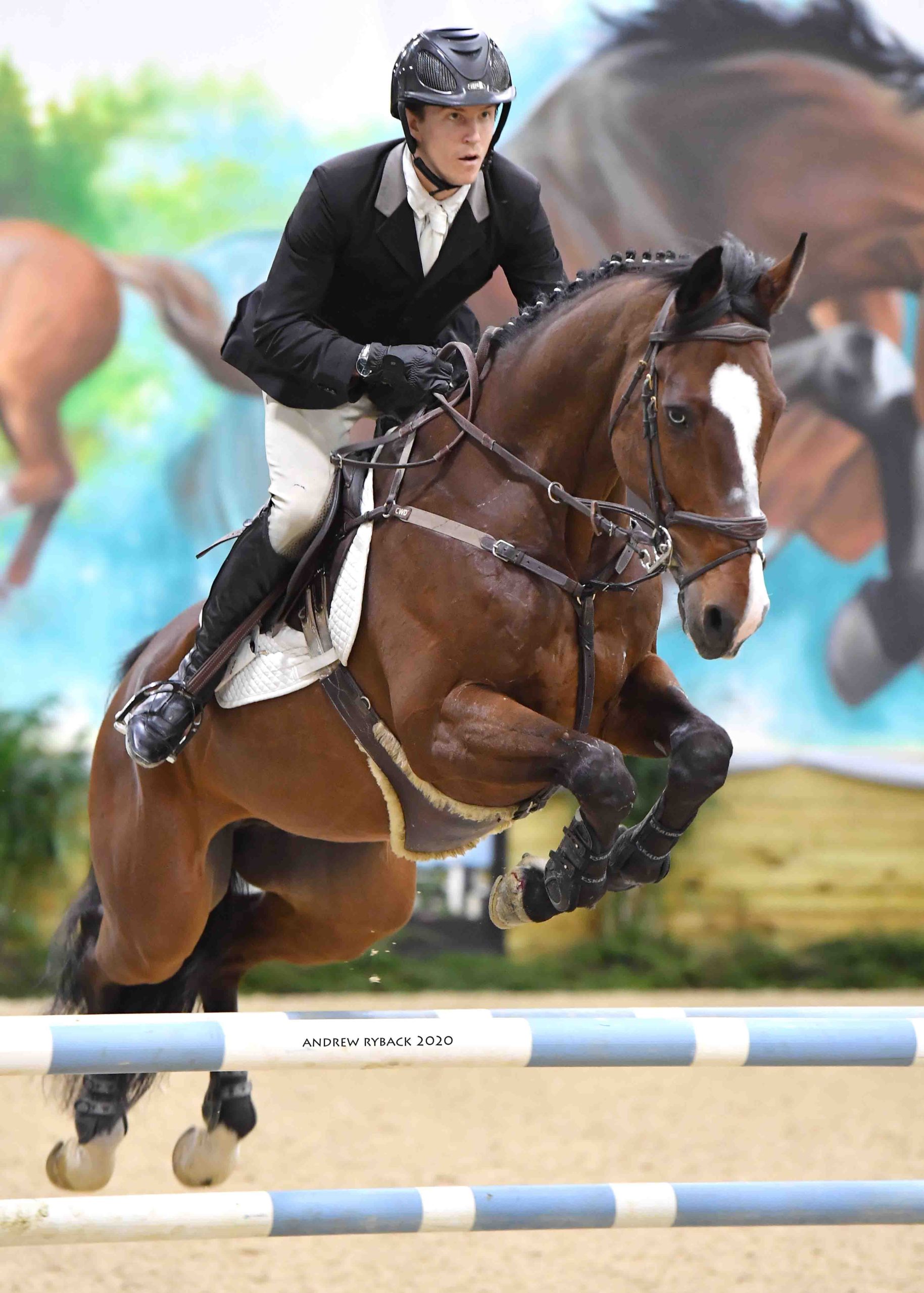 Last in the ring, Kocher piloted the 11-year-old Holsteiner gelding Captain Jack Sparrow H (Cassin x Unicutus) to a second place finish in the class. The scopey bay gelding loped to a clear first round in 71.521 seconds. Kocher stepped on the gas in the jump-off and Captain Jack Sparrow H responded by picking up the pace and negotiating the short course clean and clear in 35.232 seconds, landing them in second place and pushing Halpern and Diesel in to the third place spot.
Kocher also earned a 7th place finish in the class aboard the 10-year-old Wamblood mare, Kinnette Van't Klavertise Vier. The pair finished the first round in 67.093 with an unlucky rail keeping them from the jump off.
We caught up with Kocher after the class to chat about his success in this afternoon's class. "I'm really happy Honfleur. She's been a Jr./Amateur horse and I have been riding her for about 3-4 months. We moved her up and had the Welcome win earlier in the winter. She stepped up to the Grand Prix last week and she was great. She'll do the Grand Prix again on Saturday night."
When asked about the other mounts he rode in the class today, Kocher was effusive about their efforts. "Captain Jack Sparrow can hang in the air a little sometimes so the time allowed can be an issue, but I was really happy with him today. This was his best result to date and I'm really happy with him. I own him jointly with my brother Andy." Kocher was equally enthusiastic about Andy Kocher's Kinnette Van't Klavertise Vier, "We got her as a Child / Adult prospect and she is proving to be another great Jr. / Amateur horse."
Kocher, who has been based at WEC this winter added, "I should mention that all three of the horses I rode in the class today are for sale."
Results: Winter Classic 13 $5,000 Welcome Stake 1.35
Honfleur, Michael Kocher – 0 | 0 | 34.427
Captain Jack Sparrow H, Michael Kocher – 0 | 0 | 35.232
Diesel, Paul Halpern – 0 | 0 | 35.519
MTM IBelieve, Will Baker – 0 | 0 | 35.519
Aces High, Greg Kuti – 0 | 4 | 36.813
Esra, Paul Halpern – 0 | 4 | 37.299
Kinnette Van't Klavertise Vier, Michael Kocher – 4 | 67.093
Happy Hour, Juan Lavieri – 8 | 64.871