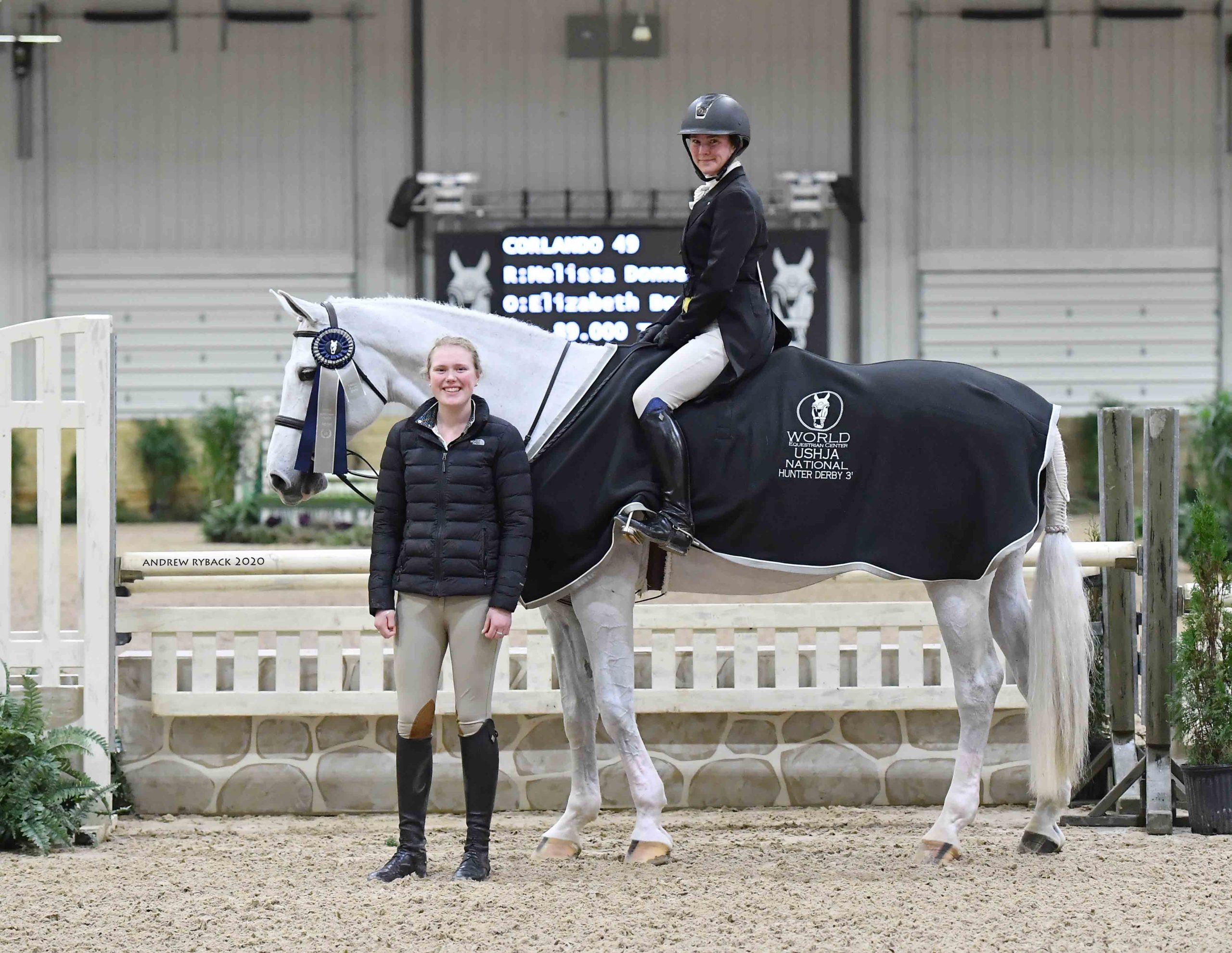 Melissa Donnelly and Elizabeth Becker's Corlando 49 (Cartani x Olanda I) were victorious in tonight's $5,000 USHJA National Hunter Derby having led throughout the class with a pair of 89 scores that could not be beat. The pair topped a field of 32 entries contesting a course designed by Tucker Williams of Ocala, Florida. The beautifully decorated course made use of the huge R+L Arena with several long flowing lines and a rare one-stride that truly tested the adjustability of each horse and rider combination.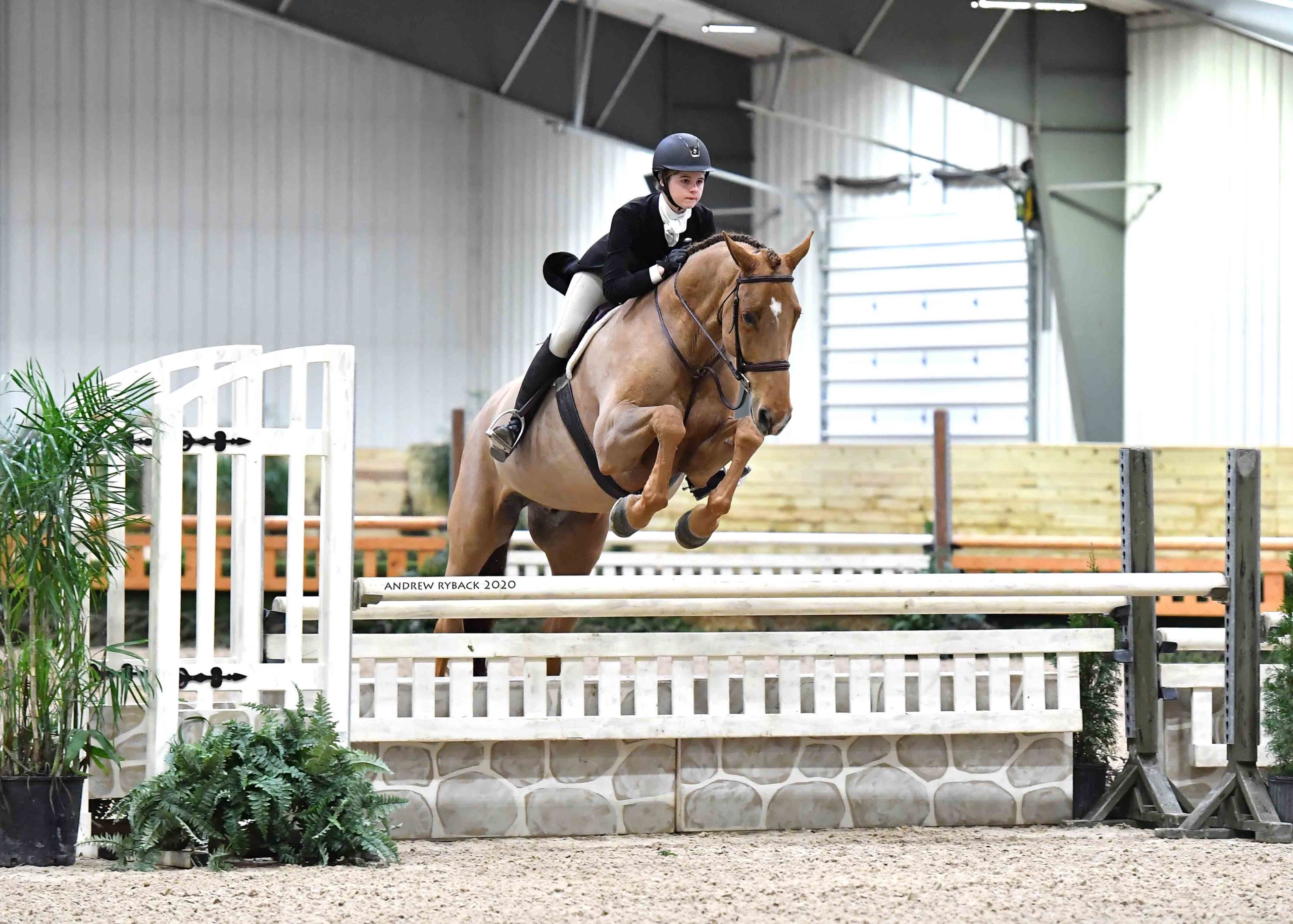 Junior rider Grace DeFoe and her own Firestone II (Indoctro x Tifony) set a high standard near the top of the order, delivering a smooth, flowing first round that included all of the high options and earned them a score of 87. DeFoe and the 10-year-old KWPN gelding frequently show in the equitation at World Equestrian Center. The pair recently won the THIS Medal and took blue ribbons in the WIHS Equitation Classic and ASPCA Maclay during the WEC Winter Classic 6.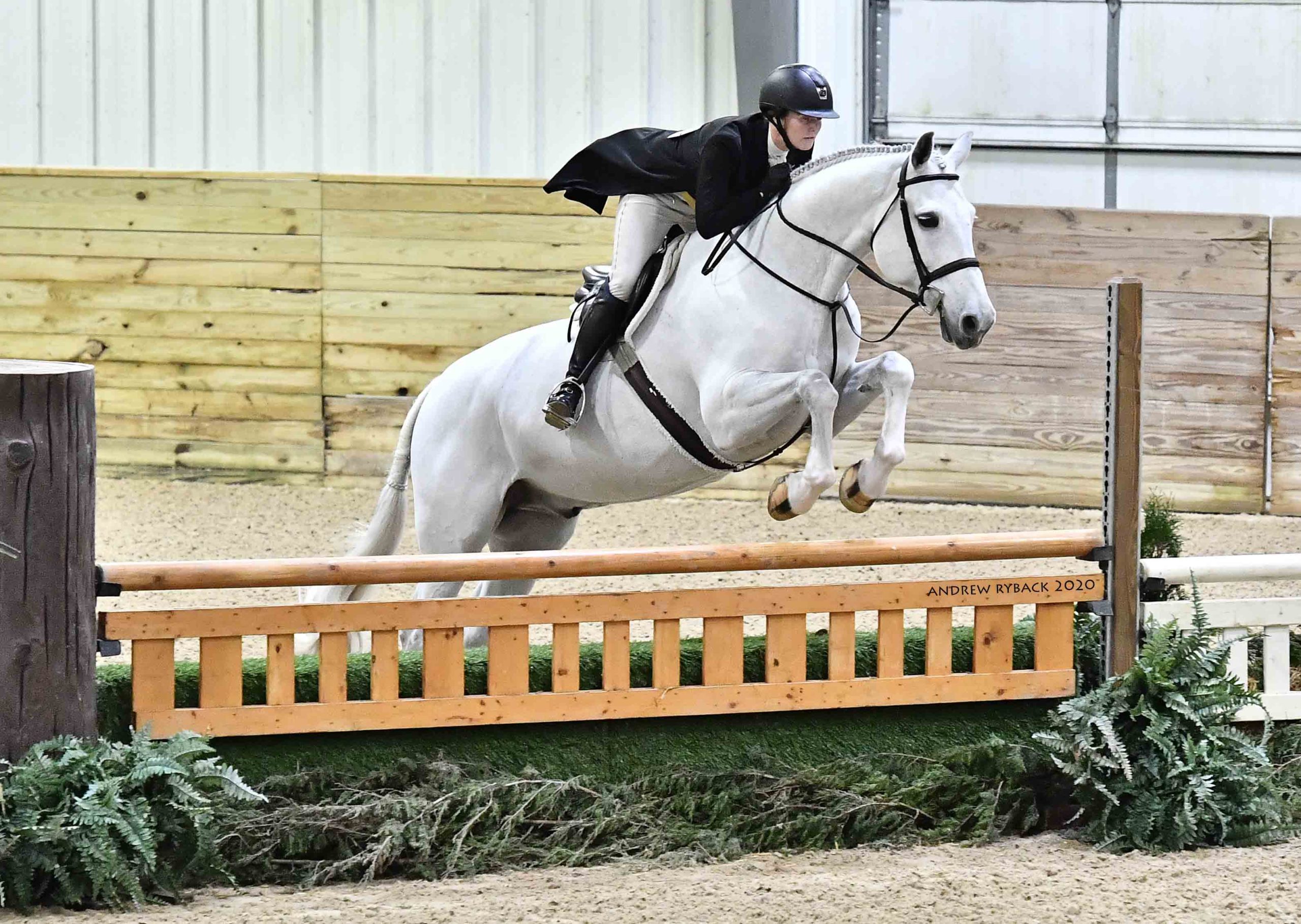 Next in the ring were Melissa Donnelly and Corlando 49. The pair laid down a brilliant first round effort with Donnelly showing off the elegant gray Holsteiner gelding's stylish jump. They took all four high options and earned a score of 89, landing them atop the leaderboard.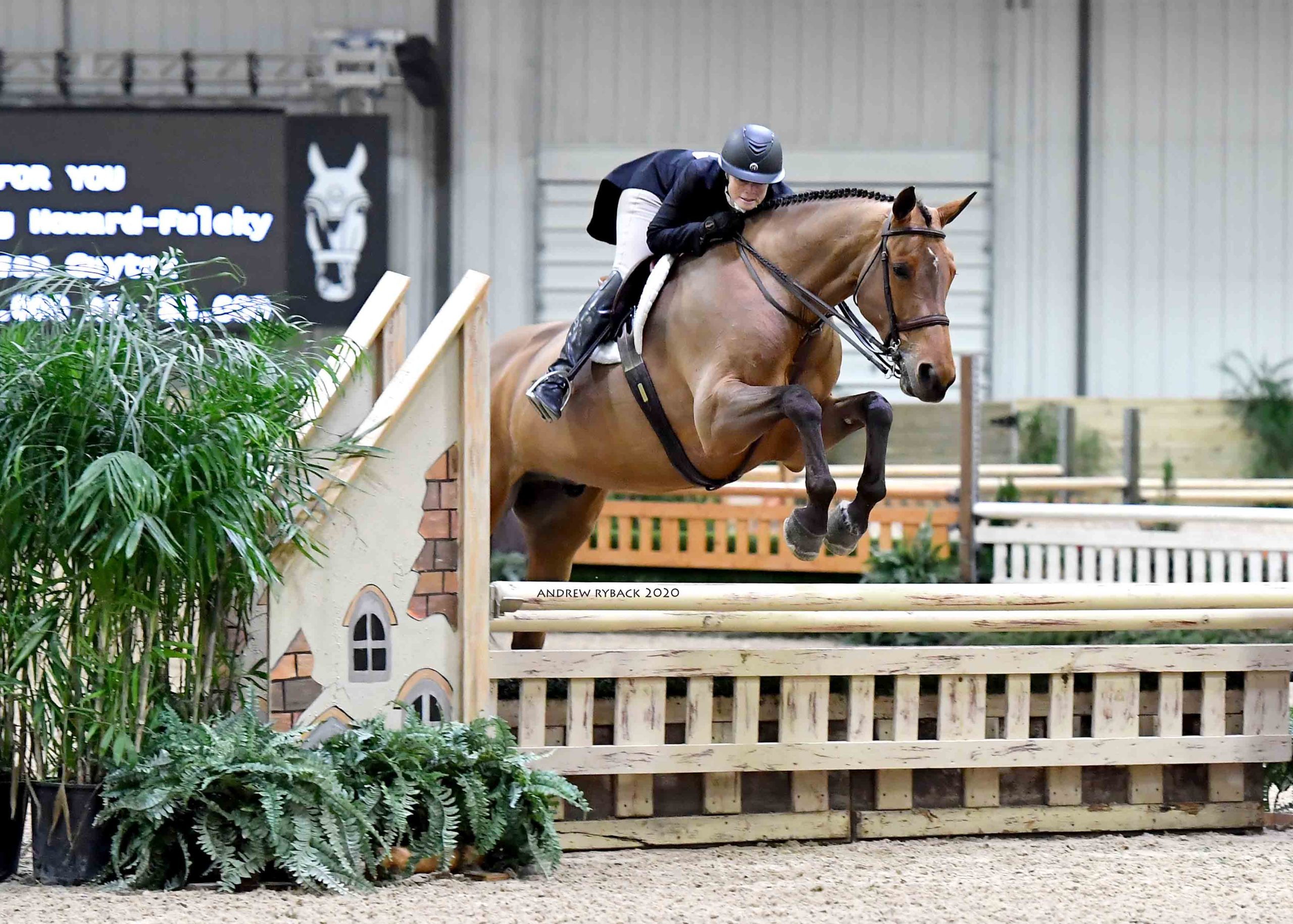 Not long after, Meg Howard-Fuleky and Lissa Guyton's News For You (I Am Moerhoeve's Star x Boule De Neice IV) took to the course. Howard-Fuleky typically competes the 8-year-old Belgian Warmblood in the performance hunter 3'3" division to top ribbons and the pair were well prepares for tonight's course. The pair was foot perfect on course, using the winding track to their advantage and taking all four high options for a score of 86.
The ring was refreshed and the top scoring 12 horse and rider combinations returned for the handy with a cut-off score of 75. DeFoe and Firestone II returned late in the order and once again navigated the course with a smooth, accurate ride. The pair took all four high options and executed a handy turn that earned them an 82 for a overall score of 169, which became the new leading score. Next in the ring were Meg Howard-Fuleky and News For You. Once again the pair gracefully negotiated the course, taking all four high options for another score of 86. This brought their overall total to 172 and slid them into the lead ahead of DeFoe and Firestone II. Last to go were Donnelly and Corlando 49 who laid down another brilliant round to earn a second 89, bringing their total overall score to 178, to win the class.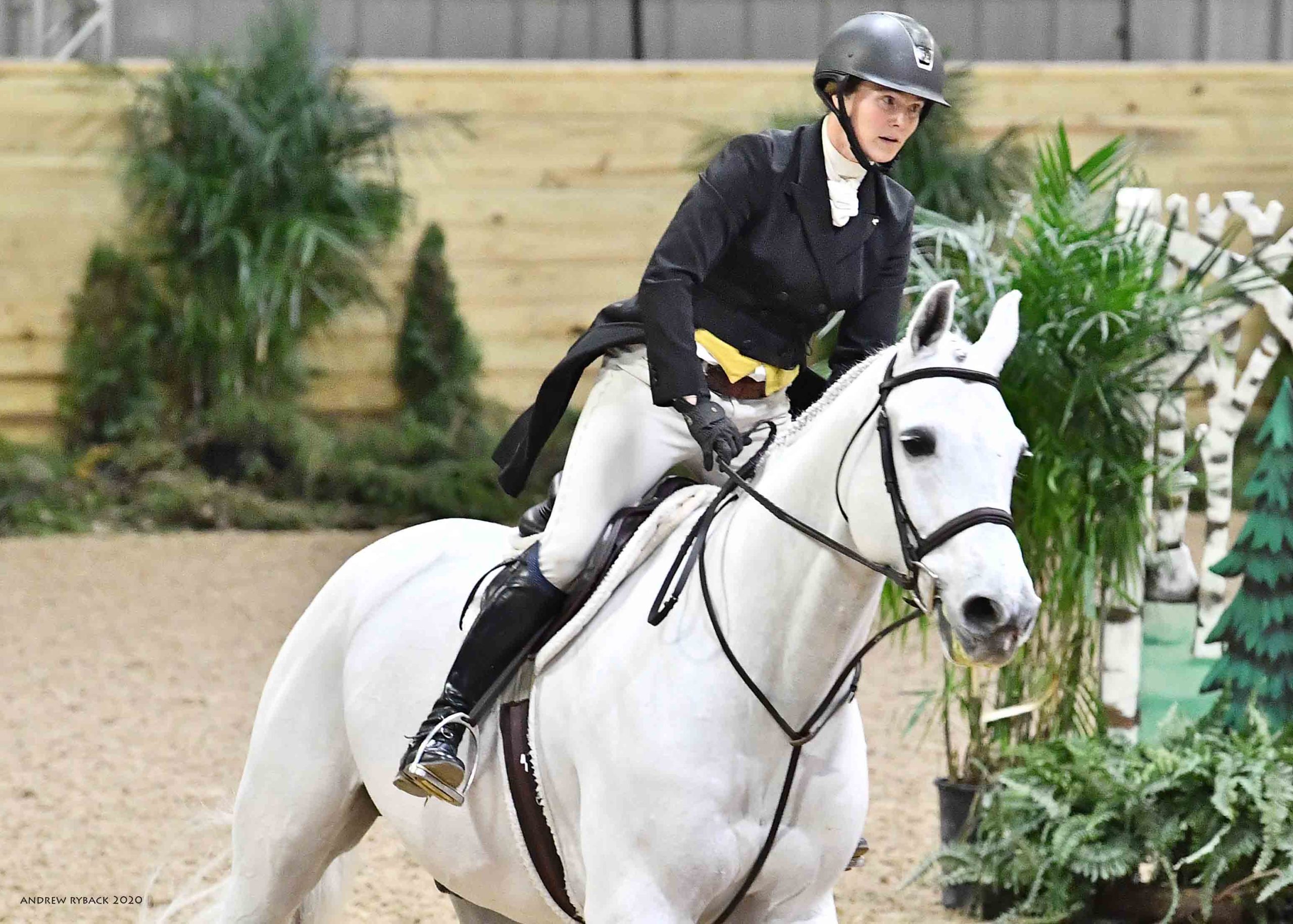 We caught up with Donnelly, who rode five horses in the class tonight, and she took a few minutes to chat with us about the class. She was complimentary of the Tucker Williams-designed course, "It had a nice, flowing feel. I especially liked the change of track. The course offered riders a lot of options and it was adjustable for different lengths of stride. Corlando 49 is 17 hands, so it suited him really well."
Based out of Just A Folly Farm in Oxford, Michigan, Donnelly and Corlando 49 typically show in the 4' performance hunter division. They clearly have an excellent rapport, as this is their second $5,000 USHJA Hunter Derby victory at World Equestrian Center.
Corlando 49 or Cory as he is known in the barn, has been with Donnelly for six years and has taken his owner Elizabeth Becker from 2'6" all the way to the 3'6" junior hunters. "He's my rock – he is the king of the castle. He is a part of the family and will never leave us."
Clearly very fond of the horse, Donnelly went on to describe Cory's personality under saddle, "He is a very opinionated horse. If he comes to the party anything is possible – but you have to do it his way. The more difficult the track or turns get, the more into it he gets."
"I would like to thank my sponsors Devoucoux, Samshield and Fabbri," Donnelly added. "And I want to thank Hagyard and Biomatrix Oil from Lebanon Equine for keeping our horses healthy."
$5,000 USHJA National Hunter Derby Results
Corlando 49, Melissa Donnelly – 89 | 89 | 178
News For You, Meg Howard-Fuleky – 86 | 86 | 172
Firestone II, Grace DeFoe – 87 | 82 | 169
Commander B, Madison Weaver – 84 | 84 | 168
The girl from Ipanema, Robert P. Stucky – 85 | 81 | 166
Hilton II, Keely McIntosh – 77.5 | 87 | 166.5
Livorno 61, Chris Delia – 78 | 81 | 159
Rubens, Jada Fuleky – 77 | 81 | 158
Amaro Z, Will Baker – 76 | 80 | 156
Zorro, Kathleen M. Kaya – 85 | 64 | 149