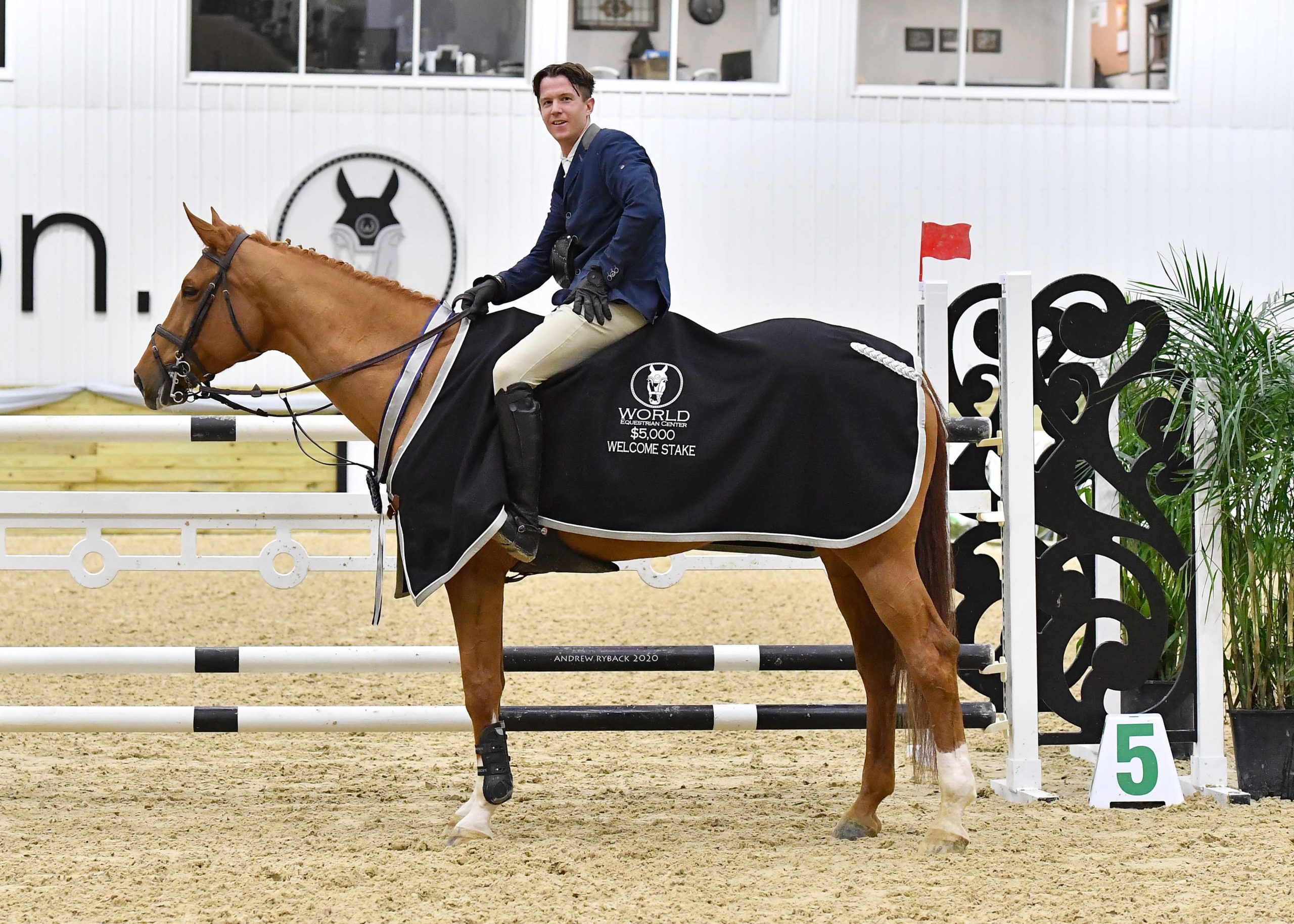 Twenty-one entries filled the Sanctuary Arena this afternoon to kick off Week 9 of 'Winter in the Midwest' at World Equestrian Center with the $5,000 Welcome Stake 1.35m sponsored by CWD Sellier. The course for this afternoon's class was designed by Tucker Williams of Ocala, Florida and featured 14 jumping efforts including a rollback turn off of the rail to start the course, two one-stride combinations and adjustable bending lines. Four entries managed double clear rounds, but it was Michael Kocher and Andrew Kocher's Honfleur that stole the win at the end of the class.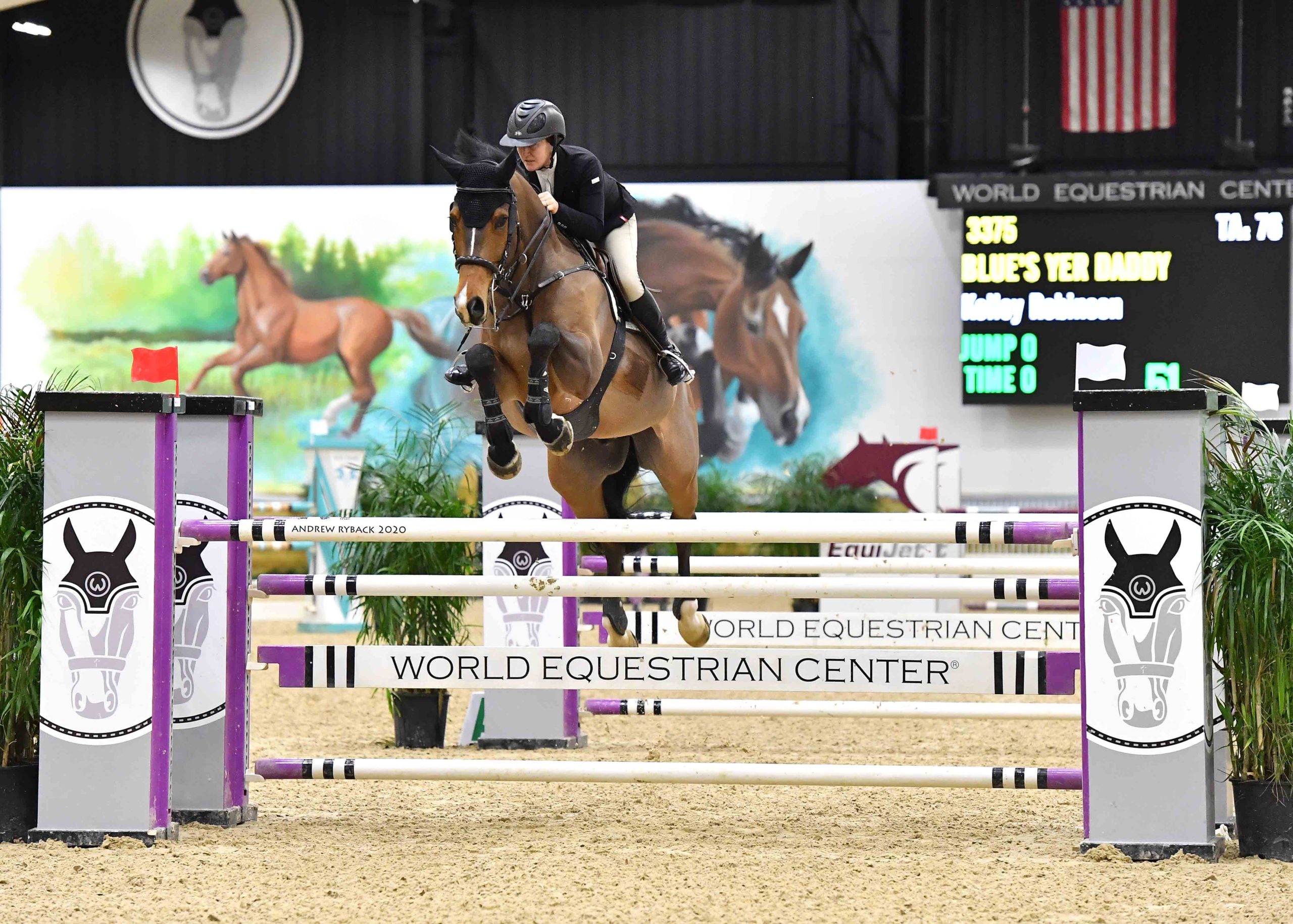 First to jump double clear were last week's $25,000 World Equestrian Center Grand Prix winners Kelley Robinson and her own Blue's Yer Daddy (Mr. Blue). The pair were nothing short of spectacular last week, winning the Grand Prix by more than four seconds. This afternoon, Robinson and the 13-year-old gelding were quick and clear in the first round in a time of 69.679 seconds, well under the time allowed of 76 seconds. The pair continued straight to the jump-off of the Table II 2b event, keeping their pace and taking inside turns to fences 3, 7 and 8. Robinson and the scopey bay gelding stopped the clock at 33.075 seconds with all rails up, establishing the pace for the remaining entries.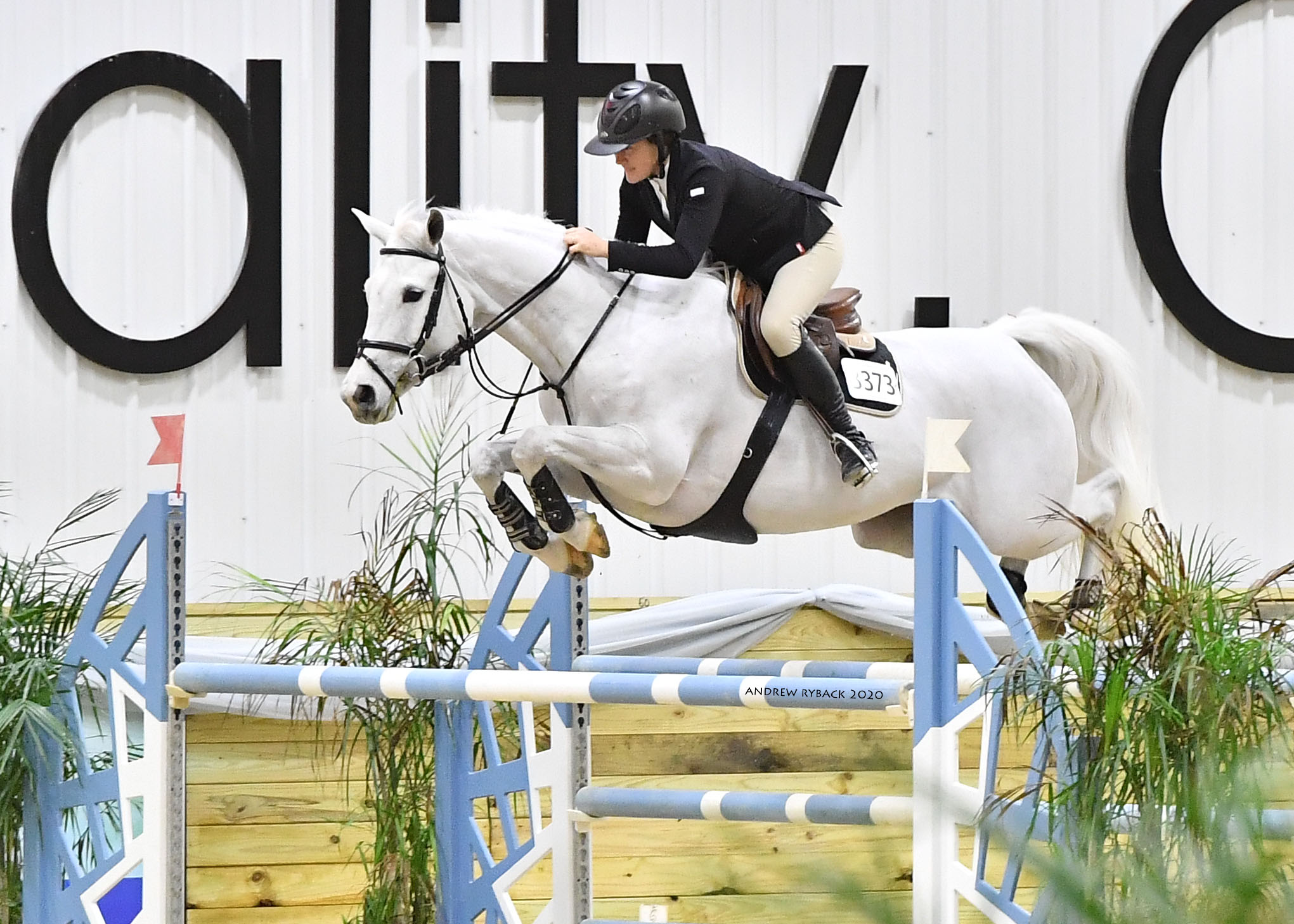 Robinson returned to the ring near the bottom of the order aboard her own Lise. In 2018, the promising pair took top honors in the Young Horse Championship 7-year-old Final at the Angelstone International Show Jumping Tournament. Robinson and her fiery grey mount were slightly more conservative in the first round, ensuring all rails stayed up in a time of 72.952 seconds. The pair advanced straight to the jump-off, picking up speed and hugging the inside track. Robinson and Lise flew through the timers at 32.102 seconds, setting the new time to beat.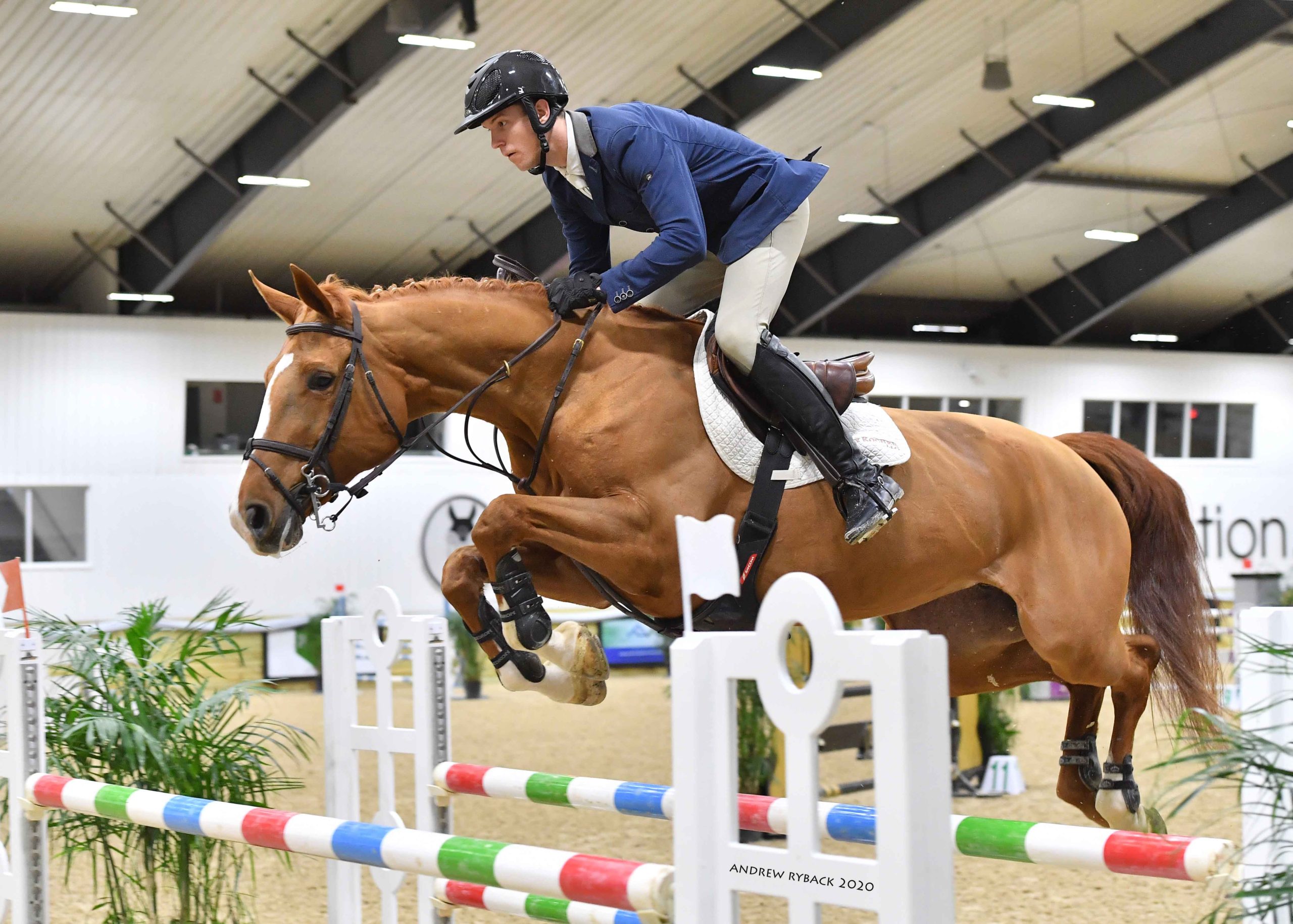 Michael Kocher and Andrew Kocher's Honfleur were next in the ring. The pair have been collecting top placings in 1.25-1.35m jumpers at World Equestrian Center throughout the Winter circuit, but had yet to snag a feature class win. This afternoon, Kocher and the 12-year-old Belgian Warmblood mare were on form, jumping a clear first round in a time of 70.684 seconds and continuing straight to the jump-off. The pair also opted for the inside track to fences 3, 7 and 8 and picked up a forward gallop on the long approach to the remaining fences. Kocher and the expressive chestnut mare blazed through the timers at 30.301 seconds, stealing the win in the class.
Kocher also rode two more mounts earlier in the order. His first ride was aboard Andrew Kocher's Hector AAD (Lord Z x Ricci van de Olmenhoeve). The pair took third place in last week's $7,500 Futures Prix 1.30m at World Equestrian Center and had a fantastic round in this afternoon's Welcome Stake, but an unfortunate circle before the first fence kept them out of the placings. Kocher's second mount in the class, his own Captain Jack Sparrow H (Cassin x Unicutus), was last week's Future's Prix winner. The pair had three unlucky rails in this afternoon's class, but managed a solid round to build on for this weekend's feature classes.
Kocher took a moment to chat with us ringside after the awards ceremony, "Honfleur really stepped up this week. I was kind of counting on my other two mounts! She's really game and tries hard for you; she's a really great mare. She's really fast, so when she keeps the jumps up, we do well. She's all chestnut mare on the course, but on the ground she's really nice. She's easy to flat and really a sweet mare."
When asked about his other mounts in the class, Kocher commented, "My first horse, Hector, greened up a little bit at the first jump, but he was really good after that. He's a new horse for me, so I'm still getting used to him. My second horse who won the Futures Prix last week, Captain Jack Sparrow H, greened up in the outside line and just had a few green rails."
Kocher also added, "Hopefully I can carry this over to Saturday's Grand Prix and Futures Prix. I'm going to do Hector in the Grand Prix. He jumped really well today, so as long as I'm on my game, we should be great. Captain Jack Sparrow H will do the Futures Prix. I might step Honfleur up since she won the class this afternoon, depending on how I'm feeling and how many are in the class!"
$5,000 Welcome Stake 1.35m Results
Honfleur, Michael Kocher – 0 | 0 | 30.301
Lise, Kelley Robinson – 0 | 0 | 32.102
Blue's Yer Daddy, Kelley Robinson – 0 | 0 | 33.075
Zero Gravity, Lauren Ditallo – 0 | 0 | 34.330
Easton, Kevin McCarthy – 0 | 4 | 31.092
Caiman des Sequoias, Nicole Loochtan – 0 | 4 | 32.571
Reposado, Isabel Harbour – 0 | 4 | 33.331
Geronimo 132, Sandra Zimmerli – 4 | 70.486
Clash II Heldenlaan Z, Lauren DiTallo – 4 | 71.804
Catch A Star HSS, Kevin McCarthy – 4 | 72.421
Photos courtesy of Andrew Ryback Photography.