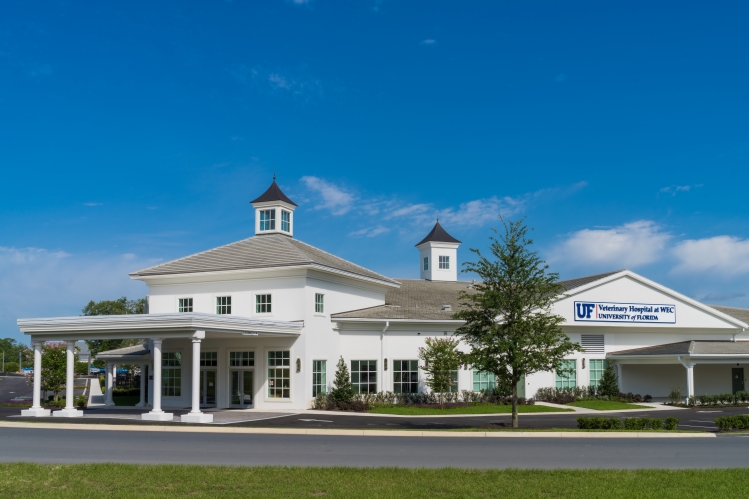 GAINESVILLE, Fla. — The University of Florida Veterinary Hospital at World Equestrian Center in Ocala opens for business tomorrow to provide leading-edge patient care to horses and small animals located on-site as well as from the local community.
Plans for the first-of-its-kind, 40,000-square-foot hospital facility were announced last fall by the UF College of Veterinary Medicine and the center as part of a strategic alliance aimed at better serving WEC visitors with animals in need of veterinary care. Animal owners from Ocala, known as the horse capital of the world, and the surrounding area will benefit from the venue at a time when the demand for veterinary services is at an unprecedented high, UF administrators said.
"Nowhere else in the world is there a leading-edge veterinary hospital located within a premier equestrian venue, with all of the services that equine competitors need to ensure their horses are kept in optimal health and performance-ready condition," said Dana Zimmel, D.V.M., dean of the UF veterinary college. "With the expertise of veterinary specialists working across a variety of disciplines, we will offer a broad spectrum of expertise in diagnostic and patient care, not just to elite athletes, but to companion animals as well."
Equine services available at the new facility will focus on sports medicine, diagnostic imaging and rehabilitation. Small animals will receive urgent and primary care, with a goal of expanding specialty services for both horses and small animals.
Among the unique capabilities the hospital will offer are leading-edge diagnostic imaging technology, including the Qalibra CT, Hallmarq MRI, and LONGMILE PETscanner. Each of these provides different types of information and may be used in combination to provide more specific and accurate diagnostic information to better diagnose lameness and orthopedic problems.
Currently, there is no other facility that offers the combination of these diagnostic imaging modalities in one site.
Along with specialists certified in equine sports medicine and rehabilitation, the UF Veterinary Hospital at WEC will have a full complement of rehabilitative modalities available for physical therapy and strengthening, conditioning, and recovery of equine athletes including aqua treadmill, vibration plate, cold water spa, dry salt, solarium, laser, extracorporeal shockwave therapies and much more.
"Timely and efficient access to veterinary care can mean everything when it comes to animal health," Zimmel said. "With the hospital being located centrally on World Equestrian Center grounds, our services will be right at the fingertips of those who need them."
The UF veterinarians at the new facility will work closely with local veterinarians, as well as with veterinary specialists at the main UF Veterinary Hospital in Gainesville, to ensure optimal collaboration and continuity of care.
A ribbon-cutting event to celebrate the hospital's opening was held today.
"We are pleased that through our collaboration with the UF College of Veterinary Medicine, this extraordinary veterinary hospital is now open for business," said World Equestrian Center owner Mary Roberts. "The ability to offer world-class large and small animal veterinary services on-site to our exhibitors, competitors and the community, sets us apart from other equestrian venues located throughout the country and the world."
Although the new hospital's focus is on providing the best possible patient care, knowledge gained by working with equine performance horses may lead to advanced studies that result in improved clinical outcomes for all horses, Zimmel said.
While UF veterinary students will not initially perform clinical rotations at the facility, Zimmel envisions this will happen in time.
"We recognize what a great experience exposure to the UF Veterinary Hospital at WEC would be for students, particularly those who are equine-oriented," she said.
Anyone interested in making an appointment at the new facility for their horse or pet may call 352-414-3858. More information about specific services provided is available at vethospitals.ufl.edu/wec.
UF Health Media Contact:
Sarah Carey
careysk@ufl.edu
352-294-4242
World Equestrian Center Media Contact:
Candace FitzGerald
candace.fitzgerald@wec.net
603.738.2788