As we Equestrians celebrate the beginning of the New Year, this time presents a welcome opportunity to reflect on the past 365 days and set new goals for the upcoming year. Many of us are just starting our long stretch of Winter Circuits, so while this may not be the time for any drastic changes to our training, it is the perfect time to start putting a plan together for the year ahead. Now is the time to set your goals high and make a plan to make those goals a reality.
As athletes, and human beings for that matter, it is important to look back on our successes, accomplishments and even our failures, so that we can grow and learn from our past experiences. This is the best way to figure out where we are currently excelling and where we could use some improvement. While you should never dwell on your mistakes, they can be a fantastic learning tool if you look at them from an honest, non-critical perspective. Ask yourself what you could have done to prepare better for the situation you were in. If you had a scary miss last year that shook your confidence, do not simply say, "I shouldn't have missed." Think about the things that could help you find a better distance, like strengthening your flatwork, doing gymnastics or practicing over simple ground poles, and base your new goals off of those helpful tools. While you are reflecting on the previous year, be sure to write down your thoughts. We can get easily hung up on one thing from the previous year and forget about the rest, so jotting down your thoughts will help you keep everything in order.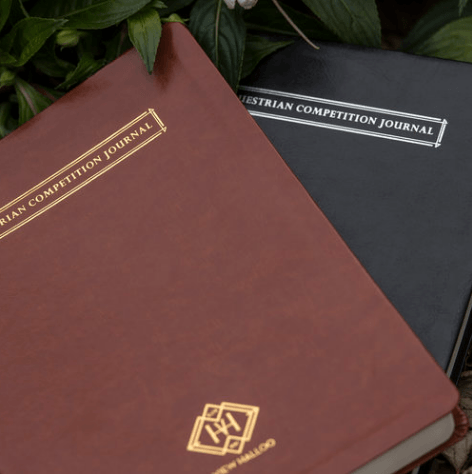 Once you have given the previous year some serious consideration and have all of your thoughts written down, it's time to give your thoughts some organization. A great way to do this is to make three columns on a piece of paper: one titled "What I'm Taking from 2018", the next titled "What I Want to Do with This in 2019", and one titled "How I Plan to Do This". Start by filling out just the first two columns. For example, if you achieved a major milestone in 2018 like showing at your first Medal Finals or even moving up a division, write that in the first column. In the next column, consider what you want do with that this year. Do you want to show at Medal Finals again? Do you want to improve your ride from last year? Write that down in the next column. Another great way to keep track of your goals is an equestrian competition journal, such as the stunning leather View Haloo Equestrian Competition Journal. Complete with personalization options, the View Haloo Equestrian Competition Journal offers a lovely, sophisticated way to track your goals and progress throughout the year. Be sure to set achievable goals for yourself, but also do not be afraid to dream big! Continue filling out the first two columns until you have all of your thoughts that you previously jotted down organized.
Here comes the tricky part: devising a plan to achieve your goals. This is the most important part of achieving your new goals, because a goal without a plan is just a dream! This often feels like a daunting task, and can be overwhelming at first, but remember that you have a giant support group behind you to talk your plans through with. With your riding and training-specific goals, your trainer is your best consultant (or maybe even a fellow professional if you are a trainer). They have been where you are and are your number-one secret weapon when it comes to reaching your goals. Fellow riders are also a great source of knowledge when it comes to making a plan to improve your riding, particularly those that you ride with on a regular basis. They have likely learned your style as a rider and can offer great advice. Some of your fellow riders may even have the same goals in mind, and the "buddy system" is a proven success method. Don't be afraid to reach outside of your inner equestrian circle for advice as well. Talk to your parents and even some non-equestrian friends about your goals, a fresh perspective is always helpful. Another fantastic learning device when creating your goal-achieving plan is watching the Greats that we all admire as equestrians like McLain Ward, Beezie Madden and Laura Kraut and emulate them. If you cannot be at a show where they are showing, then watch them on any of the number of Live Streams from shows around the country or search videos of their rides on YouTube. Even watching Maclay Finals on the USEF Network can set your inspiration on fire and put your plan in play. Once you have a plan in place, don't forget to write it down! It has been proven time and time again that writing down a plan helps us take strides to achieve it.
Once you have your goals set and your plan decided, it's time to start working toward accomplishing your new goals. While this can be a slow process, gradual progress often leads to the greatest successes. Now is your time to reset for the new year, so aim high and start building momentum for the year ahead. Remember, it's not what 2019 will bring to you, but what you will bring to 2019!