Ocala, FL – This week's Ocala Sunday Spotlight shines on amateur hunter and jumper rider Anna Ermlich from Ocala, Florida. Anna is not only a talented athlete, but also a PharmD, and an incredible braider. Her horse Freddie, named after Freddie Mercury, rocks a tiara from time to time or a unicorn horn. Once other athletes caught wind of Anna's fun braids, she's been flooded with requests. We caught up with Anna to learn more about her career and her specialty braids.
WEC: Tell us a bit about your riding career.
I started riding when I was four. I grew up in East Greenville, Pennsylvania and was hooked on horses when I had my first pony ride on my second birthday. I begged to start riding and was allowed to start taking lessons when I turned four. That pony that I had my first pony ride on during my second birthday is Rumpelstiltskin and we have owned him ever since. He's now 35 years old and is still going strong.
All my life I did the hunters, and hunters only. My last horse was horse named Frank and we did everything from the low children's hunters up to a few international derbies, but now he's my mom's dressage horse and loves his life. I bought my current horse Freddie as a three-year-old from Europe to be a hunter, but we started doing the jumpers for fun last December and he loved it.
During my last year of pharmacy school, I came down to Florida with my boyfriend Johnathan while I was on break. We showed at WEC – Ocala in December and knew right then we wanted to live here full time. I graduated on May 21, 2022, and packed up my car and drove down here on May 23, 2022. I said, 'Peace out Pennsylvania, I won't miss the cold', and I couldn't be happier. We moved here for WEC and it was the best decision.
Now I primarily show in the jumpers with Freddie, but all I wanted was to do a hunter derby on my birthday, so we switched from jumper braids to hunter braids this week and I showed in the 3'6"-3'9" Hunter Derby.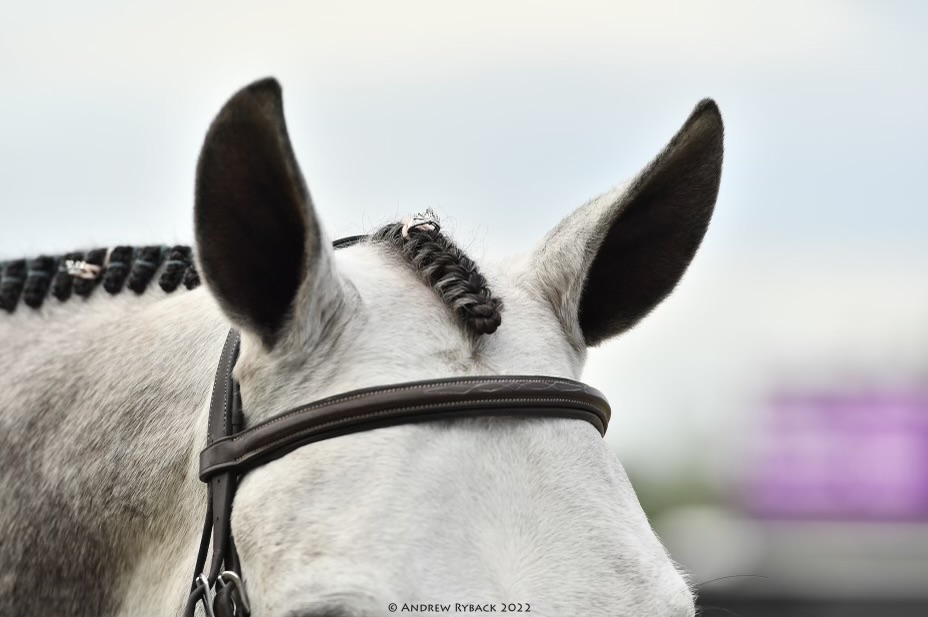 WEC: When did you first start to braid horses?
The braiding started because the day I graduated pharmacy school, I became financially responsible for myself and my horse. I still wanted to be able to show, so I figured doing my own braids would help cut costs.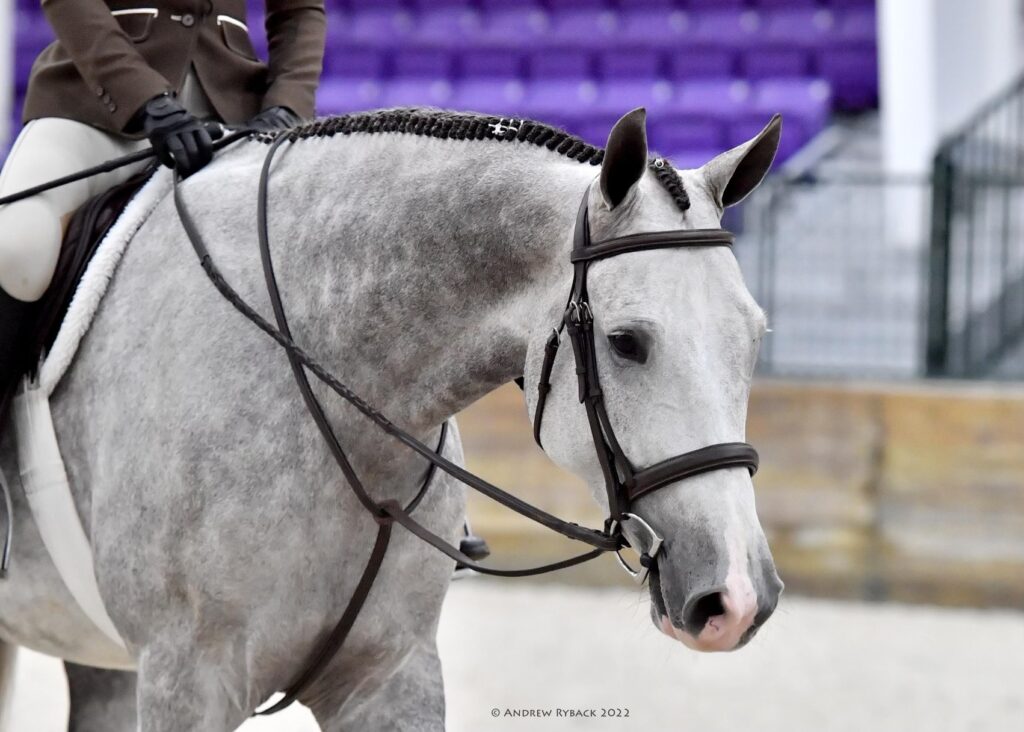 No one ever taught me. I have this condition I call 'how hard can it be?', so I gave it a try. I did the same thing when I wanted fancy custom jumper bonnets, but didn't want to spend the money so I learned how to crochet and made them myself.
I practiced one full mane, then I braided Freddie for the first time for a derby. At the time, I thought they were great, but looking back at the pictures, it makes me uncomfortable. The more I braided the better I became. I didn't start braiding for others until one day a rider was in a jam because she and her braider had a miscommunication and were at different shows, so they needed one last minute and I said I would do it. It was nice earning a bit more money, so I kept doing it and it has grown from there.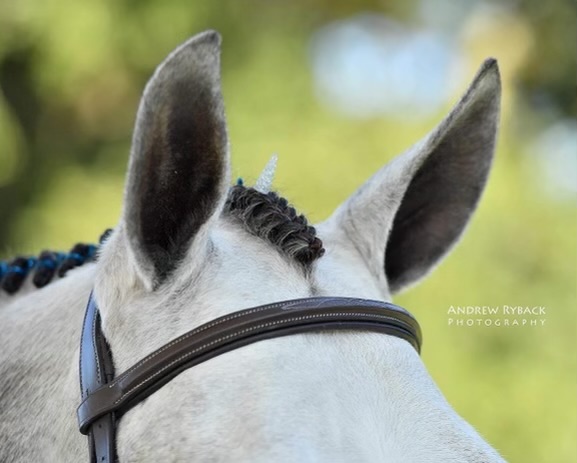 WEC: When did you start to add the fun charms and colors?
The charms and colors really exploded. Freddie got boring braids the first time, but then I started to experiment with pom poms and some different colors. I got a few letter charms and began writing stuff with them in his mane and tail.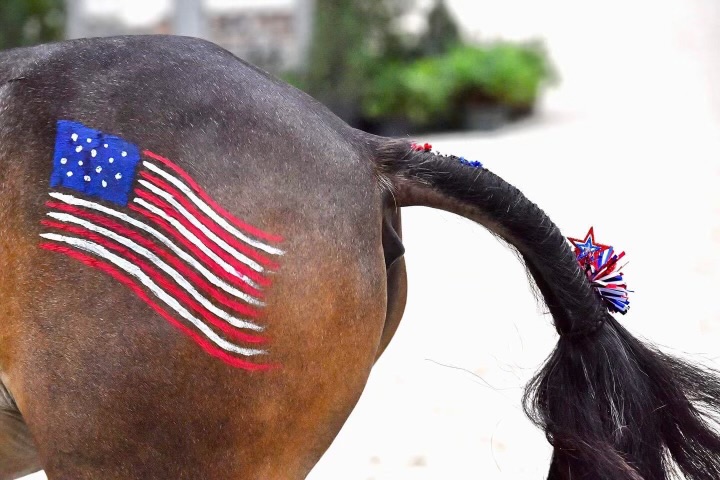 Fourth of July really kicked things off. I had little mini-American flags and used red, white, and blue yarn. Since then, the charms have been my specialty.
Freddie now always has special braids. He's named after Freddie Mercury, and he almost always has a little tiara. He wears the bigger one in the jumpers, but a smaller more modest one for the hunters. He's also been the world's tiniest cowboy with a little cowboy hat and he's become a unicorn. He has a plethora of options. Whenever it's a holiday we always go crazy. Our Christmas braids were the best and he had a tiny Santa hat.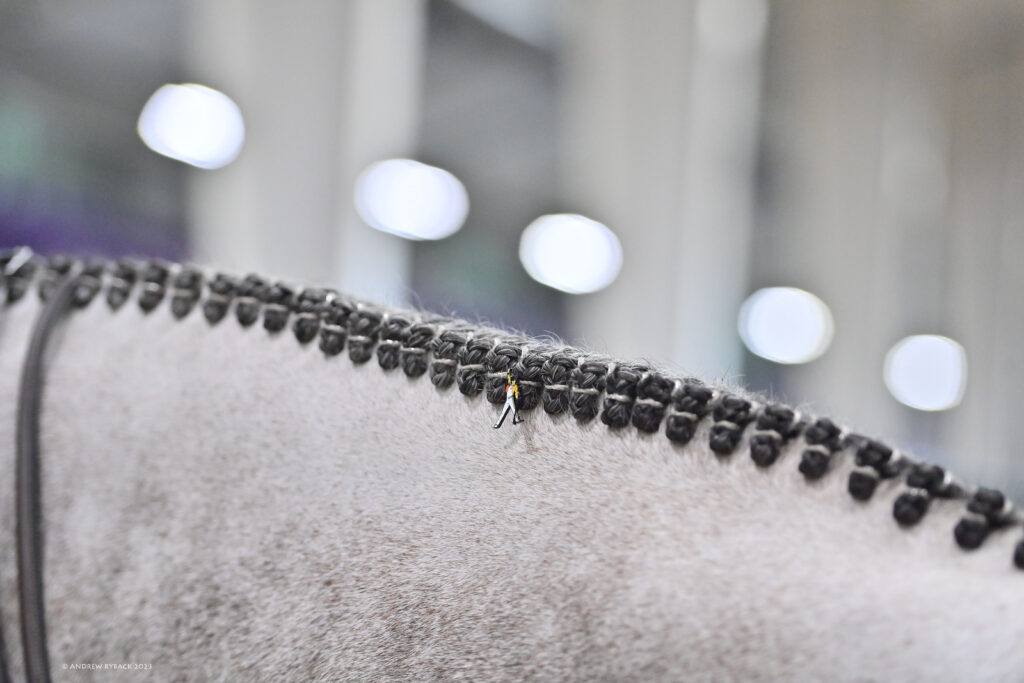 I posted some photos on social media and people started reaching out to me to see if I could braid their horses. Now I could do anywhere from zero to 20 horses a night, but it depends on my schedule.
I have a full-time job, and show myself, so sometimes I can't fit anyone in and sometimes I can. It just depends on what I have going on, but it's so amazing to see so many riders asking for fun braids.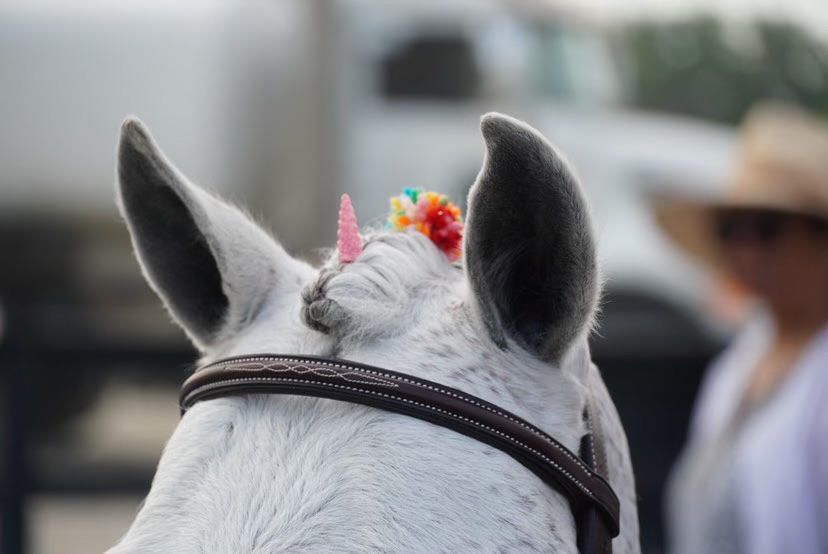 I am a huge advocate for fun braids. Unless the judge is a Red Tail Hawk, they can't see the tiny charms or little tiara. I understand professionals and a lot of juniors wanting to turn this into a career for themselves wanting to stay traditional, but, when this is your hobby, how could you not want to have fun with it? We spend a lot of time and money, blood, sweat and tears for this sport, I just think we should be able to have fun with it!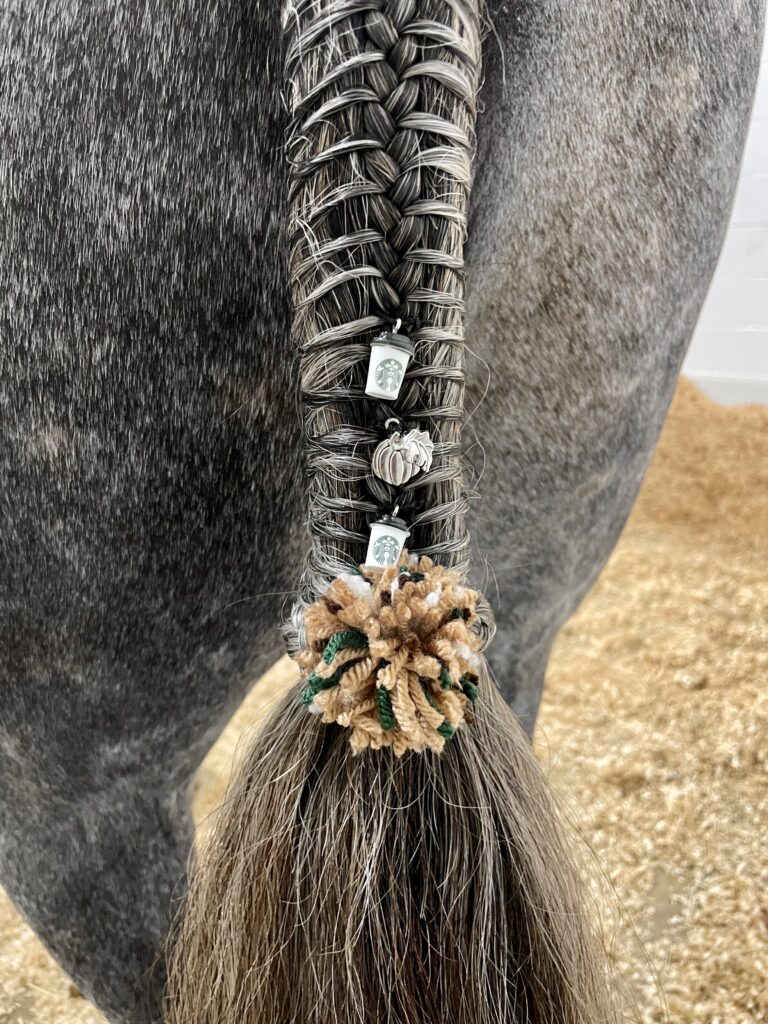 WEC: Tell us about your experiences at World Equestrian Center.
I think all of the horses are happy here. Freddie always self-loads onto the trailer but when he's here he refuses to go home.
There are so many amazing things. The air-conditioned indoors in the summer are wonderful. Everything is just so beautiful. I really feel like this place was made for me to come horse show and enjoy.
When I have to hop on a work meeting in the middle of the day, I can go up to one of the [Mezzanine suites] to take a call. Most horse shows you have to pay $1,500 or more to be considered a 'VIP' for a private place to work, if they even offer that at all. But here, I can be anywhere, and I always feel welcomed, which doesn't happen often at horse shows.
I also like the tiny details that go into things. There was so much thought and stuff that went into building this place that didn't need to happen to make this a good show, but it did.
You can't take a bad picture here no matter what ring you're in. Everything has a stunning backdrop. They move classes around. During the Winter they put the High Child/Adult Jumpers in the Stadium which I thought was great. I have a young horse that I don't want to move up too fast, so to be able to jump that height in an arena like that is incredible.
I think showing here is a special experience for everyone, whether you're doing the grand prix or short stirrup. The ribbons are beautiful, the award presentations are always nice, and the prizes are so nice and useful. I would be so happy to never get a generic mug from a horse show ever again. It's a lot of care that went into every aspect of it, and I am so grateful that it was built for our sport.
Thank you, Anna for taking the time to chat with us! We can't wait to see what braids Freddie sports next time he's in the ring!