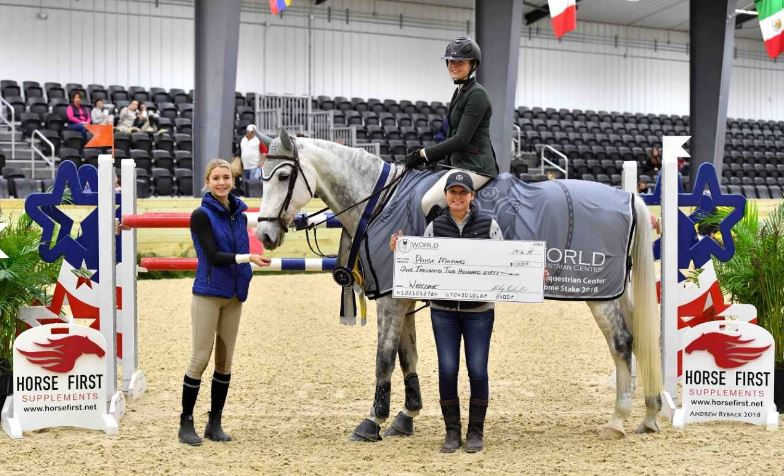 Tonight's $5,000 Welcome Stake 1.35 m was a true test of accuracy for the for the 20 entries that contested the course designed by Bobby Murphy of Lexington, Kentucky. The course consisted of three doubles, several inside turn options and a galloping line as the final two fences. In the first round, a vertical to an oxer across the short side of the ring caught out several pairs, resulting in four-faulters who pulled a rail at either fence. Riding the rail to approach the vertical proved to be the most successful route to the line rather than attempting the shorter track to spare time. The first rider to discover this was 17 year old Paige Matthies, who recently earned a thrid place finish at the prestogious Maclay Finals. She was aboard Dirkie Z, one of her two mounts in the class, owned by Barbara Smith. Matthies was quick to see her well-planned approach to the fence pay off delivering a smooth fault free first round. Matthies and Dirkie Z were the first pair to jump a clear first round this evening, finishing in 76.811 seconds, well under the time allowed of 79 seconds. The pair went straight into the jump off of the Table II class, jumping a second, impressively precise, clear round in 43.416 seconds. Matthies and Dirkie Z proved unbeatable, holding their lead throughout the entire class for the win.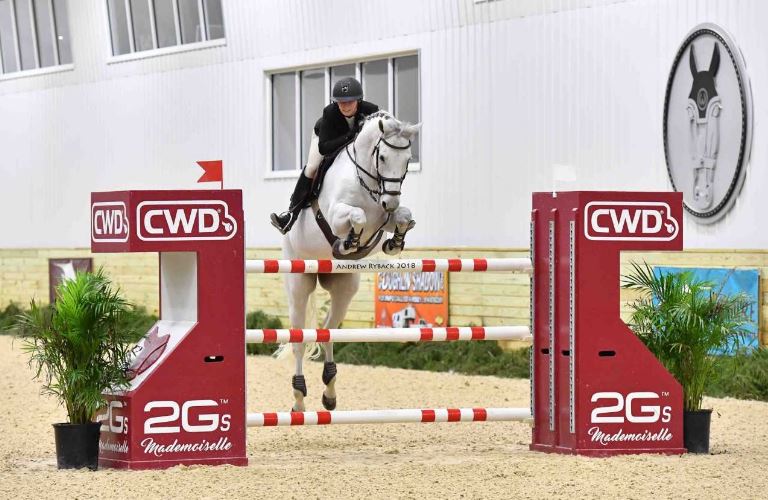 Hot on Matthies' trail was Julia Curtis and her own Cornet's Gold 2, who took third place in last week's $5,000 WEC Welcome Stake 1.35 m. The pair delivered two extremely accurate rounds, riding the same track as Matthies to the vertical that caught many riders out. Curtis and Cornet's Gold 2 went clear and inside the time to stop the clock at 75.234 seconds, then followed up with a clear jump off in 44.385 seconds. Next in the ring was Sarah Meier and her own Chanel, who were the fastest pair in both the first round and the jump off. Meier and Chanel jumped a clear first round in 68.628 seconds, a full 10 seconds under the time allowed. The pair continued to the jump off, crossing the timer at 40.928 seconds, but had two unfortunate rails. Their speedy time and clear first round were still enough to land the duo in sixth place.
While Matthies proved her talent in her first ride with Dirkie Z, she didn't stop there. She rode another foot perfect round on her second mount, Climbus, also owned by Barbara Smith. After a definitively clear first round time of 75.423 seconds, they continued to the jump off, stopping the timers at 45.307 seconds, and jumping straight to third place.
Matthies is no stranger to the Winner's Circle at WEC. She earned a similar 1 – 2 finish at the $25,000 WEC Spring Classic Grand Prix in April 2018, delivering the only two double clears to secure first place on Dirkie Z and second on Climbus.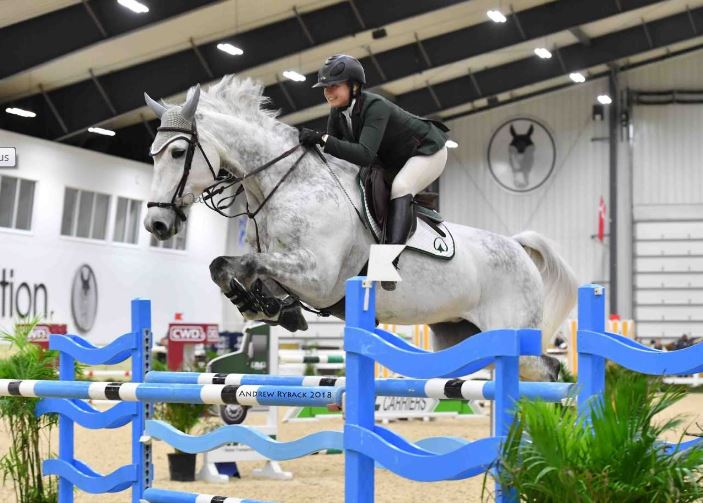 We caught up with Paige Matthies after the class to chat about her first and third place finishes tonight. "I haven't shown [Dirkie Z or Climbus] since Finals, so this is their first time back in the show ring and I was really just looking for good, consistent rides on them," Matthies stated. Earlier this season, Matthies Showed both Dirkie Z and Climbus at the Washington International Horse Show and the Kentucky National Horse Show in the High Juniors and ribboned on both horses at both shows. Matthies and Dirkie Z also competed in the Prix des States at Harrisburg and placed eighth. Matthies is from Lake Leelanau, Michigan, and trains at North Pine Farm in Maple City, Michigan with Melissa Hirt and Gabriel Rodriguez. Nancy Whitehead also assists Matthies in the Jumpers, and Ken and Emily Smith help her in the Equitation.
As for her horses, Matthies states that she started riding Dirkie Z, a 13 year old bay Zangersheide gelding (Dutch Capitol x Brioche V/H Gehucht Z), during Week 10 of WEF last year and Climbus, a 12 year old Holsteiner gelding (Cartani x Santa Fe). Both horses are owned by Matthies' grandmother, Barbara Smith. "They both have very big personalities. They're very unique horses on the ground, and they definitely have their ways of going that works for them. That's what I love about them," Matthies says about her mounts tonight. As they are headed to Winter Equestrian Festival for the winter, Matthies is setting her goals for herself and her horses high. "I'm looking to step more up into Prix this year," says Matthies, "But I also want to qualify for Finals in the Highs, so it's kind of a balance of what I can do." With stellar technique like hers, Matthies is poised to accomplish any goal she sets forth. While incredibly grateful for both of her horses' performances tonight, Matthies would also like to extend her thanks to her family, as well as Chagrin Saddlery. "Chagrin Saddlery has always helped me out a lot with outfitting my horses and making sure that everything's easy and accessible," Matthies explains. Matthies would also like to extend a huge thank you to all of her trainers.
$5,000 Welcome Stake 1.35 m Results
Dirkie Z, Paige Matthies – 0 | 43.416
Cornet's Gold, Julia Curtis – 0 | 44.385
Climbus, Paige Matthies – 0 | 45.307
Caphur, Taylor Kain – 4 | 42.797
United M, Robert Mendoza – 4 | 45.019
Chanel, Sarah Meier – 8 | 40.928
Warinde B, Lauren Hester – 4 | 69.682
Barbara, Nick Edmunds – 4 | 71.466
My Pride Z, Gabriel Rodrigues – 4 | 72. 385
Gipsy 1134, Taylor Kain – 4 |72.425
Photos courtesy of Andrew Ryback Photography.