The uniqueness of the World Equestrian Center is unparalleled, and this is reflected in every aspect of the show grounds, including the various vendors that grace the halls of the R+L Arena and the shops in Vendor Village. The Apothecary is one particularly exceptional example, tucked away in the corner of the Vendor Village. The Apothecary is owned and run by veterinarians Dr. Holly Helbig and Dr. Bryan McNabb, both familiar faces across the Southern Ohio region and at World Equestrian Center.
The Apothecary offers a vast array services including Microchipping. As of December 1, 2018, all horses competing in a USEF event must have a microchip. Both Dr. Helbig and Dr. McNabb are able to provide on-site microshipping services at the World Equestrian Center. Along with microchipping, The Apothecary offers services like pre-purchase exams, lameness exams, digital radiographs, ultrasonography, shockwave treatment and emergency care.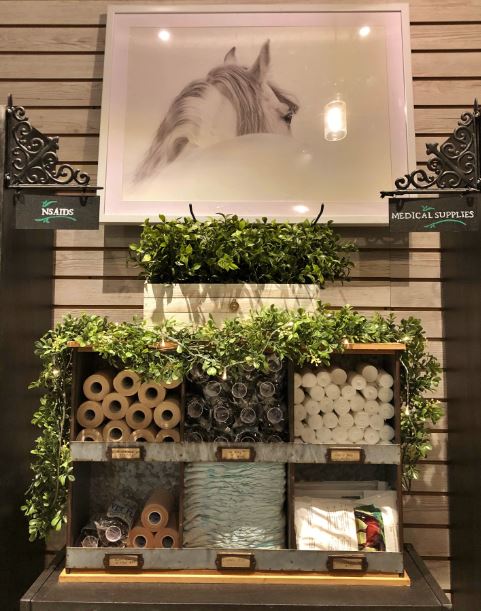 "What makes us unique is that we're owned and operated by veterinarians, so people can come in and ask questions about different medications and we're here to help answer questions, rather than somebody writing a prescription and the horse's owner receiving it at a different location," says Dr. Holly Helbig of The Apothecary.
When it comes to products, The Apothecary offers everything, both prescription and non-prescription, needed for the horse, small animal and even human. For equines, medical supplies are abundant. "We offer the basics, the most standard products that are out there, but we also offer a lot of alternatives and we're hoping to provide a lot more of those types of medications as we expand," Dr. Helbig explains. Of the medications that The Apothecary carries, Dr. Helbig says that the most popular products are NSAIDs, or nonsteroidal anti-inflammatory drugs. She also comments that gastrointestinal products are extremely popular, particularly Omeprazole plus Sucralfate compounded paste, which works for the foregut and the hind gut and is very easy to use and provides great results, according to Dr. Helbig.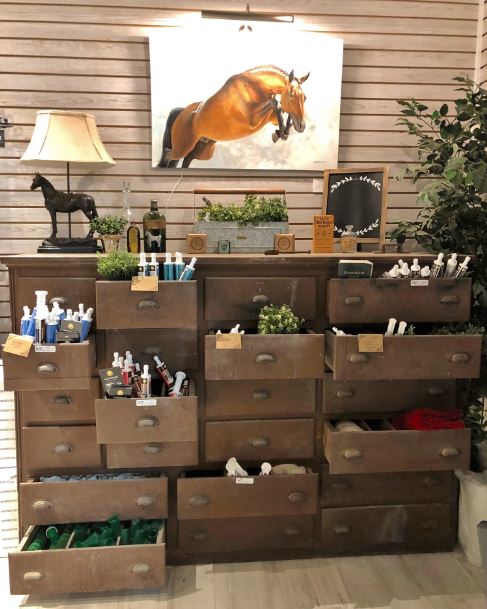 The Apothecary carries a variety of items from Perfect Products, a specialized and dynamic nutraceutical company dedicated to the comfort, well-being and performance of top equine athletes. With a growing need for nutraceuticals in horse show industries, Perfect Products seeks to provide a safe and effective product that contains no prohibited substances (determined by equestrian governing bodies). Perfect Products offers products for calming, performance support, digestive support, joint support, hoof repair, allergy and immune support and tendon and ligament repair. Dr. Helbig says that the products made by Perfect Products are big sellers in The Apothecary.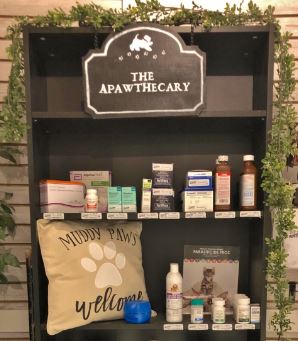 While The Apothecary's main focus is on equine health and wellness, the store also offers services for small animals. Small animal vaccinations and heart worm testing are available on site at The Apothecary at the World Equestrian Center. The Apothecary carries antibiotics, gastrointestinal-type products, shampoo and flea and tick medication and other products for small animals.
The Apothecary even carries a few products for humans! While no human prescription medications are available, The Apothecary offers a selection of over-the-counter medications and products to keep us all in the best possible condition, which is imperative for showing horses.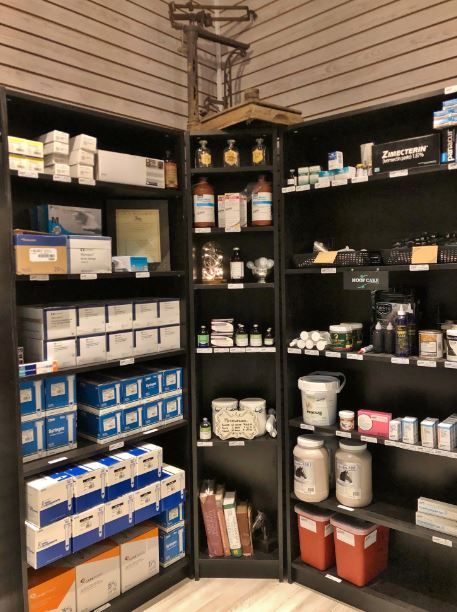 What's next for The Apothecary? We've got the inside scoop. While the location at the World Equestrian Center is The Apothecary's first location, Dr. Helbig hinted on plans of expanding to multiple locations. Along with expanding locations, Dr. Helbig hopes to expand on the offerings of alternative therapies. With today's society placing a heavy emphasis on taking a more natural route to healing, Dr. Helbig feels it is important to look into and provide these options for her and Dr. McNabb's customers. While The Apothecary has already taken convenience to the next level by bringing the pharmacy to the client, offering next-day delivery services and allowing clients to open accounts and keep cards on file for easy purchase, Dr. Helbig wants to take it a step further. In the future, existing clients will be able to order medications online with delivery to their home or barn, adding yet another level of convenience for her and Dr. McNabb's clients.
About World Equestrian Center:
Located in Wilmington, Ohio, the World Equestrian Center features more than 200,000 square feet of climate-controlled riding space, making it one of the largest indoor/outdoor equestrian sport venues in the world. The state of the art facility features premium footing, permanent stabling and onsite accommodations as well as more than 26 weeks of USEF rated Hunter / Jumper competition.
Dedicated to offering great sport and good fun in a family friendly environment, the World Equestrian Center promises their exhibitors an experience built on three core values: Quality. Class. Distinction.
In 2021, the World Equestrian Center will debut a brand new location, providing world-class equestrian competition and equestrian-inspired country club living, all adjacent to the fabulous Golden Ocala Golf & Equestrian Club in Ocala, Florida.
Connect with the World Equestrian Center on Social Media: