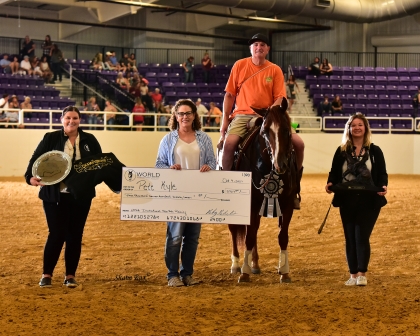 The World Equestrian Center – Ocala hosted another thrilling night of competition as ten stunning horse and rider combination took to the new western Arena 5 to contest the Open Freestyle Reining class. Each exhibitor dressed to match their song of choice. Tonight, we saw a variety of costumes such as a bride, lion and an alien. Each pair delivered impeccable rounds that made the crowd go wild, but it was Pete Kyle from Amarillo, Texas and his own KR Smart Dreamer that danced their way to first place.
Kyle and KR Smart Dreamer were ready to go fishing and hunting in their attire tonight. The pair performed their freestyle to Brad Paisley's "I'm Still a Guy." Kyle and KR Smart Dreamer danced to the song delivering amazing slides, stops and spins, making the crowd cheer.
Kyle was specific with his maneuvers, "KR Smart Dreamer is only five years old but very broke. I tried to do the maneuvers to his strength then goof around with the crowd when I could. My favorite part about Freestyle is the engagement with the crowds. Having a large crowd is one of the big components in Freestyle reining and the crowd tonight was amazing. I was really impressed that there was a full house and they seemed to know what was good and bad based on their cheering,"
This was not Kyle's first time winning a Freestyle, "I have been competing in Freestyles for a very long time. I think I won my first one in 95' and I have been blessed enough to have won Freestyles from all over the country, but I have to admit this is the best facility I have ever been to. It is like Disney World but with horses," expressed Kyle.
Congratulations to all of the exhibitors on amazing rounds tonight!