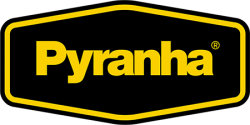 FOR IMMEDIATE RELEASE
 Houston, Texas – December 5, 2017 – Pyranha® a world leader in innovative equestrian products and insecticides, announced today their 2018 sponsorship of the premier event facilities the World Equestrian Center®.
We're thrilled to be participating with, and being a sponsor of the World Equestrian Center® to not only promote the Pyranha® brand to their full calendar of premier equestrian events, but also to showcase many of the new, innovative products Pyranha ®has introduced in the last year, said Ron Traina, Pyranha's President and CEO. Exhibitors at both the World Equestrian Center in Ohio and Florida will benefit learning about Pyranha's latest insect control and grooming options.
This sponsorship forges a relationship between two equine-minded entities focused on providing exhibitors with the ultimate horse showing experience; animals groomed to perfection, unparalleled insect control within two state-of-art equestrian facilities.
About Pyranha Inc – Pyranha® a household name in insecticides for the equine, livestock and pet market offers a variety of products to take grooming to the next level, including; Pyrethrin Shampoo, Detangler, Equine Roll-on, Grooming Gloves, along with fly sheets and masks, in addition to their traditional line up of top-of-the line fly sprays.
About World Equestrian Center – Driven by a passion for horses and a commitment to supporting equestrian sports in the United States, the World Equestrian Center aims to return horse showing to its former grandeur while incorporating an element of fun, reminiscent of the horse shows of the past. The WEC Wilmington, Ohio venue hosts 26 weeks of 'AA' rated horse shows including the popular Winter Series of the Midwest. The World Equestrian Center Ocala facility is currently under construction. For more information please visit: www.wec.net
For More Information Contact:
Olana McDonald
National Communications Director
Omcdonald@pyranhainc.com
352.682.4546
Company Contact:
Pyranha, Inc.
6602 Cunningham Rd, Houston, Texas 77041.
Toll free 1.800.231.2966
Press Release Prepared by:
Silver Buckle Services