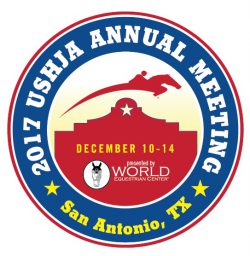 The USHJA is pleased to announce World Equestrian Center as the presenting sponsor of the 2018 USHJA Annual Meeting in Tampa, Florida, and the 2017 USHJA Annual Meeting, which takes place Sunday, Dec. 9, to Thursday, Dec. 14, at the Hyatt Regency San Antonio Riverwalk in San Antonio, Texas.
"We are pleased to have World Equestrian Center join as the presenting sponsor of our 2017 and 2018 Annual Meeting," said Kevin Price, USHJA executive director. "We're looking forward to great discussion and education with an exciting agenda in place for this year."
Each year approximately 300 members attend the USHJA Annual Meeting. This year's meeting will feature keynote speaker Lisa Roskens of the Omaha Equestrian Foundation, educational sessions, rule change proposal forums, and the chance for members to connect with their peers, meet with Association leadership, and celebrate the accomplishments of their fellow equestrians.
The meeting kicks off with USHJA Zones committees and USHJA Affiliates gathering on the first day to discuss ways to serve the USHJA membership based on their geographical needs. Throughout the Annual Meeting, USHJA committees and the Board of Directors will discuss plans for enhancing the sport, including considering Rule Change Proposals that aim to create new opportunities, support horse and rider wellbeing, encourage fairness, and overall benefit the sport and those in it.
Tuesday night will feature USHJA's premier awards ceremony, USHJA Evening of Equestrians, sponsored by USHJA Zone 7, which will be followed by the Awards Dinner After-Party, sponsored by Parlanti. The evening will feature a formal sit-down dinner and presentations honoring some of the most influential equestrians in our industry. USHJA will recognize the USHJA Nominee for the USEF Youth Sportsman's Award and recipients of the USHJA Youth Leadership Award, Dash for Cash Award, Mrs. A.C. Randolph Owner's Legacy Award, Vital Horse Show Staff Award, Amateur Sportsmanship Award, Jane Marshall Dillon Award, Presentation of Director Emeritus, President's Distinguished Service Awards, Volunteer of Year Award and culminate with the recipients of the Lifetime Achievement Award.
For more information about the USHJA Annual Meeting, visit ushja.org/AnnualMeeting. The 2018 USHJA Annual Meeting, presented by World Equestrian Center, will take place at the Hilton Tampa Downtown in Tampa, Florida, Dec. 9-13, 2018.
About World Equestrian Center
The World Equestrian Center is family-owned, professionally-operated featuring 600 permanent stalls as well as 200,000 sq. ft. of indoor, climate-controlled schooling, and competition arenas with grandstand seating in Wilmington, Ohio. Designed to offer the ultimate equestrian competition experience for both horse and rider, the facility hosts 26 weeks of 'AA' Hunter / Jumper horse shows.  For more information, visit www.WEC.net.