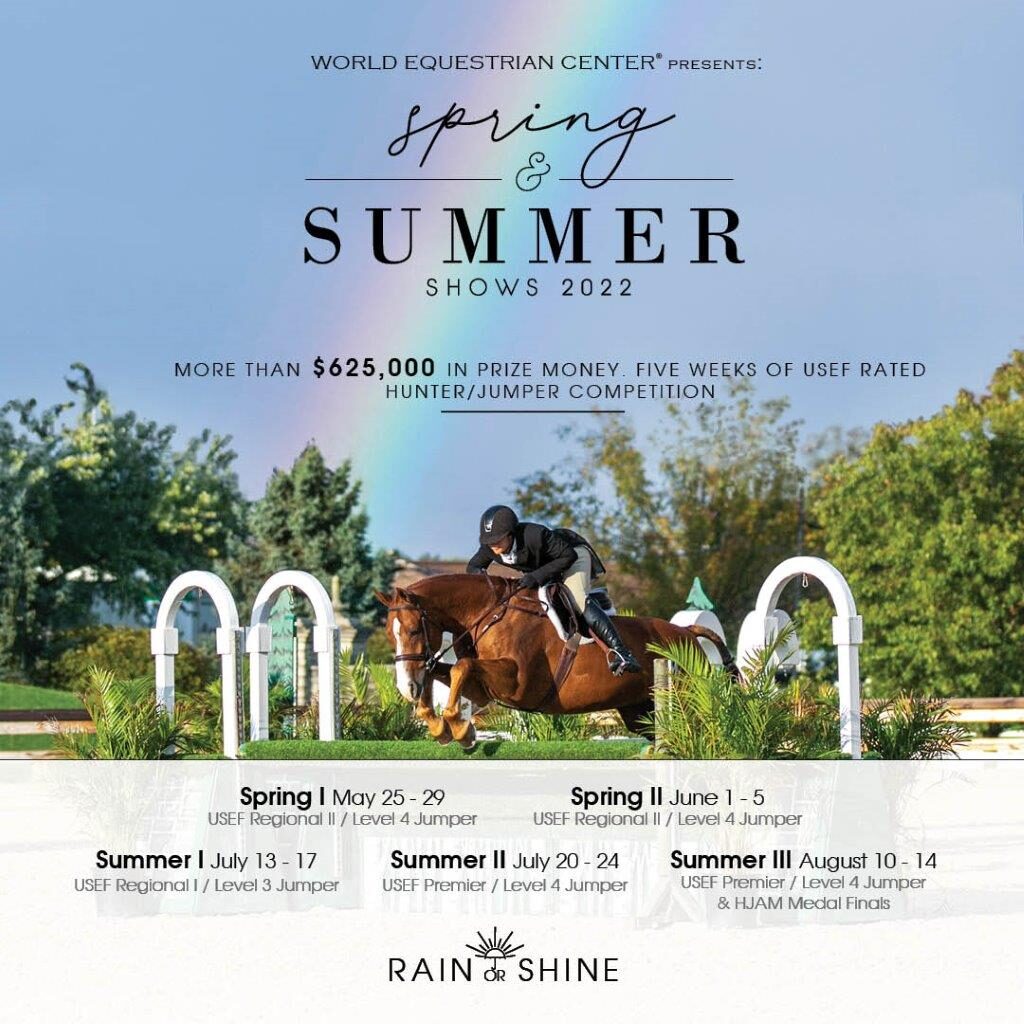 For Immediate Release
Stall Reservations Now Open for World Equestrian Center – Wilmington Spring/Summer Horse Show Series
WILMINGTON, Ohio – March 15, 2022 – Stall reservations are now open for World Equestrian Center – Wilmington Spring/Summer horse shows featuring five weeks of USEF rated hunter/jumper competition and more than $625,000 in prize money. Stalls can be reserved on horseshowing.com. The World Equestrian Center – Wilmington 2022 Spring/Summer shows include the following dates and ratings:
Spring 1 USEF "Regional 2 (C)" Level 4 May 25-29
Spring 2 USEF "Regional 2 (C)" Level 4 June 1-5
Summer 1 USEF "Regional 1 (B)" Level 3 July 13-17
Summer 2 USEF Premier Level 4 July 20-24
Summer 3 USEF Premier Level 4 & HJAM Medal Finals Aug 10-14
Summer 3 is hosted in conjunction with the Hunter Jumper Association of Michigan Medal Finals – featuring 7 medal finals classes.
Jumper highlights Summer 1 include:
$25,000 Grand Prix
$5,000 Welcome Stake
$4,999 Futures Prix
Jumper highlights all other weeks include:
$30,000 Grand Prix
$10,000 Welcome Stake
$10,000 Futures Prix
Hunter Derby highlights include:
$3,500 WEC 2'6" Non Pro Derby
$10,000 WEC 3' Derby Open
$10,000 WEC 3' Derby Non Pro
$2,500 WEC Pony/Children's Pony Hunter Derby
Expect a summer full of fun with great activities for the whole family: live music, bounce houses, water features and added 'fun' classes!
Lodging at World Equestrian Center – Wilmington

Guests are advised to make lodging reservations at their earliest convenience to ensure they secure accommodations close to the showgrounds. Reservations can be made at wec.net or by calling 937.382.0985 ext. 3
World Equestrian Center – Wilmington has myriad on-site lodging options for guests:
The Wilbur Estate – The Wilbur Estate is a stunning, plantation-style mansion with five elegant luxury suites. Accommodations are centrally located on the horse showgrounds, just steps from arenas, stabling and the Paddock Club. Free Wi-Fi and VIP parking are included in your stay at The Wilbur Estate.
Cabins – Each of our cabins sleeps up to six guests and is within walking distance from our arenas and barns. Two of our cabins are handicap accessible. Free Wi-Fi included.
Home Away from Home Park – Directly across the street from our horse show entrance, our 130 Home Away from Home units have two or three bedrooms with a fully equipped kitchen and living and dining room area. Free Wi-Fi included.
Camping Sites – World Equestrian Center has many camping sites equipped with electric, water and sewer for $225 per week (or any portion thereof), you must reserve these on your entry form or stall reservation form. Please check in at the horse show office for a pass prior to parking your RV.
About World Equestrian Center

World Equestrian Center features two premiere equestrian and multidisciplinary venues in Ocala, Florida, and Wilmington, Ohio.
These exclusive facilities comprise state-of-the-art arenas, expansive stadiums, versatile outdoor space, sporting fields and well-appointed exposition centers. An abundance of lodging options and luxury accommodations are conveniently located on-site, along with shopping and dining throughout each property.
Dedicated to offering great sport and fun in a family-friendly environment, World Equestrian Center promises an unparalleled experience for exhibitors, spectators, vendors, sponsors and retailers built on three core values: Quality. Class. Distinction.
Learn more at wec.net.
Media Contact
Candace FitzGerald
candace.fitzgerald@wec.net