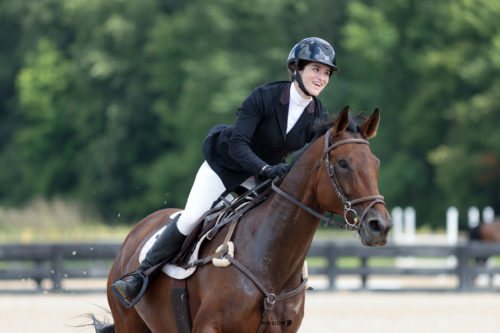 This week's Sunday Spotlight lands on 27-year-old electrical engineer and budding amateur rider Alexa Lee. Alexa caught our eye on Instagram when she tagged us in a post of herself smiling ear to ear, leading her horse back to the ingate of the Sanctuary Arena with the caption, "Even when you fall you gotta keep smiling because you still won the class." Alexa took the time this week to tell us the story behind the photo, as well as the story behind her determined mare who has overcome every obstacle in her path to become a multiple-time winner of the coveted USEF Horse of the Year award.
WEC: How did you get into riding?
Alexa: My poor father…I was turning 4 years old and he took me to a dude ranch in Colorado. I was terrified when we first got there, but by the end I was begging for a pony. My dad hadn't intended on that happening.
I'm originally from Virginia, so I showed around there for most of my early riding days. I went to VHSA Finals one year and ended up placing 9th in the equitation. I liked the hunters, but I didn't like the politics behind it. I didn't own a horse or have all of the up-to-date fashionable show clothing, so that made it hard. I eventually switched to jumpers.
The jumpers were scary at first, but then I got a horse named Rose. I bought her right out of college. She was the first horse I owned. I couldn't afford my own horse until that point. My dad always told me to get a good job if I wanted to have horses, so I'm an electrical engineer. I design and build power systems for ABB, and moved to the Columbus area for that. Rose and I did the Low Child/Adult Jumpers together, which helped to build my confidence.
WEC: Tell us about the horse you have now.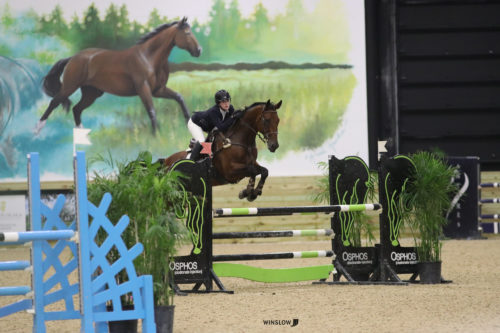 Alexa: Her name is Satin and she's an Off-The-Track Thoroughbred. She came from Sugarcreek Auction. She was going to be sent to slaughter. A kill buyer was bidding for her, but another lady ended up buying her. Unfortunately, the lady that purchased her wasn't nice to her. She was extremely head shy and nervous when I got her.
Now she's such a lover. She loves rubbing her face on people and getting loved on. She has a heart of gold and will jump anything you put in front of her. She never stops and is always game. She's everything to me. I would do anything in the world for her.
We had some issues when we first started doing the High Child/Adult Jumpers, so we started training with Angela Moore and that changed everything for us. Satin is at Buckeye Equine Services, so Angela comes to us there. We are now competing successfully in the Highs. Angela has given us the confidence we needed. Even when we make some mistakes, she always points out the positives.
WEC: What are some of your accomplishments together?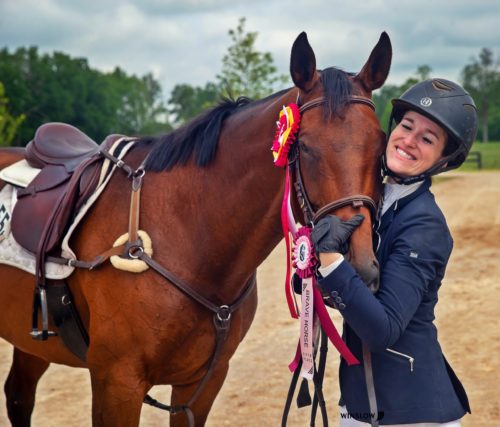 She's been OHJA Champion in the Low Child/Adults, OHJA Reserve Champion in the High Adult Jumpers, USEF Horse of the Year in 2018 and 2019 for the Thoroughbred Jumpers, and is on track to win the title this year as well. She has also placed 9th and 10th in USEF for the High Adults. She recently won a classic a Brave Horse and has placed first and second in countless classes at World Equestrian Center. She's won the New Vocations Kentucky All-Thoroughbred Charity Horse Show $5,000 Classic the first time she went there, and was Reserve Champion in the High Adults. She's also been featured in the Paulick Report and Sidelines Magazine. She's becoming this amazing horse that I never dreamed I would have.
WEC: Whats the story behind your "falling off and still winning" post on Instagram?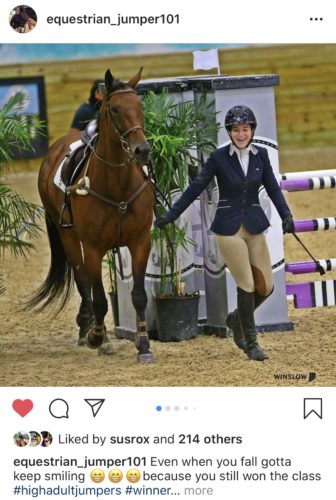 Alexa: It was hilarious. We were flying around that round and we took the last jump, then couldn't decide if we should turn left or right. She went right and I went left, but while I was falling off I noticed that I had passed the timers. I jumped up, looked up to the judges' booth and yelled that I had passed the timers. Satin was just staring at me and I couldn't stop laughing. Since we crossed the timers, we still won the class!
WEC: What are your riding goals?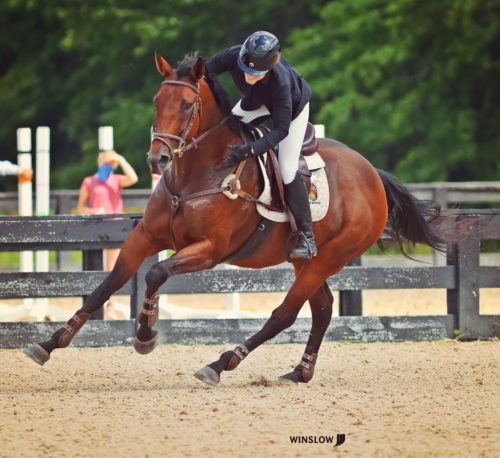 Alexa: I would love to do the Low Junior/Amateur Jumpers and one day do a Futures Prix. Satin has taught me so much and we've come so far, so I think that we could achieve that. She's really built my confidence.She's made me the rider that I am today. There's always room for improvement, but we've come really far.
WEC: What is something you're passionate about?
Alexa: I was always scared of being judged for not being a perfect rider when I showed, which gave me a lot of anxiety. Satin's confidence has really helped with that because it's rubbed off on me. However, there are so many riders that can relate to that anxiety. There's a lot of pressure on everyone to be the best. What happened to having fun? When I was a kid I would hop on a horse and do anything and have fun with my friends. I feel like, as you get older, it becomes hyper-competitive and it's all about the ribbons. I want to be the person who says, "It's going to be okay, just go and have fun." I want to be the one encouraging riders to be silly and have fun with it. People are going to talk whether you're good or bad. If you're a positive person and always the one to tell everyone that they did a good job, it makes showing just that much more of an enjoyable experience.
Thank you for sharing your story with us, Alexa. We'll see you at WEC again soon!