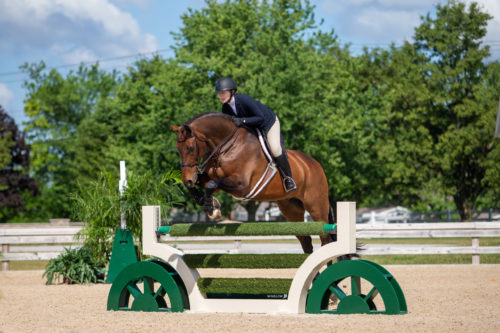 This week's Sunday Spotlight shines on junior Caroline Berg. Caroline has had an amazing year of riding. Despite the pandemic, Caroline and her handsome bay gelding Full Count, or Colt, have qualified for each of the finals that they had hoped for. Caroline took the time this week to chat with us about the upcoming finals, her love for Colt and her riding goals.
WEC: How did you get into riding?
Caroline: I was six years old when I started riding. I always wanted to ride, I was obsessed with horses when I was younger. When we moved to Michigan, I finally convinced my parents to let me ride. I was doing two lessons per month riding Tennessee Walkers. I did that until I was about 10 years old, then I wanted to switch over to the hunter/jumper world, and I've been doing that ever since.
WEC: Did you show when you were young?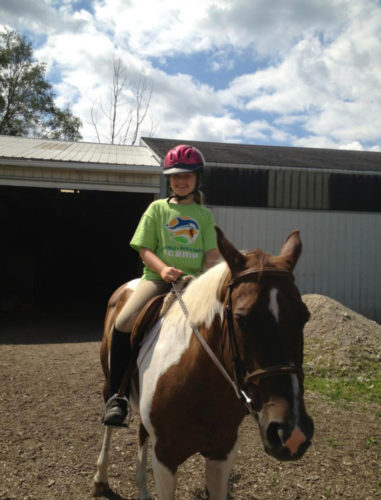 Caroline: When I was riding Tennessee Walkers we had little "fun shows", as they were called. They were really fun, and they were just within the barn. It gave everyone a chance to learn what a show looks like. When I moved into the hunter/jumper world I did some schooling shows and rode on the C circuit for a while. I did the Crossrails, the Beginners and the 2'6″ at that level. I started moving into the higher-level stuff when I turned 13.
WEC: Tell us about some of the horses that you've owned.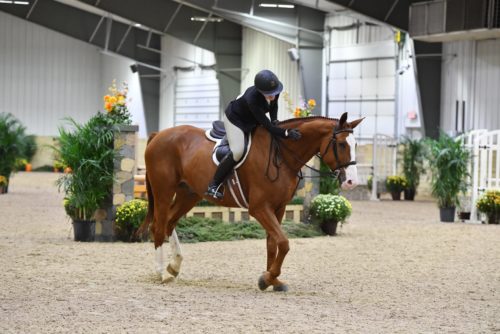 Caroline: I've had some of the coolest and some of the toughest horses in the world. My first lease horse was a horse named Frosty at Willowbrook Farm. He was fantastic. He was the coolest horse. I did the Beginners on him. Then I got my first horse, whose name was The Futurist, or Tino. He was this cute little Hanoverian. He gave me some attitude for the first couple of years that we had him, but he ended up being a fantastic horse. He took me up into the 3′. He was great, he taught me a lot. I was so grateful to be able to give him to a little Short Stirrup kid, so he gets to go and do the 2'6″.
After Tino, I got Mozzafiato, or Oakleigh. He was probably the most difficult horse I've ever had to ride, but the most rewarding horse I've had. He was very stubborn, but he was so great when he wanted to be. The shows we did at World Equestrian Center were some of the best shows for him. It's where we moved into the Junior Hunters.
WEC: What horse do you have now?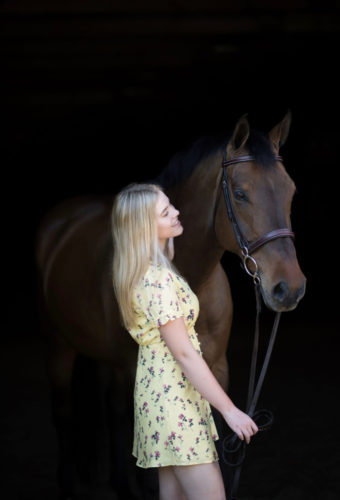 Caroline: I now lease a horse named Colt, or Full Count. He's the best horse in the world. He's fantastic. He took me into the Big Equitation and it's been loads of fun. He's qualified me for every medal final that we wanted to do.
My trainer always says that Colt is very stoic. I say that he will do everything you ask, but you have to ask him. He's been there, done that – he's been everywhere. It's so fun to do the big classes on a horse that knows what it's doing, especially coming off of the green horse that I had before him. He's a real sweetheart. He's super willing and he'll do anything you ask.
WEC: What are you qualified for this year?
Caroline: I qualified for the Hammel Foundation Medal Finals, the Maclay Regionals and the USHJA Jumping Seat Medal Finals. We're also planning on going to Capital Challenge. We're really excited that it's going to be held at World Equestrian Center. I also qualified for Gladstone, which we were planning on doing when it was in Kentucky, but once it got moved we decided not to. It's been a crazy year, but I've had crazy opportunities that I'm so grateful for. To be able to qualify for everything has been a dream.
WEC: How old are you? What year are you in school?
Caroline: I'm 17, but I'm showing as a 16-year-old this year, so I have one more year left as a junior. I'm going to be a senior in high school this year.
WEC: Do you want to ride in college?
Caroline: I'm really hoping to. I've been in touch with some coaches. It's been my dream since I moved into the hunter/jumper world to ride in college on a team. If I was able to do that, that would be amazing.
WEC: What's your dream school?
Caroline: For a while it was Southern Methodist University. I love their program. I love University of California, Davis. My dad is in California, so that school has a place in my heart. I think Baylor University would be really fun, as well. Those are probably my top three dream schools to ride at.
WEC: Do you have any hobbies outside of riding?
Caroline: I don't have time for much outside of riding, but I do some some volunteer work with my school when I have the chance.
WEC: What is a memorable show experience that you've had with Colt?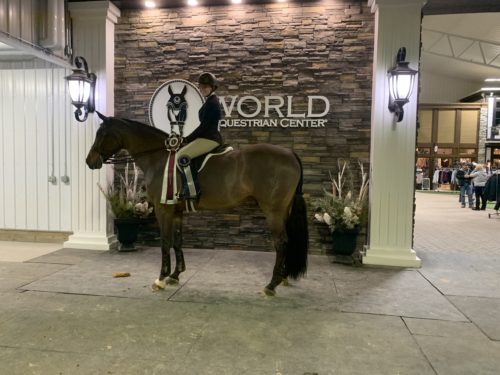 Caroline: That's a tough one. Every show that I've gone to with him has been so amazing and so much fun. Probably my favorite show was the last World Equestrian Center show that we went to. I started off not riding my best, but Colt took care of me. Once I got into the groove it was a great show. We won the THIS Medal, got second in the Maclay and third in the NHS. It was so much fun. We were on a roll. The courses that were set were super fun.
WEC: What are your riding goals?
Caroline: I would really love to eventually move into the jumpers. I've done the jumpers in the past and I absolutely love it. After I do the equitation, I would love to do that. I would like to do the USET at some point, too.
Caroline also added:
I've ridden at Fox Meadow Farm with Meg and Polly Howard for about a year and a half now. Meg and Polly have been amazing and have helped me through so much. I'm so grateful for all of the opportunities I've been given.
We can't wait to see you at WEC for the Capital Challenge, Caroline. Good luck!