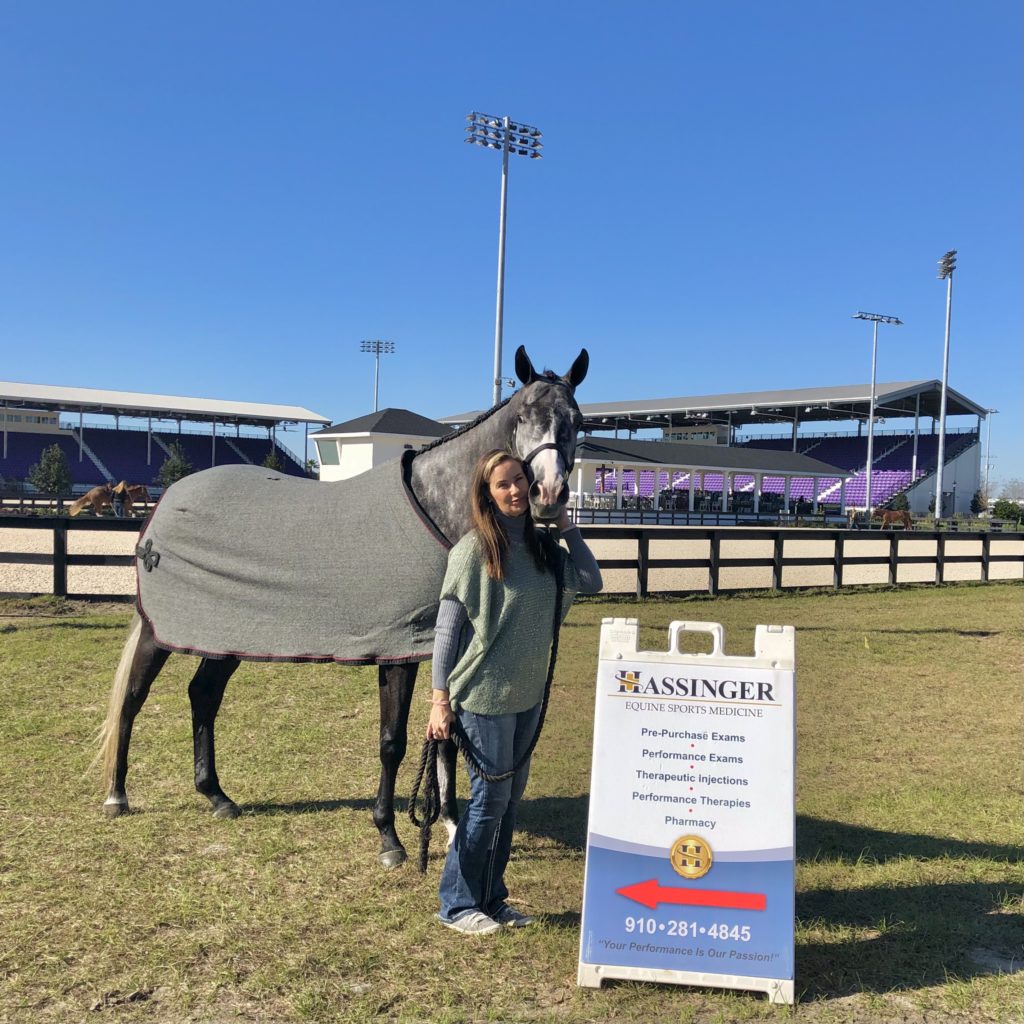 This week's Sunday Spotlight shines on multifaceted horsewoman Amy Hassinger. Not only is Amy the CEO of three widely recognizable industry brands including Hassinger Equine Spots Medicine & Rehabilitation, she also owns and shows her (self-proclaimed) "small collection" of horses in various disciplines. Amy was at World Equestrian Center – Ocala with Hassinger Equine Spots Medicine & Rehabilitation this week for the Tom Powers Triple Challenge Futurity and took time to chat with us about her businesses, her horses and her insight on the NSBA (National Snaffle Bit Association).
WEC: Tell us about yourself and your companies.
Amy: I am the president of Equine Healthcare International. We are a company that produces equine performance products that are pretty popular in the equestrian industry including POMMS earplugs, EQUI-Calm and Bit Butter. Many of the products have become staples in the industry. We created many our products for our own horses years ago in our veterinary hospital, Hassinger Equine Spots Medicine & Rehabilitation. We are located in Aberdeen, North Carolina and we have a 40-stall rehabilitation center and race track on site where we offer equine rehabilitation and sports medicine. Out of that facility, we have grown a few other entities such as our new company, Hassinger Biomedical, which is the fastest system in the work to produce a product for joint healing and health called APC, or Autologous Platelet Concentrate. That is something that we have been using in our hospital and it replaces cortisone injections.
I am the CEO of all three of our companies, Hassinger Equine Spots Medicine & Rehabilitation, Hassinger Biomedical and Equine Healthcare International, and when I'm not working, I ride. I have Quarter Horses that I like to breed, race and show. I also ride hunters and jumpers in USEF shows.
WEC: How did the Hassinger mobile hospital get its start?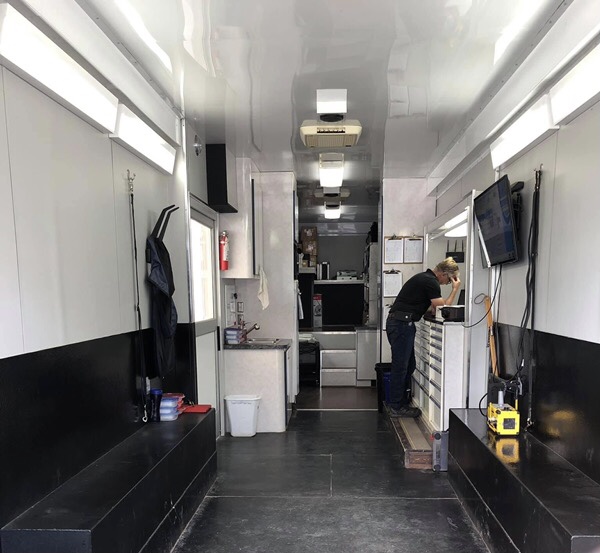 Amy: All of this got started very simply. We had a client about 15 years ago who was at a horse show and had a horse that was lame. The horse show happened to be about an hour away from us and the owner was very concerned about taking his horse a different veterinarian who might not know the horse as well as we did. He asked if we would be willing to come to the show and help him with his horse, and we did. In the process of being there, other competitors saw Dr. Hassinger's ability to diagnose and treat a very difficult situation while making ethical decisions for the horse and the owner. They began asking if he would be willing to help with their horses.
From there, competitors asked if Dr. Hassinger would be willing to come to the next horse show that they planned to attend. Dr. Hassinger and I began going to horse shows and caring for horses out of our veterinary truck, but we realized that the venues, unlike the venue here at World Equestrian Center, were not sanitary enough for medical procedures. That is when we started our mobile hospitals. The mobile hospitals are self-contained hospitals that the horses can walk right through. They are climate-controlled and sterile, and allows us a safe, clean environment for the treatment of the horses. We've gotten to know our clients and their horses very well as we travel from show to show with them, which allows us to provide a level of intimate care that typically wouldn't be found at the horse show.
WEC: What procedures can be done in the mobile hospital?
Amy: The hospital itself has a high capacity to provide services. The only thing we do not do is a lay-down surgery. We can deal with any medical cases including colic requiring a nasogastric intubation, palpating and reproduction. We are able to take direct digital images of the horses and our WiFi capabilities allow us to immediately send the images off to any veterinarian in the world for a consult. We can also do direct digital ultrasounds. We provide shockwave and laser therapy, any level of joint injection from nose to tail and chiropractic services. The mobile hospitals contain a pharmacy and a full lab, as well.
WEC: How did you get into riding?
Amy: I started riding as a child on my grandfather's cattle farm in Tennessee. Everyone in the family learned to ride to help with herding the cattle. In doing that, I developed a love and appreciation for horses and caring for them very early in life. When I wasn't on the farm and I was back home I still wanted to ride, so I enrolled in the local riding academy and learned how to ride horses more formally. Since they don't herd cattle in the city, the only thing to do was learn to show and compete. I started with western because I was most familiar with a western saddle. I loved seeing all of the young riders jumping, though, and was jealous. I wanted to learn to jump, so that is how I began. I opened my own facility as a professional when I was 19 years old.
WEC: Are you still a professional?
Amy: I was a professional for many years, but in the past 10 years I decided that I wanted to be an amateur again because I never had the chance to just slow down and enjoy the horses. I've been breeding, raising and competing horses as an amateur.
WEC: Tell us about your horses.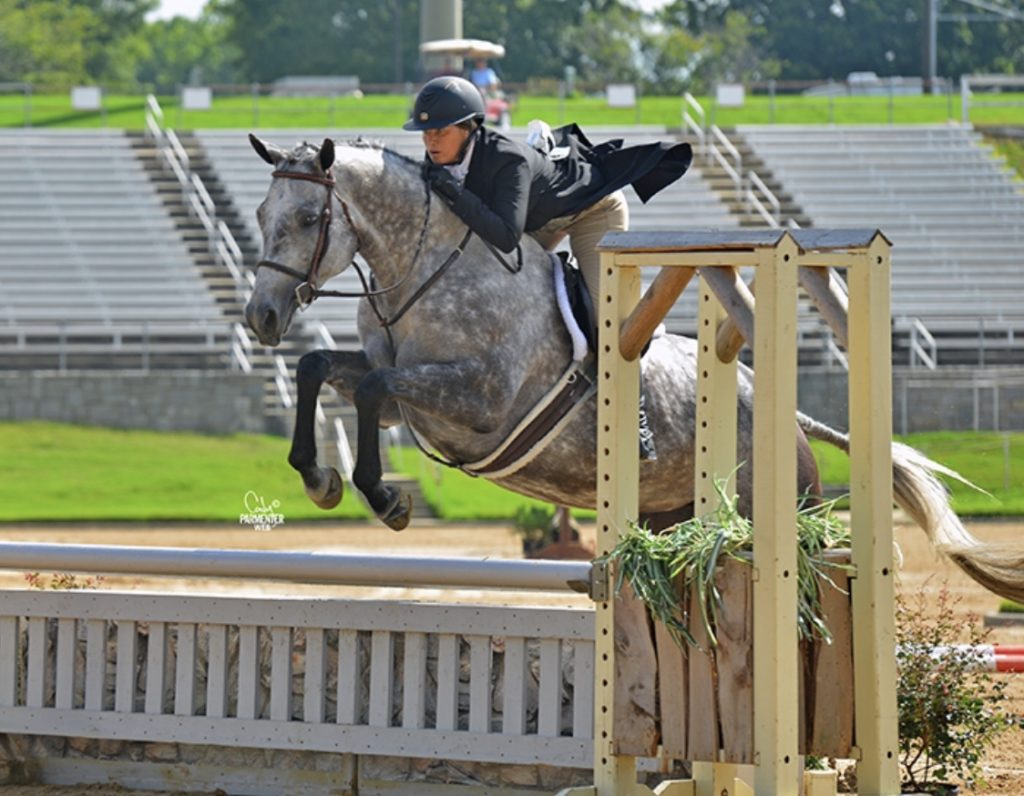 Amy: I have a small collection. I love them all so much. I have four Quarter Horses, currently: a weanling, a new up-and-coming yearling that will do the hunters, a 2-year-old western pleasure stallion and my main show horse, Truly Graceful, who is a 5-year-old that I compete with in the Quarter Horse shows. We actually just earned a World Champion title this year in the hunter hack. I do everything with her from driving, to jumping, to under saddle. I also have two Warmbloods: a baby green hunter and a pre green hunter who are full brothers, three years apart. All of our hunters are related, they are all by the same stallion.
I also have racehorses. We raise weanlings on our farm, then take them to the sale at Keeneland as yearlings. There is one very special racehorse that I became attached that we've decided to keep to named Carolina Dreamin. He is a 2-year-old and he'll start running formally next year.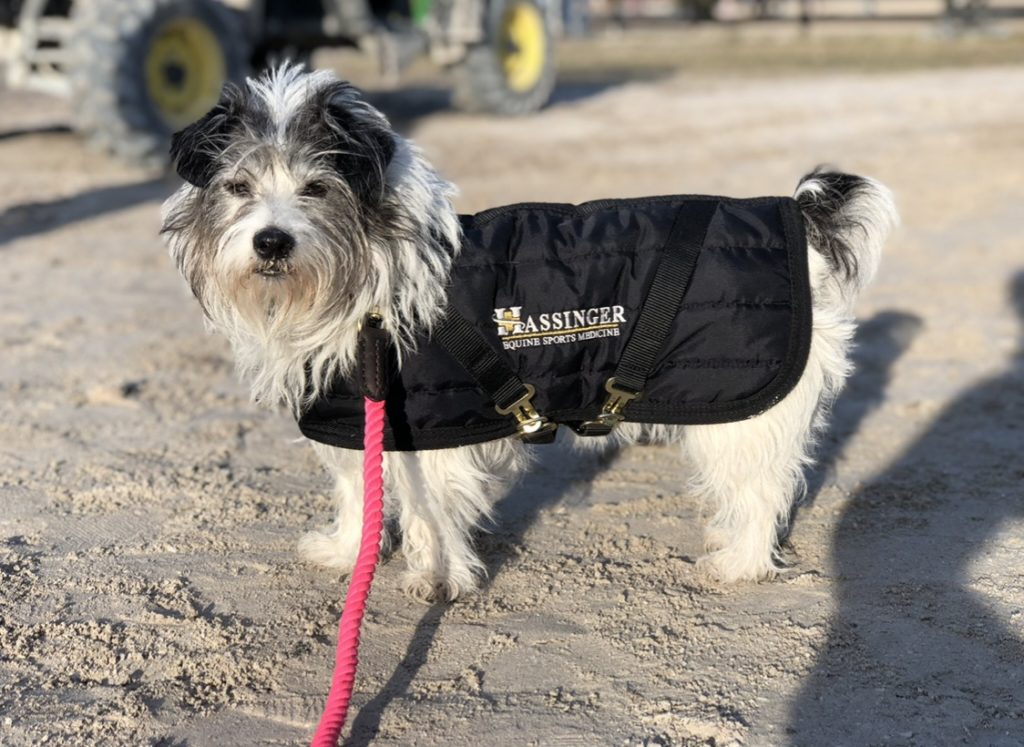 We also have a Jack Russel named Caroline, who is kind of the mascot of the hospital. She's the greeter when clients come into the hospital. She is also the first one at the hospital to notice if a horse isn't feeling well. She will lie in front of the stall to indicate that the horse isn't feeling well. She can sense it before any human notices. If there is a procedure at the clinic, she will scratch at the door to be let in, then go sit at the nose of the horse. She will also sit and watch them during recovery. She's very intuitive.
WEC: What can you tell us about NSBA?
Amy: I am the former Chairman of the NSBA Foundation. I am still very involved with the NSBA Foundation and board. We have five pillars that we support that we are excited to share with the hunter/jumper exhibitors at the upcoming World Equestrian Center shows including Heros on Horses, an equestrians with disabilities program, a scholarship program, an animal welfare program and a trainer's crisis fund.
I could not be more excited that NSBA is going to be the sanctioning body of the upcoming hunter/jumper shows at World Equestrian Center – Ocala. I would love for competitors to know that the NSBA board is incredibly excited and honored to be a part of these shows as the sanctioning body. NSBA has been around for 40 years. The board is comprised of industry professionals, amateurs, competitors and vendors. We even have juniors on the youth board. The board is all-inclusive and highlights people from every sector of our demographic, so when the board comes together to make decisions for the membership body, all opinions are heard. That is really the driving force behind the growth and success of the NSBA. The opportunity for inclusion of the various riders and breeds is only growing with the coupling of NSBA and World Equestrian Center. It's a home run for the industry. I'm excited to be a part of that and I will be back here to compete at the hunter/jumper shows in February and staying through the end of the circuit.
Thank you, Amy, for sharing your story. We will see you in February!