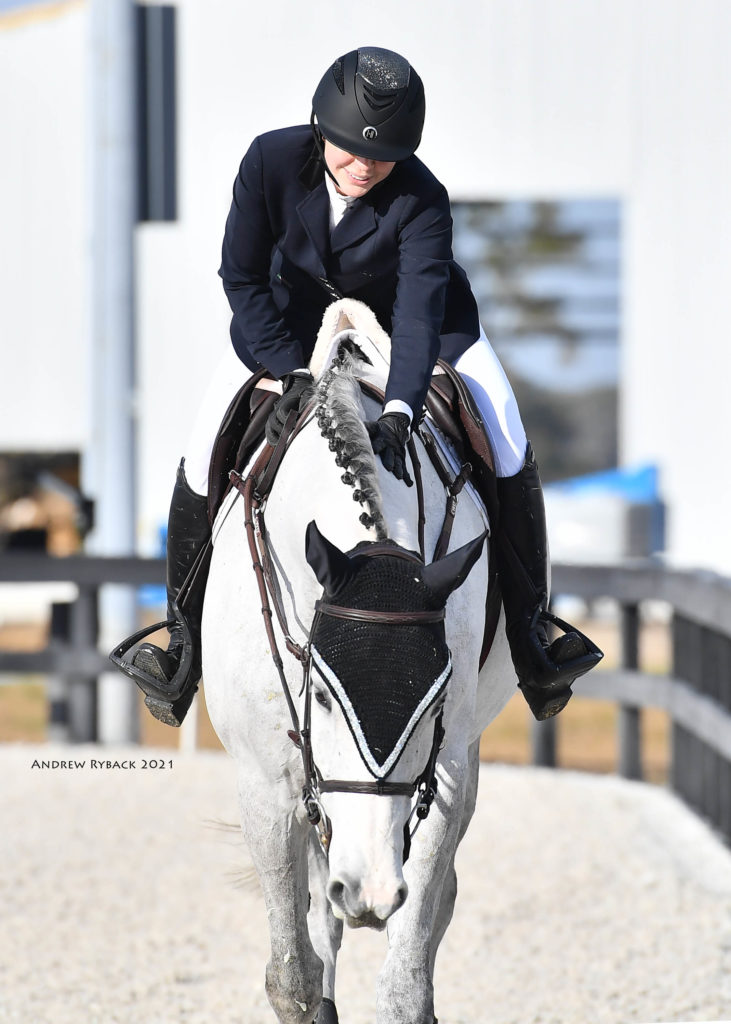 This week's Sunday Spotlight shines on multifaceted amateur Brandi Cyrus. Brandi keeps busy performing as a DJ, hosting podcasts and keeping up with her Style Native blog, but she always makes time for her number-one passion: horses. Brandi caught the riding bug at a young age, learning to ride from her father, Billy Ray Cyrus. She has dabbled in all corners of the equestrian industry, but has found an affinity for the jumpers. Brandi and her up-and-coming jumper, Starpower, made their way to World Equestrian Center — Ocala this week to show in the Adult Amateur jumpers and took the time to chat with us about her many ventures and her beloved "Star".
WEC: How did you get into riding?
Brandi: I have been riding horses since I was six years old. I was very fortunate that, when my dad got his record deal in the early 90s, he took his money and bought a ton of land in Tennessee, so I grew up on a horse farm. My dad put me on a horse and just said, "Have at it." It was a hold on and figure it out kind of thing and I spent almost every day riding on the property with him.
WEC: When did you start showing?
Brandi: I was driving my dad crazy wanting to ride so much at home that he sent me to horse camp. It was an English camp, so that's where I started jumping. I immediately became obsessed with it. I got a pony and started Pony Club, which was super fun. It introduced me to eventing and taught me a lot about how to take care of my horse. I learned everything from nutrition, to wrapping, to veterinary care and I'm so fortunate to have that background. We did our rallies at the Kentucky Horse Park and at a nice place in Tennessee. I evented through Preliminary level, but at that height the thought of the jumps not falling was a little scary. It was thrilling and fun, and I do miss it sometimes.
After that, I rode on my college's equestrian team for a year before the whole family moved out to California when my sister, Miley, got the gig in Hannah Montana.
WEC: How did you get into the jumpers?
Brandi: I have my youngest sister, Noah, to thank for getting me into showjumping. When we were out in California she wanted to learn how to ride. My mom took her to a trainer there and she began taking hunter/jumper lessons. I started going with her because I was knowledgeable about horses. The trainer offered for me to ride, which got me back into it.
Noah really leaned into the hunter side of things and started riding at Far West Farms with Jenny Karazissis. I started riding with Kost Karazissis and I had so much fun training with him. He's an amazing trainer and I learned so much from him. Noah and I showed on the West Coast circuit together for about 4 years. We weren't super close growing up because of the age gap, so showing really brought us together. We made such great memories.
We joke that my mom had a mid-life crisis and bought me a very nice pre-green hunter. I had zero experience riding hunters. It was an adventure and it was very fun. We competed up through the A/Os out on the West Coast and I liked the hunters, but the jumpers were more my style.
After that, I moved back to Tennessee, because I've always felt the most at home there, and started riding with Dani Grice at Hunters Court Stable. I've had a couple of horses between then and now, but the one I have now is the real deal.
WEC: Tell us about Starpower.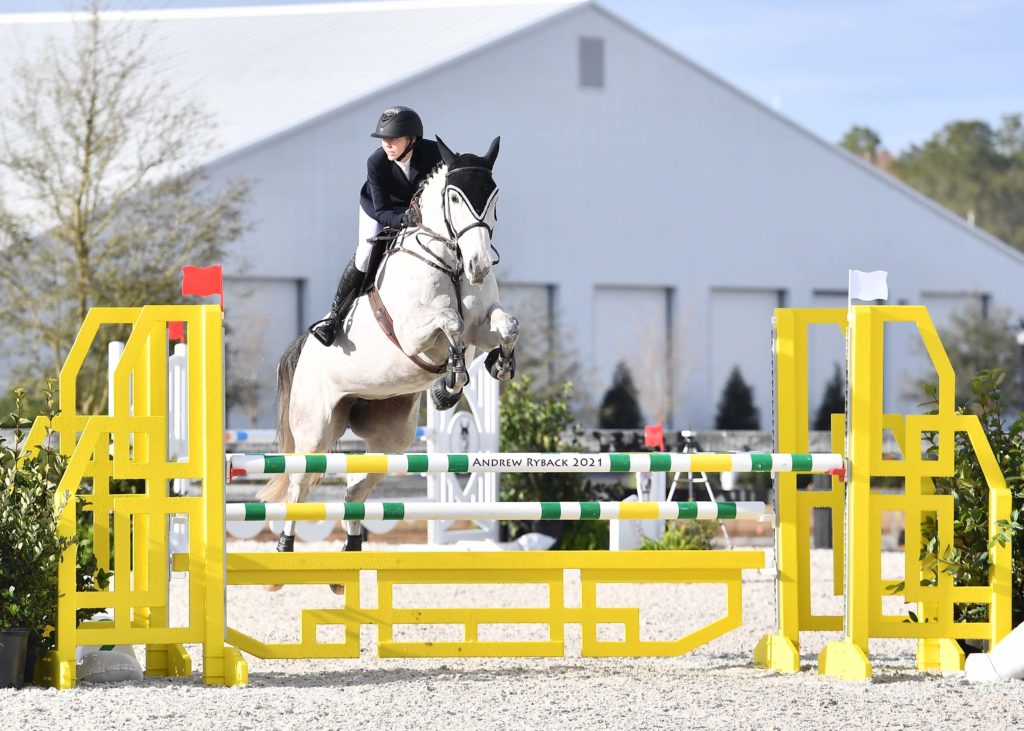 Brandi Her name is Star in the barn, or Starpower. She's 7 years old this year and I've had her for about a year now. I bought her from Europe on a whim off of a video. She is a lot of things including very talented, very athletic and very green. She's a little nuts, but I think with some mileage and some good training she is going to be awesome. My hope is that I will finally have something that takes me into the A/Os. I've kind of been stuck in the Adult Amateur division and I finally have one that has the potential, if we do our homework.
WEC: Tell us about your dog.
Brandi: Astra is about a year and a half old. I got her in Colorado when someone was giving puppies away. It has been my life's dream to have a Husky, so I couldn't say no. She has been the best dog. She's so well-behaved and she's amazing around the horses. At home I live on a mini farm, so she's always roaming around and is so good. It's been fun having her tag along here at WEC.
WEC: How has your experience been at World Equestrian Center — Ocala?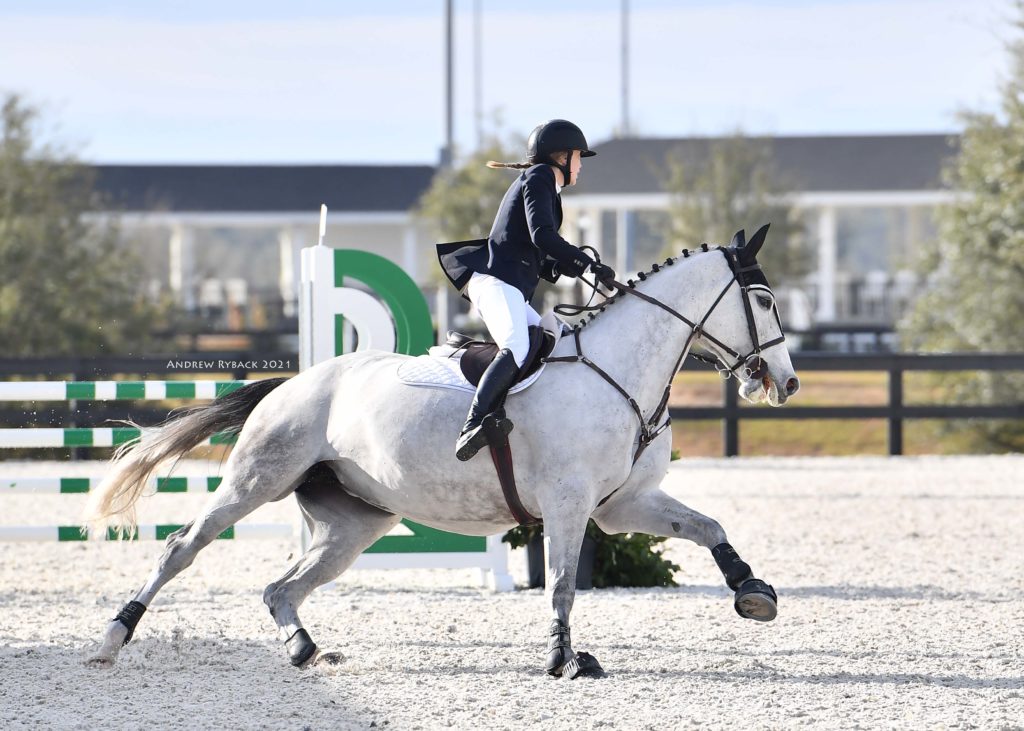 Brandi: We have Brownland Farm 10 minutes from where I live in Tennessee, so we've done a few shows there. We needed a new setting because Star was getting a little ring sour, so we came down to WEC. She loves it here, so far. We've been showing in Jumper 1 and my trainer showed her in the 1.10m in the Stadium. She's already making big improvements.
It's beautiful here, like a dream come true. You see the photos and we have all been laughing because it looks just like it does on Instagram. Honestly, I've never seen anything like it, and I've shown at a lot of places. They really thought of everything. The footing is amazing and the big Stadium ring is unbelievable. I don't think I've ever ridden in a ring that large. It's a big stage and it feels good. I think we're going to make this a regular winter destination for us.
WEC: Tell us about everything you do outside of riding.
Brandi: I do a lot of things. I'm a DJ and that is really my bread and butter. It's been tough with COVID and I really miss it. I have a couple of podcasts that I host including Your Favorite Thing with Wells Adams, who was on The Bachelorette. He and I have been friends for a while. The podcasts are great because they're like a community that you build with your listeners. It's very special and it's different than your Instagram or Twitter followers. I think that, when people listen to a podcast, they feel like they're hanging out with the people they're listening to.
I recently started a new podcast with my mother called Sorry We're Stoned. I actually don't smoke at all, but we just liked the idea because stoned can mean a bunch of things like happiness and bliss. We talk a little bit about interior design, which is one of her big passions. We had a television show on Bravo a few years ago centered around design. We also talk a lot about family stories and mother-daughter relationships. We even have a segment where listeners can call in and ask for advice.
I also have my blog called Style Native. It started as a fashion blog and has turned into more of a lifestyle blog. I love fashion, clothes and style, and that is what got the blog started, but I also love to travel, so it has expanded into traveling, too. I've also tried to incorporate some equestrian lifestyle stuff into it. I love finding photographers that are up for combining the horses with the fashion. I got to collaborate with Noëlle Floyd last year, which was super fun. I'm always looking for ways to collaborate with the horse community because it is truly my passion.
Thank you, Brandi, and congratulations on a fantastic week at WEC — Ocala!
Photos courtesy of Andrew Ryback Photography.