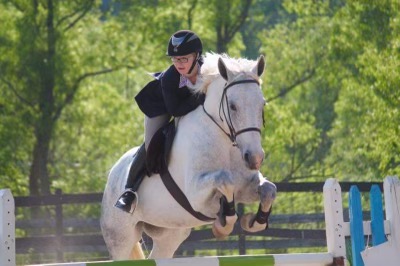 This week's Sunday Spotlight shines on Britney Barnes of Zeeland, Michigan. Britney rides with her mom at Topcrest Stable and has an affinity for rescue horses. She took the time this week to chat with us about her two mounts, training with her mom and her new Corgi puppy.
WEC: How did you get into riding?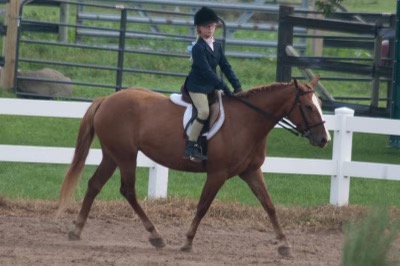 Britney: My mom is a trainer, so I was on horses since I was born. For the first few years, it was just pony rides. When I was five years old, I got my first pony named Abby. Abby was a 14.3 hand paint cross that we rescued. I did my first show with her in the Walk/Trot classes in 2007. We got first and second, which was fun. After her, I had a pony named Bess. I was in the pony ring on her for four years. She was a Haflinger cross.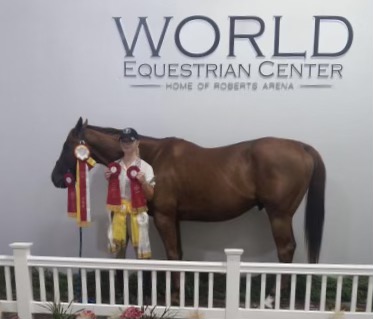 Bess unfortunately had to be put down due to back problems, so we rescued a Thoroughbred named Sir Bubba, or Bubba in the barn. It took a bit to get used to a horse after being on ponies for so long. He taught me more of the equitation and the hunters. I took him to World Equestrian Center in 2017, and we were Reserve Champion in the Children's Hunter 14 & under. That same year, I took him to the New Vocations All-Thoroughbred Charity Show and we showed in the open division. We placed top five in most of the classes, which was a really cool experience.
WEC: Tell us about the horses you have now.
Britney: Bubba was leased out, so my mom suggested that I ride a paint/draft cross named George. He's a true jumper, he's never going to play in the hunter ring. I was nervous, but I agreed to try riding him. He's become my "heart horse." I took him to World Equestrian Center this past year and we did the 1.00 meter jumpers. George is kind of a pushy little jerk most of the time. Before you ride he acts that way, but by the end of the lesson, he's a sweetheart. He loves to jump, he would jump the moon if you asked him to. He's so trustworthy. He taught me how to ride in the jumper ring because I knew nothing about jumpers before him. Everyone on the local circuit knows him and loves him.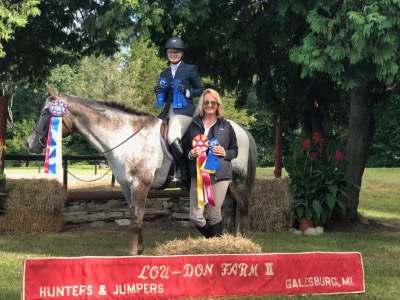 For the past two years, I have also ridden my Appaloosa gelding named Rags To Riches, or Diesel. I've been showing him on our local circuit to get him going because he didn't know much when he came to us. This past year he was titled the 2020 Grand Hunter Champion at the Lake Effect Hunter/Jumper horse shows, so it was cool to take him that far over those two years. We're currently showing in the pre-green classes. Diesel is the ultimate sweetheart. He's kind of the opposite of George. Diesel is in your pocket and cuddly. He has the best personality.
WEC: Tell us about training with your mom.
Britney: It all started good. When I was younger we got along really well as trainer and student. Around the time I got Bess, she sent me to take some dressage lessons at another barn because she couldn't get through to me. It really pushed me out of my comfort zone and that was a good experience.
I also did IEA with another local barn. I rode on their team for three years while we learned about IEA, and now we have our own team that I've ridden on for three years. There have been some times over the years where my mom and I have butted heads, but at the end of the day she was always right.
WEC: Do you enjoy riding on an IEA team?
Britney: I love the IEA experience. I enjoy the opportunity to get on all of the different horses and I'm always thankful to all of the owners that allow us to use their horses. I've been riding on an IEA team for a total of six years now and I've qualified for Zones three times, both with the team and individually. It's been an overall great experience. This past year at the Regional show I was awarded the sportsmanship award, which was very humbling. It's great that people recognize that in riding.
WEC: Has anyone inspired your riding?
Britney: My main inspiration is my mom. Back in the day she showed in the jumper ring. She did the high jumpers on the local circuit. She had a hot-headed Thoroughbred, so she knows the ways to work with your horse rather than fighting against them. She's always been one to rescue a horse and help them, which is really inspiring
.WEC: Do you have any hobbies outside of riding?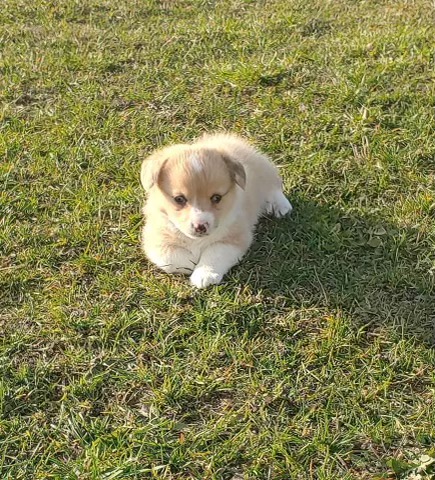 Britney: My new hobby revolves around my new Corgi puppy named Mika. Taking care of her and trying to train her is a lot of work. She was a surprise present this past weekend. I've always dreamed of having a little Corgi puppy. She's a feisty little thing; she's basically me in dog-form. She's a spitfire, but in her tired mode she's the sweetest little cuddle bug.
Congrats on a successful 2020, Britney! We hope to see you back at World Equestrian Center soon.