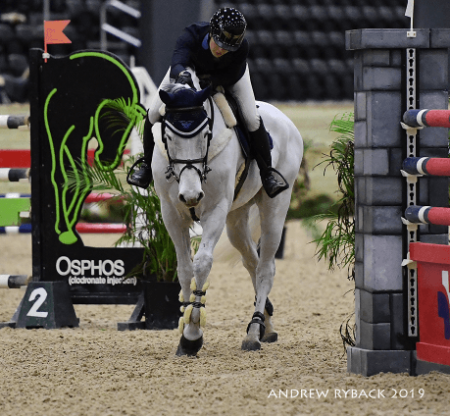 This week brings a special edition of the Sunday Spotlight, focusing on an incredible grey mare called Carlton Cafe, or as she is fondly know in the barn, Misty. Misty is a 14-year-old Irish Sport Horse owned by Jill and Trevor Gaffney of Freestyling Farms in Batavia, Ohio. We have watched the fiery mare blaze around grand prix courses at World Equestrian Center, typically winning each class she stepped into. Stylish and athletic, the talented mare is always on her A-game. Perhaps that is why Misty has become a crowd favorite at WEC. We were deeply saddened to hear of Misty's colic, colic surgery and subsequent retirement earlier this month, so we reached out to the Gaffneys wanting to dedicate a Sunday Spotlight to their beloved mare. The pair were happy to share her story.
WEC: When did you get Misty?
Trevor: She is a horse I bought as a 6-year-old. I'm from Sligo, myself, and I bought her in Sligo, so it's kind of like a little home thing for me. She had done about two shows in Ireland before I purchased her. I sold a horse for somebody, made commission and I bought her. I never intended to bring her over to the US, she was going to be sold in Ireland.
I have two very good friends of mine that I do business with at Four Seasons Stables in Ireland, and they had her for a little while. She was very unrideable and really wild. She was not an American horse at all. Around that time, Jill and I decided we wanted to start our own business and do our own thing, and Misty was kind of the first horse that we had, so we brought her over.
WEC: How was the relationship in the beginning?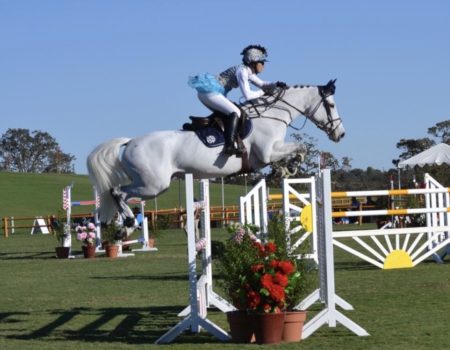 Jill: It started out not good. I could not ride her at all. She was extremely strong and had her own way of going when she first came over. It took me about a year to figure her out. She's not a very supple horse, and I wanted her to be supple. For about a year I struggled against her and the way that she went, thinking that she needed to be a different way. Because she was the only one we had at the time, I just remember Trevor saying that she's what we had and we had to make it work. I think in a day and age where, when things don't work out, people just throw in the towel, she really taught me perseverance. If I had given up on her when I wanted to, we never would have been able to do the things that we got to do.
I'll never forget the show in 2014 or 2015. It had been about a year and I hated riding her. Trevor had entered me in the grand prix in the show we were at and I was not looking forward to it. I remember hacking her around and fighting with her, and I finally mentally gave up and said, "Just go how you want." We ended up going double clear and took fourth place. It just clicked. I had spent all of that time trying to make her what I wanted when, if I just left her alone and let her go her own way, it worked. I think she was like, "Finally!" From that moment on, as long as I rode her how she wanted to go, it was awesome. It was a real learning experience.
WEC: What is Misty like?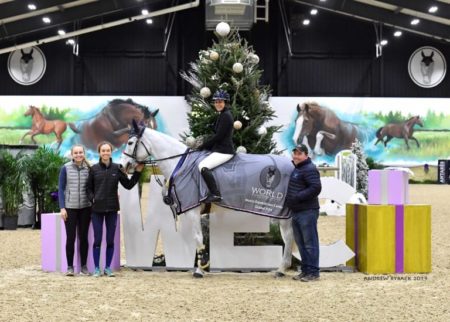 Trevor: She's a small mare. She's a lot smaller than everybody thinks she is. She's really aggressive in the ring. She's like a little pony, she turns on a dime. She wins a lot of classes because she's super fast and nimble to turn. She doesn't over exaggerate the jumps, she knows her job. She knows how much she has to give it and she doesn't give it too much more. She's been a very winning horse for Jill.
WEC: What is the relationship like now?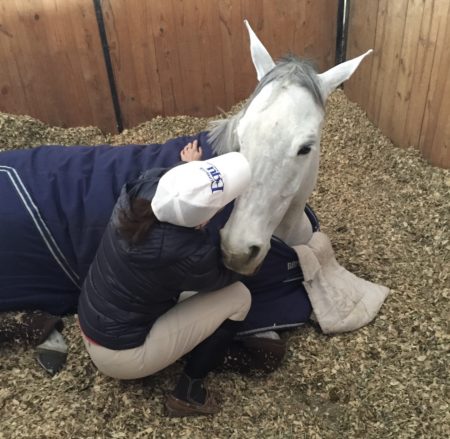 Trevor: She has a very good relationship with Jill. For a horse to win that much and to do that much, you have to have trust and a good relationship. Jill has been jumping her from the beginning of her career. They were a machine, there was never a day that I would say she went in and had one or two down. It was a lot of clear rounds.
WEC: Tell us about some of Misty's accomplishments.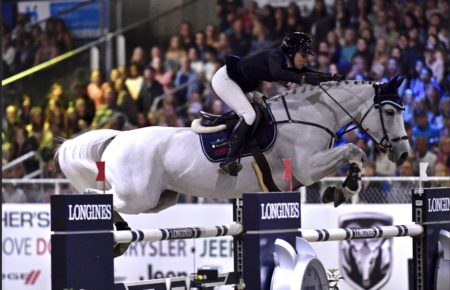 Jill: I've gotten to jump some really big classes with her. We've done World Cup Qualifiers in Las Vegas, Del Mar and Sacramento. She went clear in one of the prequalifiers in Vegas, then clear with one time fault at the Vegas qualifier. I've jumped two $1 Million Grands Prix with her. We've jumped numerous 2*, 3* and 4* Grands Prix. She just always made it to the end of the round. She may not have been a superstar, but she's my superstar. She took me around some really big tracks that I didn't have another horse to do it on. She stepped up and did it. For me, when it comes to horses, heart is more important than anything else and she has that.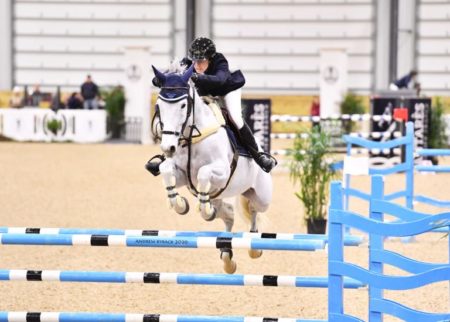 Trevor: And she was a little cash card at WEC. Julie in the show office always used to say to me, "How much do we owe you this week?"
WEC: Can you tell us what prompted her retirement?
Trevor: It's unfortunate how it happened. She jumped the Grand Prix on Friday and was very good, then Jill rode her on Saturday and she was fresh, bucking and playing. She got back to the stable and within an hour she had colic. The decision was made for surgery pretty fast. As soon as that decision was made, I decided that we would retire her after. She's 14, so by the time she gets back around to jumping the bigger stuff it would be the middle of her 15th year. The right thing to do for her was to retire her.
It was a very bad colic surgery. It was 50/50 there for an hour, then she was good after her surgery. Then she got a little bit of an infection and a high temperature, so she was touch and go there for two days. I had made the decision that she's a fighter and I was going to give her a chance, but I wasn't going to drag it out and make her suffer. She had to pull up her socks and fight a little bit herself. In a way, I had it in the back of my mind that she was either coming home with us or she wasn't. She kind of fought off the infection herself and came around to come home with us.
WEC: What does retirement look like for Misty?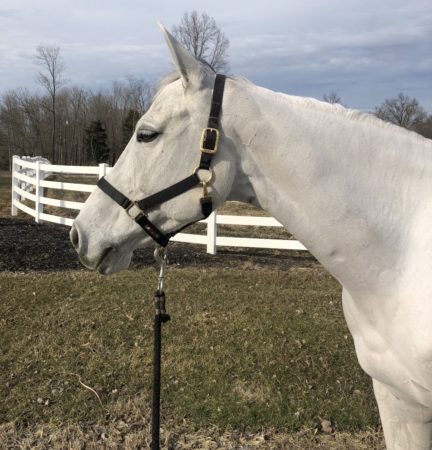 Jill: Right now she's on hand grazing and free choice hay, which I think she is extremely happy about. That is for another three weeks, then she gets to go out to the field. We pulled her shoes the other day. She's going to spend the rest of the year healing up, then next Spring we're going to look to take an embryo out of her. We look forward to hopefully having babies from her. We're really grateful that we have the place to retire her on and can see her every day.
We had planned on competing with her for at least another year, until she was about 16. But, things happen, and I think Trevor and I are just so grateful to be able to have her with us.
Trevor: She's the best horse we've ever had. She owes us nothing. I'm glad that we were able to save her and get her home. We plan to breed her and try to prolong her bloodline. She's old fashioned Irish breeding, so she wouldn't have much continental blood. She's by Carlton Clover, who is by Clover Hill, which is old fashioned breeding, and out of a Moytura dam, which is a Thoroughbred, so that's where she gets her blood. She's probably the best one that he's ever bred.
We're planning to breed off of her every year as long as she can take it. She'll tell us what she wants to do. Hopefully we can get an embryo and get her in foal, but if not, then that's okay too. She owes us nothing. We're in a very good position to have a farm at home with plenty of land, so she can live out the rest of her life being the Queen that she is. She has always been the face of the farm. She's everywhere we go. Everybody knows her. We'll miss her at the shows, but she will have a very good retirement at home.
Have a happy retirement, Misty! All of us at World Equestrian Center will miss you at the shows, but we're happy that you get to, in Trevor's (very accurate) words, "live out retirement being the Queen that you are."