This week's Sunday Spotlight falls on the show team of Greg Kuti's Chor-Be Farm in King City, Ontario. The World Equestrian Center Winter Classic 2 marked the four students' first show experience outside of their home country of Canada. Greg is a certified Equine Canada Level III Coach, recognized Hunter/Jumper judge and senior course designer and has competed successfully at the World Cup and Grand Prix level. He has successfully campaigned hunters and jumpers on the national circuit in Canada. The Chor-Be Farm team had plenty of fantastic rides to celebrate this week and they are very grateful for it, as Greg said, "Just going to the ring with our horses is spectacular."
Katerina Virginillo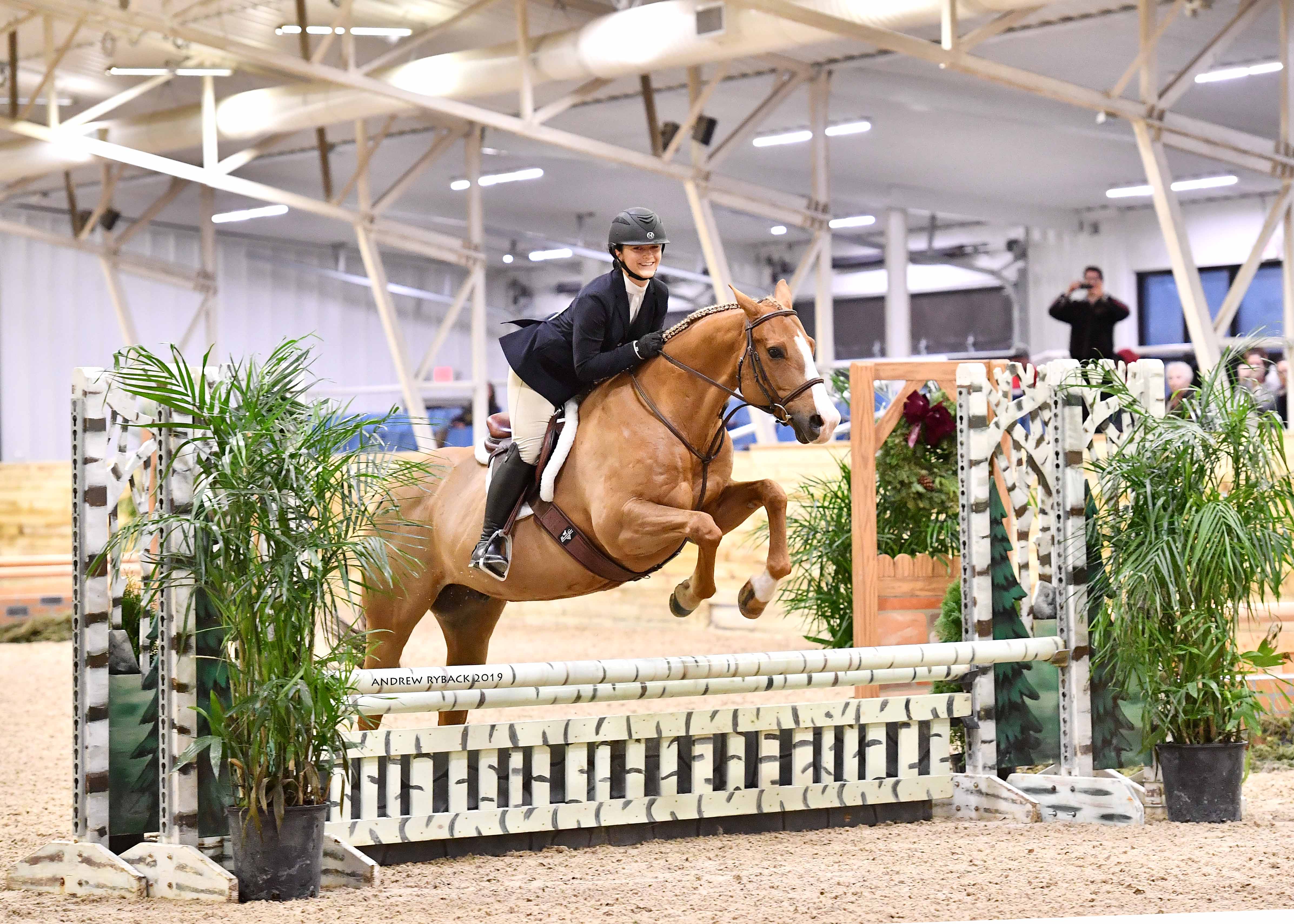 WEC: How did you get into riding?
I was born and raised in Toronto. Just down the street was the exhibition place and they had horses there. I wanted to try out riding, I thought it was really cool. I started doing Summer camp there, then after a year of Summer camp I started doing lessons. From there it took off. Eventually I wanted to branch out and see a few more barns. I ended up going over two hours outside of Toronto and tried to commit to riding as much as possible. Now I'm sixteen years old and I'm riding at Chor-Be Farm with Greg.
WEC: Tell us about the horse you showed this week.
I'm riding Cremador de Sol or Pumpkin. I just started leasing him this past month. He's amazing. He's so cute. He's this little chestnut and I love him so much. I've spoiled him way too much, but I think that's a good thing. Greg said we were going to go to a show and I was very excited because this is my very first show. We did the Intermediate Children's Hunter and Equitation and ended up fifth and sixth.
WEC: How has your first show experience outside of Canada been?
It's not what I expected at all. I was expecting a small show. World Equestrian Center is literally Disney Land for horses. It's amazing here. Everyone is so friendly and so nice. If I ever need any help I can ask anyone around me. The community is great. I've met so many people. I now have so many friends. It's been a pleasure, I'd love to come back.
Rebecca Turnbull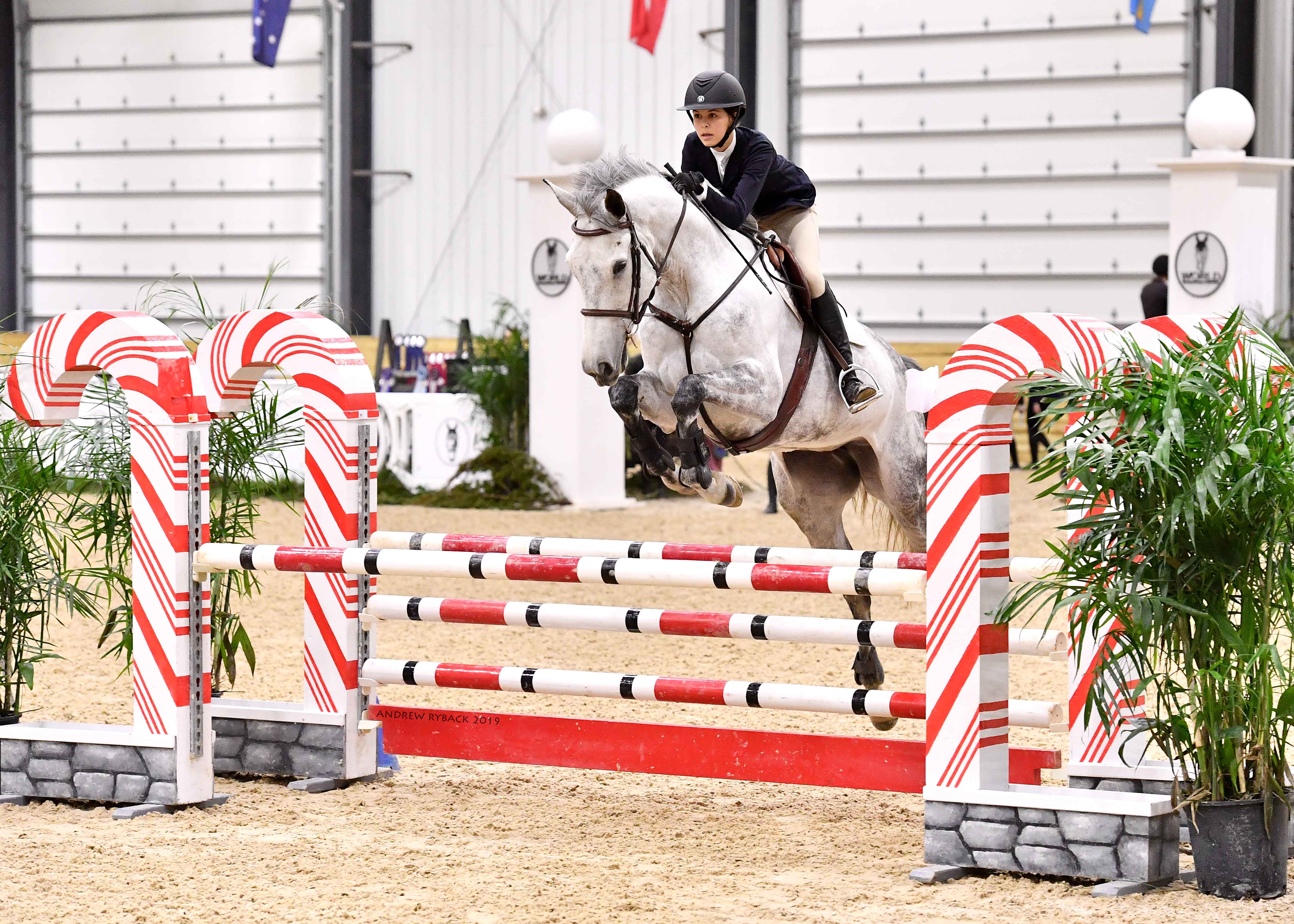 WEC: How did you get into riding?
Seven years ago when I was seven years old, I wanted to go to horseback riding camp. I've always loved animals but I had never been around horses. I did two years of riding camp and I loved it so much. I wanted to start lessons, so I did lessons every now and then for a bit until I started doing it consistently. I was at more of a beginner stable in Toronto and eventually I needed to do more. I came up to Chor-Be Farm to train with Greg and I love it.
WEC: Tell us about the horse you showed this week.
I just leased my first horse Valkrie, who I love so much. She is a beautiful grey Dutch Warmblood. I started leasing her around the beginning of April. She's my dream horse. She's very sassy like me and she has her strong opinions, but she's amazing. She's my first jumper horse. I was doing the hunters before. This Summer has been my first time showing in the jumpers and I love it so much.
WEC: How has your first show experience outside of Canada been?
I've been doing the .90m all Summer, then moved up to the 1.00m. Warming up was fine, but then I got to the ring and the jumps looked big. Once you get in after the first jump, you're just in it and it's fun. We ended up fourth and fifth this week.
Sydney Hansen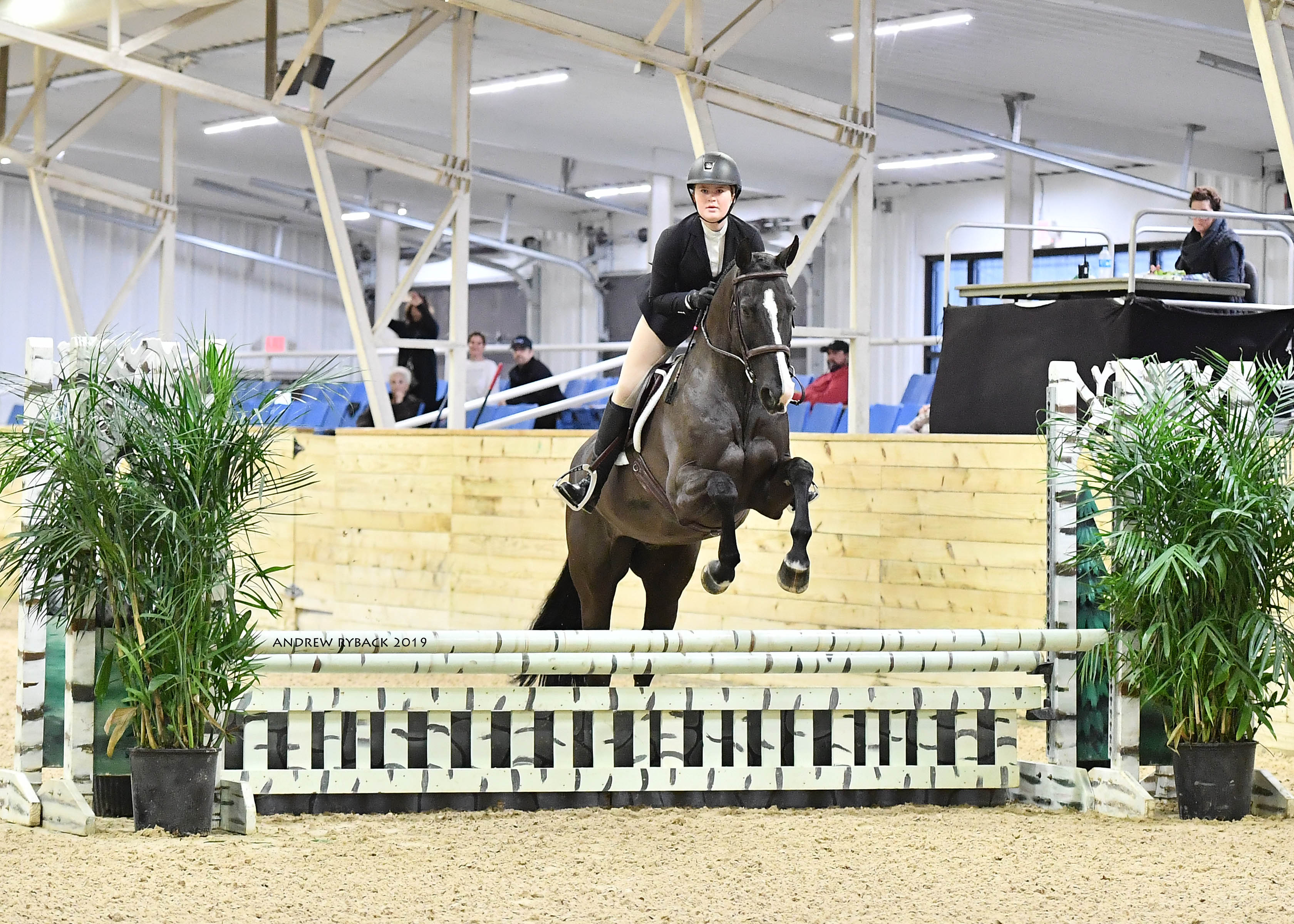 WEC: How did you get into riding?
My mom was a rider starting when she was sixteen. She still rides. She put me in Summer camp from the time I was six years old to when I was ten. I would always ride a pony named Domino. I took a break from riding for a few years, then one of my best friends owned a barn and she invited me to come ride. I started taking lessons and I met Greg. Once I got my own horse, he brought me with his show team to his barn.
WEC: Tell us about the horse you showed this week.
I'm showing my horse Baron Von Klaus. My mom got him for me on my twelfth birthday. I've had him for one and a half years now. He's a really good boy. I've only had one moment where he hasn't been the best and it was my fault. I didn't warm him up enough and he started bucking in the arena in the middle of a show. My mom wasn't there for that show and had told Greg to take care of me, so he was horrified when he had to call my mom and tell her I fell off. I got back on and we showed the next day and everything was fine.
WEC: How has your first show experience outside of Canada been?
I love it here. It's so nice and everyone has been showing me around. I love how there's a little bit of extra everything. It's not the minimum here. I've always shown in Canada in one arena and I was so nervous about coming here, but it's been great. We showed in the Intermediate Children's Hunter and Equitation this week and got good placings. We even got a second place.
Mya Stollery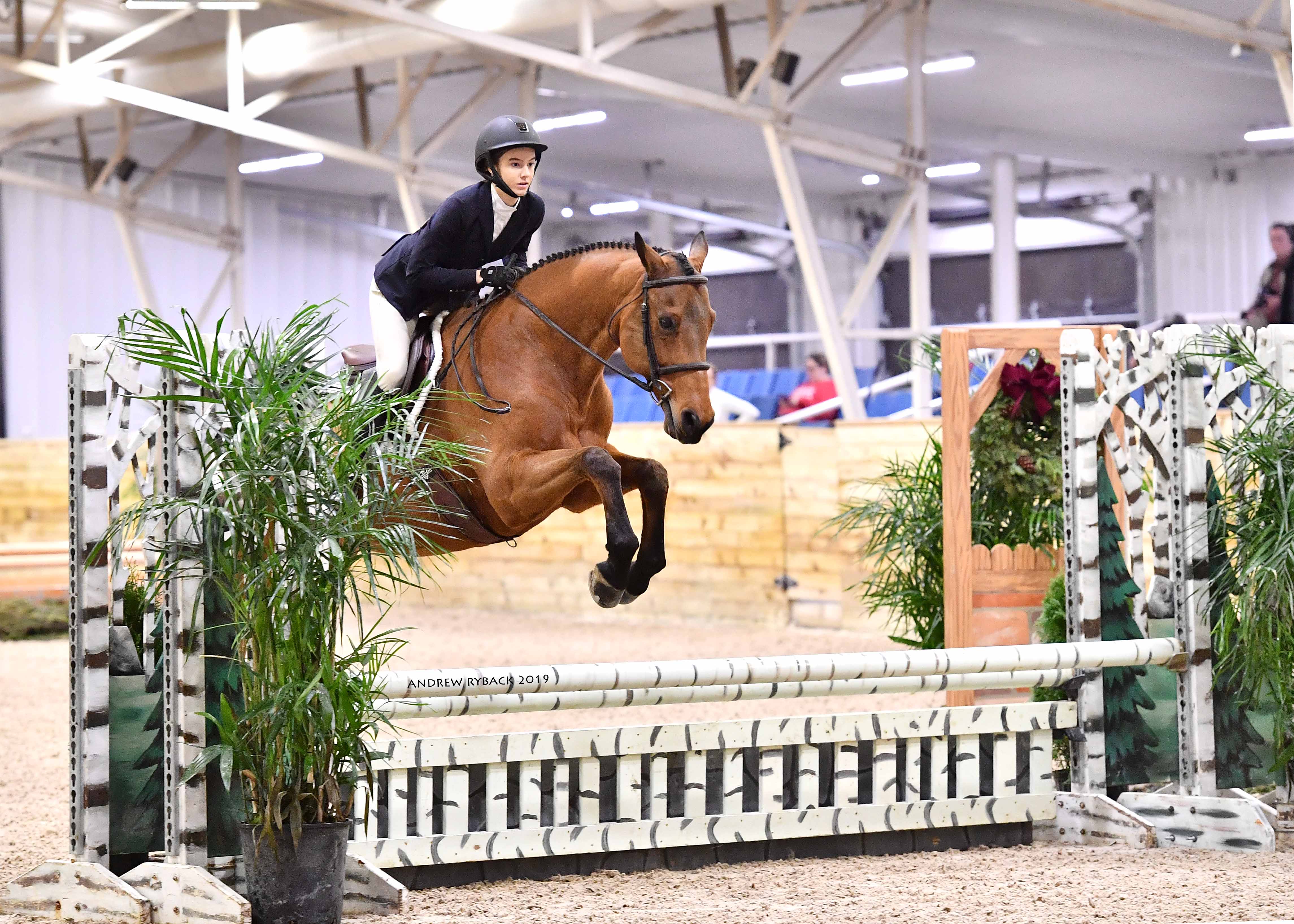 WEC: How did you get into riding?
I started riding at a lesson barn when I was about ten years old, but I was very allergic to horses and everything else that you find in a barn. When I was younger, I couldn't really put up with that, so I ended up stopping for a while. I really missed it, so I started riding again when I was about fourteen. I rode at a lesson barn for a while, then went away for school for grade ten so I didn't get to ride that year. When came back, I rode all year for grade eleven and I ended up getting my own horse. I'm seventeen now.
WEC: Tell us about your horse.
My horse is Frensis. She's really great. She's technically a jumper horse but I've been using her for hunters and she's been really good about it and really patient. She's overall a very sweet horse and always tries her hardest with everything. She ended up popping an abscess this week, so she's here but I didn't get to show her.
WEC: Tell us about the horse you showed this week.
Greg is good friends with David Beisel and he was nice enough to lend us a horse that I could show, First Things First. We ended up placing first in the Intermediate Children's Hunter Under Saddle and eighth in the Non Professional Hunter 2'6″.
The week was full of fantastic rides for all four girls as well as their trainer Greg. All enjoyed their first international show at World Equestrian Center and were grateful to spend time with their horses in and out of the show ring. A special thanks goes to David Beisel who stepped forward and offered a horse when one went lame, allowing all of the girls to have a successful week in the show ring. We hope to see Chor-Be Farm back at World Equestrian Center soon!
Photos courtesy of Andrew Ryback Photography.