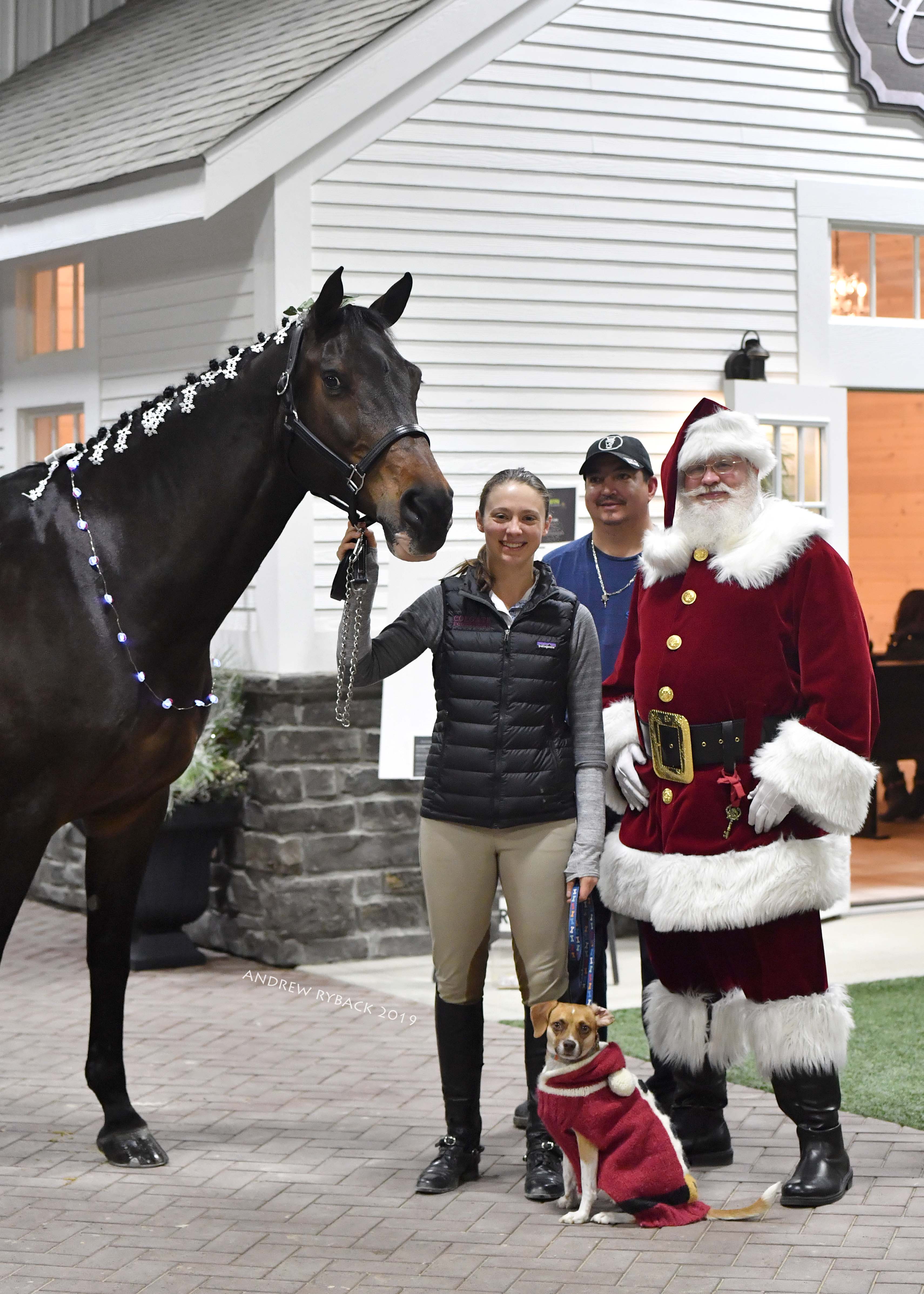 There were plenty of holiday festivities to accompany thrilling equestrian sport for the second week of Winter in the Midwest 2020 at World Equestrian Center. Santa paid a special visit to Vendor Village on Saturday, taking photos with exhibitors, spectators, horses and dogs. Santa even brought an adorable plush Sandy Bottoms for each person who told him what they wanted for Christmas. On Saturday we hosted a popular holiday-themed braiding contest in Vendor Village where entries decked their horses and ponies out in the most creative and festive braids, baubles and even holiday lights! All were invited to the Paddock Club after the Grand Prix on Saturday to decorate cookies and participate in a giant Jenga tournament. There was no shortage of exciting equestrian action in all rings this week as well, with featured classes owning the night from Thursday through Saturday.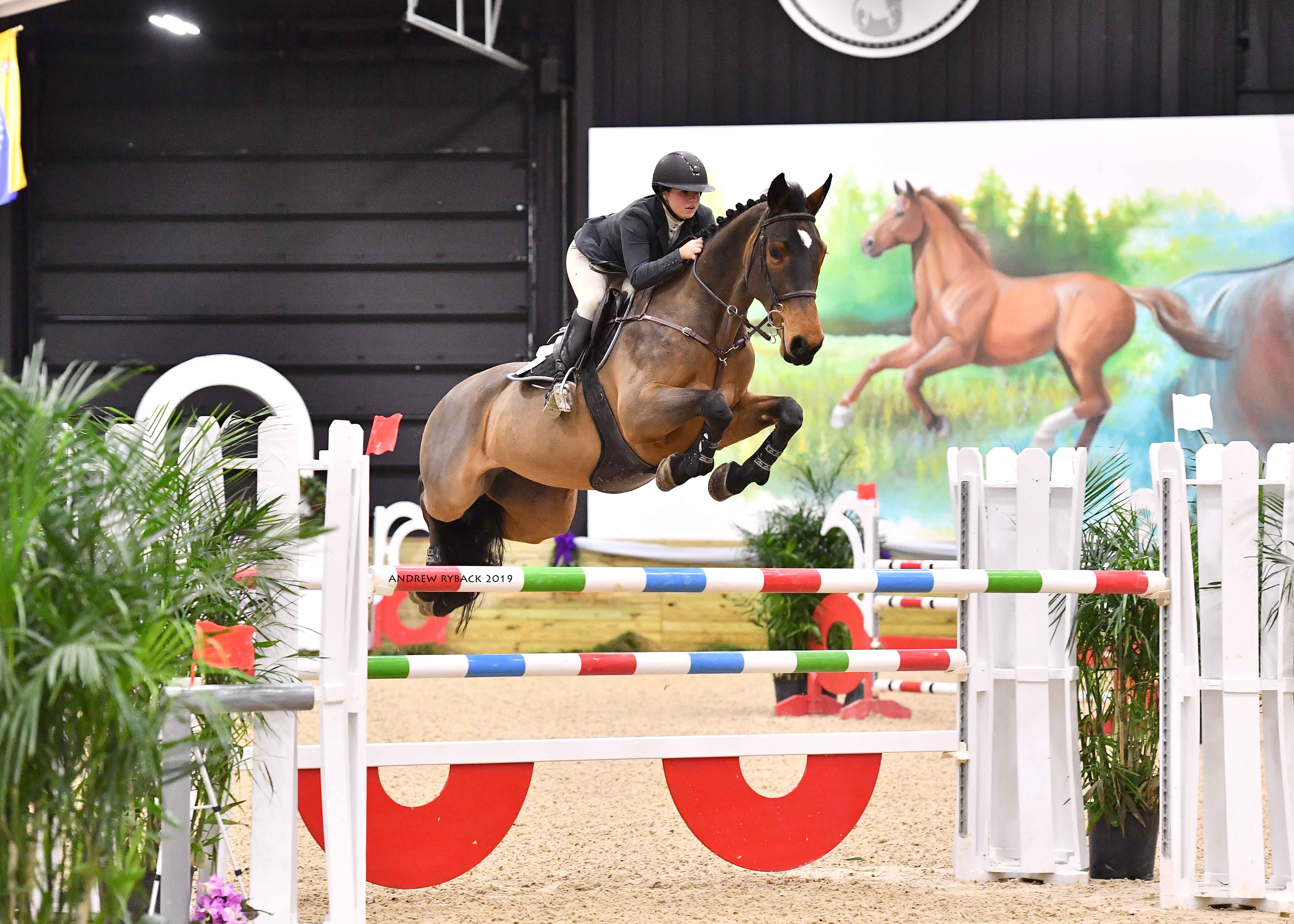 Thursday's $5,000 Welcome Stake 1.35m sponsored by CWD Sellier saw twenty three entries vying for the win, but it was Nicole Loochtan who topped the class, earning first and third place aboard her own Carla de Kalvarie Z (Crown Z x Siebe De Kalverie) and Famoso d'Ive Z (For Pleasure x Radetzky), respectively. Loochtan rode Famoso d'Ive Z first in the class, blazing through the timers clear in 72.998 seconds. The pair continued straight to the jump off, remaining a bit more conservative to ensure that all rails stayed up, jumping clear in 40.072 seconds. Loochtan returned later aboard Carla de Kalvarie Z, jumping a clear first round in 73.644 seconds. The pair picked up speed in the jump off and stuck to the inside track, blazing through the timers at 38.053 seconds for a first place finish. Loochtan knows her winning mount well, "The mare that won, Carla de Kalvarie Z, will be fifteen this year. I've had her for five years so I know her very well. She's very spicy at all times but she's sweet."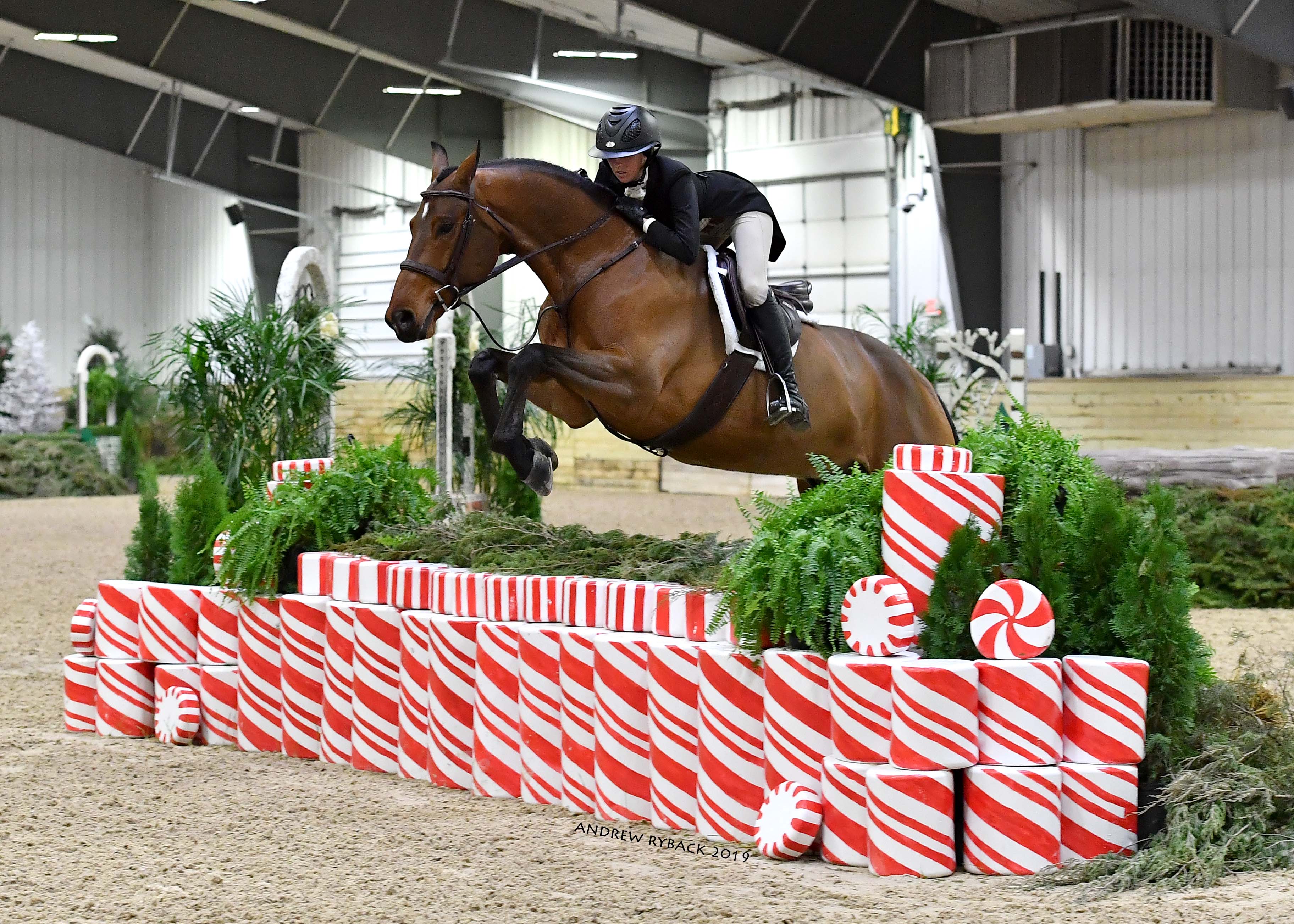 Twenty stunning hunters took to the R+L Arena on Friday afternoon for the $5,000 USHJA National Hunter Derby. The course featured several bending lines, four high options and plentiful festive holiday decor. Several entries scored high into the eighties and the nineties, but it was Taylor Willever and Barbara Brungess's Cornetto (Cayton x Madame Shutterfly) that ultimately earned top honors. Willever and Cornetto had an impressive first round, taking all four high options for a score of 88, the highest first round score of the derby. The pair returned for the handy round taking inside turns to fences one, two, four, seven and eight, earning a score of 91.5, bringing their overall total to 179.5 for the win in the class. Willever commented on her winning mount, "He's the sweetest horse ever; he's a love. His barn name is Waffle. He has an amateur mom and he's really great for her, too. I actually picked him out as a five year old in Europe. It's been fun to develop him over the past three or four years. He's just a good horse."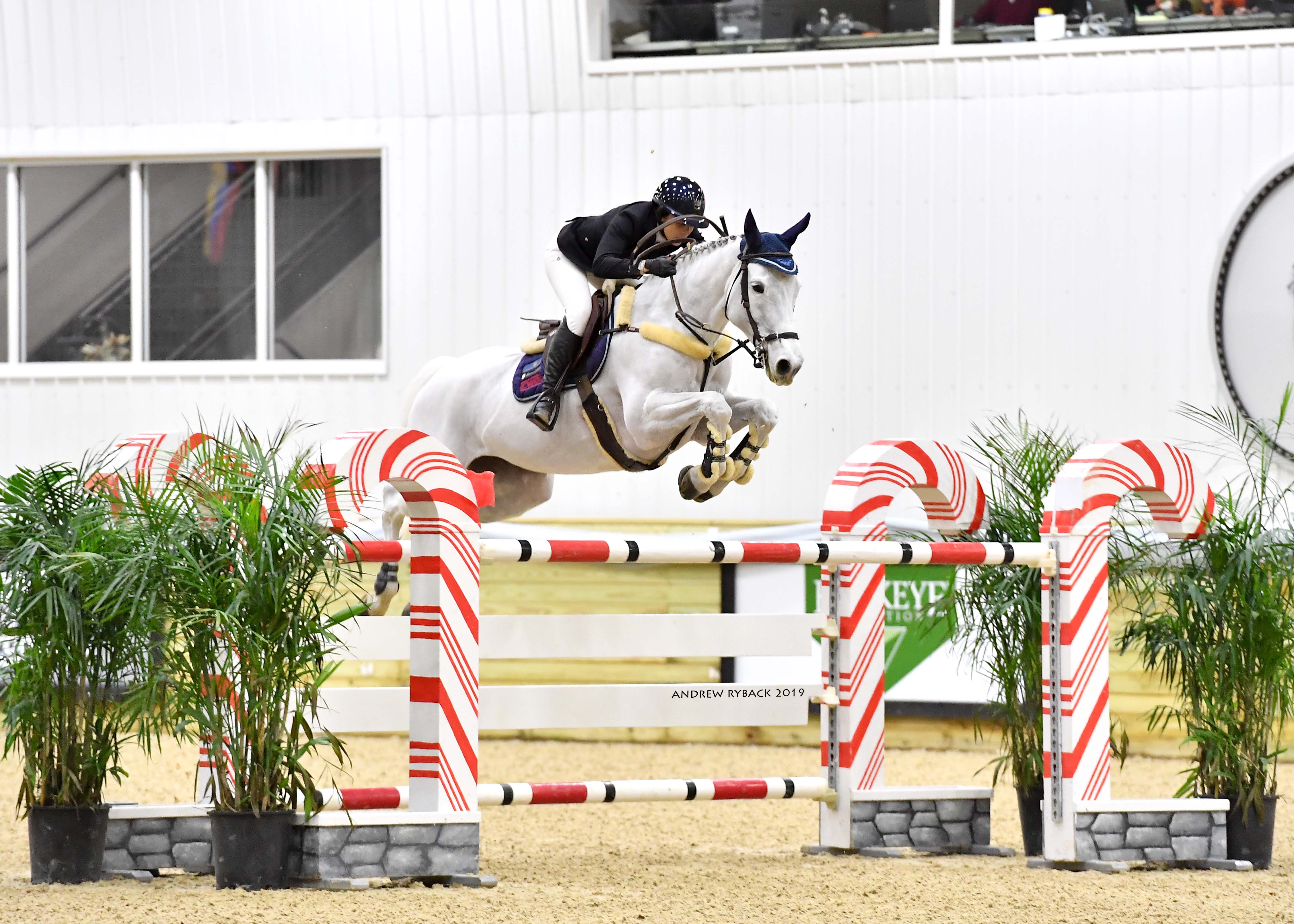 Ttwenty-five entries contested Saturday evening's $25,000 World Equestrian Center Grand Prix with a course designed by Bobby Murphy of Lexington, Kentucky, that tested horse and rider combinations right to the end with three big double combinations and fifteen jumping efforts in all. Five entries managed a clear first round and advanced to the jump off, but it was Jill Gaffney and Freestyling Farms, LLC's Carlton Cafe (Carlton Clover x Moytura Spook) who captured the win with two artfully executed inside turns that no other entries even attempted. Only two of the five jump-off riders managed to jump double clear, but Gaffney's accuracy and efficiency in both rounds brought her a well-earned win. Michael Burnett also rode double clear aboard his own Chagrand (Chacco Blue x Centogrina) and, though he proved a strong competitor, Gaffney's exceptional ride sealed her victory with a jump-off time of 38.501. When asked about her strategy in the jump off, Gaffney replied, "The jump off was perfectly suited for my mare. For a little horse (she's only 16 hands) she has a massive gallop. She rides much bigger than that, she doesn't ride like a small horse. I knew that Ashley and Michael would be fast, so I knew I had to go really quick. My mare turns so well and has such a massive gallop, so it worked out."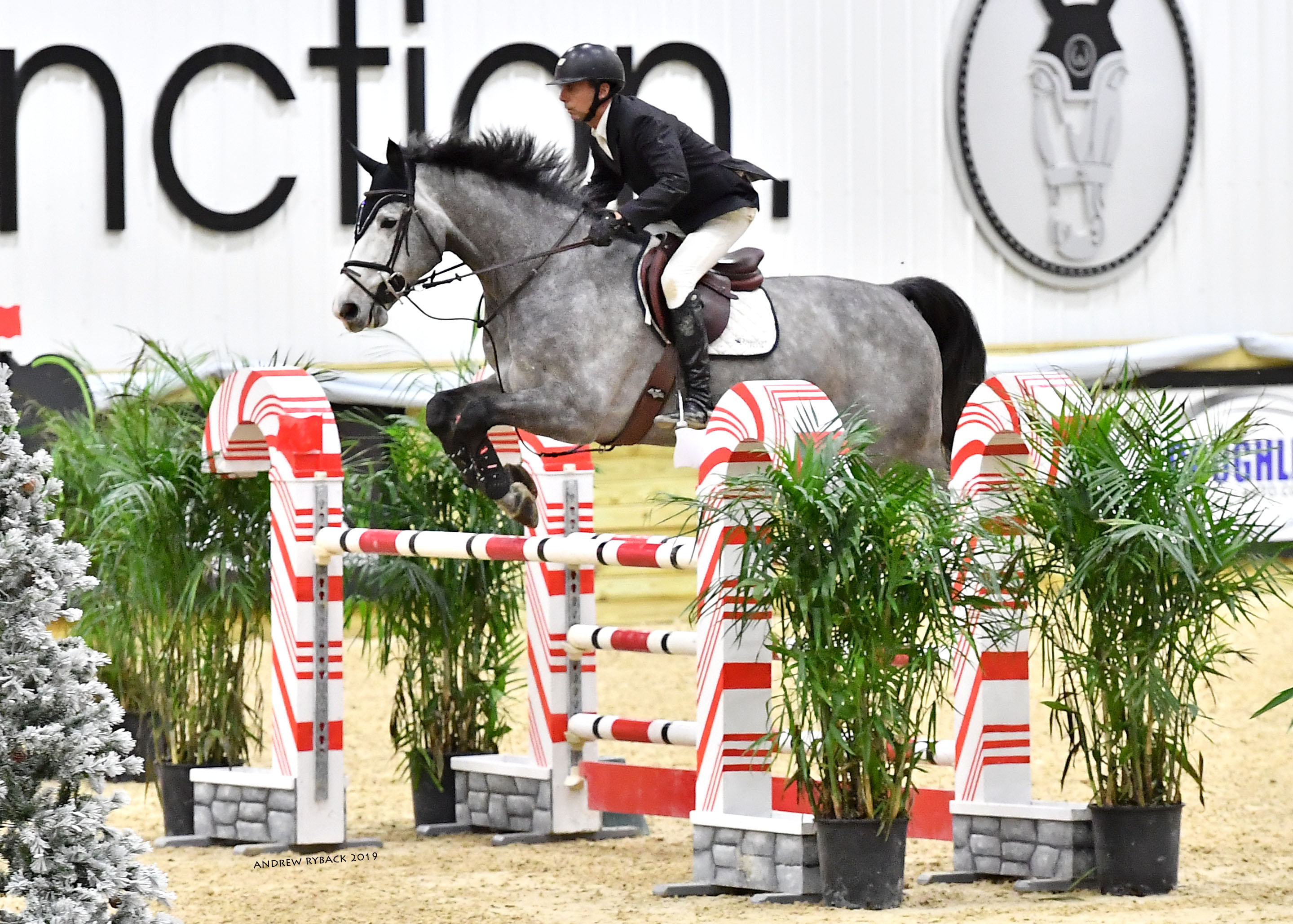 The Sanctuary hosted twenty eight entries on Saturday for the $7,500 Futures Prix 1.30m sponsored by Voltaire Design. The top five placings in the Futures Prix were separated by just under one second and it was ultimately Richard Rinehart and Taylor Repchick's Leonard van Dorperheide (Diamant De Semilly x Hortense) that ended up at the top of the leaderboard. Rineheart and the eight year old Belgian Warmblood gelding were quick and clear in the first round in a time of 73.008 seconds. The pair continued straight to the jump off, blazing through the course and taking inside turns to fences nine and eleven. Rineheart and Leonard van Dorperheide sped through the timers with a clear round in 33.143 seconds for the win. We caught up with Rinehart after the awards ceremony to chat about his victory, "I was excited for the class. This is the second time I've shown this horse in the Futures Prix so I knew he was going to be good, but I really didn't expect him to win. This is his second win. We started the jump off and it just unfolded very nicely."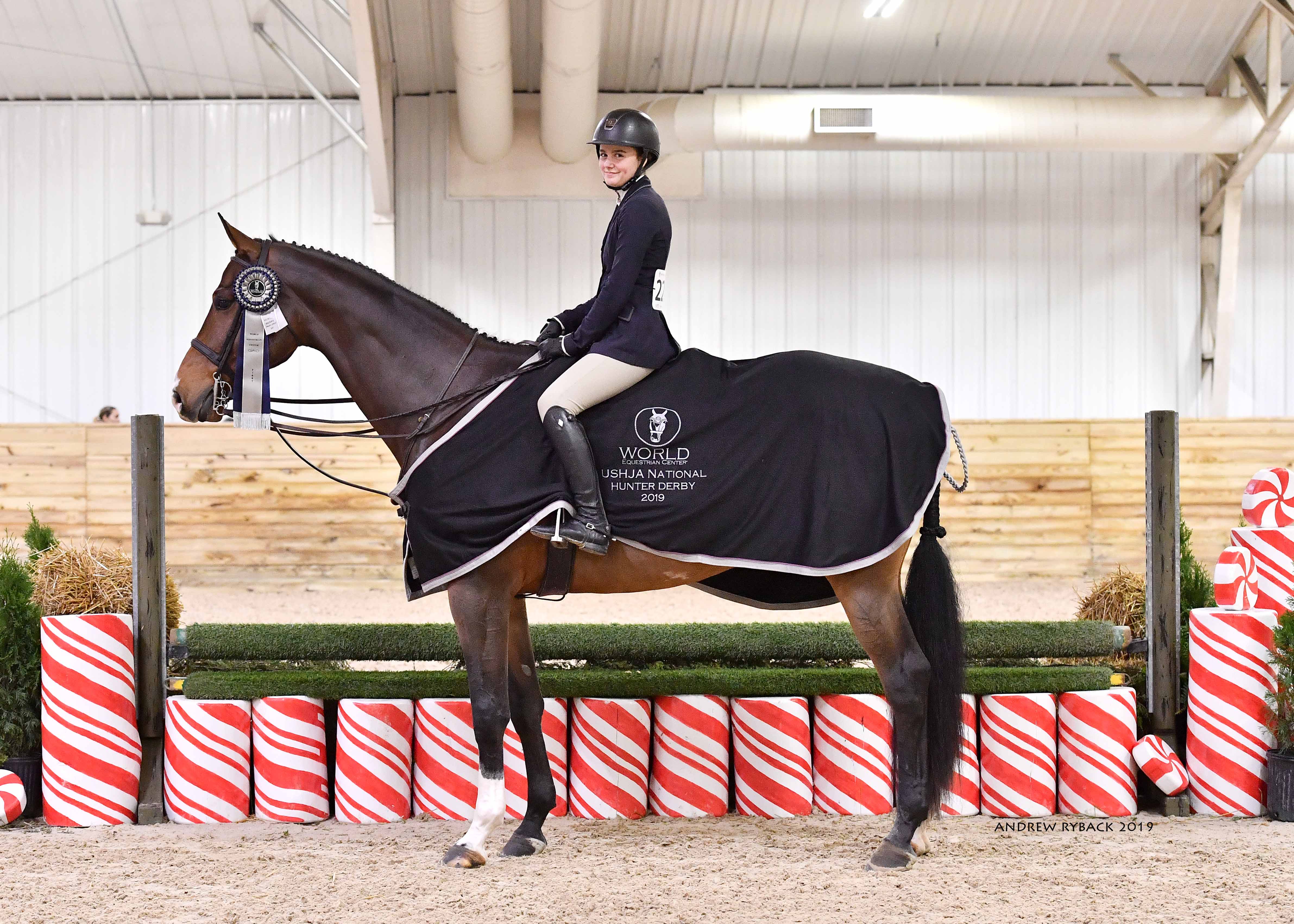 Saturday also saw fantastic hunter action in the Roberts Arena for the $2,000 Non Pro Derby 2'6″. Twenty four entries contested the course, but it was Lauren Garvey and Melissa Hirt's Infinity that took top honors. The pair also took top placings in the Non Professional Hunter 2'6″ and the Intermediate Adult Hunter throughout the week.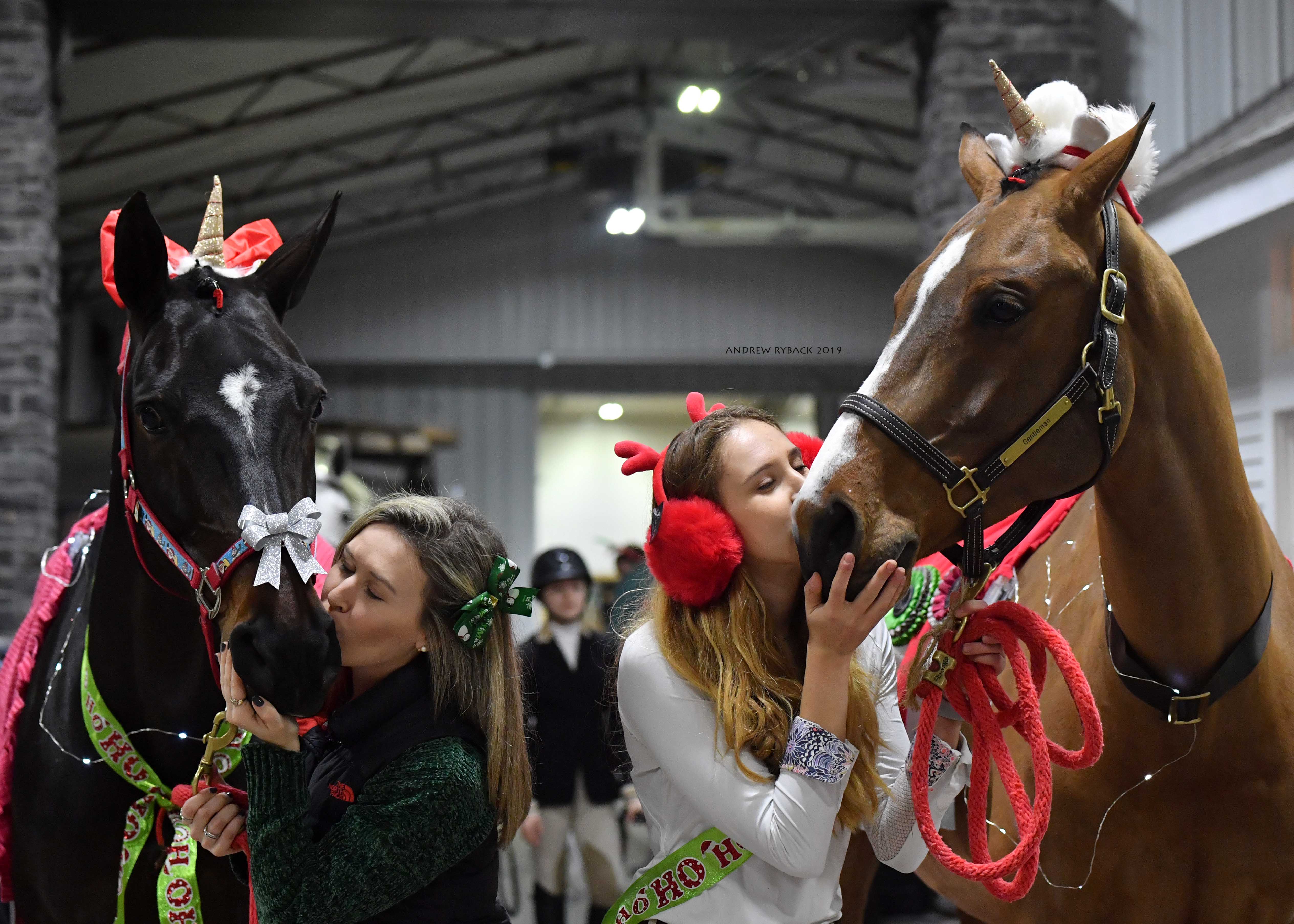 Join us at World Equestrian Center for the 'Winter in the Midwest' horse show circuit, encompassing 19 weeks of AA rated horse shows from December 4, 2019 to April 26, 2020. Highlights include the new WEC Premier Equitation Cup Qualifier Classes, two $10,000 USHJA National Hunter Derbies, a $10,000 USHJA International Hunter Derby and World Championship Hunter Rider (WCHR) Member Events (during WEC Winter Classic #5). The WEC Winter in the Midwest prize list is available now online at www.wec.net with entries being accepted via www.horseshowing.com. Print prize lists are available at our horse show office or by emailing info@wec.net. Reservations for stalls, hay and bedding as well as RV spaces may all be made online as well at www.horseshowing.com. Once again in 2020 we are pleased to offer stalls for showing horses at $100.00.
Watch all of the action from the Sanctuary and the R+L arena online via ShowNet. Tune in to WEC.net for the livestream link.
Photos courtesy of Andrew Ryback Photography.