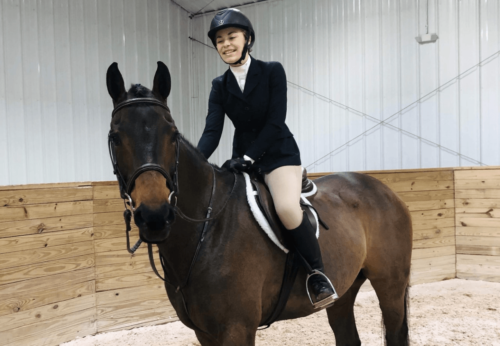 This week's Sunday Spotlight lands on Grace Belletti of Cleves, Ohio. Grace's life-long passion for horses has given her an opportunity to enjoy her horses at home and to bring them along to gain success in the ring. Grace took the time to chat with us this week about her beloved Quint, her success with her previous mount Cappy and her love for "just having fun" with her horses.
WEC: How did you get into riding?
Grace: I've loved horses for as long as I can remember. I started taking lessons when I was in 5th grade, and shortly after my family bought a farm and horses. Being able to have horses at my house, take care of them and ride every day started my love for horses and the sport.
WEC: Tell us about your early riding career.
Grace: I first started riding at a lesson barn for about six months before my family moved to a farm in Cleves, Ohio. My family bought our first horses named Fancy and Legend right after we moved. I spent as much time as I could with our horses and would spend hours grooming and riding. For the first year and a half of my riding I did mainly trail riding on my pony, Fancy. She always took such good care of me and was so patient with my learning.
In 2016, I started riding English on my Mom's mare, Willow. She was much different than what I was used to, but was one of the most fun and challenging horses I have ever ridden. I soon realized how much I loved English and started taking lessons on Willow.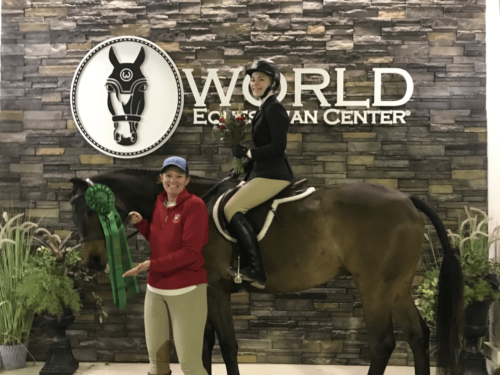 My parents and trainer decided it was time for me to get a horse that I could progress farther on, so in 2018 I got a bay thoroughbred gelding named Cappy. Cappy and I learned so much together and he gave me a ton of confidence jumping, and made me a stronger rider. About a year later, I started riding and showing with my current barn. Cappy took me through both of our first show seasons and even placed 3rd overall in the OHJA Limit Hunters, and placed 6th at OHJA medal finals.
WEC: What barn do you ride with now? Who is your trainer?
Grace: I ride with Laura Kursman at Magna Carta Equestrian, based out of Cross Creek Equestrian Center outside of Hamilton, Ohio. I have been riding there for almost 2 years.
WEC: Tell us about your horses. What do you show in?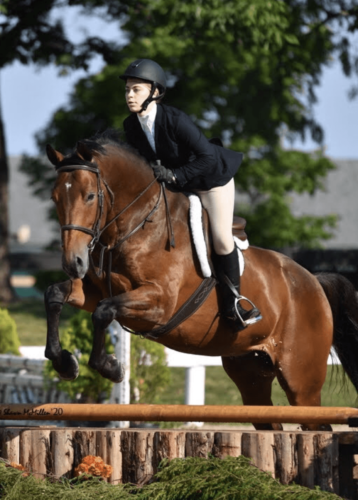 Grace: I currently own two horses: Fancy (Shy Girl's Fancy) and Quint (Quadori III). We bought Fancy five years ago as a first pony for my family. She is the type of horse that anyone can ride and will always keep her rider safe. Fancy lives on my family's farm and is living the trail pony life. I got my other horse, Quint, this February after trying him twice at WEC. He is by far one of the coolest horses I have ever ridden and has the sweetest personality. Quint has completely changed my riding in such a short amount of time and I am extremely lucky to have him. We show in the Intermediate Hunters.
WEC: Do you have any particularly memorable riding/show experiences?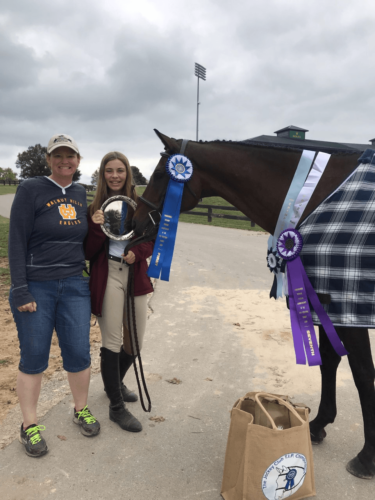 Lasat season I showed an Off-the-Track Thoroughbred named Cappy. Bringing Cappy along through his first shows was the most rewarding experience that I have had. Seeing the progress that we both made in the show ring is so memorable for me. Not every show was perfect, but that is what made it so worth it. Being able to watch your horse progress is such an unexplainable feeling!
WEC: Do you have any hobbies outside of riding?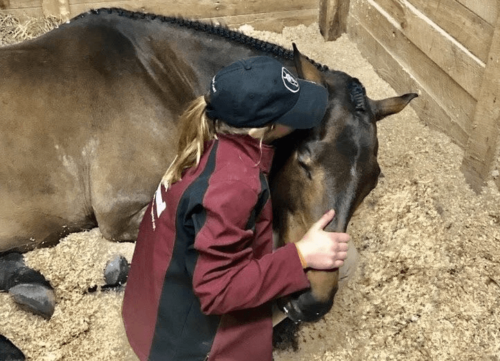 Grace: Outside of riding I love just spending time with my horses and just having fun with them. It is so refreshing to spend time with your horse without all of the pressures that come with riding and showing. I also enjoy hanging out with my friends, family, and my dog Maggie. I am always happy spending time outside and going camping as well.
WEC: What year are you in school? Do you plan to ride on a team in college?
Grace: I am currently a junior at Seton high school. In the future, I would love to ride on a college team and continue showing. When I am older I would love to own my own barn and continue riding.
WEC: What are your riding goals?
Grace: Currently I am working toward being more consistent and smooth in my rounds. I would also love to move to the Children's Hunters next season and progress as far as I am able to with Quint. I am also looking forward to going down to WEC Ocala this winter to show. I have always wanted to go down to Florida to show, and after seeing all of the videos of the new WEC it has been a goal of mine to go! Most importantly, I want to enjoy my last two junior years and have a lot of fun riding and showing.
Grace also added:
I want to say how thankful I am for my parents for doing everything to make my riding dreams possible. My parents have spent so much time cheering me on at shows and have made so many sacrifices to make all of this possible for me! I also want to say a huge thank you to my trainer for giving me so many opportunities to ride a variety of horses and teaching me how to move on from my mistakes!
We can't wait to see you in Ocala this winter, Grace!