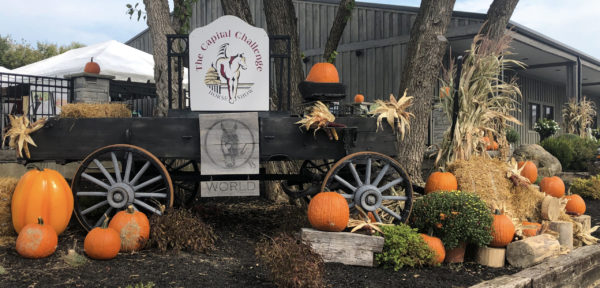 We are just two days away from the start of the Capital Challenge Horse Show, and we could not be more excited to play host to such an incredible event. We know that many attendees are first-time visitors to World Equestrian Center, so we've put together this helpful guide of dining, shopping and leisure to help you navigate your way around the show. We would also like to remind everyone on property to please adhere to USEF, Capital Challenge and WEC COVID-19 guidelines and protocols to keep all our guests safe.
Where to Eat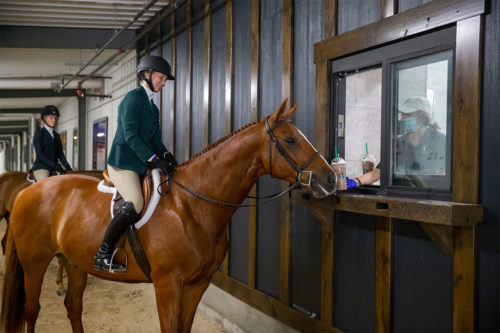 There are plenty of dining options on-site at WEC during the horse show. Dark Horse Coffee Co. proudly serving Starbucks, located in Vendor Village, offers all of your favorite Starbucks beverages. Don't have time between rides to grab a coffee? Swing by on horseback at the convenient ride thru window, located in the Sanctuary Arena hallway. Dark Horse Coffee Co. proudly serving Starbucks will be open 7 a.m. – 5 p.m. daily during the show.
The Paddock Club is open every day during the horse show 11 a.m. – 11 p.m. While the Paddock Club menu will not be available, beverages will be served and pizza will be offered for $1.00 per slice after 5 p.m. Service ends at 10 p.m.
Mane Event Catering is located on the porch of the Paddock Club, and will be serving a limited menu. Grab-and-go salads and dinners are available daily. Tabs can be started with a check or credit card, and orders can be called or texted in for pickup at 310-874-2927.
The Sweet Shop is also on-site in the courtyard by the R+L Arena serving breakfast, lunch, dinner, snacks and desserts.
What to Do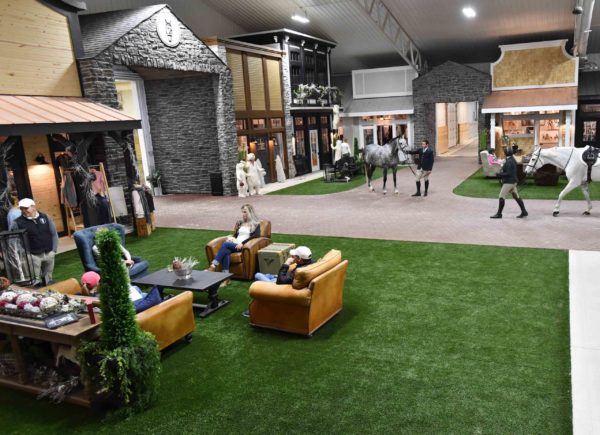 Looking for transportation around the show grounds? Golf cart rentals are available through Dever, Inc. Please head to their website to reserve yours today. Golf carts can be picked up at Barn N.
Need time to relax during the show? Look no further than A Bit of Class Salon & Day Spa, World Equestrian Center's on-site boutique salon. Diane Bayless offers haircuts, styling, color, manicures and pedicures during normal show hours. Licensed Massage Therapist Katrina Hale is also at A Bit of Class Salon & Day Spa, so stop by for a relaxing massage. Text Diane at 937-728-4984 or Katrina at 513-623-9087 to make your appointment.
Does your four-legged friend need a little pampering? The Shaggy Chic Pet Parlor provides a relaxing, dedicated space for dogs to have a little "me time". Located in Vendor Village, the Shaggy Chic Pet Parlor features a state of the art iClean Dog Wash, plenty of dog treats and stacks of fluffy towels for furry friends to dry off after their baths.
Pick up WEC-branded merch while in town for the Capital Challenge at A Sudden Impulse Boutique, located in the Roberts Arena and Vendor Village. A Sudden Impulse boutique features all of your WEC-branded favorites, along with collection of carefully curated items inspired by the equestrian lifestyle including fanciful artwork, fine jewelry, timeless antiques, beautiful apparel and luxurious gifts.
Each Sunday, Chaplain Larry Speelman holds worship services in Vendor Village at 7:15 a.m. Join Chaplain Larry for an uplifting message. Please remember to social distance while in attendance. If you are unable to attend, but would still like to listen in, Chaplain Larry's sermons are available as podcasts on WEC.net.
Capital Challenge Live Stream
Spectating in person is not permitted, but you can still catch all of the action through Capital Challenge's live stream, sponsored by Mars Equestrian. The live stream will begin on Friday, September 25 and run through Sunday, October 4. View the live stream on the USEF Network and at www.CapitalChallenge.org.
Schedule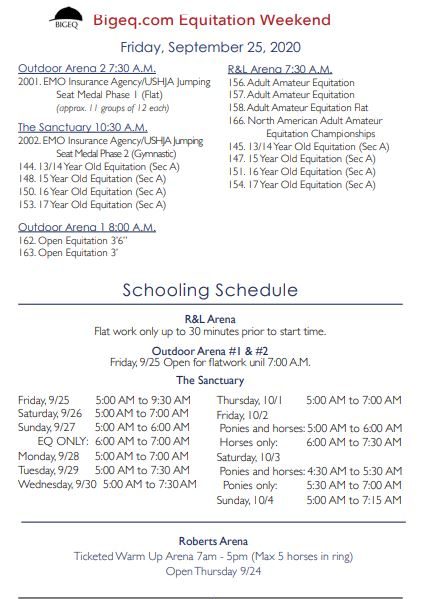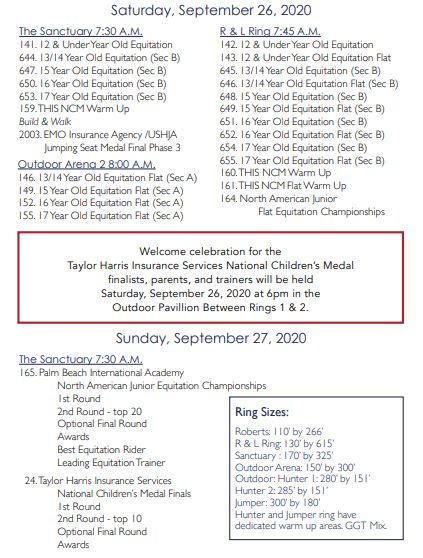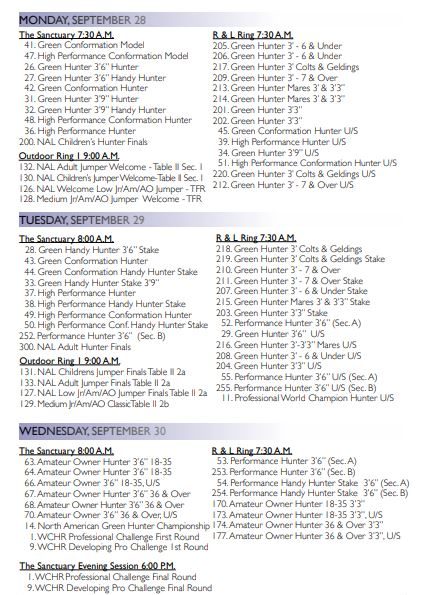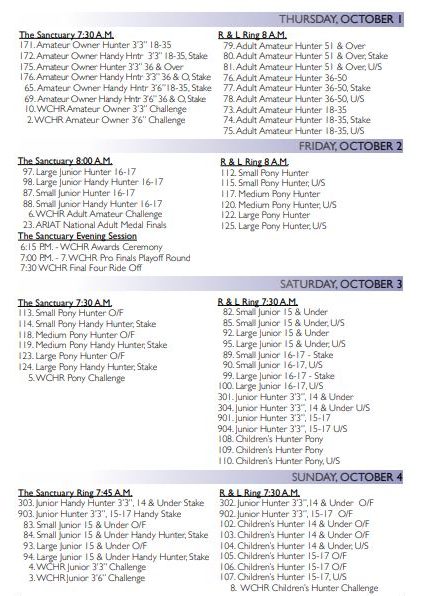 General COVID-19 Guidelines
We have implemented a number of guidelines and protocols to aid in stopping the spread of COVID-19, and we ask that you do your best to follow these in order to keep yourself, other exhibitors and our staff safe:
Only enter through the main entrance of World Equestrian Center. Temperature checks will be implemented.
Grounds are limited to participants, trainers, grooms, immediate family members and staff.  Only those that are vital to competition may attend.
Spectating is not permitted. Seating around arenas will be closed.
Wear a mask when not mounted on a horse.
Wash hands and use hand sanitizer regularly.
Stay at least six feet apart from others.
Monitor your temperature daily.
Please also review Capital Challenge's COVID-19 Action Plan here. View a complete list of WEC's COVID-19 guidelines and protocols at wec.net.
For more information on the Capital Challenge Horse Show, visit their website here.