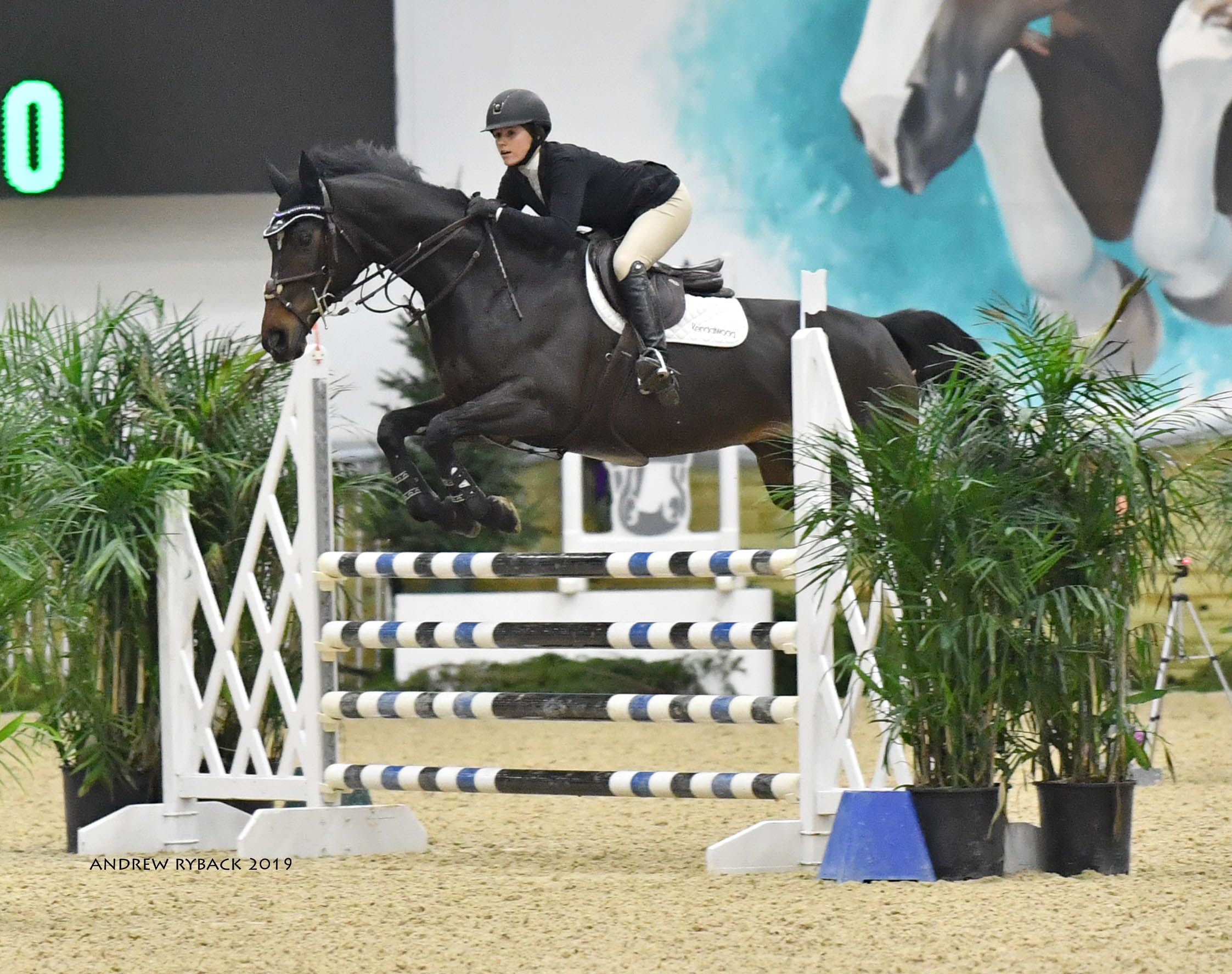 This week's Sunday Spotlight lands on Jessica Jude. Jessica caught the horse bug early on in life and hasn't let go since. She recently made the switch into the jumper ring after spending many successful years in the hunters and has big dreams of one day competing in a Futures Prix. Jessica and her horse train with Charlotte Clark of Kendalwood Farm and have been cleaning house in the 1.10m jumpers at World Equestrian Center over the past three weeks.
WEC: How did you get into riding?
Jessica: My mom is the youngest of three girls and when her older sister was about ten years old, she asked for a pony for Christmas. So, of course, they spent five hundred dollars on some random pony. All of the tack was included and everything. After that, my mom and her two sisters grew up riding. It's kind of a family affair.
I started taking lessons when I was about four or five years old, but the first time I was on a horse was about six weeks old. That's pretty much how I got into it. Aside from a short break, I've been pretty committed to riding all of my life.
WEC: Tell us about some of the horses you had growing up.
Jessica: When I was nine we got my large pony Pumpkin. She was only four years old. It was a rough beginning to the relationship. But, she is now twenty three years old and we still have her. She lives at my mom's barn and still teaches lessons. She's still typically the horse that kids will fall off of for the first time. She's a really good teacher. I got to take her to Pony Finals three times. We did the Greens, then the regulars.
I didn't really get the opportunity to do the Juniors as a kid. My last year, we did have a horse that we leased and I was able to do the Juniors a couple of times, but it was not the best match. It did lead to me getting the opportunity to buy another four year old chestnut mare, which is kind of my type, named Oskar's Crown Jewel (Jewel). She knew nothing. We got her in some little back town in Kentucky. She did have really good breeding, so we took a chance on her. Aside from thirty days with a Dressage trainer, I did all of her training myself. I did all of her Baby Greens and 2'6″. Then we did the Adults. She was the main horse that I had for my adult life. I took her to Devon in 2017 in the Amateur Owners. I think we won Zone 5 and we were seventh in the nation. She was third at World Equestrian Center last October in the $15,000 Non Pro Hunter Derby. She was an awesome horse. I lease her out now, so I still own her. I actually haven't seen her since March, which is kind of sad, but she'll be at World Equestrian Center in January so I'll get to see her then.
I had another horse that I was doing in the Amateur Owners as well, Steel Angel (Stella). She's leased out now as well. I did her in the 3'6″ and Jewel in the 3'3″. I was able to accomplish a lot with the two of them in 2018, so I decided that I wanted to get them leased out doing easier jobs and get a jumper.
WEC: What made you want to make the switch to the jumpers?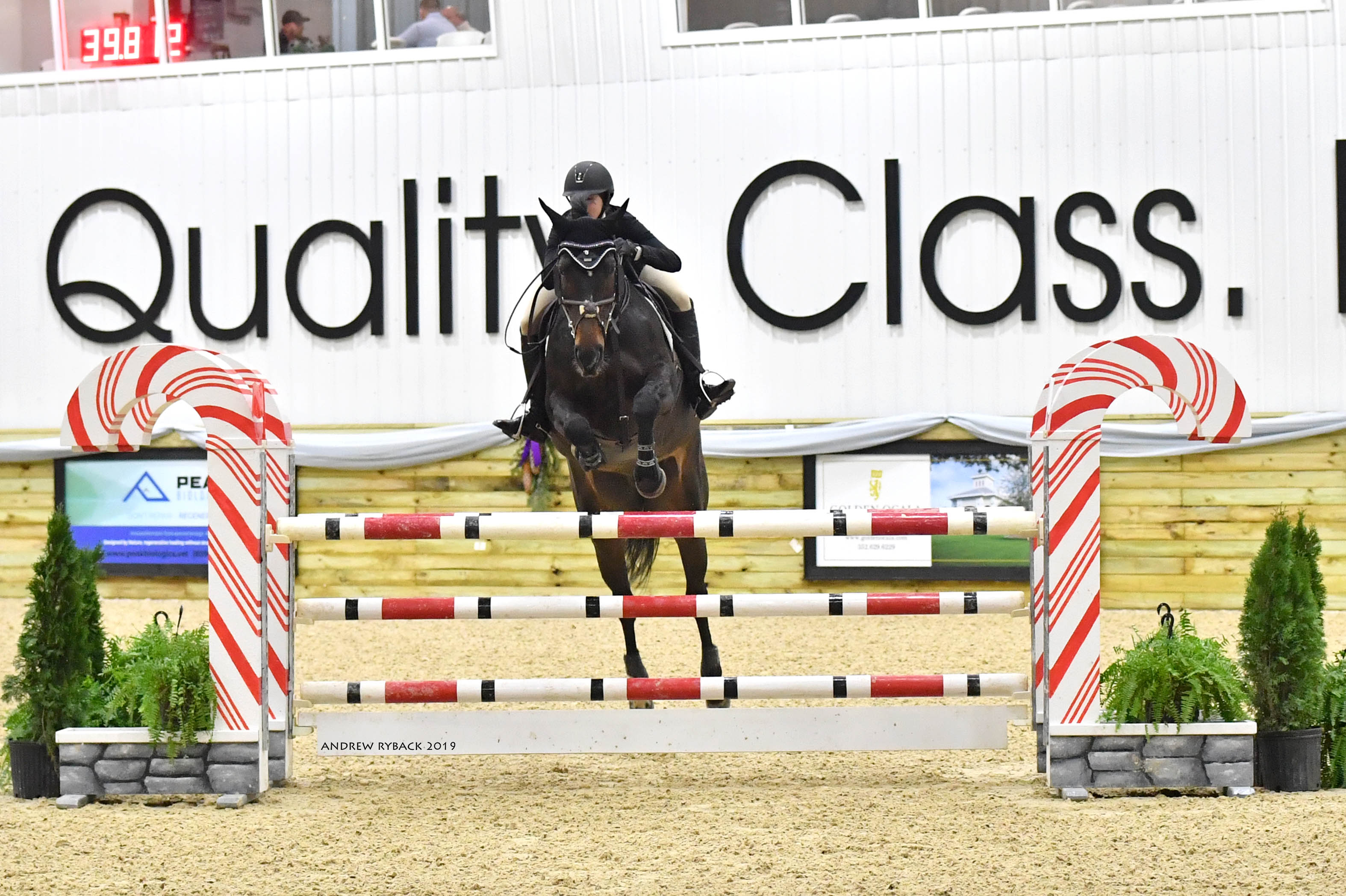 Jessica: I am a very goal-driven person, so I felt like I had accomplished a lot in the hunter world doing both heights of the Amateur Owners quite successfully. There were shows where my two horses were Champion and Reserve. I felt like I had checked that off of my list bit and wanted to challenge my riding in other ways. I had done Stella in some of the jumpers earlier in her career- just the Low Adults. I kind of had the bug. I've always said that it's on my bucket list to do a Futures Prix or something like that. I don't know about an actual Prix, but a Futures Prix seems a little less scary. I thought, "What's the next step to get to that goal?" Getting a jumper that I could do the 1.10m and move up to the 1.20m on seemed like the logical next step. I've been having a lot of fun and we've been really successful at the 1.10m. People ask me if I'm ever going to go back to the hunters because a lot of people that have known me throughout my whole riding career know that I've done the hunters a lot. I think I will eventually, but hunters are hard if you're on a budget. When I can afford to have something to do in the 3'6″ Amateur Owners and the big derbies, I would love to. Right now, I'm just focusing on the jumpers and having a ton of fun.
WEC: Tell us about your jumper.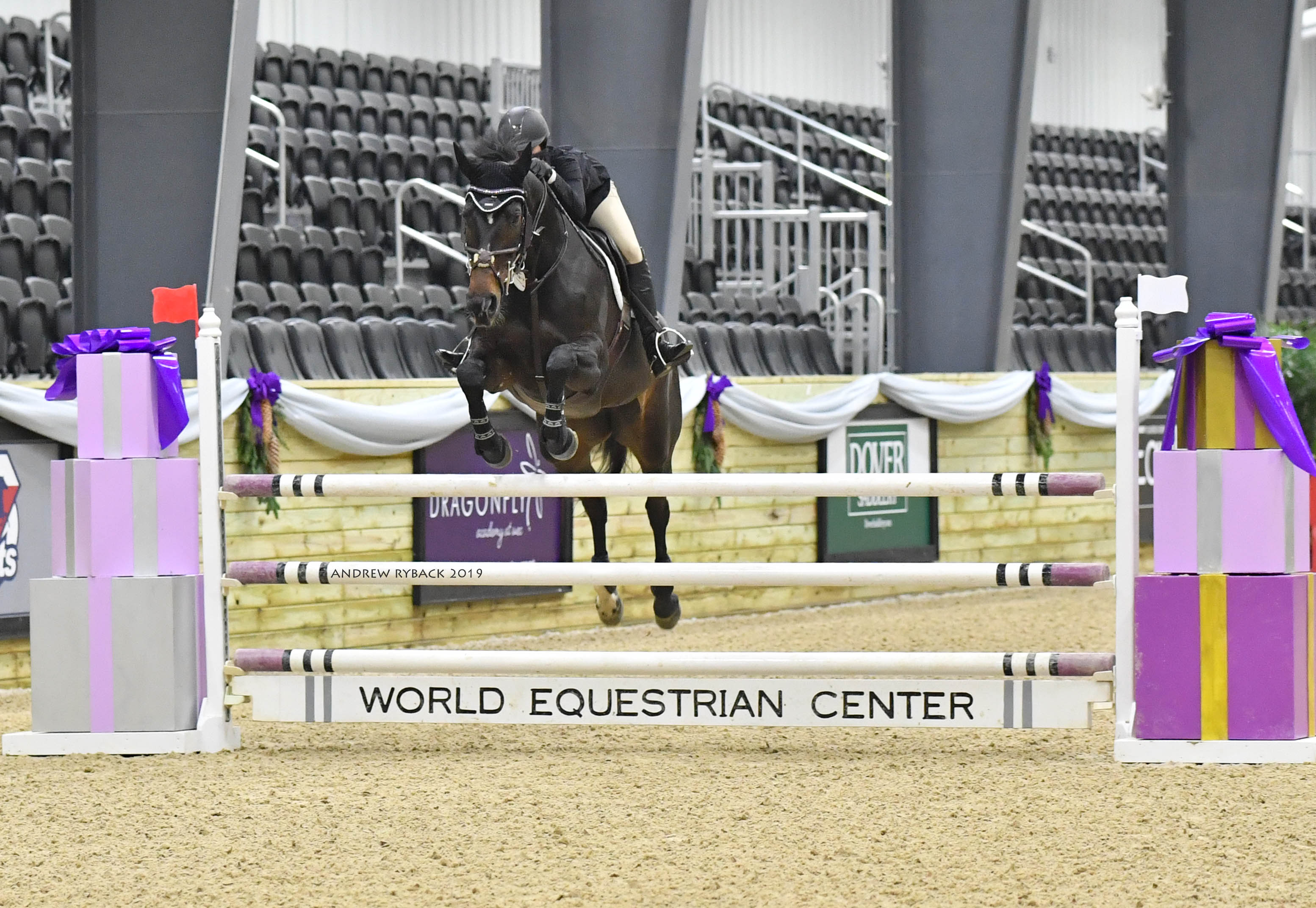 Jessica: Her name is Santa Maria (Anna). We were reserve two weeks ago at World Equestrian Center, won the Classic in the Adults last week and did well this week. She's a pretty odd horse. She's very quirky and weird about random things. She makes weird noises, she doesn't like how they spray the mats on the ground to keep them clean, she spooks at the decorations in the island in the ring…she's very odd. But, she'll jump anything. She'll jump the jump, then spook at the standards after. She's just an odd little duck. I think we've figured her out, though. She's very happy in Charlotte's program. For me, as long as she goes and does her job, she gets spoiled and loved on. The most important thing to me is that my horses get the best care possible.
WEC: Tell us a little about you, too.
Jessica: I was born and raised in Columbus, Ohio. I actually grew up showing my large pony at World Equestrian Center before it was World Equestrian Center. I showed Jewel here as well in her earlier show days, so about eight or ten years ago. I went to Ohio State and graduated with a Chemical Engineering degree. When I graduated, I moved to Lexington and was working for Valvoline as an engineer for about five years. Then I briefly moved back to Columbus. I now live in Midland, Michigan for the job that I have. It's hard because my horses are still in Columbus. I started the job in May of this year and I originally planned on taking my horse with me, but it's not an ideal area for horses. Knowing that I'd be at World Equestrian Center showing during the Winter, it made more sense to put my horse in a good program and ride on the weekends. It allows me to really focus on work and being a mom during the week. I have a three year old son. A lot of the people here at the horse show have seen him grow up and will ask about him. I get to come and enjoy my horse on the weekends. I've always done everything myself- I had my own truck and trailer and everything. Since Anna went to Charlotte's in August, it has been a big change for me, but it's nice in a lot of ways. I show up and my horse is prepped and ready to go. There's a lot less stress and it's purely just for the fun and enjoyment, which is what I've worked toward.
We can't wait to see you in a Futures Prix at World Equestrian Center, Jessica!
Photos courtesy of Andrew Ryback Photography.