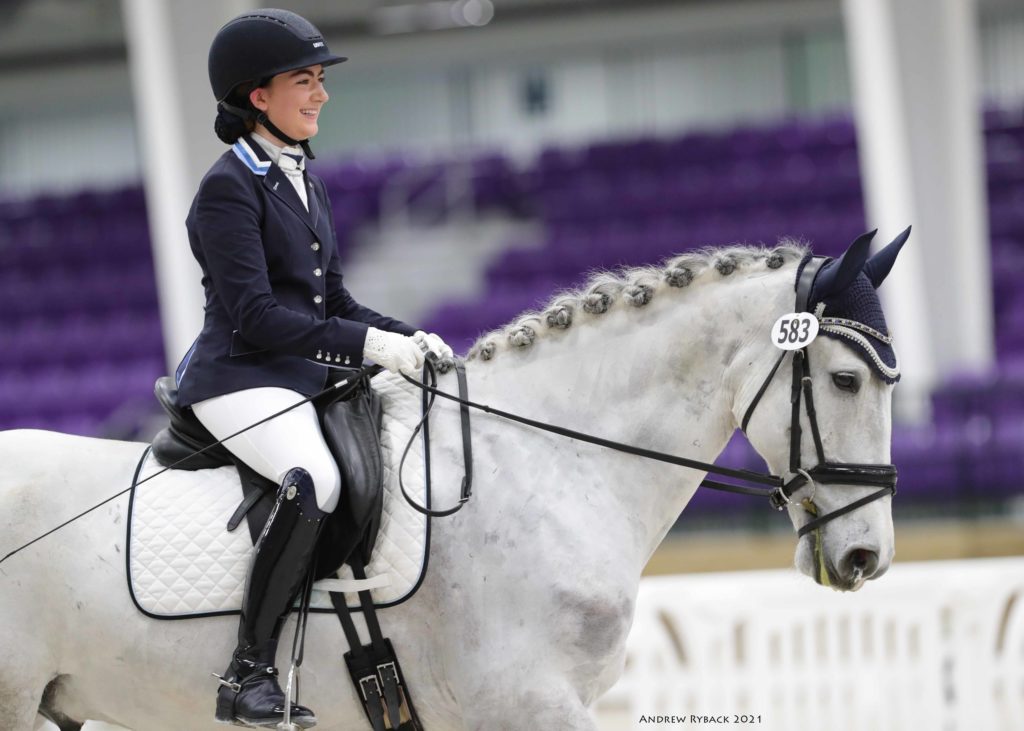 This week's Sunday Spotlight shines on junior dressage rider Kayley Knollman of Lebanon, Ohio. Kayley is a true inspiration, extending her love for the sport of dressage through her organization, Tri State Youth Dressage Group, which aims to help youth riders gain knowledge, experience and a sense of connection within the industry. Kayley competed at the World Equestrian Center Dressage XIII this weekend and took time to chat with us about her horse, her organization and her experience at World Equestrian Center — Ocala.
WEC: How did you get into riding?
Kayley: I grew up in the barn and always had a love for horses and animals of all sorts. I've ridden since I was about 8 years old. My mom, Rebecca Stromatt, is a trainer and owns Stromatt Sporthorses. She has taken me from the start, all the way up to third level. I've always done dressage. I've dabbled in a few other disciplines, but I'm not very good at them. I love the complexity of dressage because you can always do better.
WEC: Tell us about your horses.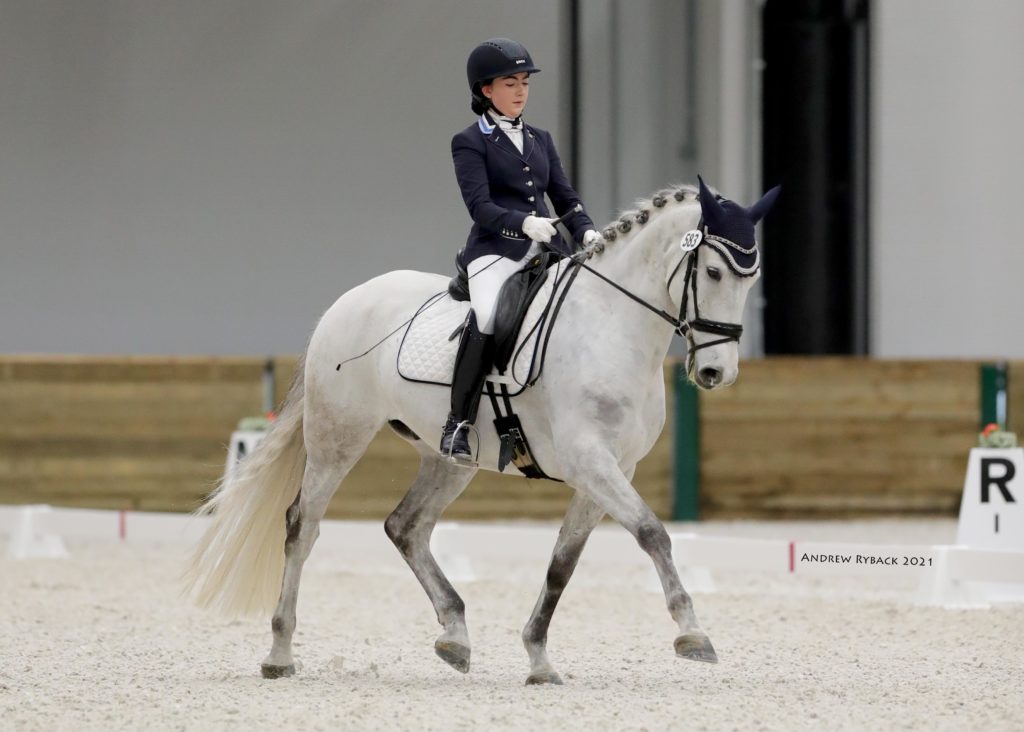 Kayley: JP Zeppelin, or Zeppelin, had been a sale horse in our barn for a few months. A few people had tried him and he was perfect for all of them, but they all passed on him. We were such a great match so we decided to buy him. The sale went through two days before Christmas. It was really meant to be. He's a 9-year-old Andalusian cross and he was bred in Kentucky by JP Giacomini. He's a really sweet horse, he's very polite and tries so hard to please people. His favorite snack is peppermints. He can be a little shy, but peppermints bring out his personality.
His first show was at World Equestrian Center — Ocala in January and he handled everything in stride. We did two classes and he was perfect. He's never been in that kind of an atmosphere with the big rings and all of the other horses, and he was amazing. This week, we scored a 67.4% in Third Level Test 1 and scored 65.3% in Third Level Test 3.
I also have an imported Spanish grand prix schoolmaster, Dardo AS, who I am planning to do juniors and the Prix St-Georges on this year.
WEC: What are some of your riding accomplishments?
My first big competition was Regionals in 2017 at Training Level and I got 8th place. Last year, I had an off-the-track Appendix mare named Luvme Luvmenot Luvme, or Lovie in the barn. We got Reserve at Regionals in Training Level and 3rd in First Level. It was very special because I had taken her from green-broke to Regionals. I also have earned quite a few year-end awards with the Kentucky Dressage Association and Ohio Dressage Association. I've earned my bronze medal with the USDF, as well.
Last summer, I was able to lease Talisman One, or Tallie, and show Third Level and FEI Juniors to get some experience in the level, so that was really fun.
WEC: Tell us about the organization you started.
Kayley: I run my own youth dressage club for my region, which encompasses Ohio, Indiana, Illinois, Michigan, Kentucky and Pennsylvania. It's called Tri State Youth Dressage Group. I noticed that there was a lack of support and connectivity for youth dressage riders in my area. To start, my mom held a low-cost clinic for youth riders at our farm in January of 2020. COVID hit and our plans got put on the back burner, but I revamped the program this past summer. I created an Instagram and got everyone that I knew together. We have free Zoom meetings every other week and bring in top dressage trainers to talk to the group like Katherine Bateson-Chandler, Anna Buffini, Bill Warren and Reese Koffler-Stanfield. I wanted to offer that as another way to get training help. A lot of riders don't have access to a variety of training, so I wanted to help with that and create a network of support. Being a young rider in this sport is really hard and it isn't very forgiving, so I try to offer help where I can.
I am also the youth representative for Mid-Ohio Dressage Association and Kentucky Dressage Association.
WEC: Tell us about your experience at World Equestrian Center — Ocala.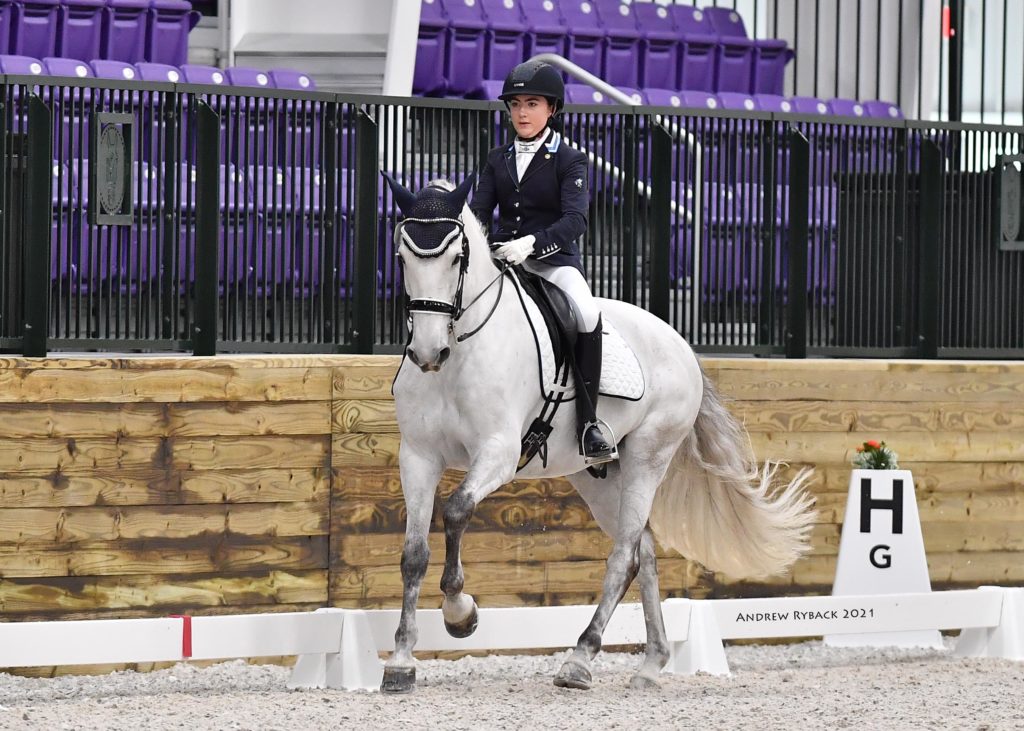 Kayley: We have been blown away by WEC Ocala. We came for the dressage show in January, then came back for the show this week. The horses settled in right away, the atmosphere is so calm. I am in love with the stabling, it's so nice that the bucket hooks are already in the walls and the stall mattresses are so comfortable. Everything was so clean. We've shown in both Arena 1 and Arena 2. The ring stewards have been so nice and positive, and I love that they are all volunteers. The same volunteers that were here last month were here this month, so that was really nice. It's also cool to have two disciplines going on at the same time on the same show grounds. I passed hunters and jumpers in the halls on my way to the ring and they were all so supportive and wished us luck. It's been a really amazing experience.
Between the shows, we are basing at Tamarian Farms just 10 minutes down the road and training with Carole Grant. We have loved eating at the restaurants, too. It's great because you never really need to leave the show grounds. We also watched the grand prix in the WEC Grand Arena on Saturday night and, even though we don't know much about jumpers, the crowd gets really into it, which makes it super fun. I truly cannot speak highly enough of WEC.
WEC: What are your riding goals?
Kayley: I have a lot of riding goals. This year, I would love to get miles in the ring with Zeppelin. We qualified for Regionals at third level in these past two shows. I would love to do FEI Juniors, North American Youth Championships (NAYC) for Region 2 and Festival of Champions. I would really love to take him up through fourth level and Prix St-Georges, then Young Riders next year. Before I go to college, I would love to take him up to a Grand Prix, or possibly U25. I want to earn my silver and gold medals, too.
Thank you, Kayley, congratulations on your successes and we hope to see you back at World Equestrian Center — Ocala soon!
Photos courtesy of Andrew Ryback Photography.