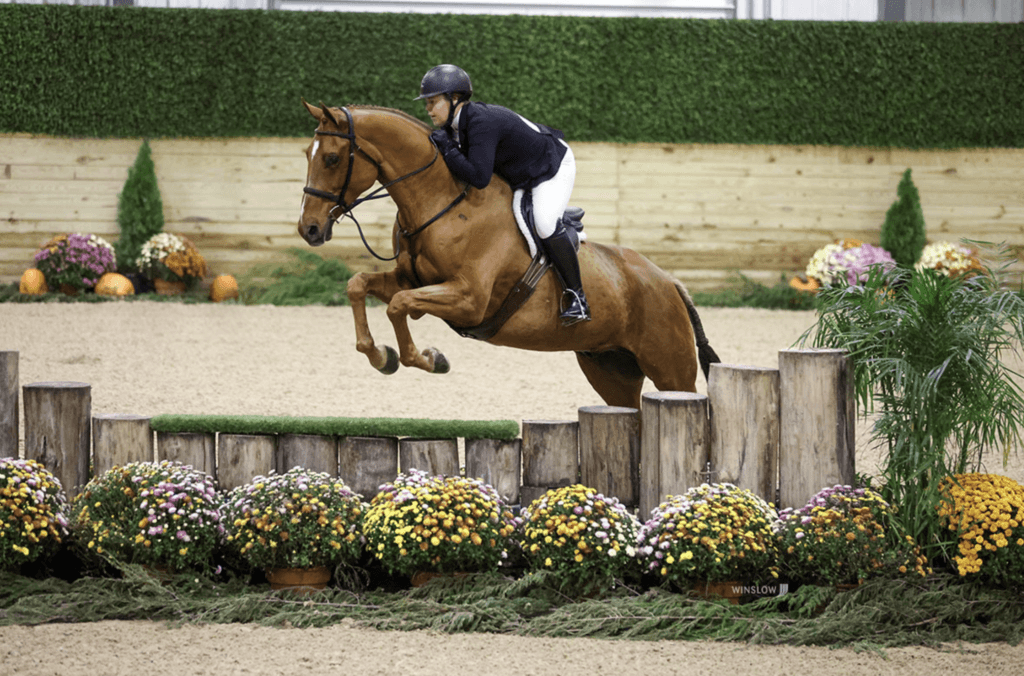 This week's Sunday Spotlight shines on talented amateur-owner rider Kiera Phlipot of Manchester, Michigan. Kiera rarely misses an opportunity to compete at World Equestrian Center – Wilmington and is a familiar face in the winner's circle there. This week, Kiera won the $10,000 USHJA National Hunter Derby 3′ Non-Pro and has now won the class over five times at WEC. She competes with her two horses, Red Roc in the hunters and equitation, and Goldfish in jumping. If you can't find Kiera at WEC, she is probably at her home base, Guardian Farm, which she owns and operates with her husband, Alan. 
How did you get into riding?
I grew up in Grosse Pointe, Michigan and the Grosse Pointe Hunt Club was down the street from my elementary school. Every day I would see it on my way to school and after enough badgering to my parents, they enrolled me in lessons. I started riding when I was five, I started showing the A circuit when I was fourteen, and I did a little bit of the big equitation… although I wasn't very good at it, I did it anyway! After high school, I went to college at the University of Findlay where I double majored in the hunter/jumper program and dressage program. The dressage really helped me advance all of my riding and overall at Findlay I learned so much. I didn't really know how much I didn't know about horses and riding until I learned it at school.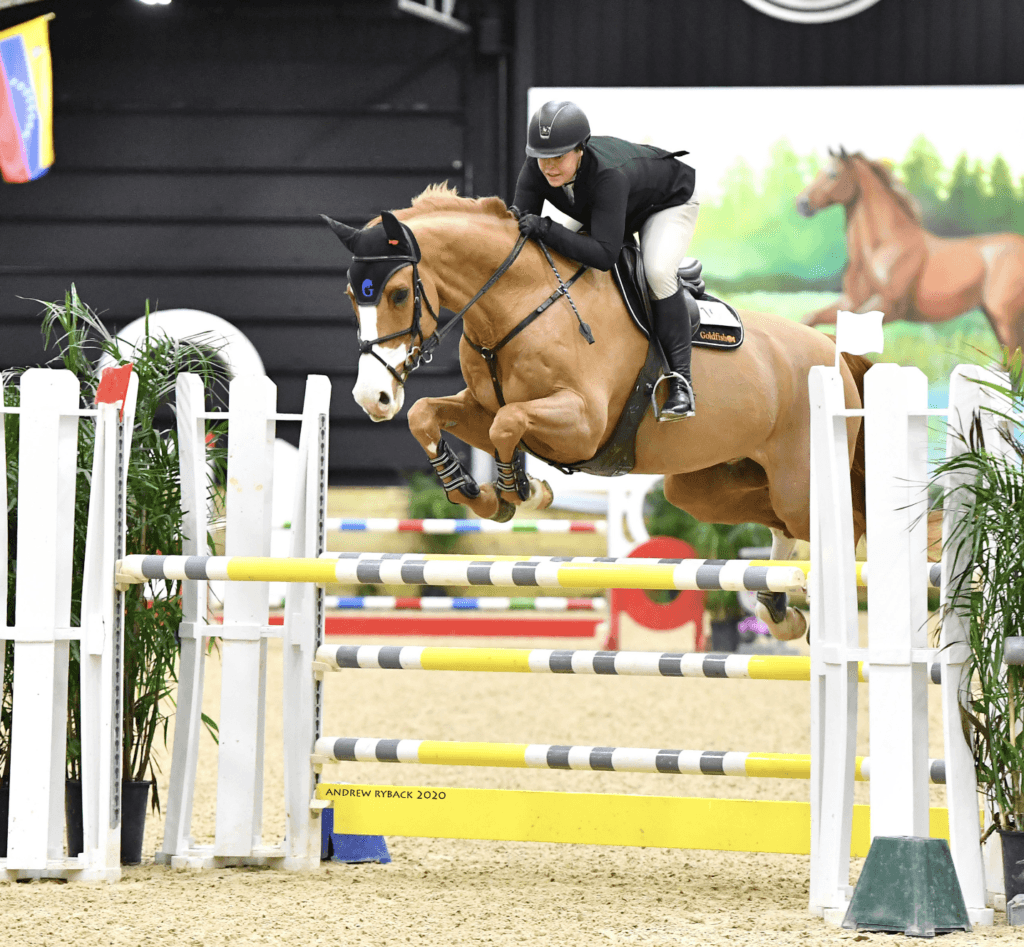 Do you ride with a coach or trainer?
I keep my horses at our farm in Michigan. We own a ten-stall barn and have a few personal horses as well as several private boarders. I have a trainer who comes in and has a couple of client horses at my farm. I ride with her a little bit when I am home but I pretty much do it myself and meet up with Dorothy Campbell of Just a Folly Farm at shows. Occasionally I will haul up to Just a Folly for lessons and I have been doing that for just over three years.
Tell us about your horses:
I bought Paddy (Red Roc) as an unbroke four-year-old. He was quite unruly and it took a while for us to figure out how he wanted to go and what we needed to do with him. He is as brave as the day is long but he internalizes a lot. It has been a lot of learning his mental comfort zone and bringing out the best in him. Having a good program and being within a great support system has helped so much. It has been a complete journey, but he has checked off many bucket list items for me such as Harrisburg, the National, qualifying for Devon three times, and an international derby. I primarily focused on making him a hunter horse, but he has transformed into really liking the equitation as well.
Goldfish is my other horse – and he seems to be a crowd favorite! I joke that he is my emotional support animal because he has so much love. I've had ups and downs with her personally. I really wanted a hunter and a jumper – I saw him one day at a horse show and I brought him home with me. I've had him since 2018 and he is fourteen now. We've jumped up through the junior amateurs, 1.25m and I even did one Futures Prix with him. I sort of psyched myself out and needed to take a mental break from the jumpers. I still like having him here, so Melissa Donelly will ride him in some classes, as well as Grace York, who is a working student at Just a Folly Farm. He dabbles in the leadline with Robert Murphy. It is the cutest thing ever!
I took last year off from showing him, but I'm hoping that we will get back at it this year. Riding is totally a mental game for me and I'm getting the pieces put back together.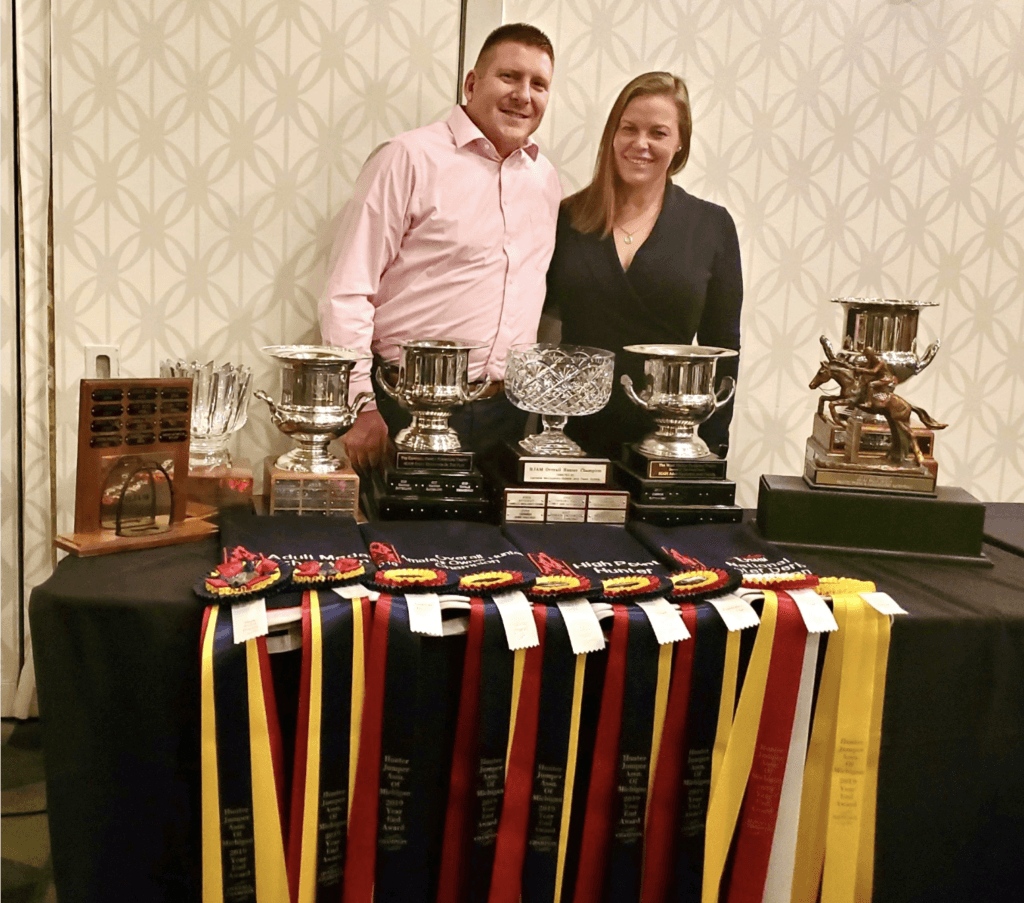 What has been the biggest accomplishment in your life?
I just think of Paddy! Not only being able to check off so many bucket list items with a horse that I created and brought up, but also the partnership and trust that we have. It is unlike anything else.
What are your goals for this year?
I'd really like to make it to Devon. I have qualified three times but have never actually gone. Also, last year I was third at the Adult Medal Finals… which was amazing and great to know that I am capable of making a podium finish, but who doesn't want to win? Now that I know it is possible, I'd love to make that happen.
I just want to say that I couldn't do this without the support of my amazing 'horse show husband' who always supports me and takes care of things at home while I am away. I also want to give a big thank you to Dorothy, who has really helped finalize the partnership between Paddy and me.
Thank you, Kiera! We enjoyed chatting with you and can't wait to see what amazing things you accomplish in 2022