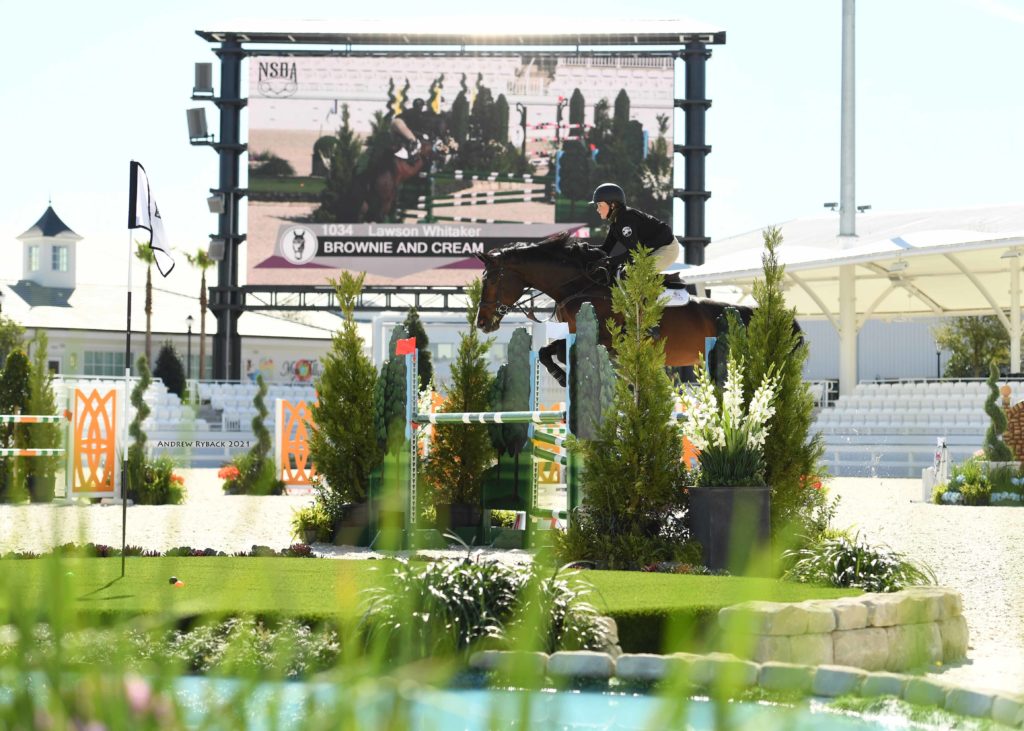 This week's Sunday Spotlight lands on 15-year-old Lawson Whitaker. Lawson has shown at World Equestrian Center – Ocala since Week 2 of the World Equestrian Center – Ocala Winter Spectacular and has found great success with all three of her mounts. She took time this week to chat with us about how she got into riding and about her experience at World Equestrian Center – Ocala.
WEC: Where are you from?
Lawson: I'm from Ocala, Florida.
WEC: Who do you ride with?
Lawson: I ride with Gaston Escamez at GE Sporthorses.
WEC: How did you get into riding?
Lawson: I got into riding by watching my older sister take a riding lesson. I was about 4 years old at the time, and the first time that I saw her ride I decided that I wanted to ride, too. I wanted to do the same thing that she did. I started out an a little green chestnut pony. We went to local schooling shows and I started in the Novice Hunters. I moved my way up to the Crossrails, then switched into the jumpers.
WEC: What made you decide to make the switch to the jumper ring?
Lawson: Someone had told me that you can win money in the jumpers, so I thought that would be fun. It seemed a little more exciting, too. I still show in the jumpers. I just moved up to the Medium Junior/Amateur Jumpers with one of my horses, which is the 1.30m. I also have two horses that do the Low Junior/Amateur Jumpers, which is the 1.20m.
WEC: Tell us about your horses.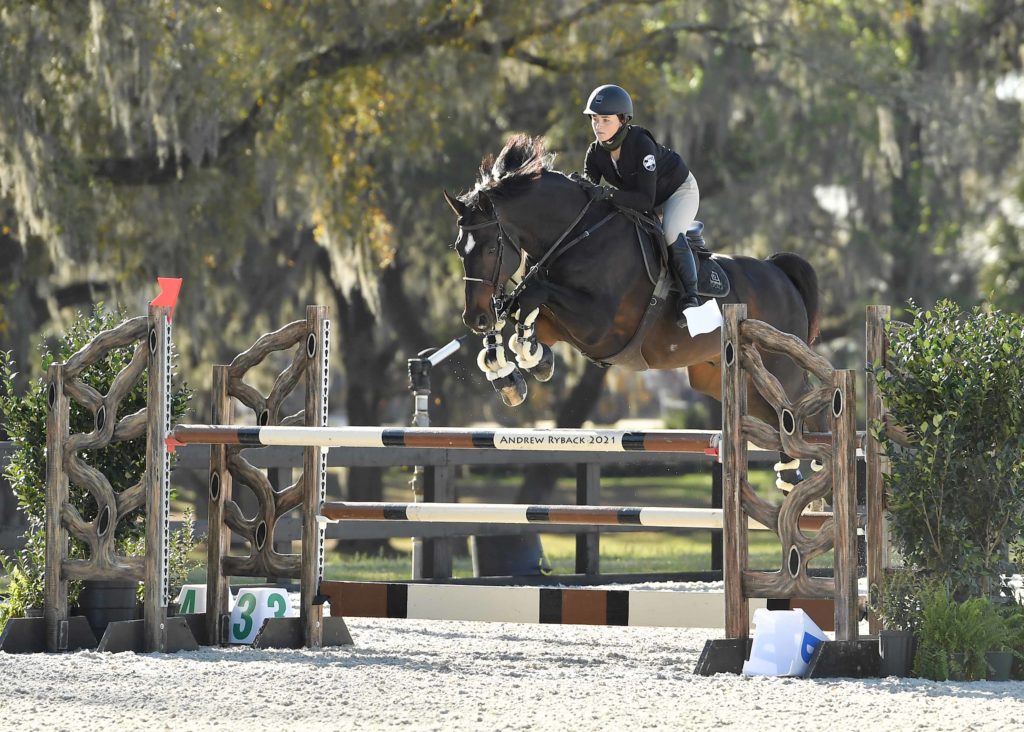 Lawson: I have three horses: Brownie and Cream (Quintero x Vanilla G), Finisterra, and Chapiletto. I've had Brownie and Cream and Finisterra for about six or seven months and we just got Chapiletto a couple of weeks ago. Chapiletto is a big goof and such a baby. He's very mouthy, but he's really sweet. Brownie has her moments where she is just a mare, but she's actually a really sweet horse. There's not a mean bone in her body. Finisterra is just bossy. They all have their own little personalities. They're all really sweet, nice and kind. They were actually all doing the grand prix at one point, which is cool.
WEC: What are your horses' favorite treats?
Lawson: They all like sour candy for some reason, like Sour Patch Kids. I had them with me once and the horses wanted a treat, so I gave it to them and they just wanted more.
WEC: What are some of your riding accomplishments?
Lawson: Moving up to the Mediums with Brownie has been a big accomplishment. I also really enjoyed going to Zone 4 Finals. I ended up Champion and Reserve in Zone 4 with Brownie and Finisterra in the High Child/Adults.
WEC: What are your riding goals?
Lawson: My goal is to be in the Olympics and represent America.
WEC: Do you have any hobbies outside of riding?
Lawson: I don't really have any hobbies outside of riding. I like to hang out with my friends, but mostly everything I do revolves around horses. I even do Florida Virtual School so I can show all of the time.
WEC: Describe your experience at World Equestrian Center – Ocala this winter.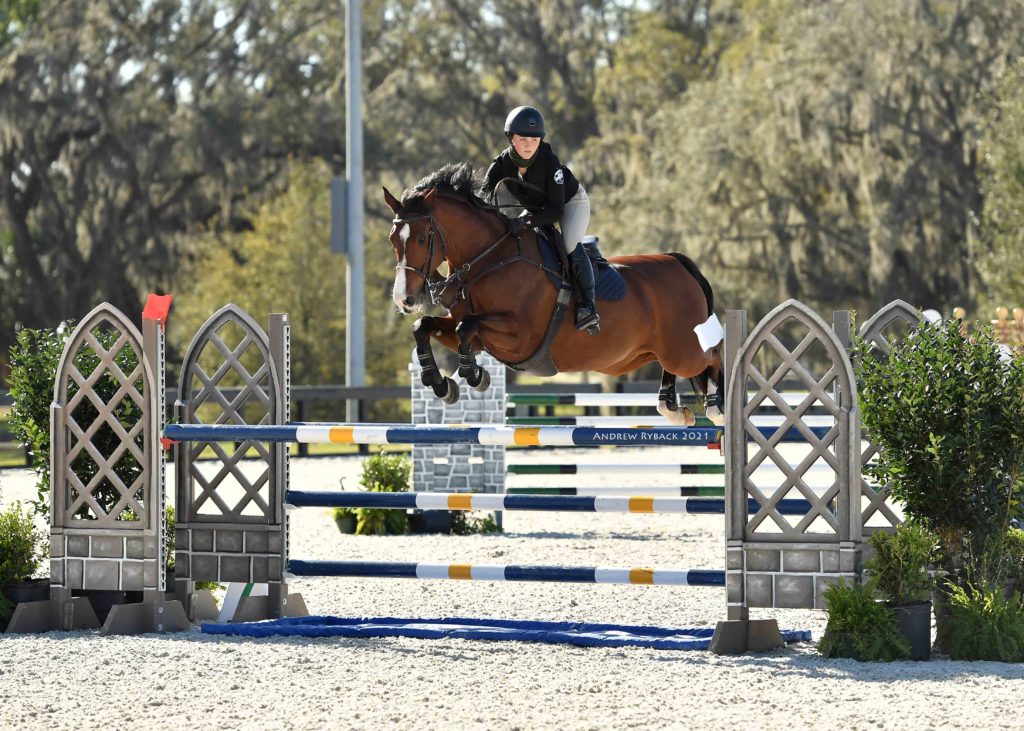 Lawson: It's been really good. We've been showing here since Week 2. I love it here, it's like heaven, to me. It's great because we only live 15 minutes away. I have been Champion three times and Reserve Champion three times in the Low Juniors. I also ended up 1st and 2nd in the $5,000 Low Junior/Amateur Classic a couple of weeks ago, which was really exciting. There's really good competition here. This week, I won the Mediums on Brownie this week and won the Low Juniors with Finisterra. I was also 4th with Chapiletto in the Low Juniors.
Thank you Lawson and congratulations on all of your success so far this winter!